You're probably familiar with the adage: "None of us is as smart as all of us." Even the most astute and worldly genius stops being smarter than us as soon as there is an "us."
And so it is with the online realm. When it comes to keyword ranking, for example, many companies rely on their own internally-developed keyword lists to measure their success. They also rely on their own PR contacts for promotion of their products and messages within their industries. And they are limited to their own understanding of a topic for developing their content strategy. Which harkens back to another adage: "We don't know what we don't know."
In this three-part series: I will discuss how to use the wisdom of the crowd to gain a competitive edge in keywords, content, and outreach opportunities.
What is the Wisdom of the Crowd?
Since we know that none of us is as smart as all of us, we also know that a group of companies or websites understands the keyword landscape better than a single company or website for example. In the same vein, the collective of PR and social media/outreach teams from multiple companies has a more complete Rolodex of industry thought-leaders, writers, and news organizations than a single company's team. Wisdom of the crowd simply recognizes the limitations of the one in lieu of the many.
Think about your keyword profile. You most likely have a list of keywords for which you track ranking on a regular basis. This list has most likely been cultivated and refined to include what you and your team presume to be the most accurate representation of your business. But are you sure that you have visibility into every term or phrase that's related to your industry?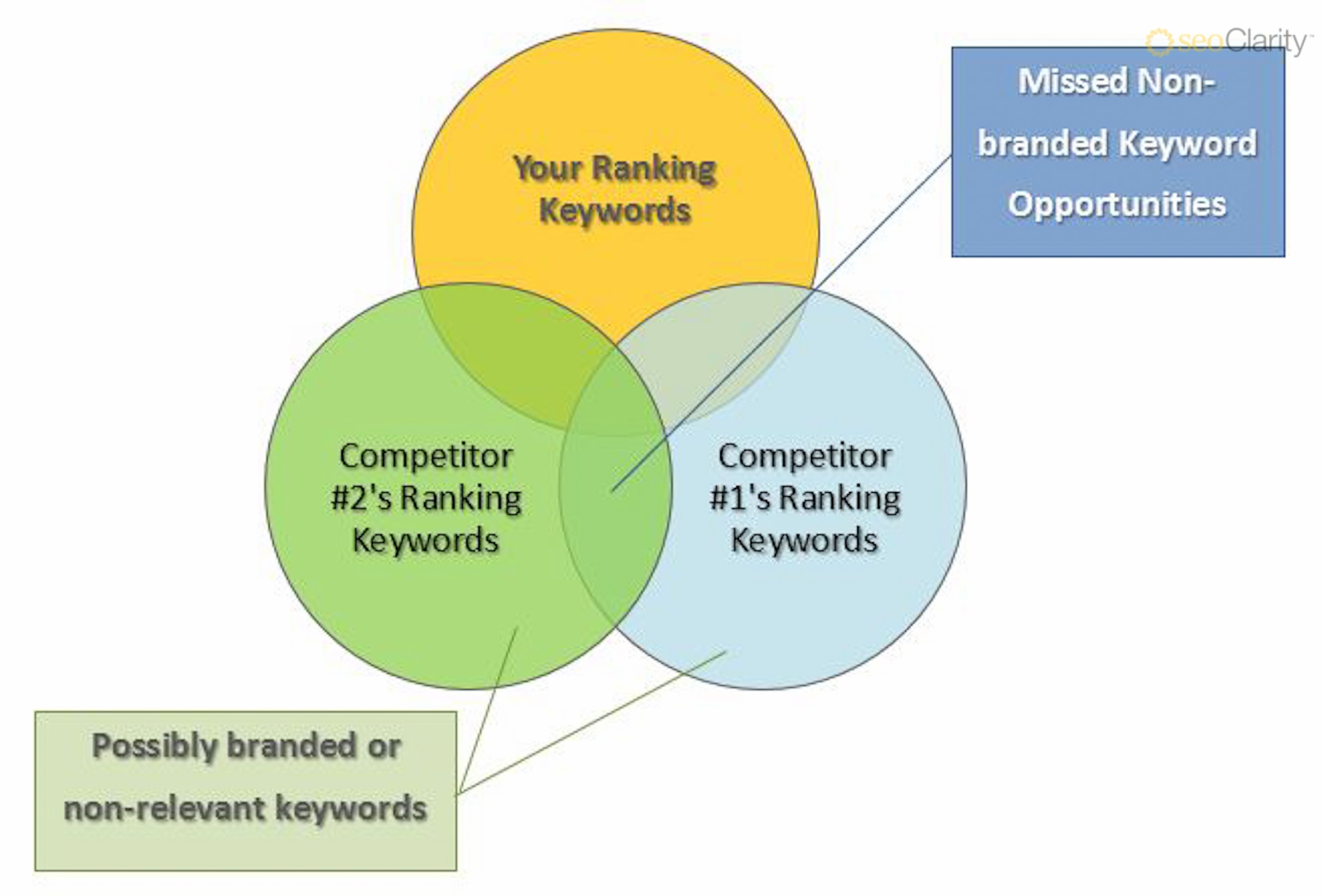 In the image above, you can see how easy it would be to assume that the keywords for which one of your competitors is ranking and you're not are branded terms. These are company- or site-specific terms for which you can't legitimately be relevant. But what about those terms for which more than one of your competitors are ranking and you aren't? In the image above, these would be terms shared by green and blue, but not yellow. These are legitimate missed opportunities.
By expanding the singular understanding of an aspect of business to include the collective intelligence, the potential for increased success is exponential. So how on earth can we tap into this amazing reserve of information? How can we then turn that additional knowledge into actionable insights?
Fortunately for seoClarity platform subscribers, we have a Domain Comparison feature that allows them to see how their domains compare to up to two competitors. Out of the 120+ million keywords that we track on a regular basis, seoClarity will show how many keywords for which each domain ranks and where there is overlap.
Let's take a look at a real-world example in the sports equipment industry and compare Sports Authority, Road Runner Sports, and Dick's Sporting Goods.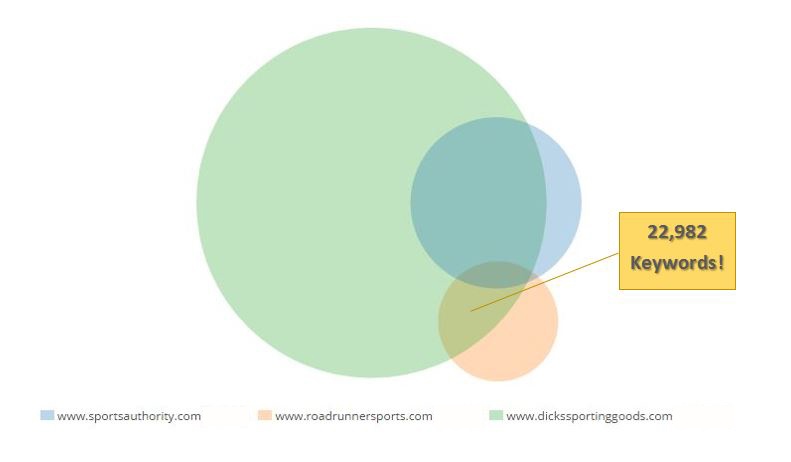 When comparing the domain for Sports Authority with the domains for Dick's Sporting Goods and Road Runner Sports, it's pretty evident how dominant Dick's Sporting Goods is in the industry. And while Sports Authority could probably mine a pretty good amount of data out of those keywords, it's likely that a large chunk of that list are brand-focused. Of more pressing concern is the 22,982-keyword overlap between Dick's and Road Runner Sports where Sports Authority has no coverage.
Within the Domain Comparison feature, Sports Authority can easily see what those keyword opportunities are and begin building a content strategy around them.
Conclusion
As you can see, with this approach to competitive analysis, sites are able to broaden their understanding of their own industries and begin building more comprehensive content for their users.
In the next part of this series, I will cover what I call "The Greater Wisdom of the Crowds," and as you can tell by the title, the value you'll find in the article will, in fact, be greater.
If you are an seoClarity client and want to learn more about the platform, be sure to catch us in a city near you for CLARITY Academy Live! I'll also be covering this very topic in the "Mining the Keyword Goldmine" at Pubcon SFIMA on February 24-25. Be sure to join me there!