We can all agree that 2016 was the year content marketing finally matured. In the last twelve months, we finally saw it evolve from a status of a catchy new buzzword into the dominating strategy to attract, convert, and retain new customers. But this also means that the bar's set high for 2017, particularly when it comes to the effect content will have on search rankings.
So, in no particular order, here's a list of content trends that will likely affect rankings and SEO in 2017.
#1. Specificity Will Attract More Engagement, Visits, and Links
Not long ago, Benji Hyam wrote a fantastic piece describing the benefits of content specificity. In the article, he said:
"The challenge that we content marketers face these days is not what content to create, but how to make it stand out from the rest of the blogs out there covering the same topic."
And his answer to the problem is to drop covering general topics but focus on specific challenges of your audience instead. But don't think this trend is relevant only to content marketers. It will affect SEO too.
How? Because it will change users' search behavior. Thanks to advances in technology we have already seen a shift in the way we use search engines. Instead of typing a particular keyword, we can now ask the search engine a question. Even say it directly to Google, without touching the keyboard. In turn, it will use semantics and RankBrain to match it with the most relevant information.
We can even tweet the search engine with an emoji to receive local results.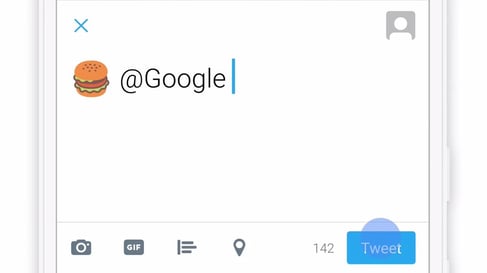 We look at the search results differently too. Mediative discovered that instead of following the "Golden Triangle," we now tend to scroll deeper into the SERPs, keeping our gaze to the left of the screen.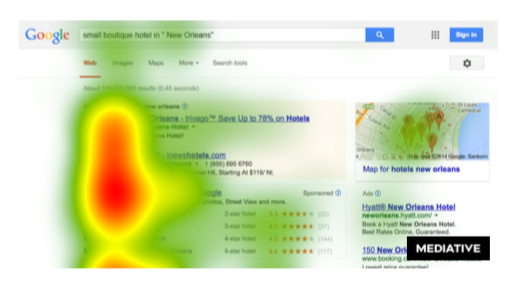 All this affects how we perceive a search query. It's no longer a generic phrase, rather a specific question or a problem we seek to solve. And I believe, we'll see those changes move even more in 2017.
Sujan Patel shares a similar view saying: "In 2017, content will get shorter, sweeter, more unique, and punchy."
So, to meet your target audience's demands, you'll have to:
Understand their key problems and pain points.
Provide content that provides in-depth but very accurate and targeted information about those problems.
#2. Customers Will Interact with More Content Before They Convert
I'm very fond of the idea of micro-moment - small interactions customers have with content that lead to conversion.
"Mobile has forever changed the way we live, and it's forever changed what we expect of brands. It's fractured the consumer journey into hundreds of real-time, intent-driven micro-moments. Each one is a critical opportunity for brands to shape our decisions and preferences."
Hearing this idea always reminds me of something Gary Vaynerchuk famously said (note, I'm paraphrasing here):
"Nike hasn't made me buy the shoes with their recent ad. They've done it by building a relationship with me over 20 years with series of small interactions."
And I think we'll see those interactions become more important to customers on their journey.
What's more, they might even replace the buying cycle we've been following with the content. Today's buyers go through a series of those small interactions every day. They see your blog post, then stumble upon your video, maybe read a couple of Facebook posts. What's more, a blog post they've discovered might not even be through your site. It may have seen it from a re-share on Medium or LinkedIn. All those interactions slowly lead them to your site, and to a conversion – purchase, signup, etc.
And then to increase online visibility, also in search, you will need to publish content in more formats, and across many different channels (all of which could rank for different search phrases and boost your SEO). Therefore, two things that will play a crucial role in next year's content marketing will be repurposing and re-sharing content, which will also power your SEO strategy.
#3. We'll See a Big Push on Episode-Based Content
I guess the writing's on the wall already: Podcast listening is on the rise. The number of people tuning to podcasts grew by 23% between 2015 and 2016. (source)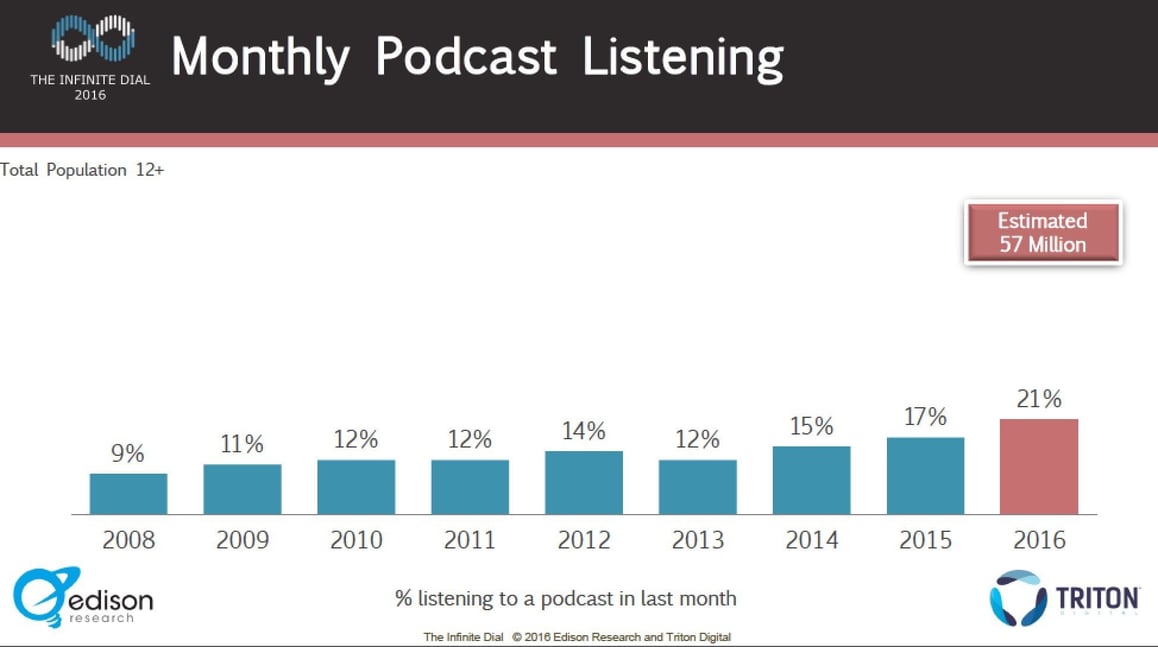 In fact, right now, the same number of Americans listen to podcasts and use Twitter. The situation is no different with video. For example, 75% of execs watch work-related videos at least once a week (and 59% prefer than to text).
But why have these content types grown so much in popularity?
For one, they merge entertainment with information. They also develop a stronger relationship by highlighting a human side, something that's not always possible with text. Finally, episodes engage and bring the audience back.
I believe we're going to see more episode-based content series emerge. These will not necessarily have to be podcasts or videos. You could create text-based series too. For example, you could help the audience by illustrating a struggle of a hypothetical persona with overcoming a specific challenge over the course of a series of interviews, articles, case studies, etc.
The point is, the audiences are going to start looking for this type of content, and we're going to start seeing a greater demand for episode and content series. Content marketing has matured in 2016, and finally dropped the status of a new, trendy buzzword.
How Do You Know What Content Topics to Create?
With the 2,000+ brands we work with at seoClarity, the biggest challenge most of them have is to determine what content topics they should prioritize and develop. This led seoClarity to develop our Content Research section within the platform. It helps you discover new content ideas that your competitors are writing about (and you are not) and MOST IMPORTANTLY the content users are searching for. It also enables brands to track, manage, and report on the content added to their site. This is a powerful tool not only for discovery and reporting, but overall strategy and to see monitor how these efforts converted to visits, sign-ups or other KPI's that are a priority.
Overall, these changes have raised the bar for content in 2017. I believe these key content trends will effect your rankings in 2017. What about you? Are there other content trends you think we'll see gaining in importance over the next twelve months? Tell us in the comments below.