Your website's data is trying to tell you a story. If you're not listening with a discerning ear, if you're not looking for the details below the surface, then you're not getting the whole story.
You're not getting to the truth.
seoClarity's Traffic Potential tool helps us get to the center of that story. It allows for easy segmentation and analysis of keywords. By leveraging the SEO forecasting tool you can organize your efforts, prioritize tasks, and identify opportunities for improvement to strengthen your SEO efforts.
Here's all you need to get started:
Keyword Map: consists of keywords and preferred URLs
Tagged Keywords: keyword tagging associated with preferred landing pages
From there, you can segment your tracked keywords by content themes and forecast which groups will give you the most bang for your buck with search visibility on the SERP.
After creating the keyword map and tagging your keywords you can access the Traffic Potential tool. Within this tool, you can run statistical forecast based on keyword percentage increases. This will help you easily identify organic search opportunities that will improve organic performance. In conjunction with a keyword map and seoClarity, you can identify areas that can be optimized to improve rank and gain organic visibility.
Without further ado, let's get to work on SEO forecasting!
Step 1: Creating Your Keyword Map
Creating a keyword map is the process of assigning keywords to specific pages on a website based on prior keyword research. It becomes easier to make your pages relevant to the keywords you are targeting when you implement a keyword map.
Another way to build your keyword map is to leverage Search Analytics. This tools gives you visibility to all keywords + URL data. This makes it easier if you haven't executed the keyword research for each landing page. You instantly get the list of keyword that are driving organic traffic to the corresponding page.
Below, you'll see an example of a viable keyword map.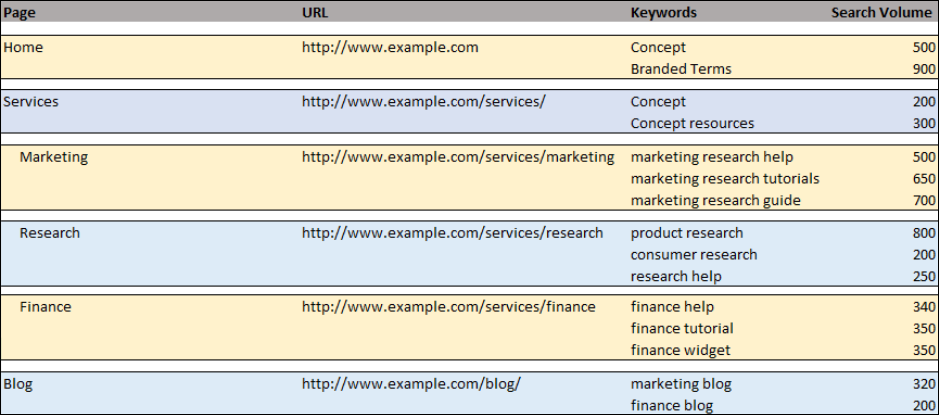 I typically create my keyword maps in Excel or Google Sheets. To begin, crawl your website with Clarity Audits. Collect a list of URLs to associate your keywords with. These URLs will become your SEO landing pages. The far left-hand column will include page names. In the next column, you will want to include the URL of the page you're referencing. From there, you can begin to associate keywords to these URLs and pull in relevant search volume metrics.
What's the Benefit of Using a Keyword Map?
It allows you to prioritize your content creation strategy, consolidate duplicate content, identify hidden content gaps and make optimization updates on the fly. For our purposes, you will refer to your keyword map when forecasting optimization opportunities to identify pages that need improvements (blog posts, as an example).
Key Takeaway
A keyword map will help you intelligently identify content opportunities and capitalize on them. The goal is to associate all keywords you are tracking with a landing page. If one doesn't exist, you can add a column for new or proposed pages.
The purpose of the keyword map is to assist with tagging keywords according to their preferred URL. In the next step, we will use our keyword map as a reference when tagging our keywords.
Step 2: Tagging Keywords in seoClarity
Next, make sure your keywords are properly tagged. The reason you want to tag your keywords is so you can segment and get more granular analysis. You will go about tagging your keywords with a reference to their target URLs on our keyword map. While there are a variety of methods you can use for this you will want to focus on tagging based on your preferred URL.
You can see below the process I like to go through to properly group and tag my keywords.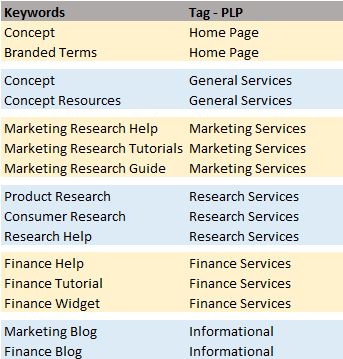 If you are a user of seoClarity, you can upload new keyword tags or give updates to existing tags right in seoClarity in the "Managed Keywords" section.
Key Takeaway
It's important to have all your keywords properly tagged before continuing. This will make segmenting and forecasting keyword improvements easier.
Step 3: Forecasting Keyword Improvements in seoClarity
Finally, once your keywords are uploaded it's time to dig into seoClarity's Traffic Potential tool to identify potential optimization opportunities.
Traffic Potential Overview

The Traffic Potential feature allows you to:
Keyword Tag Selector: Choose a keyword tag to segment data by. *This is why I stress properly tagging your keywords based on your target URL.
Search Volume Summary: Display the total amount of search volume of all keywords included in the data table.
Average Rank Summary: Displays the average ranks of all the keywords included in the data table.
Traffic Potential Summary: This is the summary of search volume for all position 1 keyword rankings.
Current Estimated Traffic Summary: Displays the total amount of estimated traffic for all the keywords included in the data table.
Forecasted Traffic Summary: Displays the total amount of traffic that is predicted by the variation model for all the keywords in the data table.
Next, apply certain filters to segment your keyword groups. This will help you focus your optimization efforts moving forward. This is extremely helpful for larger websites that are tracking thousands of keywords.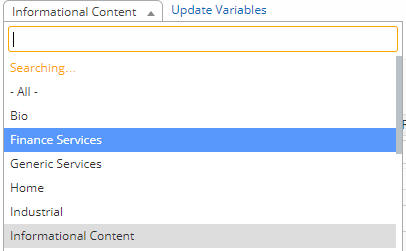 A note for seoClarity users: For your model to work you need to update the variable in the top right-hand corner next to "All Tags." By default, the forecasting model assumes all keywords will achieve first page rankings. While we should all strive for that coveted top spot and a high CTR, I tend to forecast using percentage increases. If you are unsure of what percentage to set I recommend either 10% or 15% as a safe assumption.
Step 4: Identify Opportunities for Improvement
These are the most important data points and KPIs to filter by keyword tags.
Search Volume - Anticipated search volume for a tracked keyword.
Current Keyword Rank - Tracked keyword that's currently ranking.
Forecasted Keyword Rank - Forecasted rank change it will take to gain additional increases in search traffic.
Forecasted Search Traffic - Anticipated increase in search volume expected as a result of the increase in rankings.
If you're an Excel whiz, you can export the keyword forecast data and perform your own deeper analysis.
Recommended Reading: How to Forecast Organic Traffic by Improved CTR [Excel Sheet]
However, to get a high-level view I prefer to sort by the keyword tags and quickly spot where my opportunities are and export to Excel from there.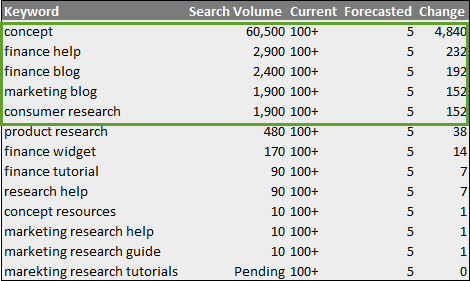 By following this process, you can see that the majority of optimization opportunities fall between "concept" and "consumer research." Then, when we pair this data with our keyword map, we easily identify keyword opportunities associated with that particular URL.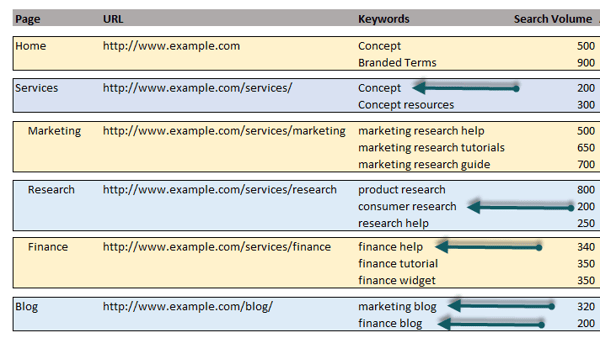 Behold, the Power of Forecasting!
As SEO professionals and Digital Marketers, we tend to wear many hats. Search engine optimization has grown to include technical aspects, copywriting, data analysis and more. Forecasting optimization opportunities allow you to organize your efforts, prioritize tasks, and quickly identify opportunities for improvements to push your SEO strategy forward. This will in turn yield a more successful site (hopefully a higher CTR and conversion rate!) and richer SEO prosperity.
By creating a keyword map, tagging your keywords and leveraging seoClarity's Traffic Potential tool, you can spot hidden opportunities. (Be sure to track key SEO ROI metrics to monitor progress.)
And not only does forecasting reveal opportunities, it is also crucial for creating an SEO business case that proves the value of your work to your executives!
Recommended Reading: How to Measure the ROI for SEO (5 Ways)
I'd love to hear your experiences with identifying hidden SEO opportunities, please feel free to comment below.