Enterprise SEO takes all the facets of search engine optimization … and multiplies them.
As an "enterprise SEO," you may work across multiple sites with thousands or millions of pages with a handful of different teams to orchestrate the SEO strategy, while making it more efficient.
If you're looking to understand specific, real-world examples of how enterprise SEO is unique (and what to know to succeed at it) keep reading!
For those looking for a general training guide into SEO, this post isn't for you. But don't worry! We have a number of resources that can get you started with the basics of SEO with an SEO and Content Marketing Learning Center that has something for everyone.


What is Enterprise SEO?
You already know that enterprise SEO is the implementation of search engine optimization tactics that improves an enterprise-level website's usability, relevance, and authority to increase the company's organic search visibility (and organic traffic, conversions, and revenue).
It's the practice of SEO, but across a large organization whose site contains thousands or millions of pages, many stakeholders, and big goals.
And like other digital marketing channels, it has its own challenges and considerations when tactics meet action.

What Makes Enterprise SEO Different?
Whether you do SEO at a business with a hundred pages, or at an enterprise with a hundred thousand pages, the essentials of a company's SEO program stay the same.
You still conduct keyword topic research, analyze rankings, optimize content, and monitor the competition.
What does change is the scale of the work.
In fact, two main factors define enterprise SEO: large sites, and getting the rest of the organization as a whole to believe in its value.
Within enterprises, there are so many moving parts, so many on-going projects, new products and digital assets, and of course, so many competitors that you fight against for search visibility.
All the while other teams that impact the website change, edit, or delete elements on the site that can have a substantial impact on the SEO performance.
Top performing companies think about SEO differently — to them, it's not search engine optimization, it's search experience optimization.
Educate your company on how SEO impacts the overall user experience of a website to create the best search experience possible.
Here are some ways that SEO brings success to the organization, and how enterprise SEOs may have to wear many hats.

Evangelizing SEO at the Enterprise Level
As you already know, SEO is a team sport! Especially at the enterprise level. We've worked with some of the smartest SEOs across the globe and a big part of their job is to make SEO relevant across so many different teams and stakeholders.
The challenge is how to do that!
Communication to your internal teams on how SEO impacts the experience of potential new customers is crucial.
Easier said than done...
Every department has priorities of their own. In order to increase general buy-in into organic search, work to educate and empower your team — try not to just talk at them or seek to assign them disparate tasks.


#1. Explain how SEO brings value to the entire organization
SEO is often isolated from other departments in an organization. Many people think that SEO is only applicable to the actual person in that role.
This way of thinking sets back the entire company.
It's your job to educate your enterprise on the value of SEO. The way you talk about SEO within your organization matters.
Product managers can use SEO data to understand how customers search for products and educate themselves; content writers can integrate key topics into their work to meet the audience's demand; UX teams can determine which content and pages convert the most customers.
The value doesn't stop there. Learn more about how SEO data brings value to every team in the organization so you can be prepared to educate your coworkers and knock down those silos.

#2. Know how all the digital teams at your company can benefit from an SEO platform
There's a strong chance that organic search will continue to be ignored if its value isn't shared with other departments. If your company has invested in SEO software, and the organization thinks that it's only benefiting the SEO, that investment could be re-evaluated down the road.
SEO technologies aren't just for the SEO team. They allow multiple digital teams to work from a single source of truth, where all data is consolidated and centralized.
If you've made a business case to your management and now work with an enterprise SEO platform — or need a good reason to make the investment — know that the capabilities of an SEO platform extend well beyond the use of the SEO. Learn how enterprise companies benefit from unified data in an SEO platform for digital teams.
#3. Collaborate with content writers to produce the most relevant content
The way you talk to your content writers can completely change how they approach their work.
Because SEOs and content marketing teams often work under different managers, or prioritize different projects, it's your job to build a relationship with your business's content team.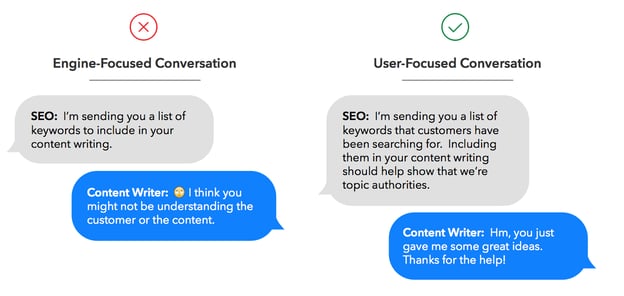 At the root of it all, SEOs and content teams want the same thing: authoritative copy that drives clicks and boosts engagement metrics. You're reading the same book, you just have to get on the same page.
→ How SEOs and Content Marketers Work Together to Drive Growth


#4. Create a relationship with the IT development team
An organization's dev team has just as much influence on SEO success as you do. They have the ability to manipulate the entire site and practically all of its components. They can squash SEO issues before it sees the light of Google, if they only knew.
It's critical to align priorities and the critical aspects of SEO to ensure the best outcomes.
But in an enterprise organization, the dev team is buried under a never-ending amount of projects; everyone competes for their own priorities.
If you want to succeed at enterprise SEO, it's crucial to communicate effectively with the development team.
→ Web Development & SEO: Working Together to Prioritize the User Experience


#5. Structure your SEO to establish roles and responsibilities
Organic search can become one of the most misunderstood and complex marketing channels for any organization. But as you've seen, it's also one of the most invaluable.
Even experienced SEO professionals can have a hard time propelling their SEO program forward with so many stakeholders and teams that need to participate in SEO.
If you add bringing on new software, training alone can become overwhelming! (No one really likes change, after all.)
An enterprise SEO knows how to structure their in-house SEO team to simplify SEO and make it a part of everyone's role. Having that single source of truth and on-boarding the entire team into that process and the SEO software can make a difference. Start with standard operating procedures, align your team to find the most success with organic search.
Showing your organization that SEO is important, but it can only come after you've formed accountability within your own team.
→ Structuring Your In-House SEO Team: On-Boarding an SEO Platform


#6. Be familiar with all the various roles that comprise an in-house SEO team
People at an organization most likely don't know much about SEO, let alone the roles that comprise the team. This lack of knowledge acts to further disconnect the organic program from the rest of the organization.
Learn to be comfortable explaining the role and duties associated with each member of the in-house SEO team.
This intricate knowledge of the team makes it easier to connect with different departments, and share with them how various components of organic search can add value to their work.
→ All-Star Cast of SEOs: Building a Winning In-House SEO Team


#7. Train and educate your peers instead of simply talking to them
An effective strategy to educate your peers is to conduct regular training sessions and other events like lunch-and-learns.
You can also schedule a short time slot at the monthly management meeting and use the few minutes to show how each department helped SEO and vice versa. This will further prove to them the power of SEO, and make them further inclined to collaborate more.


Enterprise SEO Framework: Search Experience Optimization
Enterprise SEO goes further than educating others of the power (and necessity) of SEO. It also approaches SEO differently.
Once you establish how to talk about SEO in your enterprise organization, you can get to the core of it.
In order to offer the best search experience possible, the best enterprise SEOs follow a simple framework: Usability, Relevance, Authority.
Usability: This is your technical SEO: Is your website responsive, engaging, shareable, crawlable, and indexable?
Relevance: Establish your relevance with great content that inspires, informs, and entertains.
Authority: Your site earns links, citations, and references.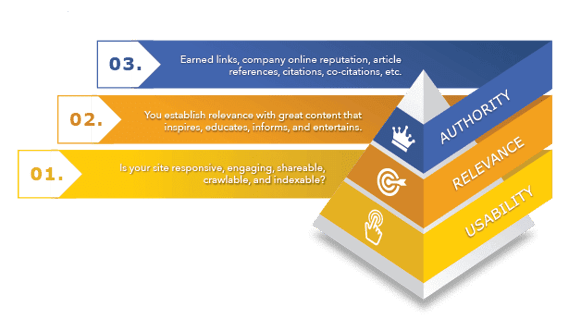 When you follow this framework, you're on the path to improving your SEO but also building a culture in your organization to consider the search experience of the customer.
More on how to create a positive search experience >


What Every Enterprise SEO Needs to Know
A proper understanding of usability, relevance, and authority is key to succeeding at enterprise SEO.
We've grouped the following skills by those classifications so you can work to master the entire URA framework and implement it at your organization.


Usability
#8. Act on crawl insights to strengthen the user experience
Enterprise-level sites can have millions of pages, which can complicate the crawling process. Take stale crawl results, for example, where the results are outdated by the time the crawl finishes.
The goal here is to finish the crawl within a specific time-frame without putting too much stress on the site.
Despite the challenges, these insights are too valuable to pass by.
You know that a technical SEO audit returns valuable data into your site health, but the evaluation of that data (and subsequent implementations) leads to a user-friendly site. Act on the right insights to form the foundation for your other SEO efforts.
→ A Guide to Crawling Enterprise Sites Successfully


#9. Judge if the JavaScript is accessible to Google
Google can execute JavaScript, and it does so in three stages: crawling, rendering, and indexing.
Google says that, "While Google Search runs JavaScript with an evergreen version of Chromium, there are a few things that you can optimize."


#10. Know what to look for before pushing a site to go live
Launching a site requires many considerations. Any site that's going live needs to have the basic SEO elements in place: an appropriate site structure; an SEO-friendly URL structure; content with appropriate title tags, meta descriptions and headings; canonical tags; a responsive design for mobile; a sitemap; schema markup.
If your new site is the result of an SEO site migration, there are other considerations to be mindful of as well, such as redirects and having consistent content.


#11. Know the difference between server-side and client-side redirects
Server-side redirects operate at the server level and are 30x HTTP status codes, while client-side redirects are triggered from a request from the browser, and include meta refresh and JavaScript to accomplish the redirect that presents a problem for search engine bots.
The trouble is that client-side redirects may not pass along SEO authority. In the case of JavaScript redirects, Google may not be able to read them, or in other cases, may not see the redirect due to refresh time.
→ Redirects for SEO: The Ultimate Guide to SEO Redirects


#12. Determine when a page went live and new pages become available to Google
Not only is it important to understand the health of your site on a regular basis (you know things change quickly at the enterprise level!), it's also important to understand: Is Google prioritizing what you want them to?
Obtaining bot files can seem like a daunting task when you work for a global company. After all, where do you even start?
Trust us when we say that it's worth it. seoClarity's log-file analyzer, BotClarity, provides valuable insights to determine where Google spends your precious crawl budget.
Are they picking up those pages that your content team has been working so hard on that recently published, or are they spending time bouncing around within your site hitting multiple redirects?
Has it been a while since Google crawled certain pages? (Hint: If so, it might be time for a content refresh!)
These insights drive strategy: Internal linking initiatives, content prioritization — the list is endless!


#13. Understand semantic web, natural language processing (NLP), machine learning, and information extraction
It's no secret that the web is complex. But when you understand it's nuances, and how search engines operate, you'll be able to create a better search experience.
Not to mention, working successfully at the enterprise level is nearly impossible without leveraging machine learning and artificial intelligence.
As a summary, the terms listed above overlap and intertwine to create the intelligence of search engines as we know them. The semantic web makes the internet machine-readable. Information extraction is extracting machine-readable information and making sense of it.
Natural language processing is a search engine's (like Google's) ability to understand language as humans use it. This allows the search engine to correctly process queries that are written in a conversational manner.
Machine learning is a computer's ability to learn from data and adapt to become smarter with data processing. This is why Google is able to continuously grow to understand new things.
It's clear that search engines thrive off of machine learning and natural language processing, and the best SEOs integrate this into their work as well. It's the only way to stay ahead in an ever-changing industry.
Take understanding how users search for information, for example. This is a key component of topic and keyword research. What questions do users ask around the topic?
Natural language processing in Topic Explorer, the topic research component of the seoClarity platform, lets you instantly uncover direct question words to understand what the audience is asking.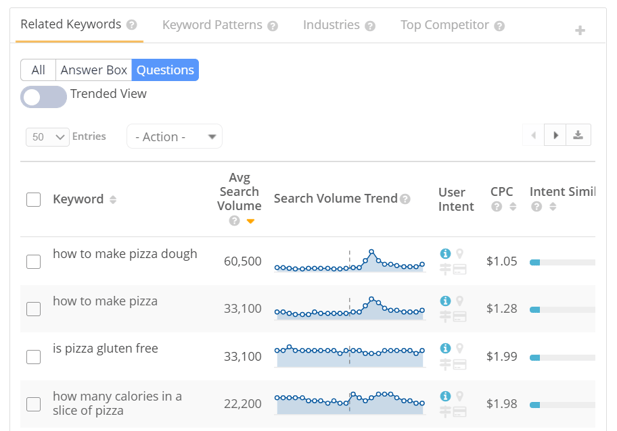 The same intelligence that Google uses to make sense of information can be used to scale your own processes.
→ Machine Learning and SEO: What Smart Computers Mean for the Future of SEO


#14. See your site as Googlebot sees it
When enterprise sites are constantly publishing, updating, and changing content, there's hardly any way for the lead SEO to know about every page on the site.
Teams are siloed after all!
Give yourself an inside look at how Google sees your site, and pick up some valuable insights along the way.
Many SEOs don't conduct log file analysis, but uncovering real information from Google tells you if your crawl budget is efficiently spent, there are any accessibility issues, and which pages Google doesn't know about.
If Google isn't spending time on the pages that lead to conversions and revenue, for example, that's a clear indicator to change your strategy.
A strong log file analyzer can correlate data between bot activity, rankings, and traffic. It also gives you both the high-level and detailed point of view to clearly mimic the eyes of Google.
TIP: Segment your site (e.g. folder structure, page types, etc.) and look at how Google crawls each. This shows you how much time Googlebot spends on each portion of your site, which can inform your next steps.
→ How to Find SEO Insights From Log File Analysis


Relevance
#15. Develop a framework around the user experience
The way we think about SEO has changed. What was once search engine optimization is now better thought of as search experience optimization.
You don't need to be told that Google constantly updates its algorithm, and that that shouldn't be your biggest concern. You can't stop Google from changing, adapting, and growing, so you need to change, adapt, and grow with it.
It's not about the algorithm, it's about what the audience finds relevant.
Though for an SEO managing a site with thousands of pages or across multiple locations, it can prove challenging to constantly ensure a positive user experience. There are so many considerations to take into account, after all.
An established framework that works itself into your process can help create a positive user experience from the ground up, starting with usability, leading into relevance, and authority.
→ Search Experience Optimization: Take a Better Approach to SEO


#16. Add appropriate schema to your pages
There are so many schema types out there nowadays … How do you 1. Decide which to implement, and 2. Implement the schema correctly in a time-efficient way?
Many many turn away from schema because of a lack of knowledge with the code.
The schema you implement depends on your vertical. Some schema types, like product and review schema, are best suited for ecommerce, while other types of schema are best for property listing and real estate.
It's also wise to pay attention to both Google and the competition. More on that here: Picking the Right Structured Data for Your Page.
As for implementation, there are three methods to implement schema: JSON-LD, Microdata, and RDFa. We recommend JSON-LD (and so does Google!) because, as we explain in our guide to incorporating schema, "JSON-LD content will not be affected by layout changes."
But for those unfamiliar with the data formats, schema is intimidating — despite its benefits. Schema Builder is a tool that writes the JSON code for you, so you can implement schema without a developer.
The point-and-click interface lets you choose which schema you'd like to add, and have it ready to launch in a matter of seconds.


#17. Understand the searcher intent of a topic or keyword
Content doesn't perform if it addresses the wrong search intent, but identifying search intent at scale proves to be challenging when working across thousands of keywords and pages.
There is a non-scalable way to check the intent of a keyword, but the process will take hours, when enterprise SEOs (who are constantly juggling multiple projects) need the results immediately.
Yes, you can review the listings on the SERP and the content you see will clue you in on the query's intent.
Informational Intent: blog posts, how-to's, Answer Box
Transactional Intent: product listings, product pages
Navigational Intent: company homepages (e.g. "Apple")
Local Intent: Local pack (map results)
But to come out ahead, and scale your content creation, use SEO technology to discover intent at scale. The seoClarity platform, for example, reveals intent at multiple stages of the SEO lifecycle, like keyword research (Topic Explorer) and content creation (Content Fusion).
→ User Intent Uncovered: What You Need to Know to Scale
→ How to Apply User Intent Across the ENTIRE Content Marketing Workflow


#18. Set up actionable SEO tests
There's a lot you can test in SEO, but all tests let you accomplish the same goals: reveal positive outcomes to build upon, save time, and earn buy-in.
A good SEO test has a standardized approach. It clearly defines what the testing variable is, and creates a clear separation between the test group and control group. But the SEO test doesn't just stop at implementation: have clearly defined KPIs that you can monitor to review the outcome in a time test, and measure the performance of the test.
→ Does A/B Testing Negatively Affect Search Engine Optimization?


#19. Report your SEO success
Your SEO program may be a huge success in terms of impressions, traffic, and conversions, but success means nothing if you can't effectively show it.
There are different kinds of SEO reports that each have a suitable situation, and an enterprise SEO should be able to craft the perfect report for the appropriate situation.
Reporting to executives, for example, requires a different lens than a dashboard meant to gain buy-in into the SEO program.
Once you've learned the basics of reporting, you'll be able to experiment with dashboards and tell the perfect story for SEO.


#20. Monitor what the competition is doing
Competitive insights are a key part of forming your own SEO strategy.
You probably already know what your competitors are doing, but things get a little more difficult when you monitor the little things:
How do they structure their content?
Do they have FAQs at the bottom of their pages?
Are there blocks on their category pages?
Where are they getting the majority of their backlinks?
To monitor your competitors at scale, you'll need to be equipped with proper SEO software. An SEO platform with dedicated competitor insights capabilities lets you monitor the competition's backlink profile, and on-page SEO elements. You can even monitor the competition's rankings to close your own content gaps.
To stay informed about competitors' content change alerts (this can clue you in on when they release a new product or promote a sale, for example) seoClarity users can also benefit from our SEO page monitoring tool.


#21. Understand the impact of organic listings and paid search
Paid search seems to get all the attention. After all, it's a more understood channel: pay and receive traffic.
When PPC is prioritized, less people (and stakeholders) care about SEO, but there is an incredible amount of value in seeing both channels' performance side-by-side.
With access to the right data and insights, you can identify opportunities to optimize PPC spend and focus more on SEO optimizations. This lets the marketing team pull back on PPC spending and lets teh SEO demonstrate the power of organic.
The exact impact differs from case to case, keyword to keyword, but by integrating your SEO and PPC, you'll be able to evaluate incremental savings vs. incremental loss in revenue.
→ Competitive Paid Search: When Competitors Conquest Your Brand Terms


#22. The difference between the mobile and desktop experiences
We live in a mobile-first world. If mobile isn't prioritized, you miss major opportunities. But in order to win on mobile, you'll need to understand it and how users search for micro-moments.
Mobile and desktop experiences can be very different. In fact, they should be. Each experience should be tailored to the device that the content is being presented on.
However, one thing should always be consistent: the overall user experience. When you optimize for mobile, be mindful of certain elements, like readability, page speed, and users' search behavior.
Authority
#23. Build authority in your vertical
Multiple factors go into SEO and search engine rankings. But success isn't just dependent on what you do, the competition is always working hard!
Your competition may:
Address the correct intent
Use schema
Create authoritative content with an AI-powered content optimizer like Content Fusion
Have strong topic clusters and follow internal linking best practices
Offer a better user experience with things like a fast page speed
If your competitors constantly beat you in the search results, there are a few SEO tweaks that you can implement to increase your search visibility.


#24. Earn high-quality backlinks
Link building still remains relevant to SEO despite some debate over its importance, but two main issues arise:
You have no direct control over your backlinks
There are so many for enterprise sites, many of which can be spammy.
In order to earn high-quality backlinks (and therefore increase your authority) it's important to create unique, quality, and relevant content.
However, one secret of enterprise SEOs is this: You don't always need to create new content in order to build links. Simple items like short URLs and fact-based content can earn great links over time.
As for spam links, a quick disavow workflow can catch them in large quantities.
→ How to Build Backlinks Without Creating Content Chaos


#25. Link management and site authority
Link management is key to having insight into what links actually help your site, but this is not a numbers game. Sure, links build authority, but only when they deliver value.
You should be able to answer yes to these two questions:
Are the links appropriate?
Do they add value to the page?
→ How to Run a Backlink Analysis of Your & Your Competitors' Link Profiles


The Benefits of an SEO Platform
As you already know, a lot goes into enterprise SEO. While many of the characteristics of SEO stay the same, things change drastically when you take into account thousands or millions of pages.
The truth is this: There is no way to succeed at enterprise SEO without SEO technology.
We've hinted at a few of our own capabilities throughout this post, but now I can tell you that seoClarity is a complete platform — we have an entire suite of capabilities that covers the entire SEO lifecycle, many of which can be automated.
See how seoClarity automates your SEO so you can prioritize your time.
Keyword research, content writing, technical SEO … the list goes on. And we have it all.
We want our clients to succeed, so we want them to have the best.
Having access to the right technology allows you to scale your work so even a million pages becomes manageable. And if you follow the methods for evangelizing SEO, you'll have a support team to help you manage it.
Some enterprise platform providers also have the added benefit of offering enterprise SEO services. At seoClarity, if you need a jolt to your SEO program, our Professional Services team use a data-driven approach to streamline your efforts and get you to results.
An enterprise solution also means enterprise security. We don't collect an personally identifiable information, and we adhere to GDPR regulations.
Here are two great resources on the power of an SEO platform:
→ 5 Tricky SEO Challenges That Only an SEO Platform Solves
→ Why Choose an SEO Platform Over a Specialized SEO Tool Like Semrush?