A website migration is one of the most dreaded scenarios in search engine optimization.
In fact, for many practitioners, the concept of changing URLs is practically synonymous with losing rankings and search engine visibility – after all, the process affects almost every technical aspect of the website.
But it doesn't have to be daunting! In this post, I'll show you a 3-part approach to move a site without losing rankings and traffic. You can also follow along with our checklist, here:
It is possible to plan and prepare for site transitions and mitigate or greatly lessen the downside impact on your organic search channel.
You can easily move to a new site without causing a major disruption to your organic traffic and a loss of precious positions in SERPs along with the revenue that goes with it.

Here's what we'll cover in this post:
What is a Site Migration?
A site migration focuses redirecting valuable pages to their new location. This ensures that Google can find, index, and retain the new content's rankings for relevant keywords.
But of course, there's a lot more to this … and a lot that can go wrong.


What are the Risks of a Site Migration?
Marketers' largest fear connected to a migration usually relates to a loss of search equity, rankings, and traffic.
The risk of downtime also comes into play, as a migration can postpone the implementation of other SEO strategies.
As my colleague Susan said in her post on international site migrations:
The process affects almost every technical aspect of the website, which means that the possibility of losing rankings goes up with every element you change or migrate."
Our website migration services have helped multiple clients find success with their migrations.
We even developed a proprietary migration framework that you can follow: SEMS.
S

earch

E

quity

M

igration

S

trategy
Following a structured approach for a migration lets you mitigate any potential risks. We typically break the migration process into three separate stages:
Preparation
Development
Launch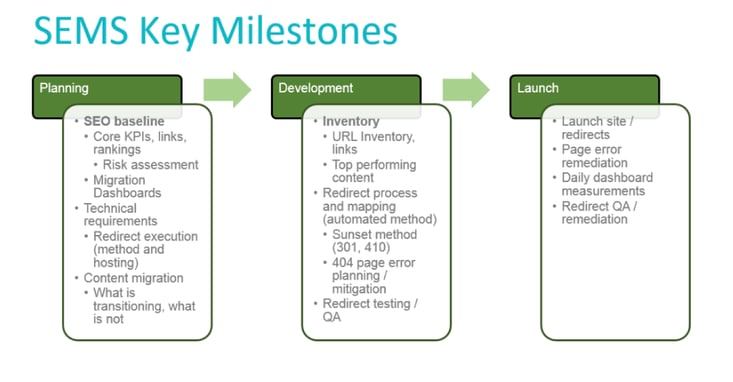 Part I. The Preparation Stage
Initially, your primary objectives during the migration are simple:
Make your new website designed to maximize SEO performance, and

Create benchmarks that will help you measure the effect of migration on your brand's visibility.
And so, as a first step, ensure that the new website includes all the necessary elements that will convince Google of its authority. At a minimum, this includes:
Then, analyze your content to determine your current SEO standing. If you're using our platform already, create dashboards to monitor these metrics and compare them with results after the move.
This will provide you with benchmarks to assess the success of the site move (or indicators where things might have gone wrong).
At a minimum, make sure you look at the following metrics:
Traffic
This should include the traffic volume, bounce rate, conversion rate, and time spent on page.
These metrics help you establish the effect of the new site on customer experience (which ultimately affects your visibility).
Rankings
Create a list of top keywords you're going to monitor to measure the effect of site transition to your search visibility. The number of keywords you include on the list is irrelevant. What's important about them is that they should quickly reveal potential challenges after the migration.

(Rank Intelligence report in seoClarity.)


I recommend clients use rankings for pages with the highest traffic, as changes to them would be both easier to spot and make the biggest impact on the organization.
Lastly, consider how much difference there is between the current and new sites.
This will help you assess how many potential problems your site migration might cause.
For example, if your organization redesigned the entire site, you'll most likely deal with a whole range of issues, from how well new templates match your existing on-page optimization, to new URLs, and site structure.
To fully identify what is changing, ask yourself the following questions:
Is it a full site transition or just a transition of a subset of the site? Is the subset a subdomain, a folder, or a set of URLs?

Is the site transition just a server infrastructure update or a CMS/e-commerce platform version update?

Will the transition lead to a new domain name?

Will the transition affect the existing URL structures?

Does the site transition involve changes to page layouts or re-coding of templates?

Will the transition change the URLs for existing pages even if structures are not changing? For example, in case the products or content are re-loaded in the database and acquire a new ID that is referenced in the URL?
What specific pages are affected? What category pages are affected? What product/content pages are affected?


>> See how a luxury retailer saw an increase of 100K Visits in 4 months with seoClarity's migration framework <<


Part II. The Development Stage
At this stage, you're developing assets to help you conduct the move in a way that mitigates its potential negative effects on SEO.
We break it down into three steps:


Step #1. Create a Redirect List
Properly set-up redirects are the key to success for this strategy.
Unfortunately, this is also one area developers often skip, naturally focusing on code and other issues more relevant to them.
As a result, redirect issues don't come to light until after the migration has taken place, and the site experiences a severe loss of traffic.
To avoid that disaster, prepare a list of URLs that need to be redirected with 301s.
This list should include pages that received an update on the new site and are important for SEO.
TIP: To do this easily, create an Excel spreadsheet and list the old URLs (with the unique slugs) in one column, and the updated version and slug in another column. Follow this table as you go to ensure you don't forget to redirect a crucial URL.


(Keep track of changes with a simple spreadsheet.)
Those assets are typically grouped into three categories:
Top landing pages:

Use at least a full year's data to identify the most popular landing pages on the site.

Potential landing pages:

Assets that do not bring high-value traffic yet, but offer the possibility to do so in the future and are worth it for SEO purposes. If you're using the platform, you can find these through associated keywords that rank on page two and have high search volume.

Top backlinked pages:

Site migration can affect your search visibility in many ways, and losing quality backlinks is one of them. Ensure that any highly linked-to page is properly redirected to ensure that it retains the link juice.
Don't Forget: Properly redirected pages also ensure that both internal and external links that point to the old page remain valid, which eliminates any potential 404 errors (broken links) that disrupt the search experience of the end user and Googlebot – so you need to keep track of them appropriately.


Step #2. Content Consistency Check
Next, compare content on old and new pages to assess how any differences between them (i.e. usability and actual wording on a page) might affect the relevancy of content to keywords, and in doing so, negatively impact rankings.
You might have cut sections from the content or replaced it with new wording. Although pages might redirect appropriately, content inconsistencies might prevent them from retaining rankings.
Make sure you review and ensure any content on the old site is preserved (or improved) for the transition to the new domain.
And don't overlook the importance of page titles, meta descriptions, robots meta tags, and H1 tags. Any site transition should take into account the preservation of these elements so as to minimize any impact due to the pages being perceived as different.
Also as a part of this process, review canonical URL tags. Depending on the size of the website migration, you'll need to reassess your canonical tags before you bring them over to the new site.
With changes to URL structures, old canonical tags on pages can reference outdated pages and will need to be updated.
Lastly, check internal and external links – the area that can be the trickiest, and unfortunately, the one area where site transitions have a devastating impact if unplanned.
Internal links help search engines understand the sections of your site that you deem most important to direct visitors to.
It is important that the internal linking structure on the new site, at the very least, matches that of the old site – if not improves upon it.
For external links, it is essential to have a full list of external links and domains pointing to each page of your site that is being changed.


Step #3. Test Redirects
Given the importance of redirects to the entire site migration process, it's always a good idea to test them before they go live.
In particular, test your list for:
Broken redirects

Irrelevant redirects

Loops

Correct URLs (

www or no-www

)
I recommend you break up the process into two separate stages.
First, assess your most important SEO pages. These are any assets with prominent rankings that you want to retain. And needless to say, they should be the primary focus of your test.
Check every URL carefully to ensure that once the migration launches, those pages will experience no issues due to poor redirects.
And only when you're absolutely certain that all those redirects work correctly, evaluate any other indexed pages that, although important, aren't as crucial for SEO and search visibility.
Testing redirects concludes all preparatory work for the migration — what's left is to push the site live!


Part III. The Launch
Although your development team will conduct the majority of the work related to the migration, it's your task to oversee its effect on search visibility.
Here's how:
Submit the new XML sitemap to Google Search Console, and include a link to it in the robots.txt file.

The most forgotten step in the migration process is to update Google Analytics and Google Search Console information on the website.

It's also recommended to submit the sitemap to Bing Webmaster Tool.
Remove any old directories from the robots.txt file, or update it with any new directories you want to prevent bots from accessing.
Also, audit the new site for any crawl issues, traffic fluctuations, etc. that might prevent Google and other search engines from accessing your site.
Recommended Reading: How to Create an XML Sitemap and Submit It to Google
Our site audit technology allows you to consistently crawl and identify technical issues on the site. With unlimited crawls, you can set up different projects to crawl dev/staging vs. production.


Benchmarking and Reporting
Finally, go back and review traffic and rankings data after a couple of weeks to assess the impact of the migration on your visibility.
A crucial aspect of any site transition is being able to review the health of the site and performance before, during, and after the transition.
Prepare daily ranking reports from the day of the transition in order to see:

If any of the top non-

brand keyword rankings have been negatively affected, and

If the old highest ranking URLs are being replaced with the correct new highest ranking URLs.

Check the cached dates of a sampling of URLs to review progress of crawling and indexation of new pages.

Track traffic by Page Types (homepage, product/content page, category pages) to make sure traffic levels to different Page Types remain consistent.

Crawl and verify that there are no 404 errors.

Crawl and verify that all planned redirects have been correctly implemented.

Check for any instances of duplicate content.
Here's a helpful post migration resource: The Impact of a Website Migration: Retrieving Historical URL Data.


Conclusion
Ask any SEO or digital marketer and I'm sure they'll concur: Site migration is one of their most dreaded scenarios.
After all, launching a new design, coupled with revised content can lead to lost rankings and search visibility.
You've now discovered our Search Equity Migration Strategy that helps you reduce potential negative impact of traffic loss when moving to a new website.
Don't Forget: Access the Website Migration Checklist to help you tackle one of the most daunting tasks in SEO.
---
Editor's Note: This post was originally published in December 2017 and has been updated for accuracy and comprehensiveness.