You may be reading this because you are ready to hire someone for SEO. If you're trying to build an in-house SEO team but don't know where to start, you're in the right place.
I've worked with hundreds of enterprise companies all over the world and have seen a variety of SEO team sizes and structures. In this article I will share what I've learned from those teams that are leaders in their space.
Let's start with how to begin building your star cast of SEOs!
A successful SEO program requires talent, tools, and training. On the talent side of things, an in-house SEO team usually consists of 2-5 team members. Each brings a special skill set to the table, and the right talent can really push your SEO program forward.
→ Determining Your Team's Size
I have seen many times where a company has a large budget for SEO and invests in a large team. This usually means there are many SEO specialists working on a variety of projects, tasks, and sometimes siloed strategies.
Though these large teams can often move mountains, it doesn't always correlate to long-term success.
When it comes to the size of the team, what I have found is those companies who have an appropriate amount of people, but have completely dedicated support from executive stakeholders have long lasting success for their channel.
Make your talent search easier with our SEO job description downloadable!


When a company invests in a large team on the basis of making SEO a company-wide priority and not to overcome immediate needs, then that program is often the stand-out amongst industry peers.
SEO really does provide value to every aspect of an organization ⁠— it's just a matter of evangelizing organic search and building a center of excellence.
Not every company has a budget to hire 20 people to focus on SEO. It is possible to build a rock-star team with limited head count.
Having a seasoned expert and a small group of hungry marketers balanced with the right technology and processes can have equally successful outcomes, it just requires a commitment from the top and effective leadership to build and march towards a vision for success.
50% of the companies I've worked with that have tremendous success in building authoritative and high ranking websites are teams of less than 5 people.
Among 10 of the largest billion dollar retailers in the world that I've met with, 3 had an SEO team greater than 20 people, 6 had 10 or less, and remarkably, a billion dollar company with 1 amazing SEO.


The Hierarchy of an SEO Team
SEO Executive
The SEO executive is the primary evangelist of all organic search efforts. They are also the recipient of all SEO reports, and focus on progress on SEO strategy execution.
Executives also meet regularly with the internal teams to drive deliverables and results for the organization.
Because they are at the top, they also serve as the driver of KPIs and goals that need to be met. They're also able to view accounts from the top-level to ensure things are on track.
The makeup of a great SEO Executive is:
Focused on integrating SEO into the company at large
Operationally minded
Excellent at interdepartmental relationships and training
Focuses on customer experience, not algorithms
SEO Manager
The SEO manager is responsible for forming the roadmap so goals can be met. They communicate with outside vendors on core KPIs and initiatives to analyze data and keep pushing the company forward.
This person has great people skills and values relationships both internal and external.
Recommended Reading: How to Create SEO Workflows for Consistent, Scalable Results
The person in this role is also a traffic manager, in that they watch site performance. (Think impressions, CTR, rank, backlinks, etc.) The manager also creates and shares necessary timelines on initiatives and has the ability to hold accountability.
Like any great manager that holds an influence on an entire team, it's important for this person to understand all areas of SEO: usability, relevance, and authority. They should be good at problem solving and be experienced to predict potential problems.
The makeup of a great SEO Manager is:
Strong communication skills
Experienced in all disciplines of SEO
Project management skills (and accountability)
Deeply analytical
The SEO Team
The SEO team is comprised of multiple positions that each handle a specialization. But remember, you can still have great results with limited headcount.
SEO is unlike other digital marketing roles as it requires analytics and creative thinking and problem solving. The position also has heavy dependence on the efforts of those outside of the SEO department as it takes a village when it comes to ranking #1 in Google.
Technical Lead
A technical lead is dedicated to usability and website health — or, the technical SEO side of things, as the name implies.
The greatest content in the world means nothing on a broken website. The technical lead monitors for issues that impact user experience and is highly responsible that the site can be crawled and indexed by the search engines.
Content Manager/Writer
The content marketing team typically consists of a manager and writer. The content manager is responsible for fresh, unique and relevant content for every web page.
They conduct keyword research and plan the content marketing strategy to guarantee that the content is authoritative and on topic.
The content writer creates the SEO content and optimizes it for those terms that are most relevant and valuable. The content is then frequently measured to ensure that it's driving organic traffic to the site, building links, and ranking well.
If it fails to perform, the writer can conduct content optimizations (i.e. update the content) to give it a better chance to earn search visibility.
SEO Analyst
An SEO analyst makes data-driven decisions by planning tests, and then collecting and analyzing the results. This allows them to identify trends and insights, which opens the dialogue to their recommendations.
Because they have access to these data insights, it is also their job to develop weekly reports for other teams and the stakeholders.
Data Scientist
A data scientist takes the advantage of analyzing volumes of data in order to identify or predict trends and patterns for true data-driven decisions. SEO gives way for millions of data points, and a data scientist is capable of taking that data and giving it a relevant meaning.
Recommended Reading: SEO Data for Data Scientists: Demonstrating the Power of seoClarity
In 2019 I encountered a growing number of SEO teams comprised entirely of Data Scientists. The concept was simple: let the data make decisions on SEO strategy instead of traditional marketing laurels.
Product Team Member
The most successful SEO teams I work with have at least one dedicated Product Manager.
This is often relevant to retail sites but more and more industries are adopting product management beyond the traditional application.
You're probably aware that the product team does much more than just branding and distribution, they also play a role in online search optimization.
The product team member ensures the optimizations and content for a particular product appears on the site. This could mean naming a product with SEO best practices so it's more likely searchers will find it from their query.
Here's a top-level glimpse at what a company's search team can look like (with paid included as well).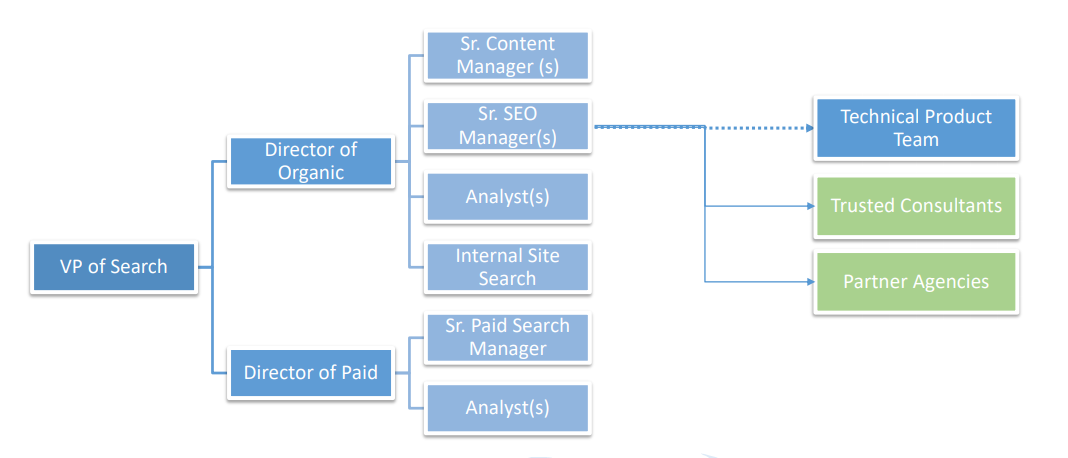 (The hierarchy of an in-house SEO team.)


Determining Your Ideal SEO Team's Size
Now that you have an idea of what roles are a part of organic search, it's important to note that each role may not be critical for your organization.
If your company does not launch new products or services on a regular basis, maybe you don't need a dedicated content writer; instead, the duties can be assigned to the content manager.
The same is true of the product manager: consider if your business launches new products and has a specific need for that role. If you're a large enterprise, you most likely have larger and more frequent product launches, so a product manager could be critical.
Whether you decide you have a need to hire all the SEO positions or just a few, you'll still have to justify the expense of your SEO team. You'll have to set up a budget and form a tangible goal to work toward.
Getting buy-in for organic search may seem daunting, but creating a solid SEO business case ensures the budget proposal is based in facts and data. If you can demonstrate that the SEO team can bring value to the company, you'll win!
Use the expected salary costs below to help form your SEO budget and ideal team size.


Costs of an SEO Team
Now that you know the roles that go into search engine optimization, let's go over some costs to see if it works with your budget. The expenses of an SEO team will vary depending on what positions are filled and who fills them.
Here are a few of the positions mentioned above and their expected yearly salary.
Note: These salary levels are based on the US job market and can vary depending on city and state. They also do not take into consideration the cost of benefits and insurance.
Toward the top, an SEO manager earns around $60,000 to $100,000 per year. Again, they formulate strategy and lay out the roadmap so goals can be met.
Content managers tend to earn between $55,000 to $75,000 yearly, while writers fall into the $35,000 to $50,000 range. All salary earnings will of course depend on experience, as well as other factors.
For SEO analysis, you can expect a salary range of $40,000 to $85,000 per year.
For a comprehensive look at the costs associated with search engine optimization, we've put together an SEO pricing guide that covers it all.
If you're not able to fill all the positions, that's perfectly okay. Remember, you can build an SEO team with a limited headcount, so don't let budget get in your way.
Recommended Reading: Don't Let Small SEO Budget Stand in the Way of Great SEO


Conclusion
Bringing your SEO in-house can be a great decision for your company, and now that you have an understanding of what positions are involved, you're one step closer to making it happen.
After you hire your staff and begin to formulate a strategy, be sure to pay attention to the next aspects of SEO: tools and training.
The seoClarity platform is an enterprise-level solution that allows businesses to simplify, structure, and scale their SEO.
However, there is a countless amount of other SEO software on the market as well. Start your search with the top SEO platforms to see if an SEO platform is the best solution for you. Otherwise, consider point solutions, like rank trackers, keyword research tools, and site audit tools.