In a recent conversation with a prospective client, we discussed the challenges they face in scaling their SEO. While their business had worked successfully with an agency for some time, they soon realized that if they wanted to take their SEO to the next level, their internal team would need to bring part of their strategy in-house.
Agencies are an effective way to help enterprise organizations jump-start and scale an SEO strategy. In my 10+ years of offering enterprise SEO solutions, I've experienced enterprise organizations doing this with great success.
But, there comes a point when a single employee moonlighting as an SEO or a digital marketer overseeing your SEO among an array of other objectives aided by an agency isn't enough anymore.
That's precisely when, in order to scale your efforts, you must bring the strategic control over SEO in-house and evangelize it across your entire organization.
In this post, I'll show you the 3 growth stages to bringing your SEO in-house to balance your efforts between agency and internal talent.
What Makes Enterprise SEO a Success?
SEO is more than just adding keywords to pages. Successfully positioning an enterprise-level website in search and then, increasing its search visibility requires:
Managing and overseeing the entire strategy

Conducting technical audits

Utilizing content marketing campaigns

Training key strategy stakeholders

Analyzing and reporting on the performance

Collaboration across dispersed teams

Most importantly,

evangelizing the role of SEO for the organization

.
None of which is a small feat, as I'm sure you agree.
In my experience working with enterprise companies, there are three ways in which these organizations manage their SEO campaigns successfully.
Some rely heavily on agencies for guidance but often also their campaign delivery.
Others believe it's better to have their SEO in-house. They see agencies as disconnected and prefer to utilize internal resources only.
However, the most successful companies land somewhere in the middle. They leverage the strengths of an agency and an enterprise SEO platform with an in-house talent.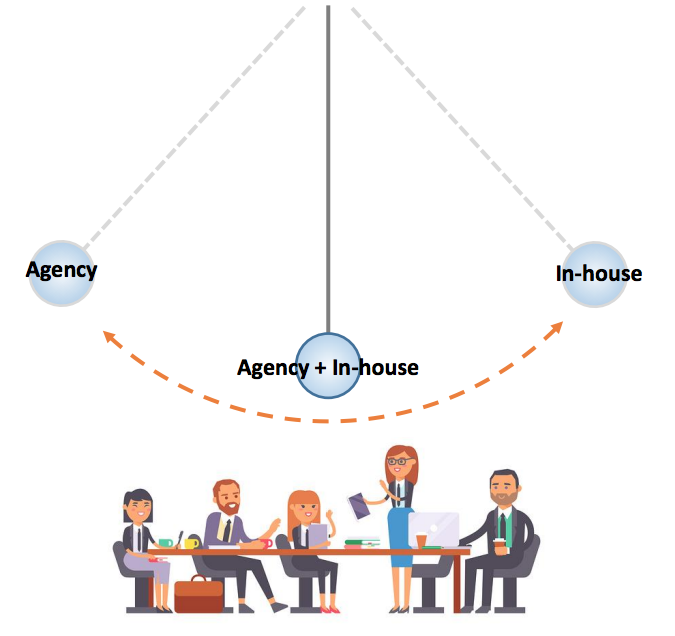 Here's why.
Companies that rely heavily on an agency often face a serious challenge. They still have to do what the agency recommends -- a hard task to complete without resources to produce all of the necessary assets and implement insights an agency provided.
Companies that depend on their internal teams struggle with inconsistencies between outputs from various teams, many of which work from different locations or technology stacks.
Organizations in the middle win because:
They use an SEO platform that allows them to do more by themselves – access the data and implement processes to centralize their efforts and keep control over the strategy.

And then, they utilize agencies for production only – the delivery of assets and strategies.
Why Platform and Agency Combination Works So Well for In-House Teams
Here's something I remind our clients about regularly:
To control search visibility, you must work with data and insights not clouded by a person's judgment or experience.
Think about it: an agency delivers data that comes from manual aggregation, human-limited analysis, and is based purely on the experience of the person extracting it.
An SEO platform, on the other hand, is free from such limitations. You get automated data aggregation, web-scale analysis, and insights stemming from machine-learning.
As a result, a platform delivers the complete picture of your search strategies and more. It's also capable of analyzing massive amounts of data. Finally, it lets you focus on the strategy and control, freeing the agency to focus on production.
But of course, changing the approach of working with agencies is only part of the process.
Here's what you need to do to bring SEO in-house, specifically.
The 3 Growth Strategies of In-House SEO
Successful enterprises go through three growth stages of in-house SEO:
First, they build the foundation.

Next, they accelerate those initiatives and spread SEO across the organization

And finally, they use the above to advance the brand.
Stage 1: Building the SEO Foundation
The goal for the first stage is to jump-start your SEO, get the basics in place and show some quick wins.
In practical terms, this requires identifying goals for SEO, KPIs to monitor, and establishing baselines for reporting on the efforts.
And for that, you need three elements – talent, tools, and training.
As an organization, you focus on the first group – the people you bring in to own, run and push the execution of SEO.
A platform like seoClarity helps with the remaining two. Tools and training help you accelerate and do whatever you need to do very quickly and easily. From insights, competitive benchmarks to reporting, workflows and consistency, the platform and its customer success teams help found your efforts.
Stage 2: Accelerating Initiatives
As you start accelerating initiatives, you need to make sure that everyone in the organization is aligned with the idea of SEO.
I often use the car analogy when illustrating this concept. For it to go racing ahead, everything in a car must work together. The wheels need to spin with the same velocity, the engine needs to hum, and doors stay on.
Similarly, in an enterprise organization, you need a strategic framework for decision-making that will allow new initiatives to move forward swiftly. And to achieve that, you need to break SEO free from a silo and align everyone involved to think similarly about it.
For example, when you go to your IT person and talk to them about SEO, you might talk about things that aren't aligned with their goals.
They focus on a good and fast user experience first. As a result, they see SEO related errors as a hindrance from working on what's important to them.
Similarly, asking writers to include specific keywords might seem like voiding them off their creativity.
To break those barriers, you need a way to change the conversation from engines and algorithms to:
Focusing on delivering a terrific user experience

Aligning SEO with overall corporate and individual stakeholder priorities
By changing the way everyone talks about SEO, you make every search-related request relevant to their goals too. And what goes with it, simplify the decision whether to focus on it or not.
Stage 3: Advancing the Brand
Once you've done your evangelization, you've put the talent in place; you're ready to build simple, scalable workflows that deliver consistent and reliable results no matter which part of your organization or what site you're working on. And for that, you need to develop what we refer to as URA framework – Usability, Relevance, Authority.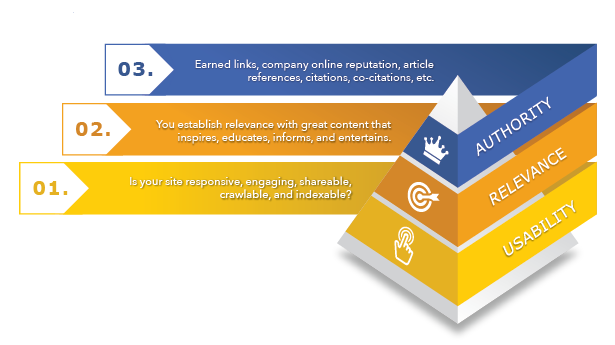 However, there's more to this framework than just putting order to your SEO focus. It helps establish the foundation for how everyone in the organization should think about it too.
Because when bringing SEO in-house, you don't want to make everyone an SEO expert. In fact, your core key talent should be the only people with wide knowledge on the topic. Everyone else should be taught what they need to know, based on their roles and how they could help support the SEO team.
By creating workflows and standard operating procedures, you create consistency across various outputs and channels that allows you to execute, track, analyze and tweak your strategies continuously.
How We Help
I want to make this clear: seoClarity is not just technology.
True, we offer an enterprise SEO platform. But at seoClarity, we help you solve the challenge of taking on the hardest parts of enterprise SEO. In fact, we are here to STRUCTURE, SIMPLIFY, AND SCALE your SEO.
STRUCTURE
First, we help you put structure to how you approach SEO. This includes getting all your metrics into one place. Then, leveraging the platform's capabilities to extract data and insights you need to create a thorough strategy.
SIMPLIFY
At first, every stakeholder is going to have their own view of SEO. A team in one country will consider one area of SEO as their primary focus, while another will want to work on something else, and so on.
By simplifying it down for every role, you ensure a consistent approach to data analysis, insights, and knowledge-levels.
SCALE
This happens by building repeatable workflows and best practices, plus developing a Center of Excellence to expand SEO across the organization further.
But does it work?
Let me show you results of a survey we conducted on customers' SEO before and after implementing SEO strategies.
Before using the platform, the majority of their time went into activities other than the actual execution – data gathering, analysis, reporting, and so on.
With seoClarity, it's all about the execution – achieving greater and greater search visibility.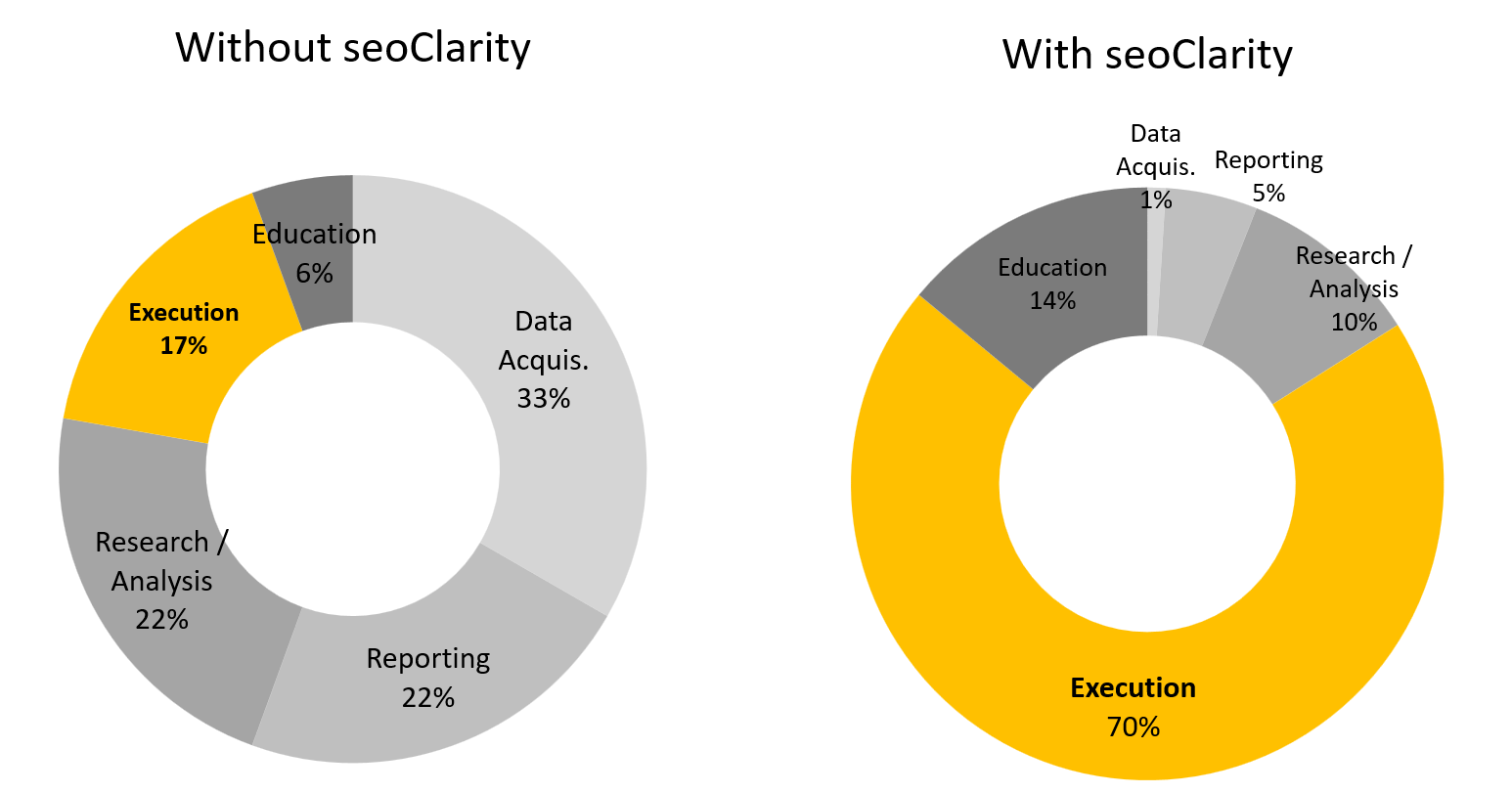 Conclusion
Any enterprise organization that wants to take their search visibility further must first and foremost bring the strategic control over SEO in-house. This means, building an internal team, evangelizing the channel across the organization, and using a platform that adds structure to data and insights they require.