Are you facing having to deliver SEO with a smaller budget? Wondering whether achieving incredible results with fewer resources is even possible?
Unfortunately, sometimes, companies find themselves forced to downsize budgets dedicated to SEO. Recessions, economic downturns, or a pandemic like the one we're currently experiencing can put working on search visibility as a simple line-item: it's a nice-to-have but not something worth dedicating major resources to.
Well, I have some good news - a small SEO budget doesn't automatically limit your ability to increase your company's search visibility. Yet doing so requires you to focus on the most essential aspects of SEO.
You don't need to hire an SEO company to help with your content marketing strategy; everything you need for successful SEO is at your disposal with seoClarity and I'll tell you all about it in this post.
A Small S
Commonly, when we think of a budget, we think money. Small SEO budget would, in this case, mean fewer resources to acquire what you need to achieve higher search visibility - sign up for better SEO tools, hire more people, be able to outsource some of the work, and so on.
However, there is more to it than just funds.
A small SEO budget can also mean a lack of time to dedicate to this channel fully. A person responsible for building SEO campaigns may also have to manage other channels. As a result, they can dedicate only a fraction of their time to boosting organic reach. We also know that SEO takes time, so without someone to dedicate time required to SEO projects creates roadblocks for a successful SEO program.
The term could also refer to fewer resources like tools or internal expertise that an SEO could use in their work. A friend of mine, for example, ran the SEO department in a chain of hotels with little or no access to the top management. Although he had all the tools required, the lack of internal insights the management could provide hindered his work tremendously.
A small budget could also refer to a lack of internal SEO expertise. A small business without an in-house SEO expert would, therefore, suffer from a small budget - fewer resources than typically required to deliver organic traffic and leads. It's just that, in this case, those resources are expertise, not money. Limited funds spell out smaller or non-existent digital marketing teams where many hats are worn by the same person, creating a hindrance to scale any SEO campaigns.


Creating an SEO Budget Plan
So, what do you do when you've found yourself in such a situation. Suddenly, you have to develop and deliver an SEO strategy but...
You have found yourself with fewer resources like time or money to dedicate to the task.
You lack the internal expertise or other resources to deliver the work.
You can't afford the full-fledged enterprise SEO platform.
Well, the good news is that it's quite simple actually. The catch? Doing so requires a major shift in thinking.
You see, up until now, you have, most likely, focused on so many different aspects of SEO. That's only normal. However, it's not feasible with a smaller budget.
You simply can't do it all with fewer resources.
So, what should you do instead? Focus on the absolute foundational elements of SEO that are guaranteed to generate wins for your business.
Here's what they are:
Ranking
Research
Analysis and Opportunity Discovery
Content
Reporting
Let's go through them in turn.
Rankings
It's true, monitoring keyword rankings may not be an essential element to identify the impact of SEO on the company's bottom line. However, rankings are fundamental to gaining the true picture of your SEO performance.
Tracking keyword rankings will help you identify the next actions to take:
Which pages or keywords to focus on,
What content to improve to avail of the opportunity to appear in the SERP features,
Rankings will also help you identify any warning signs of problems that you might have to eliminate.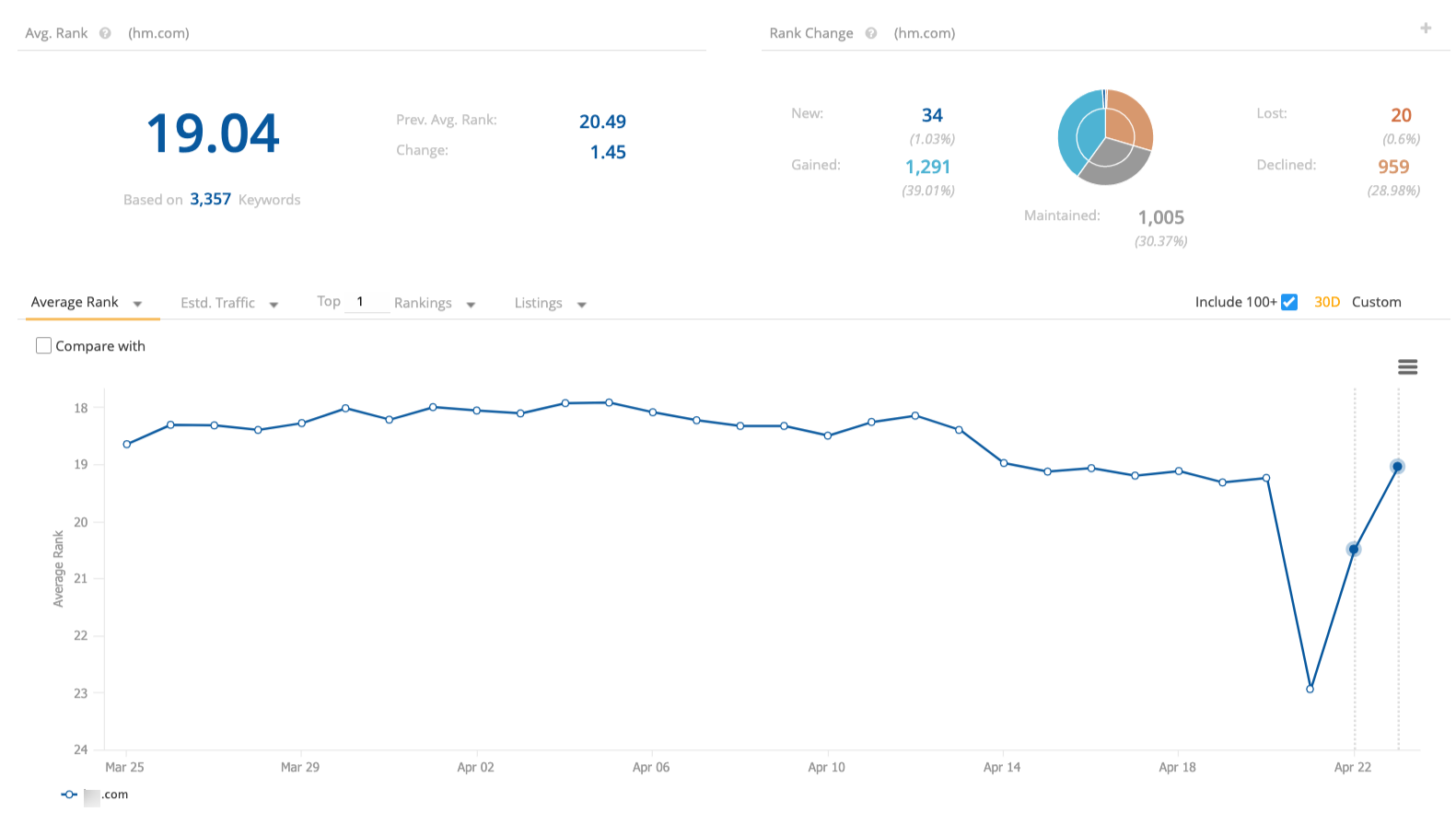 (Ranking report in seoClarity Essentials)
Research
You also need to focus on thorough research to identify new opportunities. This stage of the process involves researching topics that your audience cares about. Based on those, you need to find specific keywords that can attract those people right now.
This is incredibly easy with tools like Topic Explorer, delivering a breadth of information about the keyword landscape - including keyword intent - at a glance.
(Topic Explorer report, available on seoClarity Essentials)
Analysis
To deliver wins with a smaller SEO budget, you also need to eliminate guesswork from your strategy. You must be absolutely sure of every action you decide to take.
The most effective way to do it is by conducting competitive research. You must monitor how the organic search landscape is changing in your industry, and identify new opportunities to outrank the competition.
The process involves identifying the content gap between you and the competition. This report, taken with our Content Gaps capability - available on seoClarity Essentials - demonstrates the content opportunity between three domains, helping an SEO identify their biggest wins quickly.

(Content gaps report in seoClarity Essentials)
Accessing data on the top competitors' performance can reveal the bigger picture of the state of the search landscape in your industry.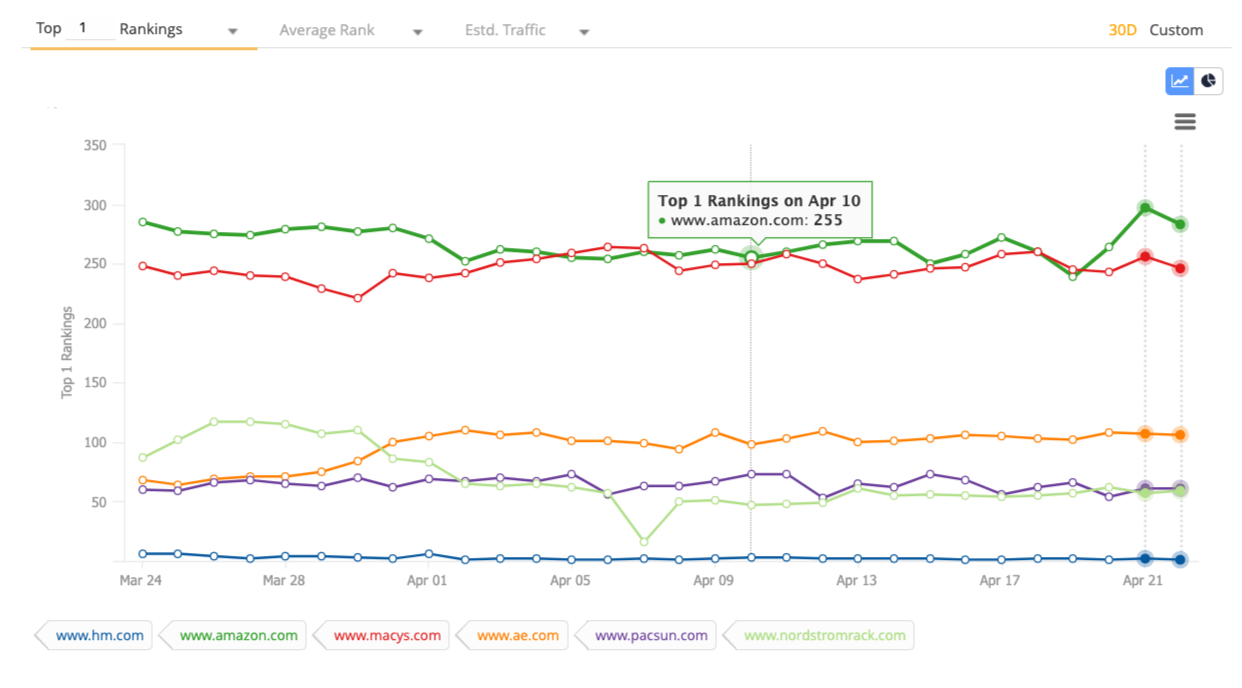 (Top Competitor report in seoClarity Essentials)
With such information, you can analyze what the competitors are doing, and identify opportunities - be it content or them losing rankings - to deliver bigger wins for your brand.
Content Optimization
Content is the backbone of the majority of SEO strategies. Creating well-optimized pages that also match the user intent is critical for increasing a domain's search visibility.
So, as part of the strategy, you must ensure that you write quality and fresh content that matches the criteria above - It includes all the information that both users and search engines expect to see.
Content Fusion, another capability you find in seoClarity Essentials, gives you access to all insights required to write fully optimized SEO content. It will report on your content's current visibility, identify the search intent behind the search phrase, and list all the information users will expect to find in a top-ranking content.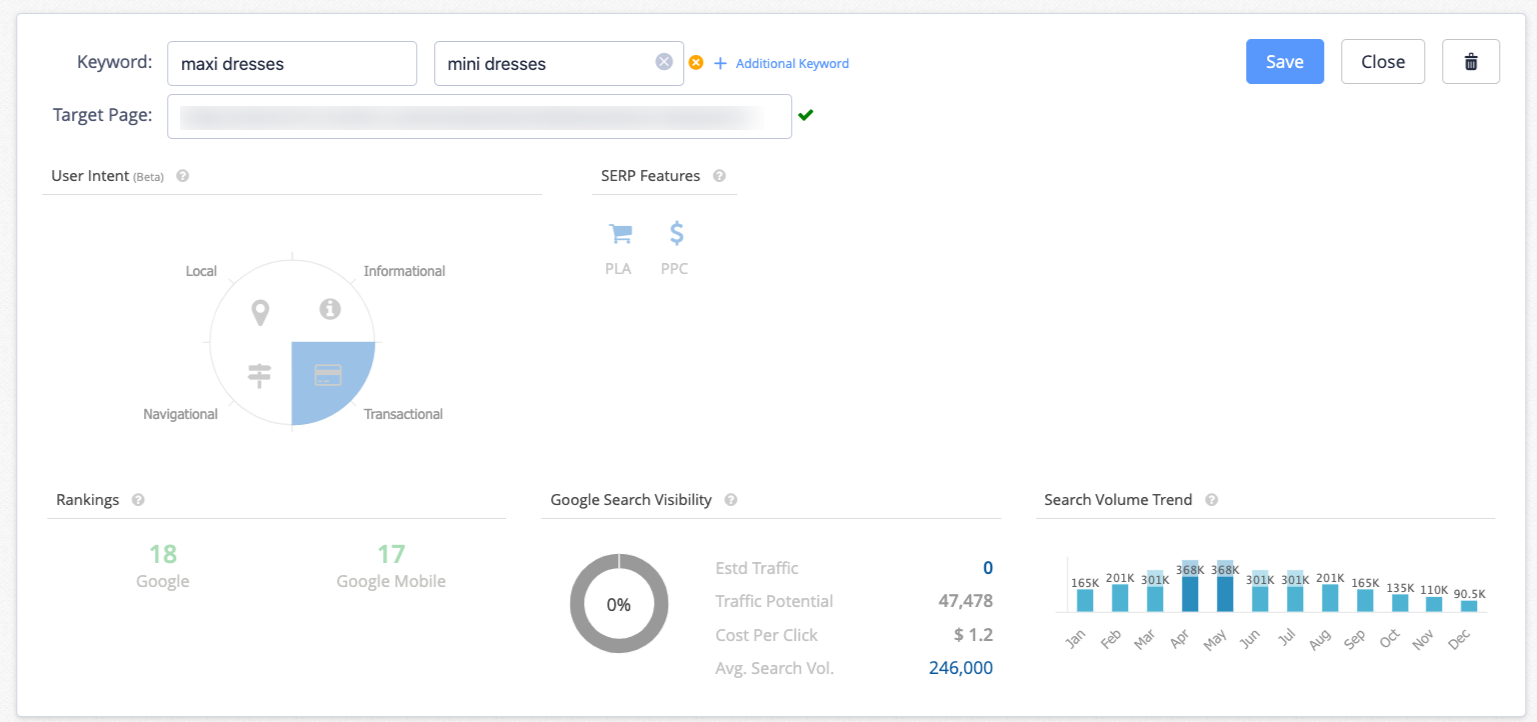 (Content Fusion report in seoClarity Essentials)
You can also use the built-in editor to optimize your copy directly on the platform.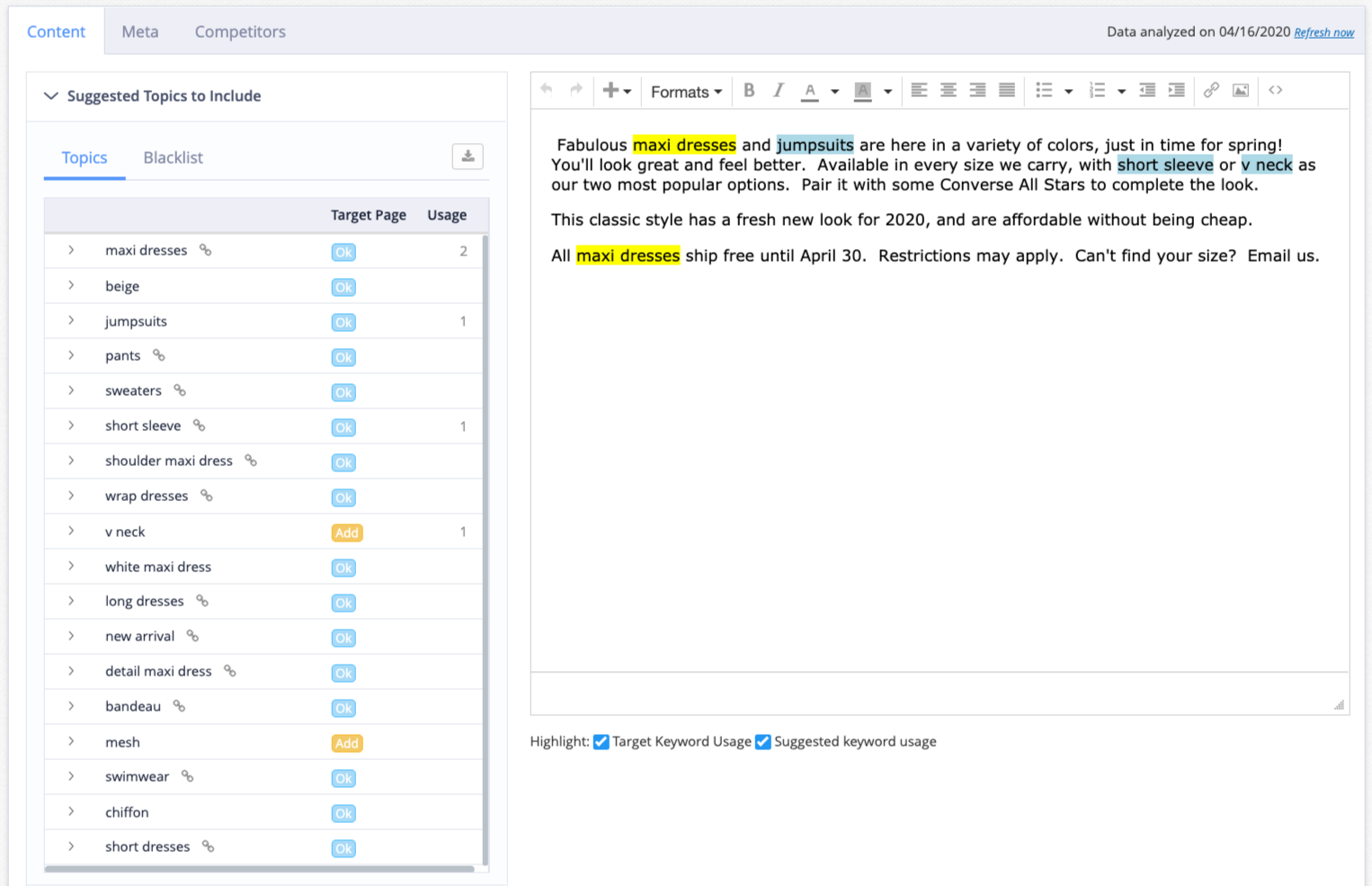 (Content Fusion report in seoClarity Essentials)
Reporting
Smaller (or reduced) budgets often result in more due diligence from the executives. Your program might be watched closely to determine whether it delivers the expected results.
Your reporting, therefore, must communicate the wins and pave the way for the conversation about increasing the budgets when the time comes.
To do it, use reports that you can customize for every stakeholder, showing the impact of your actions in the context of their work. Use customizable dashboards and schedule reports for ultimate efficiency.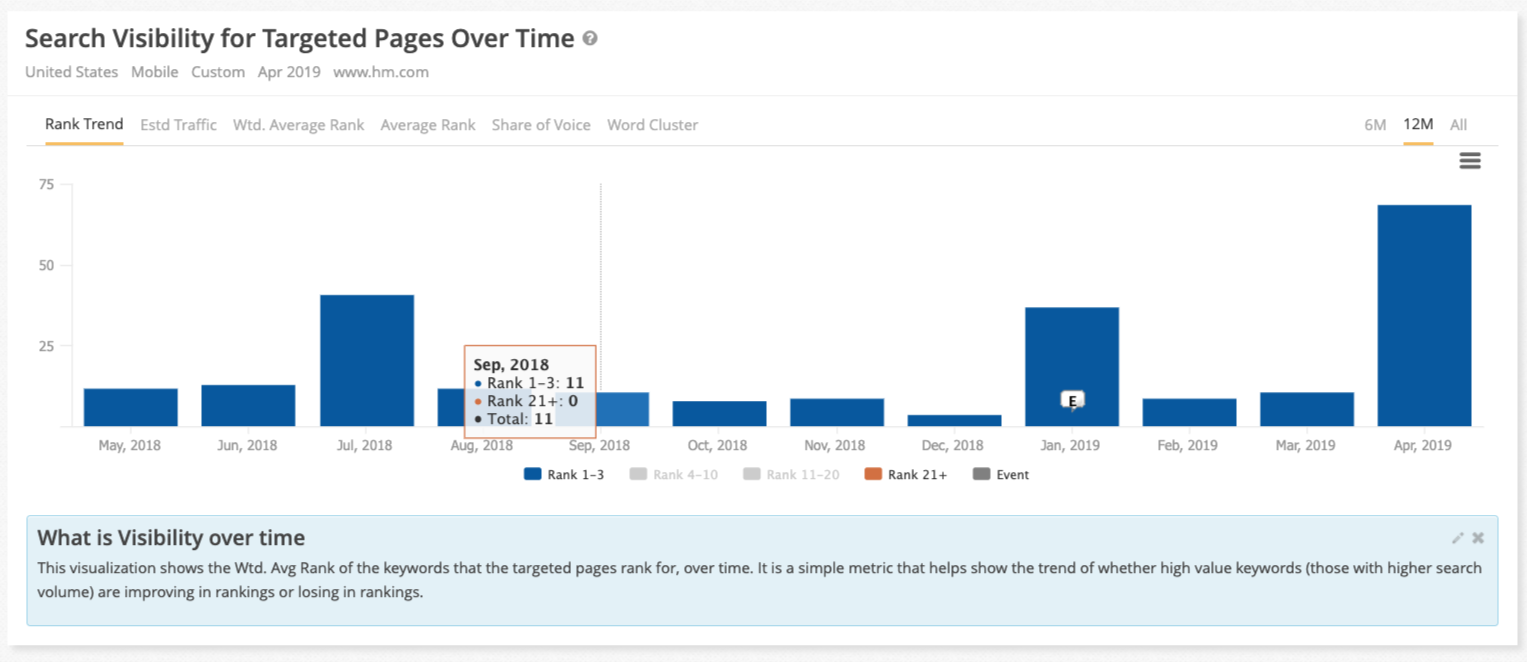 (One of the widgets in a customizable dashboard in seoClarity Essentials)
What Support Do You Need?
To deliver on the five foundational SEO elements I described above you need two things:
You need data to collect all the information required to plan and execute your strategy.
And you also need support so that you never feel stuck and can reach out for help when needed.
So, let me tell you where you can get both, and within your budget, at that.
Essentials is an entry-level SEO platform for teams who've found themselves having to deliver their work on a smaller SEO budget.
And it helps you with both, gathering the data and getting the support you might need.
THE DATA
Within the package, you get everything to track rankings, analyze competitor strategies, uncover opportunities, and create highly-optimized content.
In fact, with Essentials, you can track up to 5k of keywords, access the platform to conduct keyword and topic research, and create fully customized dashboards and reporting.
The package includes:
Daily (or weekly) keyword ranking
Full transparency with a SERP preview
Unlimited competitor comparisons
Integrated capabilities for keyword research, and content gaps for a steady stream of content ideas
AI-driven content writer for the most authoritative content
Find Out More About Essentials Here
THE SUPPORT
Having access to the right data is absolutely critical. But so is having the security and peace of mind of live support to help with any challenges you might face while implementing your strategy.
That's why the Essentials package also includes access to support through onboarding, our live chat, and our Knowledge Base library to help guide your way if you become stuck.