As a former member of seoClarity's Client Success team and current Account Executive, I've had a lot of conversations with clients and potential clients curious about the value that an integrated SEO platform brings when compared with SEO specialized tools like Semrush.
After all, SEO specialized tools are often more affordable, and Semrush works with a month-to-month commitment. Given the price advantage, it's a no brainer, right?
But here's the thing, you need to consider investing in a fully integrated SEO software solution that integrates all your technology and data needs into one platform.
This approach will drive greater success in the long run vs. multiple specialized tools that you will quickly outgrow.
Recently, a prospective client asked me to explain specifically how seoClarity outperforms Semrush, and why it is worth the additional investment.
Most times we hear this question, it is obviously motivated by the price differential between the point solution and an enterprise SEO platform.


Cost Comparison: SEO Platforms vs. SEO Tools
Starting around ~$100 a month, the cost of Semrush and other specialized SEO tools may seem less expensive to get started.
When you make an investment in an integrated SEO platform like seoClarity, you start with a complete suite of capabilities, enterprise scalability, and top-notch client support and training.
The price differential highlights the different technology capabilities in each – fundamental differences in capabilities, support, and scalability.
Recommended Reading: The Ins and Outs of SEO Pricing
It's no secret that point solutions have some conditions and restrictions. That's how they keep their prices down, initially.
The managed set of keywords you track is limited and the frequency ranking is different which can hurt accuracy in the search visibility picture - for you and your competitors.
If you'd like to make any additions or pivots to get to a more granular level of data, additional costs will occur. You also need to consider the overpriced nature of API access or data extracts that is in addition to the basic keyword rank check or site/page crawls.
There's also a limit to the number of keywords to track and limits on the capabilities to scale. This ad suggests, for instance, that Semrush is ideal for up to 5,000 keywords. It can be a great solution if you aren't looking to scale to ten of thousands of keywords and pages.
Also, make sure you know the number of users that can be added to your account. Each additional user adds more to your monthly fee. With only one user included, it can make the initial price for Semrush be perceived as less.

(Semrush Google ad listing.)
You definitely have a budget you have to work with, which makes a month-to-month offering like Semrush look appealing, especially given that you likely have to prove and justify the cost and value of a fully integrated SEO platform to decision makers and executives in your organization.
As you work within your budget though, you should also consider all the point tools that you use that would be replaced with an enterprise platform.
Many just look at ranking tools, but there's your audit tools, content tools, etc.
However, it's valuable to weigh out all the time and effort that you save when you have an enterprise SEO platform.
Instead of having your SEO team manually collect data from multiple sources, then sort, align and analyze just to understand the data, an integrated platform like seoClarity allows you slice, dice, and analyze information in real-time, right within the platform, which means you move straight to the execution phase of your strategy.
This is especially useful for enterprises with small SEO teams (1-3 people).
While there is nothing wrong with using a point solution like Semrush, the question is often asked, how does an SEO platform justify the higher price? The answer to this continues in the challenges enterprises face and the capabilities SEO platforms provide.


What are the Challenges Enterprises Face with a Specialized SEO Tool?
As an SEO, one of the ways you're able to complete projects faster is to leverage technology to derive data-driven insights for you. It's important that your solution provides actionable insights, and most importantly, a plan to prioritize what to actually execute in your strategy.
Perhaps you're in the early stages of building your SEO strategy and want to demonstrate the value of SEO. Maybe your team consists of one or two members already and you're looking to scale even more, but you don't know how.
Maybe you want one solution to ensure everyone is working from data that is the "single source of truth" and provides all necessary capabilities and needs of your entire digital marketing team.
A specialized SEO tool won't be able to account for these needs, which is why it's important to compare enterprise SEO platforms to multiple SEO tools.
Infrequent Ranking Updates
Large brands face other limitations with specialized point solutions: their ranking data updates are usually infrequent and inconsistent. Research data, if they have it, can be rather outdated.
And, there are limitations to how many rows of data you can download before you have to pay more to do further analysis or export the data. These are limitations brands operating at scale simply do not have time or resources to workaround.
Challenges with Reporting Correlations and Deeper Data Segmentation
One interesting limitation we also hear about - there are only so many geo-locations or reporting correlations available, which means that if you are looking to quickly segment out multiple views to optimize for your terms, there are limitations.
Lack of Support, Training and Adoption
The last challenge I hear about all the time is about the adoption of SEO and the support that it requires. It's important to gain full adoption and prioritization of SEO across your entire digital marketing team.
In my experience, proactive training and support offered with seoClarity makes all the difference.
Point solutions keep their costs down with online chat and tutorials and sometimes a call center is available. Dedicated client success resources train, onboard, and continue throughout your subscription and all you to reach the technology's full potential.
In our case, seoClarity also provides access to our SEO professional services for more advanced insights and planning to accelerate your SEO initiatives.
SEO Technology Price vs. Resources
But, the challenge that underlies all others is cost – Semrush pricing is inexpensive as a starter tool, and an integrated SEO platform requires a greater investment.
Prospects often want to invest in enterprise-level software, but if your budget is limited, you may not know how to make it work.
With an integrated SEO software platform, teams scale their activities and become significantly more productive, avoiding the need for extra headcount that's sometimes needed – something a point solution does not easily reduce.


Proving the Value of SEO
Something that we find needs emphasis: SEO isn't a quick fix that you can set and forget, it's an ongoing and ever-changing effort.
In order to execute that ongoing strategy successfully, you need tools that adjust to constant changes in Google's SERP, your custom needs, and most importantly, a support team that works with you toward SEO success.
Though integrated SEO platforms require an annual commitment, a reasonable SEO plan starts yielding significant returns after around nine months – perhaps even as long as a full year.
Any SEO specialist will tell you the same: if you don't invest the time and resources, you will not see significant return on your investment.
However, once you start to see those results and the value that SEO drives, you'll continue to reap those rewards long after you've implemented that campaign or published that piece of content.
In addition, once an SEO plan starts working, consistent monitoring and optimizations help you maintain your position and build on the low-hanging fruit opportunities.
And where point solutions will just send you off on your own – an SEO platform usually comes with personalized support and training. This support isn't a call center environment or online tutorials that a point solution typically offers.
seoClarity, for example, helps create an SEO roadmap that you can follow to success. We do not just give you a login and wish you luck – we continue to guide you as you implement your plan using the most up-to-date data and AI and machine learning to surface the most important insights.
Driving Value: seoClarity's Unique Approach
This can be summarized in a few quick notes – seoClarity's focus is to provide all SEO data, metrics, and capabilities within one platform to ensure everyone is working from a single source of truth.
Also important to note, we do not impose any artificial limitations in our technology that other SEO tools or platforms monetize throughout your partnership with them.
Product Updates and Innovations To Keep Up with the Fast Change of Pace of Search
A major benefit of seoClarity is how nimble and agile we are when helping our clients meet their goals. While other tools/platforms have a very limited set of features that they can effectively build, they tend to only roll out one or two enhancements a month (if they're lucky!).
Our product development roadmap, on the other hand, is handled in two-week sprints and is driven entirely on our client feedback and requests. If two clients request it, we build it. It's the opposite of what some developer or venture capital company dictates what we have to build because it's the "buzzword" out there – it's what our clients tell us is most important for them to be successful.
seoClarity provides actionable insights so you know what to prioritize next. Your user and Google's SERP are always changing, and seoClarity stays ahead of changes and trends in the industry.
Dedicated Support that becomes an Extension of your Team
At seoClarity, we invest fully in your success along with you, and in all the details that go into your success: support, integration, flexibility, and more.
In fact, every subscription comes with a dedicated Client Success Manager to be an extension of your team to drive your success, as well as unlimited training and support.
I came from the Client Success side before moving to my current role and can attest to how the team strives to drive success for our clients.
We ensure that as needs arise, they are addressed swiftly and capably. Plus, an enterprise-level software solution like seoClarity is the first step to successfully scaling SEO investment for business success.
No Limitations to Scale within All Areas of SEO
This could be the longest paragraph of the piece, but I will try to summarize. The entire goal of seoClarity is to ensure that there are no limitations within the platform or the data we collect to allow a brand to grow.
In fact, 60% of seoClarity's clients have upgraded from another SEO platform. Here's a few examples of removing those limitations:
seoClarity's Clarity Audit technology has a number of custom capabilities. These are capabilities that our clients have identified as being critical for an enterprise SEO crawler – things like Javascript crawling, the ability to identify and report on SEO issues that affect search performance, internal links analysis, and pagination auditing, to name a few. As I mentioned earlier, accuracy from different point solutions can be skewed because it only gives you a limited view of data and limits the amount you can extract and download.
No limits to the number of competitor comparisons. Our clients love this. It's important to be able to compare different product lines to different competitors to make sure you have the most relevant competitive insights. Limits to two or three competitors just doesn't cut it when your products or services have breadth and depth. Not to mention new product launches and having that competitor data at your fingertips.
Data extracts and APIs are included with your subscription. Many of our clients have data scientists that want their data either integrated into their data warehouse or into a BI tool so they can run further analysis with other marketing channels and really understand how other areas of the business affect organic search. seoClarity provides you your ranking data, it's yours and we want you to use it however you see fit.
I've noted this already, but it bears repeating: seoClarity is extremely flexible. We help you build custom reports and unlimited dashboards that can be optimized and segmented for different stakeholders or executives. The dashboard you see will be unique, which allows you to tell your performance customized and unique to your business.
Rankings Essentials Package
seoClarity offers a package focused on ranking data, reporting and dashboards, and our keyword research suite as the main capabilities.
It's starts at $750/month for 5,000 keyword queries tracked daily. It also include a Client Success Manager to set-up and get you started within the platform.
A few more popular features available on seoClarity: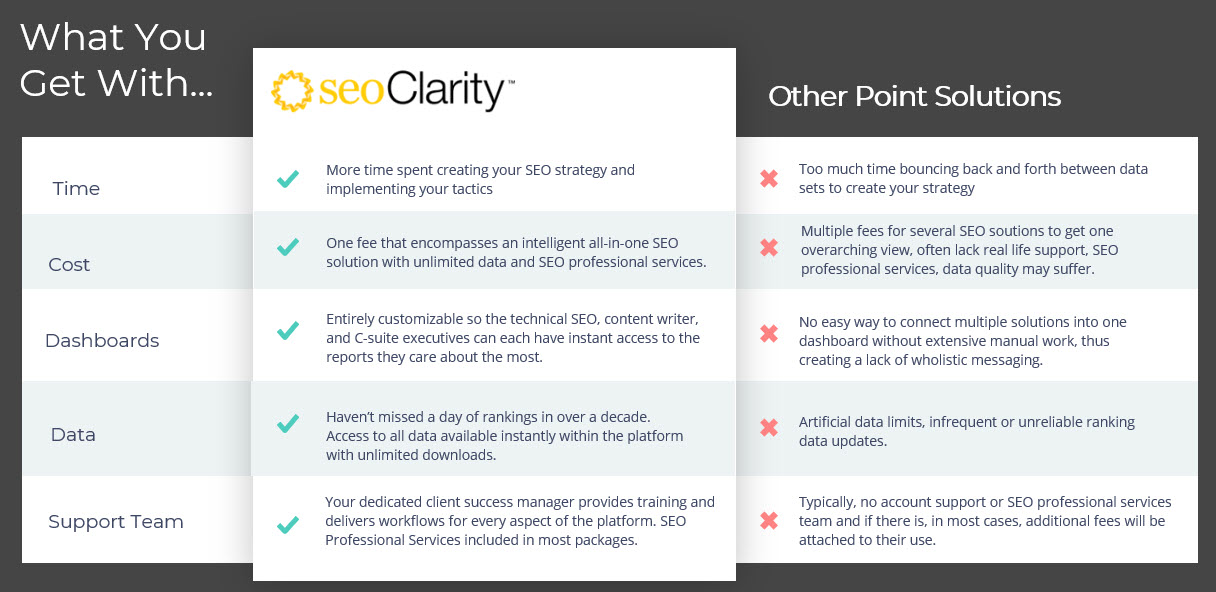 Key Takeaways
We've covered a lot of ground here, and I want to make sure you come away clear on one thing: for your SEO strategy, you get the results based on what you put in.
Though going with more expensive enterprise-level software may seem financially daunting at first, the value you will receive is so much greater because the product is an all encompassing solution.
With seoClarity, you get top-notch support – including your own Client Success team, with consistent consultations, unlimited training, and even on-site visits. All of this will save time and increase productivity.
Consider this: how much time is your team spending right now just gathering and sorting through gigabytes of data? How much time are you wasting pinpointing and discovering crucial technical insights?
Perhaps most importantly: how much work are you getting done on any given day to move your team and your sites forward?
With seoClarity you gain both exceptional technology and a great team that acts as an extension of your own.
Our best in class technology coupled with unmatched support from our Client Success and SEO Professional Services teams makes seoClarity the best choice to solidify your SEO strategy.
seoClarity eliminates the busy work and gives you a single source of truth, allowing you to structure, simplify, and scale your SEO strategy. Sign up for a demo of our platform today.