There's not much we can say about 2020 that hasn't already been said.
In a year of so many inconsistencies, one thing that has remained consistent is this: our fast-paced development cycle and our fidelity to our roadmap.
As the saying goes at seoClarity, our clients drive our feature roadmap, and if two or more clients request a specific feature, we build it.
We've asked members of our team to share their favorite product innovations to come out of this past year along with use cases they've experienced with our clients. Watch the videos below for their take on 2020's greatest innovations from our award-winning enterprise SEO platform.
For a complete list of our innovations from this past year, check out our blog post, 2020 seoClarity Product Innovations and Upgrades. Our team has consistently rolled out new features and amazing upgrades providing our clients with a top-notch experience.
seoClarity's Top Product Innovations for 2020
---
Supercharged Content Analysis with Content Fusion 3.0
Our Content Fusion algorithm keeps advancing and continues to outpace similar tools in the market. Helping users write the most authoritative, high-quality content for their site, Content Fusion 3.0, our latest release, now enables:
Improved topic extraction
Significantly better entity detection based on hundreds of billions of data points
Additional language support in 10 languages to support global SEO efforts
Here to provide a look into this upgrade is our Director of Marketing, Tania German.
Exciting, right? Clients can gain incredible AI-driven research points for their content to understand context without having to do days of research. The results are undeniable; just take if from our clients' own success stories.
Want to give Content Fusion a whirl? Try our two-week free trial to bring success to your organization.


Detailed Crawl Reporting in Site Health 3.0
The eagerly anticipated Site Health 3.0 made its impressive debut in the middle of 2020. Built on top of our next generation ClarityGrid Architecture, Site Health 3.0 introduces new capabilities, like:
Effortless crawl comparison
Advanced filtration for easier analysis
Faster insights with instant data downloads
Upgraded summary views for HREFlang, redirects, and schema as well as custom views
Allow our IT Product Manager, Suraj Lalchandani to explain:

Available to all of our clients, Site Health 3.0 allows users to integrate crawl data with bot activity, Site Analytics, and Search Console data with more to come in the year ahead.


Custom Metrics in Site Analytics
With a variety of metrics to track for SEO reporting and analysis, some businesses require custom views to gather the detail that's most important to them.
The brand new Custom Metrics functionality allows clients to define exactly what they need to track based on any data point from their analytics integration.
Here's our senior solutions architect, Andy Piper, with a few unique use cases our clients love about this functionality:
Using Custom Metrics is super easy - account administrators can navigate to their account settings, select the Custom Metrics option, and begin building and publishing new metrics.


Google Organic Product Listings in Rank Intelligence
Our team is always innovating, so when updates happen that affect your SEO, we're there to bring you the latest technology and workflow upgrades to help you stay ahead of the game.
Case in point: within 6 days of Google's announcement of their "Popular Product" results roll-out, seoClarity released functionality to track visibility of this search type in Rank Intelligence.
What's more, seoClarity is the only SEO solution to offer this tracking capability.
Solutions Architect Dustin Duncan is on hand to show how you can create a dashboard to view your visibility of this Google feature and many others within the platform:
Here is our quick cheat sheet of all of the features we support so you can slice and dice your data in whichever way you please:
products.google.com - Google Organic Product Listings



quickanswers.google.com - Quick Answer Results (Calculator, Dictionary results etc)
images.google.com - Image Carousel
videos.google.com - Video Carousel
news.google.com - News and Top Stories results
ll.google.com - Local Listings (Local map pack)
hotels.google.com - Hotel Listings (a special version of local listings)
flights.google.com - Google flight results


Detailed Visual Rank Comprehension with Visibility Share™
A true replacement for rank position, Visibility Share™ is a brand new way to track visual rank, allowing users to measure their pixel depth to analyze true SERP visibility.
Recommended Reading: SpareFoot Increases Organic CTR by 20.8%
The SERP is crowded these days (our research suggests there are 1200+ unique SERP features that exist in 2020). With that many SERP features, organic web results are pushed further and further down the page for many queries.
To make it easier to correlate rank position to actual performance, we developed Visibility Share, the only metric in the industry that allows users to seamlessly replace Share of Voice with Share of Visibility. This feature is designed to allow users to:
Accurately measure actual visibility for any search query
Understand true competition in the SERP with unlimited competitor comparisons
Prioritize first fold opportunities to optimize for increased visibility
VP of Product Marketing and Training, Mark Traphagen, breaks it down below:
Don't think in terms of pages anymore; rather, think in terms of "folds". The fold opportunity metric shows users where to optimize first in order to improve visibility in the SERP.

Recommended Reading: Traditional Rank Tracking is Broken: The New Way to Track Rankings With Visibility Share


Reduce Time from Data to Action with Actionable Insights, an AI-Driven SEO Assistant
SEOs spend so much of their time researching, collecting, and analyzing data, limiting the time leftover for taking action to optimize their site.
That's where our new-and-improved Actionable Insights comes in - an AI-driven SEO analyst that constantly collects, monitors, and distills key insights for you to prioritize across your team. It includes:
All data analyzed in a single click
Advanced machine-learning analysis in seconds - not hours - across multiple data sources
Over 120 validated and verified insights offered
Check out this detailed deep-dive from Mark Traphagen:
This isn't your mama's SEO checklist. This is the culmination of years of industry research that allows users to accomplish SEO tasks at unprecedented scale. Give it a try for yourself and see what insights you can gain from this time-saving solution.
Recommended Reading: Next Generation Actionable Insights: AI Analysis in SEO


Conduct Research Quickly with On-Demand Ranking Data Retrieval
Whether gathering data for a quick research project or analyzing a recent algorithm update - sometimes you need a lot of information and you need it fast.
With SEO as fast-moving as it is, real-time data is critical to digital marketing success. seoClarity's on-demand data retrieval allows clients to:
Upload millions of keywords for ad hoc data retrieval

Initiate real-time rankings for any supported engine globally
Retrieve the most updated search volume directly from Google
Receive detailed extracts via FTP with ability to analyze data directly in the platform
Let me show you how quick and easy it is in the platform:
Google Trends Tracking: Our Response to COVID-19
We all know that this year has introduced volatility in the current marketplace, no thanks to the ongoing pandemic. In response to what we were seeing back in March, we acted quickly to introduce Google Trends tracking in the platform which recently became a permanent feature in the platform.
This provides users with the most up-to-date insights into search demand available anywhere! Our clients are using this in a variety of helpful ways, including:
Identifying if search demand is declining, stabilizing or starting to recover
Recognizing new offerings and services based on new demand
Determining new content ideas for trending topics
Keeping a pulse on the market trend
Here to tell you about this timely feature is Mary Kate Mack, Content Manager for seoClarity:
We always work to address our clients greatest challenges, and this is just one solution that tackles the new way of doing business in 2020 and beyond.
Recommended Reading: Industry Insights: Coronavirus' Impact on Search


Hreflang and Canonical Audit Updates in Our Built-In Crawler
Our crawler received an impressive update to the way we crawl and store canonical and hreflang URLs.
Within Site Health Details, users can see all issues found for each URL including On Page and Off Page Issues. There is also an additional download option in Site Health details for all URL + issue combinations.
Here to show you how it works specifically with Canonical and Hreflang Audits is Suraj Lalchandani:
We also introduced the ability to filter URLs triggered for each issue (including Off Page Issues) from Clarity Audit Reports and show the affected URLs in Site Health. This is a major improvement from our earlier capabilities where we could show the count of URLs triggered for the off-page Issues BUT did not allow for filtering of the same.
Recommended Reading: 8 Crawl Comparisons to Analyze Your SEO Efforts


New Global SEO Translations and Multi-Listings in Rank Intelligence
We've added two all-new capabilities within Rank Intelligence as an upgrade for our clients to manage SEO at a global scale more easily and identify keywords that trigger multiple listings for you and your competitors.
Cherylyn Williams has the details on translations and multi-listings below:
Both of these new capabilities in the platform help our clients track their top keywords more granularly and report out based on different listings, languages and teams.
BONUS: Award-Winning Schema Builder
Adding structured data markup to your content is easier than ever with our award-winning Schema Builder Chrome plugin.
Users of the plugin can easily select which Schema to add by pointing and clicking on relevant elements to define them. The plugin tells you which markup is required and which information is optional and the tool validates whether the text you've selected matches the information required.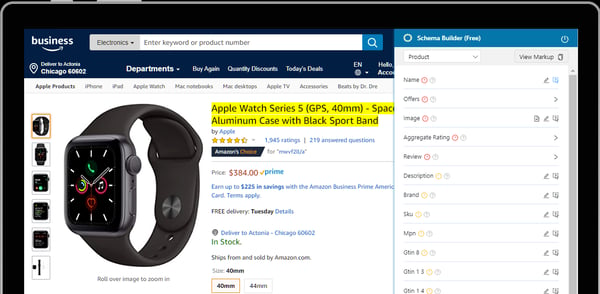 (Visual of Schema Builder)
It's free and easy-to-use and you can get started using it today!
Looking Ahead to 2021
With everything that businesses have faced in 2020, seoClarity has continued to follow our development roadmap based on our clients' feedback. We are always growing and providing the best in innovative technology for SEOs and content marketers.
As we look ahead to the new year, if you'd like to see these innovations (and more) in action, book a demo with us now. The future looks bright - consider an SEO strategy supported by an innovative enterprise-level SEO platform, innovating with SEOs and marketers in mind.