Enterprise SEO Platform Takes Home Top Prizes in Best Software Categories
CHICAGO, Ill. (October 30, 2020) -- seoClarity is pleased to announce their accolades from this year's US Search Awards, including the Silver Award for Best SEO Software Suite and top prize for Best SEO Software Tool for Schema Builder.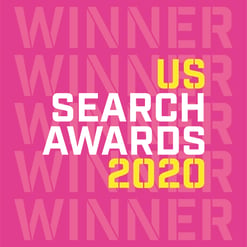 "We are thrilled and honored to be recognized for our technology and SEO solutions," said Mark Traphagen, VP of Product Marketing & Training. "Congratulations to our amazing team for their hard work and dedication in developing our product, and more importantly, thank you to our clients for their support."
The US Search Awards celebrate the best in PPC, SEO, and content marketing from across the country, and entrants are judged for their accomplishments and advancements in the search industry.
Awards are determined based on a rigorous judging process conducted by a panel of SEO industry experts. seoClarity was chosen among hundreds of leading search and digital agencies and professionals.
Said the judges about seoClarity's Schema Builder win, "This entry was very well thought out and truly shows the capabilities of the tool. We loved that it is free and will reach a lot of people. A truly exceptional entry!"
The award ceremony took place virtually on October 29. To see the full list of 2020 winners and for a recap of the event, visit the US Search Awards 2020 Winners page.
# # #
ABOUT SEOCLARITY
seoClarity is an award-winning AI-driven search and content optimization platform, focusing on the users' search experience and guiding enterprises on their journey to SEO Excellence. For more information on the seoClarity enterprise SEO platform, visit https://www.seoclarity.net/platform.