Digital Publishing Company Experiences Massive Traffic Increase Through Content Optimization
A US-based digital publishing company has a website that contains over 200,000 pages—a number that continues to grow as they consistently create new content.
Their team researches top trends to determine the need-to-win opportunities for traffic along a standard six-to-nine month content lifecycle. With the staggering amount of content they create and optimize each month, their existing process provided little opportunity to scale content operations.
They desired a way to create and optimize content at an unimaginable scale—quickly and with the same precision as their current efforts.


Making a Case for Greater Investment
To scale their content successes even further, they decided to create a business case to integrate this process into their content strategy and output. Leveraging Content Fusion within their current workflow would enable them to scale the creation and optimization of traffic-driving content to thousands of new articles and pages on their site, shattering their current pace of content creation.
The team leveraged Content Fusion within the seoClarity platform to analyze and optimize several content pieces to make their case for further integration into their current content workflow and process which includes an API to this powerful technology.


High-Volume Pages See Huge Increase
To do this, they first selected several pages with high search demand keywords, but low performance when it came to traffic they had hoped these pages would receive. They wanted to see how these specific pages would perform once optimized using the insights from Content Fusion. These pages were as follows:
A time-bound page about Black Friday shopping deals
An article about the best films currently available on a major streaming site
A article about the best noise-cancelling headphones
A how-to page with a video about Android phone usage
The team applied optimization within each of these pages including adding any missing suggested topics, keywords and recommended internal links.
Optimization from Content FusionTM Pays Off Big Time
For each of the pages they worked on, the publishing site achieved:
For the time-bound page about Black Friday shopping deals, the team saw a 380% increase in traffic in 9 months from December 2019 to September 2020.

For the blog post about the best films currently available on a major streaming site, they experienced a 519% increase in organic traffic over a 9-month period from when the page was optimized to when data was collected (see image below).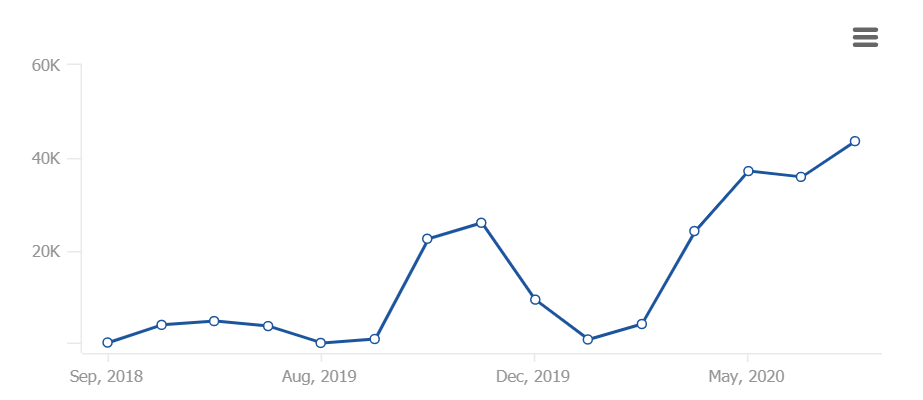 For the post about noise-cancelling headphones, the team saw a 461% increase in traffic over a 5-month period.

For the how-to page with a video about Android phone usage, they experienced a 162% increase in organic traffic over an 8-month period.

To make their case, the results demonstrated an average 295% increase across a variety of content types spanning an average time period of just under 8 months.
This was all they needed to determine that a greater investment was needed to build an API and scale this process even faster. If these were the results after a few short months within the content lifecycle, they imagined that the results for creating and optimizing more pages at a record pace would equal more organic traffic that would again surpass their expectations.


A Content Strategy Fueled By Content Optimization At Scale
Thanks to the incredible growth in organic search traffic they saw from their optimized content test, the digital publishing company proved that content optimization at scale can show tremendous results across their entire site performance.
Backed by their use of Content Fusion, the company continues to fuel their traffic improvements at a rate much faster than their previous process allowed and experiences increased visibility and overall site traffic as a result.
Content Fusion allows users to put a stop to content chaos and optimize their copy at scale. Try it out for yourself with our two week free trial of Content Fusion to shatter content records and improve the content strategy at your organization.