It goes without saying, doesn't it? If you want to win more direct bookings, you need to continuously drive more traffic to your website. But to do that, you first need to boost your search visibility (after all, as many as 39% of direct bookings for travel websites comes from search engines).
And that, as I'm sure you'll agree, is becoming harder and harder to achieve.
For one, customers' behavior has changed, shifting linear travel purchase into a multi-touch experience, covering many micro-moments.
Here, just take a look at this illustration of a modern customer's purchasing journey. Although just an example, the image illustrates the complex path to purchase, involving multiple searches performed and visiting numerous websites.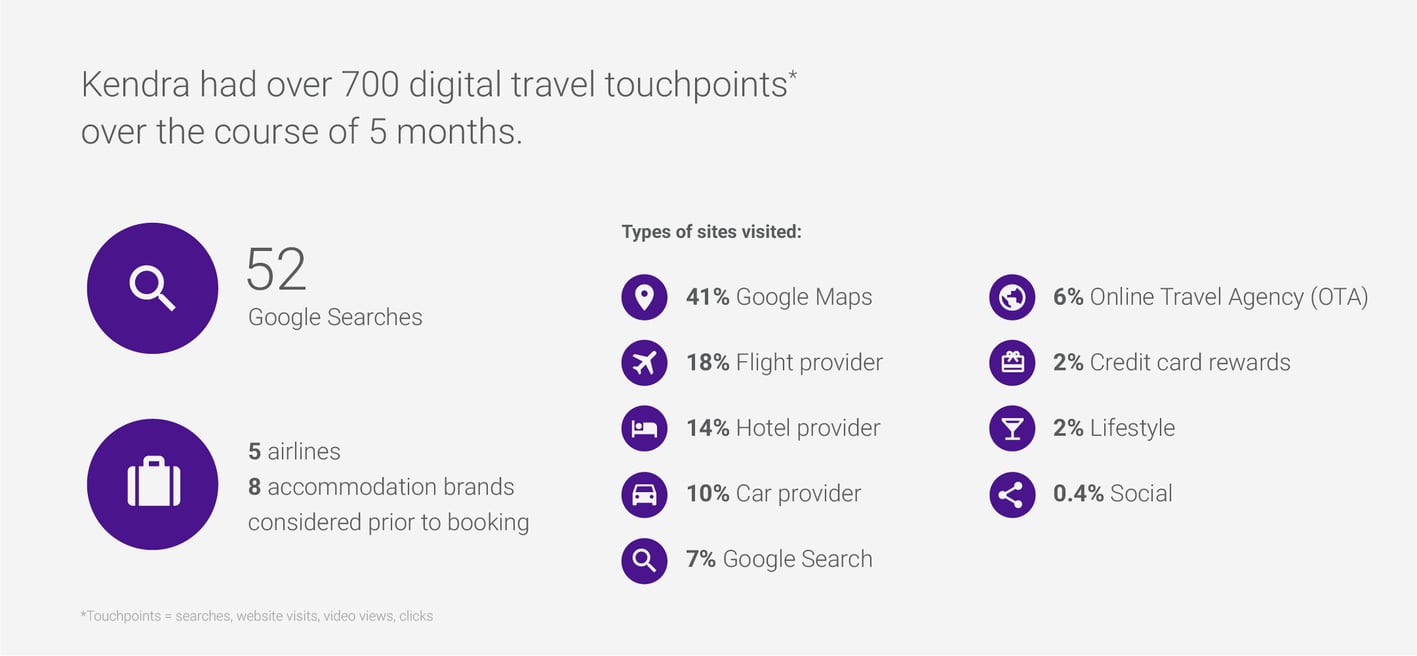 Customers have high expectations towards your site too, particularly if they consume your content on mobile devices.
According to Google, 88% of them would switch to another website or app, if yours didn't deliver on their expectations. So how do you boost your search visibility in the travel industry, and deliver the content your customers want?
I'll show you the most crucial elements you need to pay attention to if you want to ensure a greater visibility within the travel and hospitality category.
#1. Your Audience's Content Needs
I've already mentioned the high expectations customers have towards travel websites.
Research by Google discovered that 88% of them would switch to another website if it doesn't deliver the content they expect.
And according to data from Vizlly, travel customers expect content that:
Tells a compelling story,

Speaks to their needs and interests,

Differentiates your site from the competition, and

Gives them a reason to book (i.e., gives discounts or special offers).
But how do you identify topics that match all these criteria?
Quick answer - by researching what information your audience asks about online.
And there are many ways to do that.
For example, tools like Content Ideas allow you to find the exact questions your target customers ask from various sources on the Web.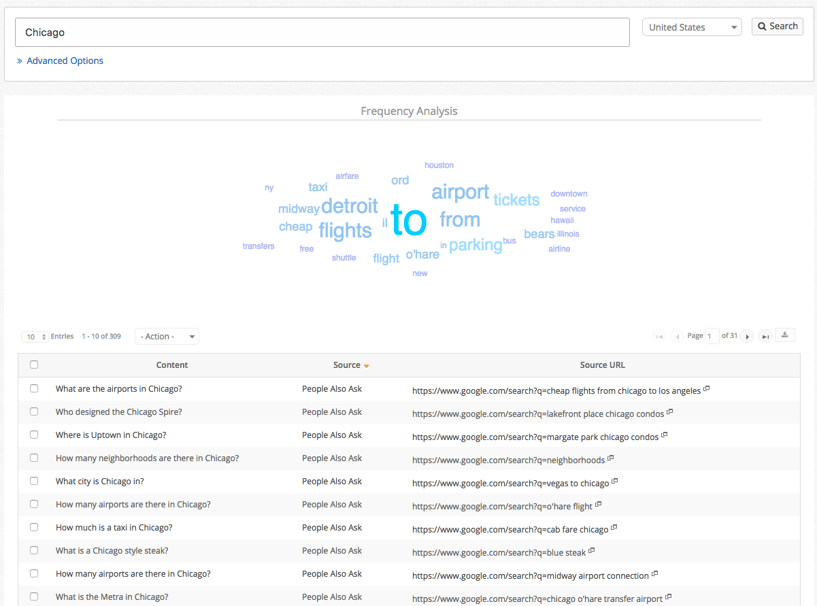 These suggestions can help you identify what landing pages to create or what information to include in your content to make it more relevant.
Another strategy is to target content that already works for your competition.
This strategy is called Closing the Content Gap, and it involves identifying keywords your competitor's sites already rank for, but yours don't.
As seoClarity's Chief Architect, Mitul Gandhi wrote earlier this year, when talking about the importance of closing the content gaps:
"Let's face it: every keyword a competitor ranks for and you don't is a lost opportunity for your organization. To put it in more business terms, every one of those keywords means lost sales and revenue. And yet, I bet you actually rarely think about the phrases companies you battle over search real estate to rank for, right?"
Here's a screenshot illustrating the potential size of a content gap for an organization:

Huge, isn't it? With more than 2 million keywords difference, there are so many opportunities for each domain to boost their online visibility.
TIP: seoClarity offers a dedicated content gap tool that can analyze yours and the competitor's domain, and report on the keywords difference.
#2. Local Visibility
You know, nearly half of searches on Google have a local intent.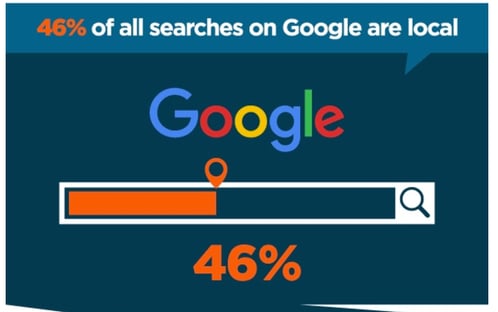 What's more, 76% of those searches result in a phone call to business. And 60% of US adults use it to find local product or service information (source)
What they look for specifically includes:
Business information,

Confirming a business location,

Or looking it up on Google Maps. (

source

)
And so, ensuring that travel customers can find your company in local search has never been more crucial.
Here's how: Set up Google My Business for your business, and ensure all information is up to date.
And to quote Mitul, he calls Google My Business "the yellow pages of the modern age." And it's hard to disagree with him when you consider the stats I referenced above. But to benefit from it, you need to ensure that your Google My Business listing is fully optimized.
As Mitul wrote in one of his posts: "Having the most up to date, and well-optimized Google listing is the key factor that's going to influence your local visibility moving forward."
Why? Because Google pulls out your GMB data to display directly to users, and that's often before they even see the search result.
Here, take a look: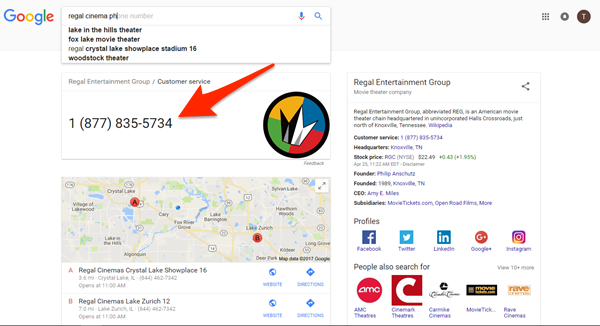 So at a minimum, ensure that your GMB account includes up to date:
Opening hours,

Location

Business description

Website

And all additional information customers might require before making a direct booking.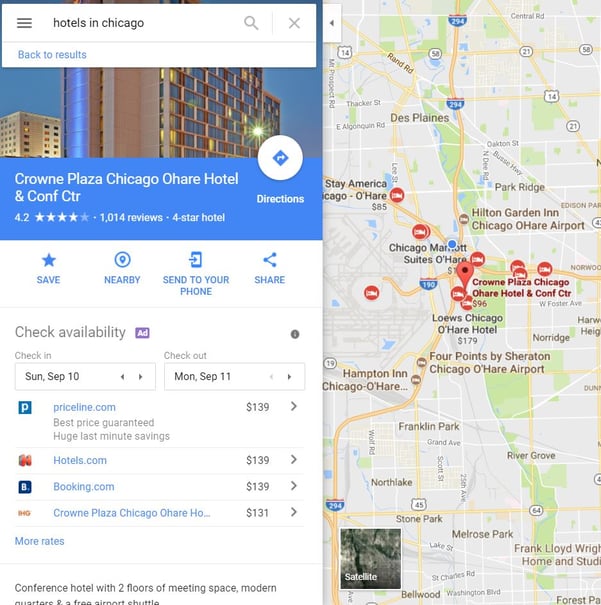 If your business operates from multiple locations, create relevant listings for every single one of them.
When optimizing your GMB listing, add large pictures for every location.
It's a known fact that high-quality images boost conversion rates. Various case studies prove that increasing the size of an image can boost sales by up to 63%. And so, ensure that pictures you choose present your offering in detail.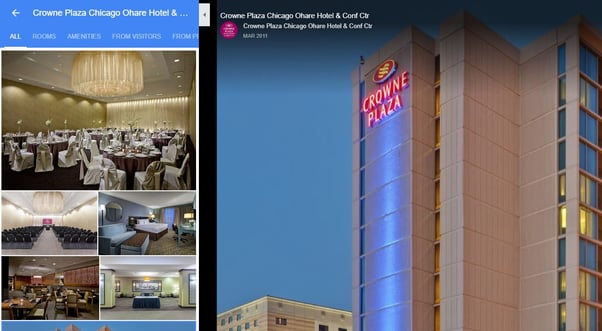 TIP: Tools like LocalClarity can help you effortlessly manage multiple Google My Business locations from one place.
#3. Review Management
Fact: reviews build engagement. They help differentiate your local listing from any other, similar offerings.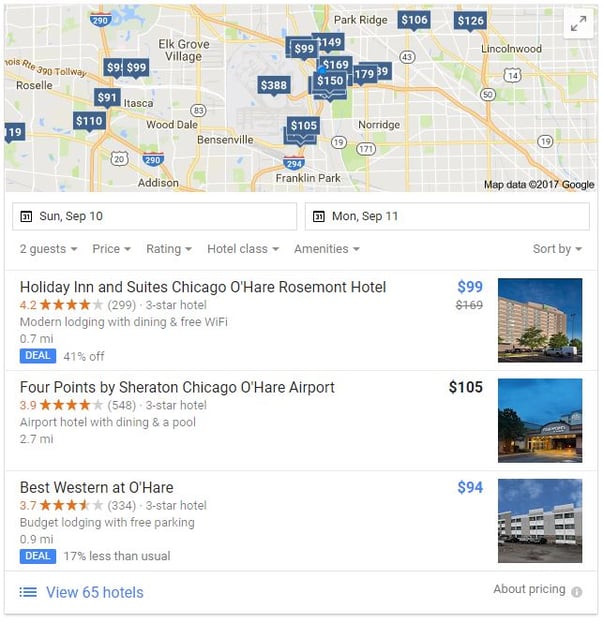 Managing reviews also help provide clarity to any feedback your users might find when researching your business. And although tackling bad reviews is by far the hardest thing to do, it's also the most detrimental when ignored.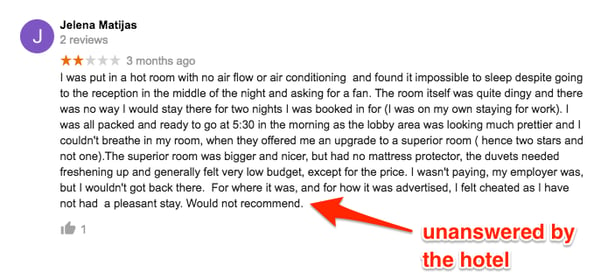 But there's another reason why reviews are the currency of the future for SEO.
You see, online reviews are one of the Entity Authorities (we explained the term in more depth here) that help bots to better understand the search intent, and discover how to better answer a person's query. Particularly, reviews pertaining to a single location help bots better understand the listing, and match it with the right user intent.
Closing Thoughts
Fact: To win more direct bookings, you need to drive more traffic to your website. And I'm sure that after reading this post, you have a much better idea about increasing online visibility in the specifically for travel and hospitality.