Note: this is the 3rd part of our "Surefire Enterprise Ecommerce Strategies" series.
In the previous parts, I discussed the importance of site taxonomy for your content and showed you how to optimize category pages for higher rankings and conversions.
In this part, I want to touch upon another issue preventing many enterprise e-commerce sites from fully availing of their search potential – inaccurate distribution of internal link juice.
Let's face it:
Regardless of how much you may have tried to tame it, interlinking eventually gets out of control.
Some content types, like blog posts and other article types, reference pages, news stories, or press releases naturally receive the main share of internal links, often without much effort on your part.
You automatically link posts on a similar topic together. Reference your guides and other educational materials from various properties on the site. And promote press releases from the home page and other website sections.
But content that requires the most internal link attention, category pages, product pages, and other sales related content assets get ignored, resulting in a missed opportunity to strengthen their authority and visibility.
In this post, I'll show you some ways to overcome this at a scale, so that regardless of the size of your e-commerce site, you'll be able to evenly distribute internal link juice among them.
The Opportunity and Challenge of Interlinking a Massive Site
Fact, a typical enterprise site ranges between hundreds to tens of thousands of pages.
But although having such a massive asset in search gives you an immediate search advantage and more visibility, it presents a huge challenge when it comes to link juice management, doesn't it?
In fact, maintaining the same level of optimization of all those pages proves to be one heck of a challenge.

Plus, identifying individual pages in dire need of internal link juice is almost impossible with so many pages.
Luckily, some strategies will help you mitigate the problem.
Here are some of them.
1. Focus on Linking to Properties at the Top of Your Site's Architecture
When you work on an enterprise size site, trying to link to individual products is counter productive. For one, as we've already discussed, finding weak individual pages would prove almost impossible. Secondly, manually trying to interlink hundreds of pages' might would probably be equally futile. Therefore, you need to find another way to evenly distribute the internal link juice. One solution is to target content at the top of each level of the site's architecture.
Targeting category pages, top product pages, or other top tier content will strengthen them and allow to pass more link juice to properties that stem from them.
Naturally, if your site uses flat architecture, then you're already passing link juice from a home page, down to every other level.
However, that link juice gets quickly diluted along the way, resulting in only a tiny portion of it reaching the bottom tiers.
Plus, if you're only relying on the home page to send the authority down the architecture, you're missing on a huge opportunity.
Enter the Blog
If you've been publishing content on your store's blog for a while, then that section of the site has acquired quite an authority you could use to your advantage.
Update top performing blog posts to link to category pages, rather than individual products will strengthen them and in turn, pass on more juice to product pages in the bottom tiers.
2. Interlink Category Pages
Category pages naturally have a stronger internal link profile than product pages.
First, there are fewer of them, meaning that they are far likely to get links. And their generic nature makes them easier to mention in other content.
As a result, they offer an incredible opportunity to strengthen internal link profiles of their subcategory and product pages.
Interlink relevant categories to pass link juice between them and in turn, to properties in tiers below them.
For example, 80stees.com could easily include links to other, relevant categories within the content of the category page. Granted, they interlink from the main navigation and footer. However, contextual links from the page would probably pass even more link juice between categories.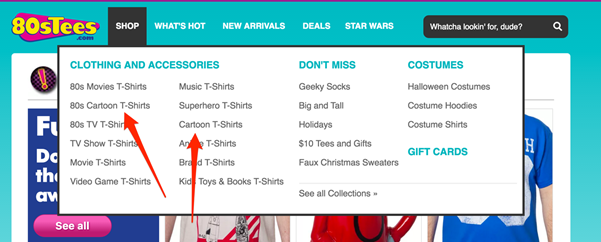 3. Setup Dynamic Keyword Linking
Finally, set up dynamic keyword linking to automatically interlink relevant content.
Although some SEOs see automation as a sort of a gray area, it can offer some opportunity to fix your internal linking problem.
To properly set automatic keyword linking, start by identifying keywords with corresponding content on the site. With interlinking automation, their first occurrence is dynamically linked to that content.
Of course, there could be hundreds if not thousands of keywords you could use, so, again, focus on linking top tier content first. Also, since this strategy relies on a web system to make a decision, specify a limit of links per content, so you don't end up with pages filled with links and nothing else.