We live in a golden age of content: There's an endless supply of content that answers queries, addresses intents, and creates a positive online experience.
While this is good for the consumers, it creates challenges for the content marketers — there's simply a content overload.
Take a look at these numbers: More than 4.4 million blog posts were published every day in March 2019. And more than 9,000 tweets are sent off every second!
With the endless amount of content (and competition) it's harder to land your content in front of your target audience. This is where your content distribution strategy comes in.


Creating a Content Distribution Strategy
There are six steps to take to create your content distribution strategy and monitor the subsequent results:
Before we dive into the specifics, let's quickly cover the basics.
What is Content Distribution?
As the name suggestions, content distribution is the sharing of your content through various distribution platforms. It's an integral part of any marketing strategy to boost brand awareness and accelerate content performance.
You leverage data to decide when, where, and how to spread your content through these various channels to reach your target audience.
When we say content, we really mean all types of content:
Ebooks
Blog Posts
Case Studies
Webinars
Podcasts
Infographics
Buying Guides
Quizzes
Any type of content qualifies, because all content is created with a purpose.
With that out of the way, let's jump in.


#1. Identify Your Target Audience
Before you create your distribution strategy, you first need to identify your target audience. This will help you choose your distribution channels.
Google Analytics is a good place to uncover this data for your website visitors.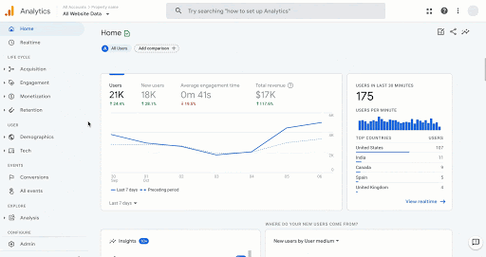 (Source: Google Blog, Marketing Platform)
The various filters allow you to segment and analyze the data by various attributes and qualities.
Here are a few qualities to look out for:
Age
Location
Occupation
Education
Income
You should use your social media analytics to get an understanding of who views and engages with your content.
Even if you build incredibly valuable content, it can be worthless if you don't know who it's supposed to target and what purpose it serves.


#2. Choose Your Content Distribution Channels
You should have an idea of the best avenues based on the analysis of your target audience, but your business type can also influence which distribution channels are right for you.
For example, if you're an ecommerce site that publishes blog content, you can distribute that content through email and create a module on your homepage that lets site visitors know there is new content.
A website that sells a particular product or service, on the other hand, would benefit from ebooks, webinars, and case studies — all of which would be distributed in their own way.
No matter what type of content you produce, there are three media channels in which you can distribute your content:
More on this below.


#3. Set Your KPIs
Having specific goals in mind allows you to know if your strategy works, and gives you the insights needed to change anything that doesn't.
It's hard to label success if you don't know what you're after.
Recommended Reading: 17 SEO Metrics to Monitor for the End User Experience
Goals and metrics vary from business to business, so only you'll know what to look out for. Another analysis of your data from step #1 can help put you on the right track.


#4. Optimize Your Content
It's almost time to distribute your content, but before you do so, it needs to be optimized. You don't want to promote (or create) lackluster content.
It's always crucial to follow SEO best practices for your content, and that means more than just throwing keywords on a page. You need to create authoritative content with the end user in mind.
This is where the power of AI comes in. With a content optimizer like Content Fusion, you can uncover the must-use topics that you need to cover in your content to be seen as authoritative.
Best yet, this is all done at scale. In a few minutes you can generate multiple SEO content briefs. Take a look at a few of the must-use topics for the query "things to do in chicago":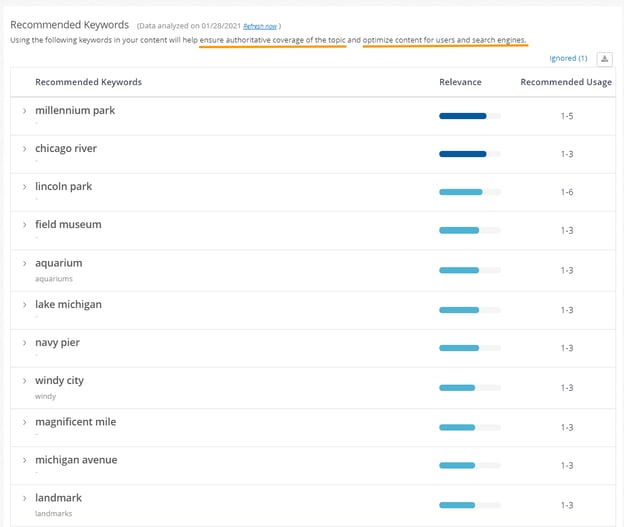 (Content Fusion's recommended keyword usage for the query "things to do in chicago".)
More content means more distribution, which leads to more visibility. Try Content Fusion yourself to see how it revolutionizes your content creation process.
We have a number of resources and workflows that integrate Content Fusion that will help you write better SEO copy. Here are our favorites:
Okay — time to distribute that content!


#5. Publish and Distribute Your Content
Once you've created your content, it's time to distribute it with the three channels: owned, earned, paid. Let's talk more about each one.
#1. Owned Media
Owned media channels are those which you have direct control of. These include your website, social media accounts, and email newsletters.


Learning Center/Blog
This is one method we use at seoClarity to distribute our own content, as you see here: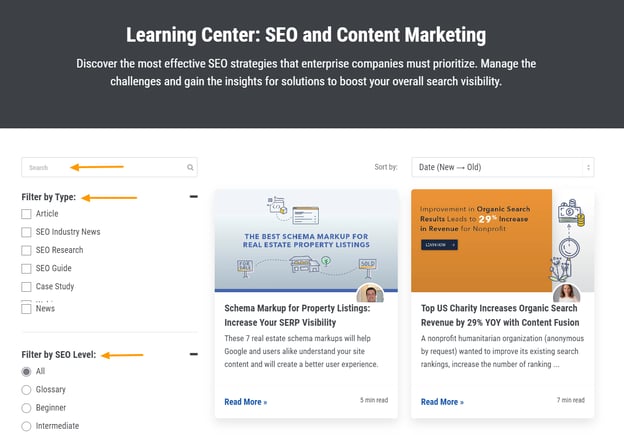 (Filters allow users to quickly the content they're looking for.)
We give our site visitors access to multiple filter types so they can easily find the content they seek, and have a good site experience while doing so.


Site Pop-Ups and Chatbots
If your content management system (CMS) offers a chatbot or pop-up feature, this can be a great way to highlight certain content along the visitors' search journey.
Notice how the chatbot below offers links that lead to relevant content; plus it has the reply function.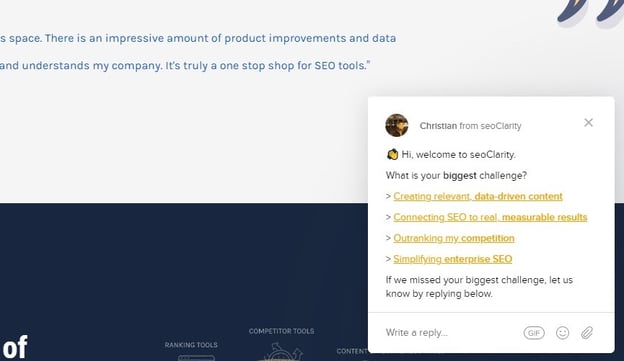 (A chatbot leads site visitors down a customized path.)
You can use this to highlight new content, content that's difficult to find along the standard search journey, or any content of your choosing, really — your site is owned media, so everything is under your control.


Site Quizzes
Although technically a content type of their own (and therefore can be promoted and distributed on their own) quizzes are unique site assets that can get more visitors to specific pages.
Take the skincare company Glossier, for example. They use quizzes to bring site visitors to specific product pages. So, the quiz acts as the distribution method for the content (the content being the product pages).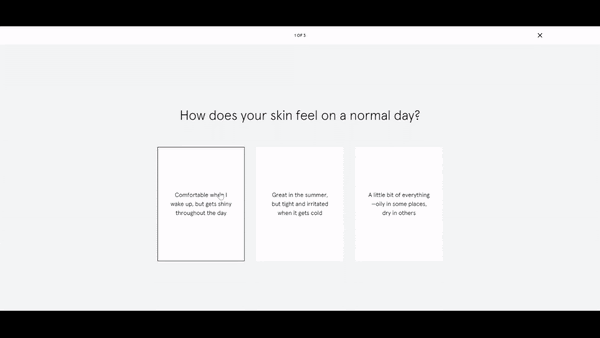 (Site quizzes lead users to personalized content recommendations and pages.)
Here I just discovered the "Milky Jelly Cleanser" — something I may not have discovered if it weren't for the quiz. The best part: I know the results are tailored to me! That makes me more likely to buy …


Social Media Channels
Besides being great outlets for forming connections with your audience, social media channels are viable avenues to distribute many different forms of content.
Glossier could promote their skin quiz on their social media platforms to offer a personalized skin care solution with their collection of products.
Most (if not all) social platforms have analytics data that you can use to plan out the opportune times for promoting content. What may be a high-traffic time on LinkedIn may be a dry spell on Twitter, for example.
Email Newsletters
Email newsletter campaigns can present the right content in front of the right people at the right time (and cut through the competitive nature of social media).
With access to reporting dashboards that offer insights into open rates, click-through rates, and more, you can confirm which subject lines work and which content gets clicked.
Since many email distribution companies and services offer custom templates and modules, you can promote any of your content: blog posts, videos, images, case studies — all of it.
The most important thing here is understanding the behavior and interests of your subscribers list, and again that's where data comes in.
In order for any content distribution strategy to work, you can't overlook the first step: identify your target audience!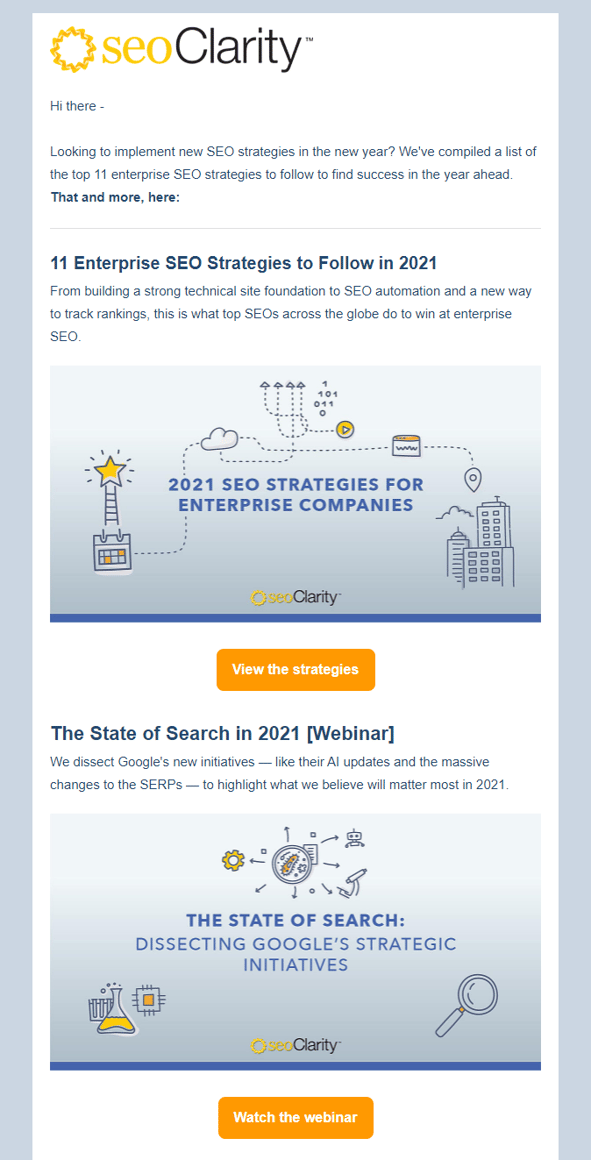 #2. Earned Media
When it comes to earned media, the high quality of your content works to earn visibility through someone else's promotion.


PR Outreach
If your content is popular enough to gain media attention in your industry, you can engage in some quick public relations work to share your work with journalists and bloggers.
Highlight the uniqueness of your content — that could be industry research, a new product launch, community involvement, etc. — and you have the chance to have your content featured on third-party websites, blogs, emails, and socials.
Recommended Reading: How to Syndicate Content Without Hurting Your SEO
You can also reach out to those in your industry who compile a list of relevant resources for their own audience. Have them include your content in their compiled list (this is known as content curation) so you can share your resources with their audience.
A simple outreach effort can allow you to tap into a whole new audience.


Shares & Mentions
Earned media also includes shares and mentions on social media, which is why everything comes back to high-quality, relevant content.
You know your target audience better than anyone. What content would drive them to engage with your brand and share the content with their own audience?
TIP: Encourage your audience to make content of their own to reap the benefits of user-generated content (UGC), where your customers become content creators on your behalf and you earn brand awareness.


#3. Paid Media
Unlike owned and earned media channels, paid content distribution requires some capital to get visibility. It's pay-to-play. However, you're able to share your content to a precise demographic of your choosing.


Influencers & Sponsored Content
Influencers are in-touch with their audience in such a way that any promotion seems authentic and honest.
If you can find an influencer with whom you share an audience, you can leverage their following to benefit your own message and content.
Don't dismiss the strategy if you have a negative conception of what it is — marketers are confident of what it's capable of. In fact, 89% of marketers in 2019 said that the return on investment from influencer marketing was comparable to or better than other marketing channels.


Pay-Per-Click (PPC)
You can set aside a budget for search engine marketing (SEM) to engage in paid search. This not only guarantees visibility, but guarantees traffic to your website and content since it's a direct pay-per-click price.
You can use Google Ads to promote your content in this way, just be sure to work with the paid search team, if you have one — but don't forget about SEO!
Read about the benefits of SEO and PPC integration.

You set the parameters of where you want your ads to appear.
Then, you can get your message placed directly on the SERPs of those that match the criteria: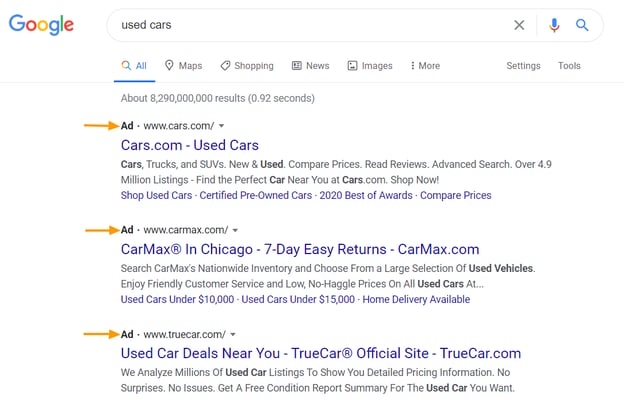 Paid Advertisements on Social Media
PPC ads on social media can supplement your owned social media content. With Facebook Ads and Instagram Ads, you're able to define the audience that you want your content to be shown to.
Specify demographics like age, location, interests, and more. If you've identified your target audience in step #1, you can transfer that information over to your paid social media strategies.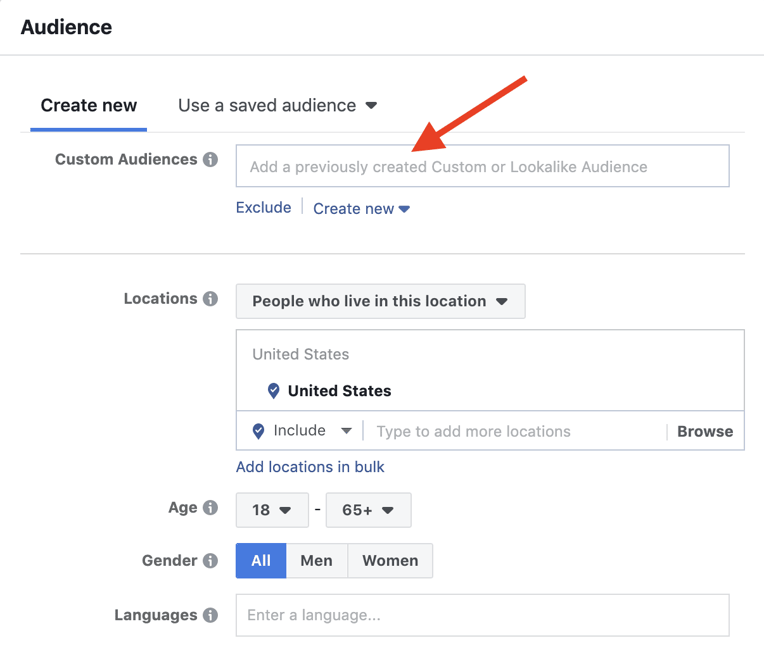 (Source: AdEspresso)


#6. Analyze Your Results
Now that the content has been created and distributed appropriately, it's time to return to our good friend: data!
Analyze your data and those key metrics that you set at the beginning of your distribution plan. This is the only way to know for certain if your distribution method really worked.
Also be sure to check social media metrics, Google Ads insights, and email newsletters dashboards.
All of this information then informs how you carry on with your strategy: do you change your approach, or keep it as it is?
That's a question that only you (and your data) can answer.


How Companies Distribute Content at Scale
Enterprise companies have a systematic approach to content distribution. Pre-built templates and automation allow for a more streamlined distribution of content as opposed to a manual action for each new piece of content.
Intentionally Distributed Content: Templates
Large sites like Amazon have created a seamless way to integrate content along the buyers' journey. It uses templates on their pages to insert content like buying guides that offer value and ease searchers toward a product that matches their demand.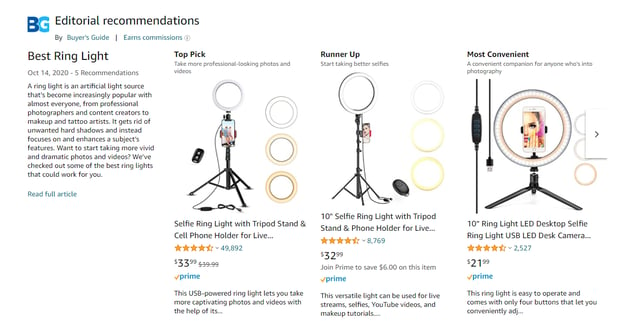 (Inserting buyer's guides into the template creates a new path for the users to take.)
Search intent has to be considered in your distribution strategy. These buyers' guides offer a unique way to distribute content on the transactional path.
We see a similar approach with the clothing company Maurices. Although we're on a transactional path (searching for jeans) the site offers templated content that showcases different types of jeans, along with a description of each, that influences the users' path.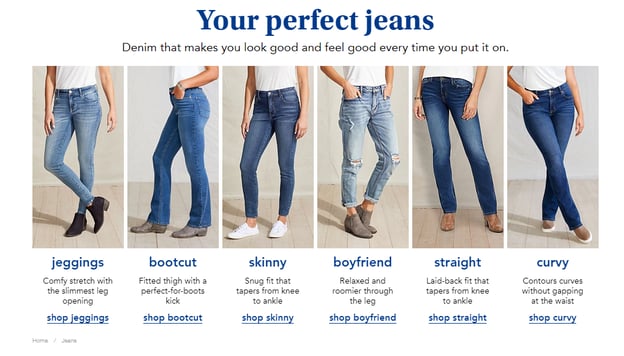 (Visually show users products to have them navigate further down that path.)
Without this template, and an applicable buyers guide behind it, searchers may not know what they actually want to purchase.
Automation
In order to ease the burden of manual distribution (it can be a lot if you engage in all the strategies mentioned above) you can leverage automation.
This especially comes into play with social media, where you can automatically have your content posted onto your channels as soon as it's published on your blog, for example.
You can even automate the bidding process of Google Ads to get the best results possible for your bid.


Conclusion
You put a lot of effort into your content creation process, so it's only fair that you put in the appropriate work for your distribution efforts, too. After all, you want your high-quality content to be seen!
Just remember that the strategy begins and ends with one thing: data.
Forgetting something? Don't miss out on your two-week free trial to Content Fusion!