Let's face it: You're constantly on the hunt to get more eyes on your content.
You may follow organic search best practices to boost your organic search visibility, and you may follow a content distribution strategy to share your content across platforms — but there's another strategy to employ.
A secret weapon of SEOs and content marketers is the content syndication strategy: A way to share your content across other publishing channels to increase your visibility.
Here's what you'll learn by the end of this blog:
What is Content Syndication?
Content syndication is when content from one website is reposted onto a third-party site to drive greater visibility.
The owner of the original article gets more awareness and usually a link back to their site, while the re-publisher gets to share new content with their audience.
This blog content, for example, was published on Yahoo! News:


But it originally appeared on Architectural Digest:

Back in 2017, Salesbox reported that 65% of demand generation marketers use content syndication as a core lead generation tactic.
But wait a minute … is content syndication plagiarism?
Content syndication is not plagiarism, because it happens with awareness and consent, whereas plagiarism is an unlawful act of stealing content.
Notice how Yahoo! tells the reader where the article originally comes from, and gives a link to the original article as well: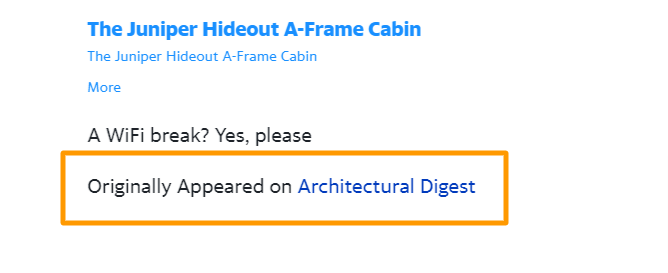 Syndication is not to be confused with guest blogging. That process involves writing brand new content to be featured on one specific publication's site. With syndication, we're dealing with taking a piece of content and essentially stamping it (the entire article or bits and pieces of it) across the web.
While some have concerns about duplicate content issues, there are ways to avoid this to prevent any damage to your content.
Why Do People Syndicate Content?
Content syndication is beneficial to both parties involved.
The creator of the original content gets to reach new, untapped audiences, which works to build their brand awareness; plus the syndication partner often gives them a backlink.
The third party (the re-poster) also gets to present quality content to their target audience to increase readership and keep their content offering fresh.


Types of Content Syndication
You can syndicate your content in three different ways:
Free = Partnership
Paid = Outbrain, Taboola
Owned = Medium, LinkedIn
We'll cover these in more detail down below when we cover how to syndicate your content, but first we need to go over the SEO considerations of syndication.


How Does Content Syndication Affect SEO?
Syndication seems like the dream for content marketers — more people see your content and you have the potential to earn backlinks, all with minimal effort.
So, what's the catch?
There are two main SEO considerations to keep in mind with content syndication.
The first is that if you syndicate your content onto a third-party site, that third party can actually outrank your original content in the search engine results pages (SERPs).
If you syndicate your content on other sites, Google will always show the version we think is most appropriate for users in each given search, which may or may not be the version you'd prefer."

Some SEOs also are also concerned about Google interpreting the content re-share as duplicate content.
Luckily, both considerations have clear solutions, so you can reap the benefits of the syndication strategy with none of the blow back.


How to Avoid SEO Issues With Syndication
One of the considerations mentioned above was duplicate content.
Content syndication is not duplicate content.
There still are, however, steps you can take to ensure Google sees the content as syndicated and not as duplicative:
Make sure the third party links back to your original content and gives a reference, too. This calls out the fact that the content was re-shared with awareness
Have the third-party site add a canonical tag that links to your original content.
Recommended Reading: 301 Redirects vs. Rel=Canonical Tags: The Best Route for Duplicate Content
Canonical tags and backlink references also address the other SEO consideration: Being outranked by the re-shared content.
When these elements are in place, your original content has a better chance at ranking in the search results, and not being outranked by the publisher who shares your work.


How to Syndicate Content
Now that you know what content syndication is (i.e. republishing your original content onto another site) and the SEO considerations to be mindful of (i.e. use canonicals to avoid duplicate content issues), let's jump into how to syndicate your content.
#1. Create the Content
Just as you should always aim to create content that is link-worthy and authoritative, the content you create for syndication needs to be great content!
Remember that this content is going to be seen by those outside of your typical audience, so you need it to be as polished as possible.
Include infographics, research, thought leadership, and other elements that make your content engaging and interesting.
Did you know? Your entire piece of content doesn't have to be syndicated; sometimes it's only the valuable information, or even just an infographic!
If you're not sure where to start along your content creation journey, we have a handful of blog posts that can help with that:
To ensure authority, use an AI-powered content optimization tool like Content Fusion.
With Content Fusion, you're able to leverage the power of AI to uncover the top keywords and topics that appear in the top ranking content for your target query.
Include these recommended keywords in your copy to be seen as an authority on that topic.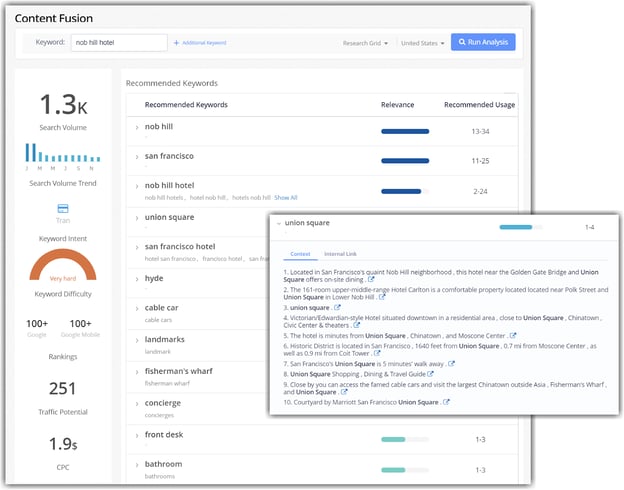 (Content Fusion runs on an advanced NLP model to provide rich insights.)


Want to check it out? Try Content Fusion for free to create your authoritative content, then continue along to step #2!

#2. Choose Between Free, Paid, or Owned
You can syndicate your content in three ways: free, paid, or owned.
Choose the one that fits your objectives and budget, or implement all three methods.


Free
Free content syndication is free in that no money is being spent.
You will, however, need to spend some time finding publications that are open to being a syndication partner.
One way to do this is to Google terms like "originally appeared on", "originally published in", and "republished with permission".
If a post has this included, it means that it's syndicated content, so they'll most likely be up to syndicating your content, too.
Reach out to the appropriate editor or writer to ask them to syndicate your content, but don't forget to discuss the use of canonicals and references back to your site.


Paid
Some services are specifically designed for content syndication purposes.
This includes sites like Outbrain and Taboola.
With Outbrain, for example, you can land your content on popular websites like CNN.

Owned
This method is still free syndication, but you don't need to contact editors or negotiate terms of canonical tags — you can do it all yourself.
Republish your content on sites like LinkedIn or Medium and link back to your original content.

Tip: If you guest post for another publication, syndicate that content across your own channels.

Summary
Content syndication is a straightforward way to get more content visibility, if you implement the correct SEO precautions (i.e. canonical tags and references).
Remember to set a clear agreement with your syndication partner to ensure you don't hurt your SEO!