Deep link building can be so frustrating, can't it? You know you have to build deep links to pages other than your homepage. But you just can't think of a suitable link building strategy to do it, right? After all, you can't link to a product page from a profile, author bio or a media mention… Luckily, there are a few ways to do it.
And in this post, you'll discover 5 deep link building strategies that will help you build authority to product and other inner pages.
Strategy #1. Podcast Show Notes
Suitable for: service pages, individual product pages
Being interviewed on podcasts gives you the opportunity to build your authority status and promote your brand. But did you know that you could also use it to build deep links to your site's inner pages?
Most podcast hosts launch a dedicated show notes page per episode that collects the highlights from the show. It typically also includes a links section, often referred to as "resources mentioned" that references any content, tools or other references discussed during the chat. Note that apart from links to blog posts; it also features all tools mentioned in the episode. Here's an example of this section on the HubStaff podcast: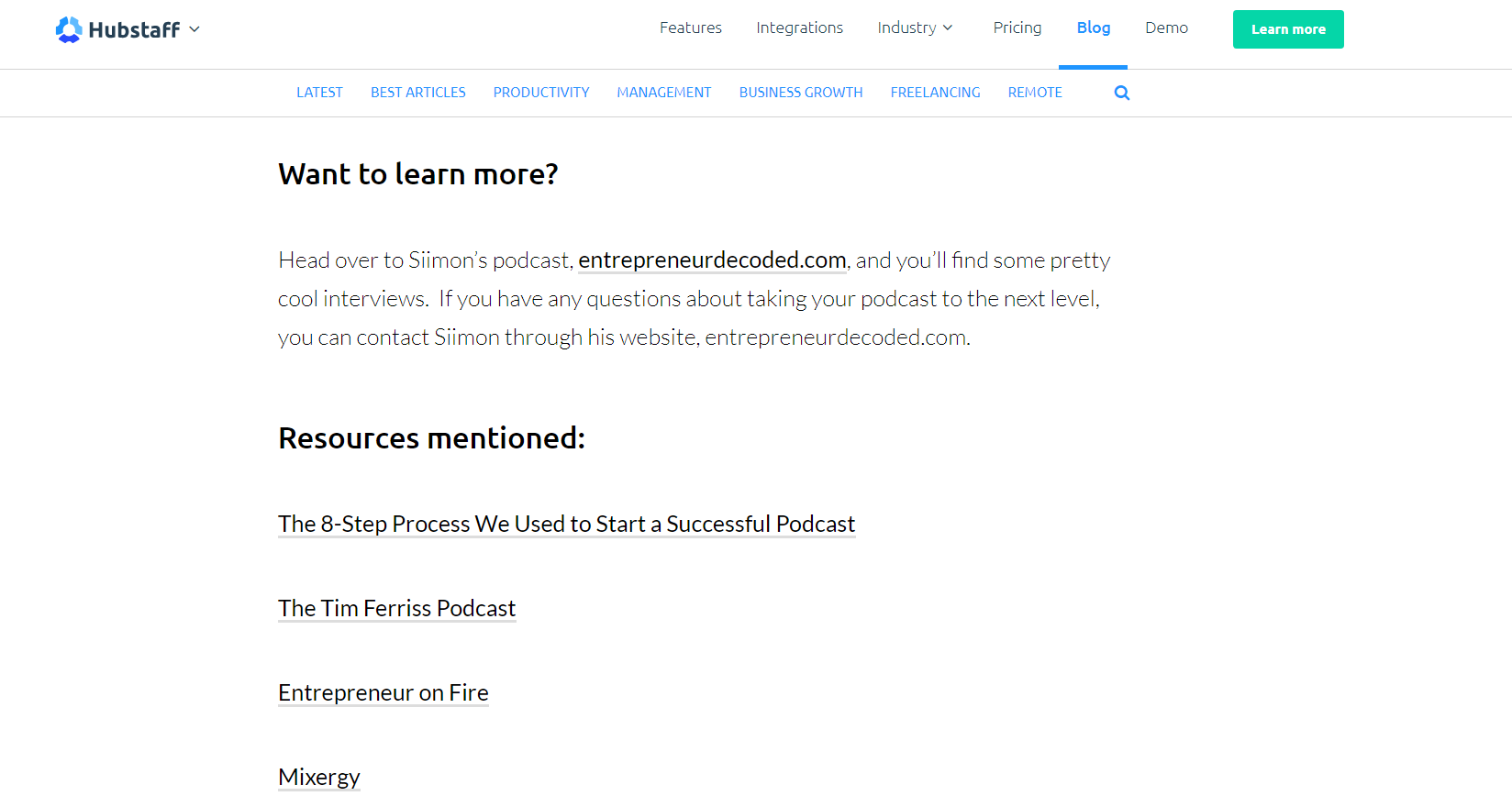 An example from CoSchedule's show notes pages include a prominent Links section for every episode, containing references to every resource discussed in the episode: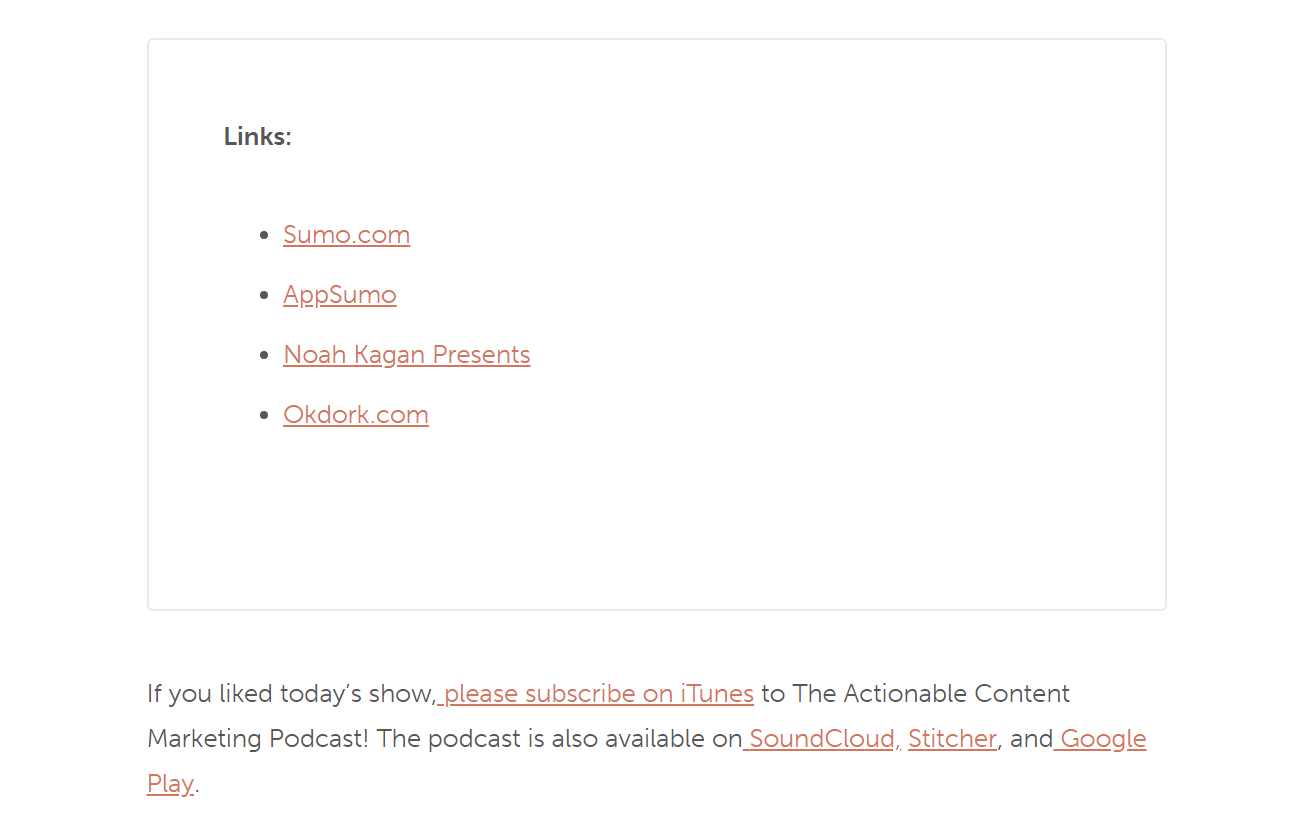 So, you could use any podcast interview opportunity to promote your service page or a particular products you want to build links to.
How to execute this strategy:
Find suitable podcasts you could appear on and pitch the interview.
Make sure that the topic is relevant to your service or product you want to promote.
Mention the relevant page during the interview, and ask if it could be linked to from the show notes. If your conversation revolves around the topic anyway, then you'll find it very easy to plug your product or service page.
Strategy #2. Blogger Reviews
Suitable for: product or service pages.
This strategy is simple - reach out to relevant blogs or media outlets offering your product for a review. Granted, not everyone will praise your product. But for the most part, when receiving something for free, reviewers are more likely to offer an in-depth AND positive feedback.
How to execute this strategy:
Creating a blogger networks and/or a blogger program are relatively easy to start. It's most important that you find bloggers that fit your target audience and that are passionate about your product or service.
Provide the group of bloggers a free product or service to "try".
Compensation, generally, should not extend past just the product or service.
Strategy #3. Content Repurposing / Reposting
Suitable for: specific pages that have deeper-level of content, but also works category level, product or service pages
Repurposing and reposting are two strategies marketers use to generate more traffic and leads without having to produce more original content. The term repurposing refers to a process of converting a piece of content into different formats. For example, you could turn a blog post into Slideshare presentation, a video, a podcast, an ebook and many others. Reposing, on the other hand, means taking a piece of content and publishing it on different media, such as reposting blog articles to Linkedin Pulse and Medium. Both strategies offer an opportunity to include deep links to your site. For example, imagine that you've created a holiday gift guide for your blog. You could convert it into a Slideshare presentation, along with all the links to mentioned products. Or, turn it into a YouTube video, and include links in the description. Similarly, you could repost the guide to other suitable media – from forums to web portals, etc.
How to execute this strategy:
Prioritize the most popular, user-identified content on your site to repost.
Select two or three other platforms that best suite your brand to start (you can expand later based on your resources).
Once you've created the content for that platform, repurpose and/or repost the content with links back to the content on your site.
Strategy #4. Create an Instructographics for Products
Suitable for: Product pages
Unlike infographics, instructographics use graphics to teach the audience how to do something. I often think of them as visual how-to guides users could follow to achieve a specific task. For example, an infographic could outline the basics of broken link building. An instructographic, on the other hand, could show how to find broken links and outreach to webmasters to offer your links as a replacement. Here's an example of a funny instructographic teaching how to make the perfect grilled cheese (click here to view the entire visual):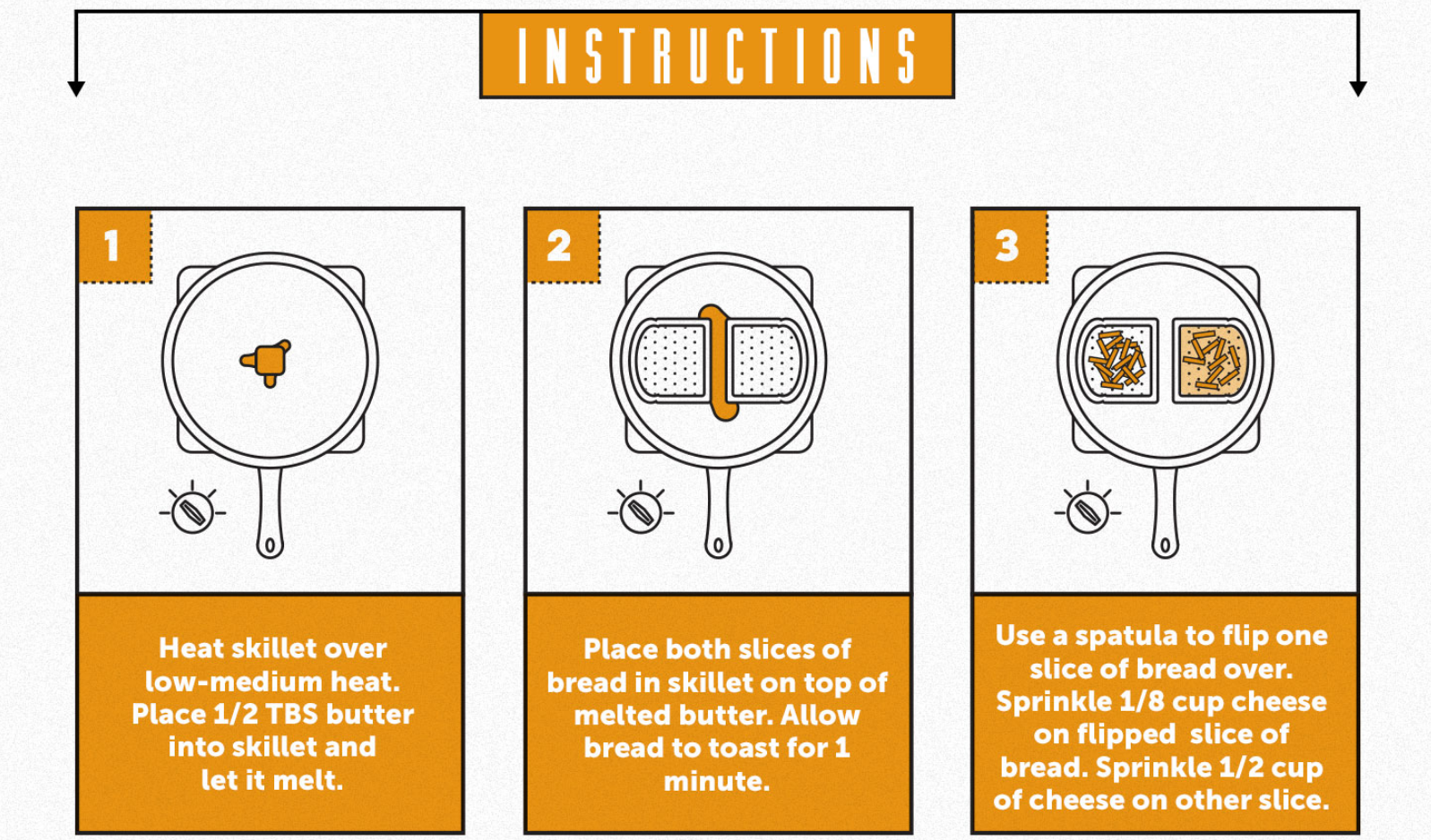 How to execute this strategy:
Find an aspect of your product that customers have a problem with
Create an instructographic that walks them through the process
Add the visual to your product page
Reach out to relevant communities, blogs, forums, etc. and promote the visual in the same manner you would do with an infographic. However, since the graphic resides on a product page, that's where all backlinks will point.
Strategy #5. Add Q&A Section to a Product Page
Suitable for: product and service pages
Every week, your customers ask questions relating to your products or services. You can help them by providing insights and answers where they look for them, Q&A sites like Quora.com, forums, etc. Another strategy is integrate a Q&A section to product pages where you answer the most common customer questions relating to that product (similar to the section Amazon features on product pages).
Note: you don't have to launch a system in which other customers answer those questions but do it yourself. The important part is to have this content on a page.
Then, whenever you answer any user questions online – be it on Quora, Yahoo Answers or relevant forums – link to the relevant Q&A section where users could learn even more about it.
How to execute this strategy:
Research the most common questions customers ask about your products
Create thorough Q&A sections on product pages that provide answers your audience seeks
Make sure that you can link directly to the Q&A. One way to do it is by appending an ID of an element to the URL. A link to the QA on the product page would then look like this: http://mystore.com/[product]/#QA
Reference that link every time you provide answers to relevant questions.
Conclusion
Building links to pages other than the home page or blog content is often challenging for SEOs. One of the key reasons for that is a lack of suitable link building strategies. In this post, I've outlined five deep linking strategies that can help you build authority to product and service pages on your site. Are there other deep link building strategies you've used and recommend? Let us know in the comments below.