The best online stores reach customers through organic search results because of key SEO strategy configurations and tactics.
All of these ecommerce optimization tactics work together to give your site higher rankings, offer a positive user experience, and boost your conversion rate. This is more important now as more retailers enter the era of true personalization.
Most ecommerce sites feature the following:
Category pages,
subcategory pages,
product pages,
blog pages, and
internal search functions.
For the purpose of this post, we'll be covering the best practices for category and product pages.
Follow along, or jump to the section that you're interested in:
Let's start with category pages. Optimized category pages are crucial for SEO success for ecommerce websites.
Category and subcategory pages on ecommerce sites drive the majority of the traffic, apart from the home page.
When people (that is, shoppers) search on Google, they use generic keywords as opposed to product-specific keywords. So, for example, if someone wants to purchase a "Christmas village," they would search for "best Christmas villages [brand name]" and not the exact product name; something like "Harry Potter illuminated village collection."
(For such specific searchers, it is the product page's job to capture that opportunity and get the user as close to a conversion as possible, which is why I'll cover product page best practices, too.)
When your category and subcategory pages are optimized to match the user's search, it makes their life all the more easy — and creating a positive search experience is paramount in SEO.
But not only does this help the user, it also helps the search engine crawl and understand your web site's structure …
Recommended Reading: Forming Your Ecommerce SEO Strategy


Site Taxonomy for Ecommerce Sites
There are different layers for finding information on an ecommerce website: category pages (those main categories you see), subcategory pages, product list pages, and product pages.
Category pages need to be at the top of the website hierarchy, and accessible within a few clicks from the homepage.
It's important to consider your URL structure and hierarchy for long-term planning. For example, product pages being separate from any single category so they can be double merchandised and not have to go through a URL change during taxonomy updates.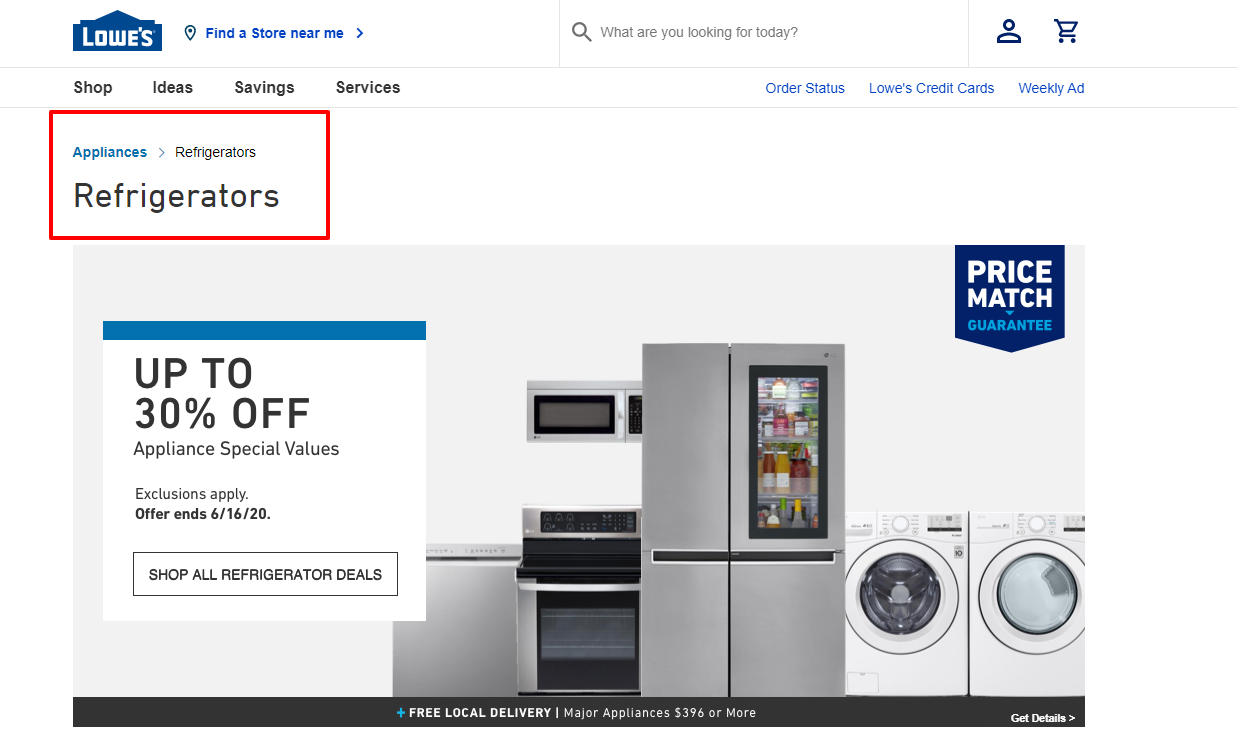 (Example of a subcategory page on an ecommerce site.)
In the example above, we're looking at a subcategory page (Refrigerators) that lives within a main product category (Appliances). And it only took us two clicks from the homepage to get here.
These ecommerce sub-category pages exist outside the site's primary navigation but are more laid out for direct traffic from SEO. They allow a user to get more refined in their category search.
Before you tweak your ecommerce pages, you'll also want to run a technical audit to make sure they're technically sound. You don't want to build a house on a weak foundation, and the same applies to your website.


Ecommerce Category Page Best Practices
#1. Have SEO Copy
Just because these types of pages feature less text-based content than other webpages doesn't mean that SEO copy isn't required. The SEO basics must still be in place, and content is the center of SEO!
It's preferred to have SEO copy above the fold, but having it below the fold is okay, too. But no matter where your SEO copy goes, be sure that it's written naturally with no keyword stuffing. You need to offer something of value to the user and provide relevant information.
And with the rise of mobile-first indexing, the SEO copy should be able to be expanded or collapsed, so that users on mobile can still navigate the page appropriately without being inconvenienced.


#2. Make the Search Easier with Faceted Navigation
Ecommerce stores tend to have a lot of product categories — especially at the enterprise level.
To make it easier for users to find what they are looking for, integrate sort and filter abilities on your site. This enhances the users' experience as less time is wasted trying to locate certain pages.
Do be aware, however, that faceted navigation (e.g. filtering by color or price range) does not have a great SEO-friendliness to it since it creates many combinations of URLs with duplicate content.
In fact, having faceted navigation is one of the reasons why Google rewrites page titles on the search engine results pages (SERPs). The solution here is to noindex some variations of the faceted navigation so as to not confuse the search engine.


#3. Answer Frequently Asked Questions (FAQs)
It makes sense that people will of course have questions about your products, so it's good to have an answer ready directly on the category page. Best practices here include not repeating the same FAQ on all the category pages (duplicate content) and following Google's established guidelines.


(Frequently asked questions on a category page.)
This won't only provide value to your searchers, but if you form the copy for frequent questions and answers, you've already completed a step for implementing the FAQ schema.
More on schema for ecommerce down below!
Having this will boost your click-through rate (CTR) and increase the size of your search listing on the SERP.


#4. Link to Buying Guides
Another category page component that offers value is buying guides. This is unique content that gives the end users the chance to further educate themselves on the products and/or services that you offer.
This is also a natural way to incorporate internal links onto your pages.

(Buying guides offer value to the customers and an interlink opportunity.)


#5. Optimize Your Images
It's important to show product images, but those images need alt text to optimize for a couple reasons: Alt text helps the visually impaired pull meaning from your page, and it serves as another clue to search engines on what the page is about.
But, don't let images get in the way of your site's speed. A slow site speed is going to create a negative search experience, so be sure to find the balance between a site with useful images and a site that loads quickly.


#6. Use Pagination
Consider the way your category page is set up for scrolling. We recommend pagination since it's easier for users to find items when they're housed on respective pages.
If you do choose to implement infinite scroll, then still have the rel/next prev links in the code and have the unique URLs load in the URL dynamically as the user scrolls through using the history API.
Recommended Reading: Pagination vs. Infinite Scroll: What's the Difference?


#7. Describe the Item with Product Snippets
A searcher will be more likely to click on a listing from a category or subcategory page if they have a full sense of what it is that they're clicking on. Because of this, it's wise to include a short product description that informs and entices the user.
Here is an example of Glossier offering snappy copy that acts as a product description: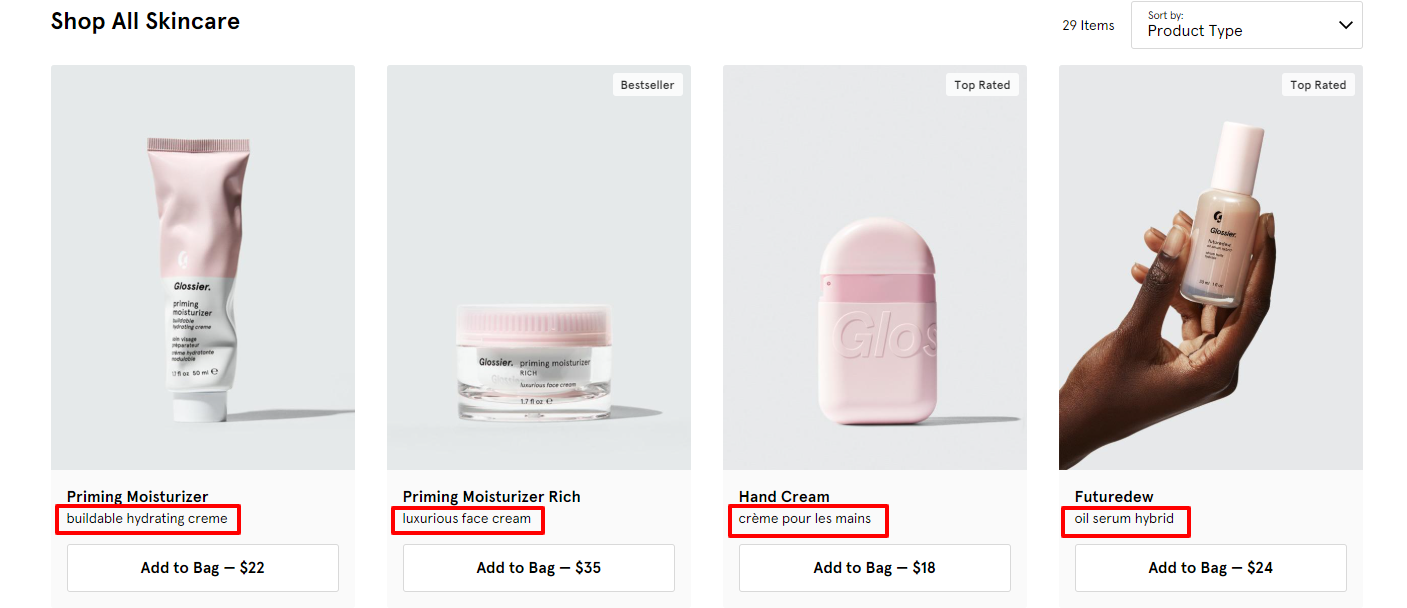 (Glossier gives searchers a short product description in four words or less.)


#8. Use Breadcrumbs
Breadcrumbs make it easier for customers to navigate the site and go back to where they were. Remember our refrigerator example of a category page?
You guessed it: That image we saw had breadcrumbs. Let's look again …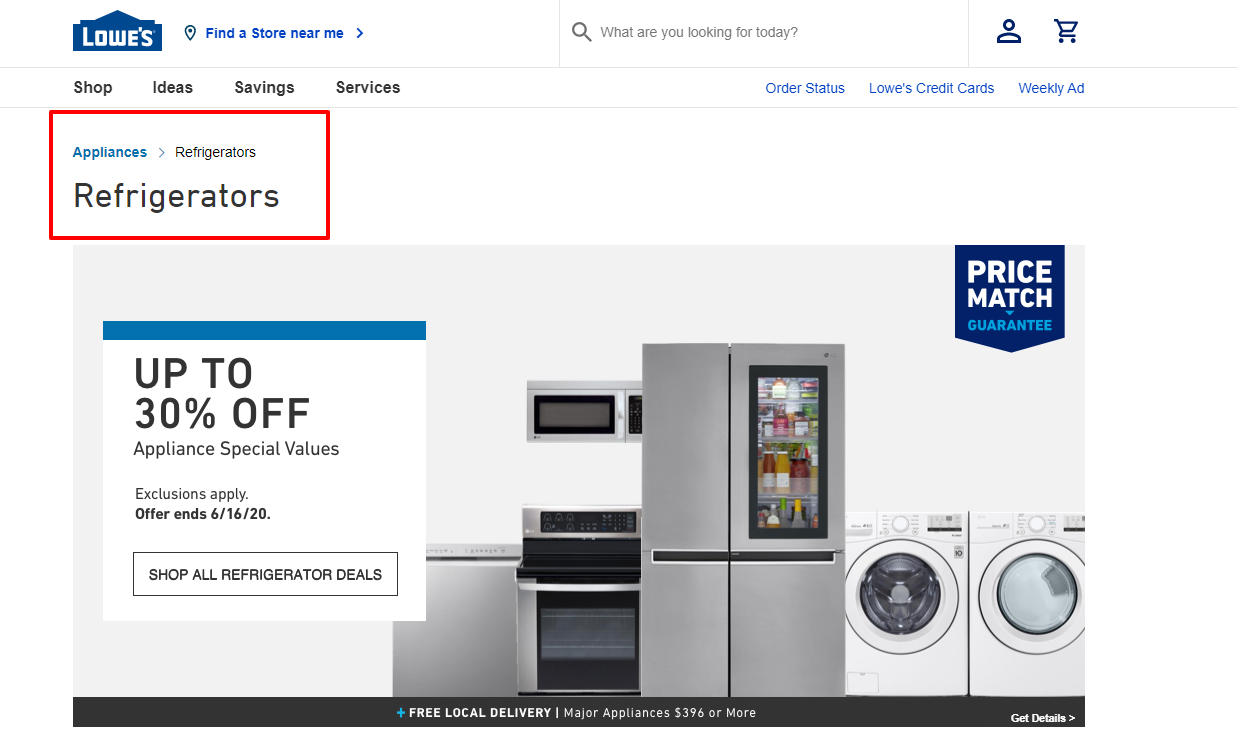 (This page utilizes breadcrumbs so users can know what they've clicked through on.)
Breadcrumbs can also appear on a SERP listing to let the user navigate to that specific page.


#9. Make Sure Your Text is Readable
This may not seem like an SEO-centric tip, but since SEO is all about search experience, it's actually quite important. After all, what's the point in creating great pages and copy if no one can read them appropriately?
Make sure your text is at least 12 px font size for easy reading. There's no need to squeeze a bulk of text onto a page — less is more here.
Also be sure to keep mobile in mind when you design your pages. More and more people use their mobile devices to make ecommerce purchases, so optimizing for mobile has to be at the forefront of your SEO strategy.

Product Page Best Practices
Once users click through your category pages and land on a specific ecommerce product page, optimizations still need to be in place to offer them a positive online experience. Let's take a look at how to optimize product pages.
#10. Include a Unique Product Title
Product title tags need to be catchy and convene what the product actually is, all the while showcasing SEO friendliness. But, don't let things get so out of hand that the title is a blurb of SEO keywords with no real value in it.
This is actually why it may be beneficial to hire a Product Team Member if you work for a large site. Their role is to make sure products and titles are optimized for SEO. This includes conducting keyword research and topical research to uncover the most opportune product names.
Recommended Reading: Leveraging SEO Data to Inform Online Merchandisers' Strategies
Similarly, you also need to ensure each product has a unique meta description. This should accurately describe the page/product so users know what they're navigating to when they come from Google.


#11. Use High-Quality Product Images
People will be more inclined to purchase an item if they can see it, but one image is hardly enough.
Make sure to present the image from a variety of angles so users can understand all of its components. Even if it's a small packaged product like vitamins, multiple angles would allow the user to see the health warnings, instructions, nutrient information, etc.
Even though ecommerce transactions happen on an online store, you can still use visuals to make your site visitors more confident in their decision to purchase with visual aid.

#12. Add Product Descriptions
A detailed description of the product is your chance to tell potential customers what the product is and why they can use it. Again, you may find it beneficial to hire a Product Team Member to lead this initiative.
Here we see Glossier give a description that not only says what the product is, but also why it's special, and what's "good to know" (i.e. that it's cruelty-free, dermatologist tested, etc.)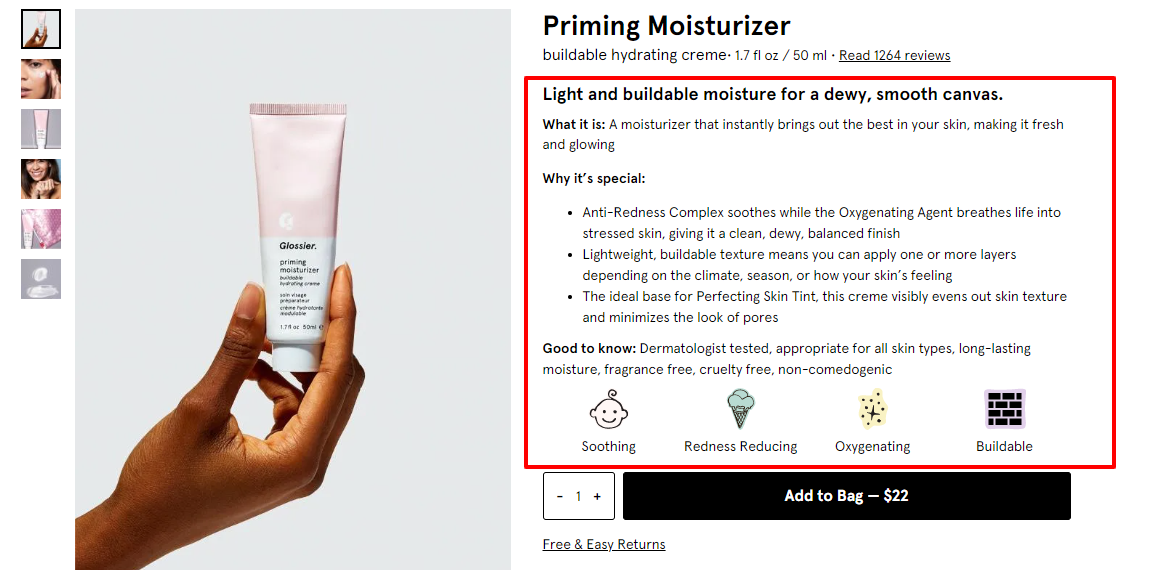 (Product descriptions are your chance to educate your potential customers.)


#13. Tell Customers How to Use the Product
Now that the customer knows what the product is, how will they actually use it? Providing educational value upfront allows the end user to see if this is a product that will fit their needs.
The precise methodology for delivering this information will vary depending on the type of product that it is. For example, a product for a Dutch Oven shows the best meals to cook as well as the care and use.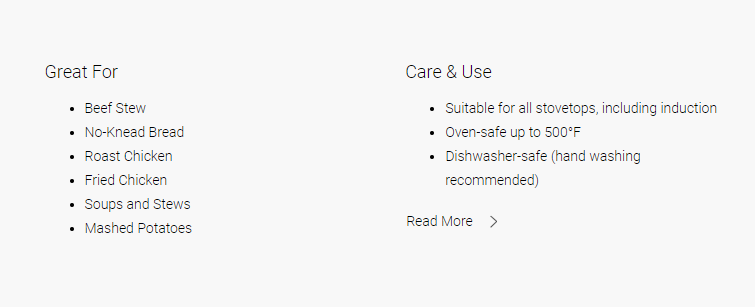 (Not all "how to" sections will be the same: this cookware offers care and use tips instead.)
And then we see a skin care product list more of a sequential list of steps to take while using the product.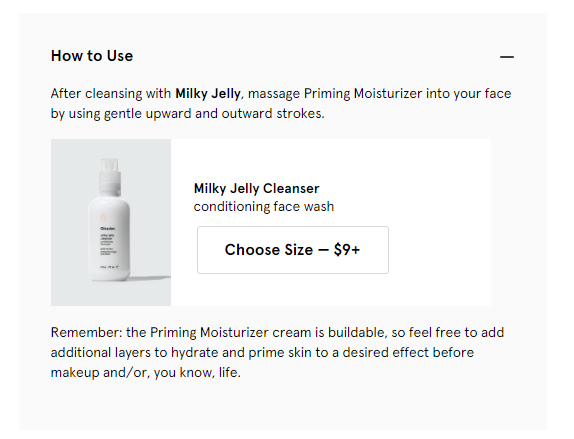 (This face cleanser offers a step-by-step approach for its use.)


#14. Answer Product FAQs
Again, some components of category pages lend themselves to product pages as well. These will be product-specific questions, so think of what your customers need to know. What are they asking you?
Answer clearly and honestly to give them the appropriate answer to their question.
Let's go back to our Dutch Oven cookware for an example of this …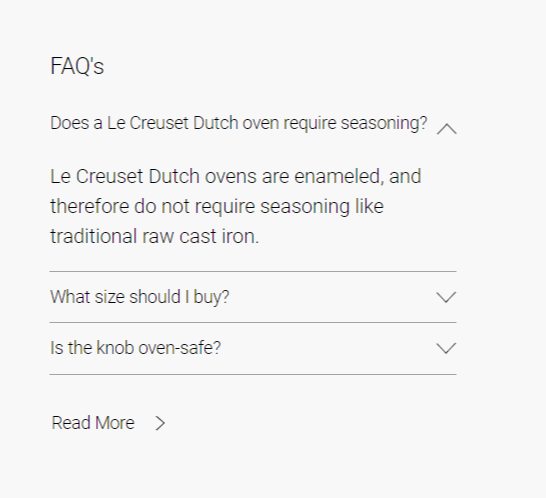 (Product-specific FAQs answer searchers common questions.)


#15. Enhance the Page with Video
Video is a great tool for engagement, and it's great to show complex things or a step by step approach. All around, it draws the user in and tends to provide a lot of information in a short amount of time.
Maybe you show how to use the product, key features it has, comparisons, etc.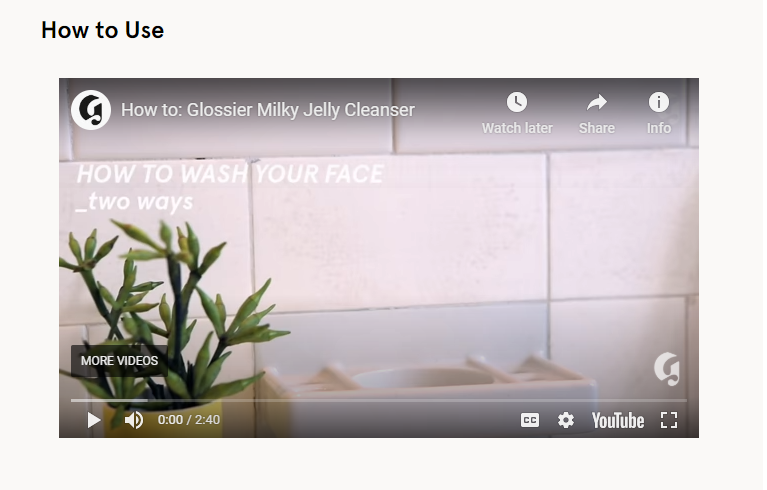 (Video is a great way to engage and educate potential customers.)
Glossier explains how to use their product with text, but they also showcase a video with the CEO explaining different ways to use the product.


#16. Connect Products with Cross Links
These are links from product pages to other products pages, such as "similar items" or "people also bought." It's a clever way to interlink to other pages while offering a relevant, positive user experience.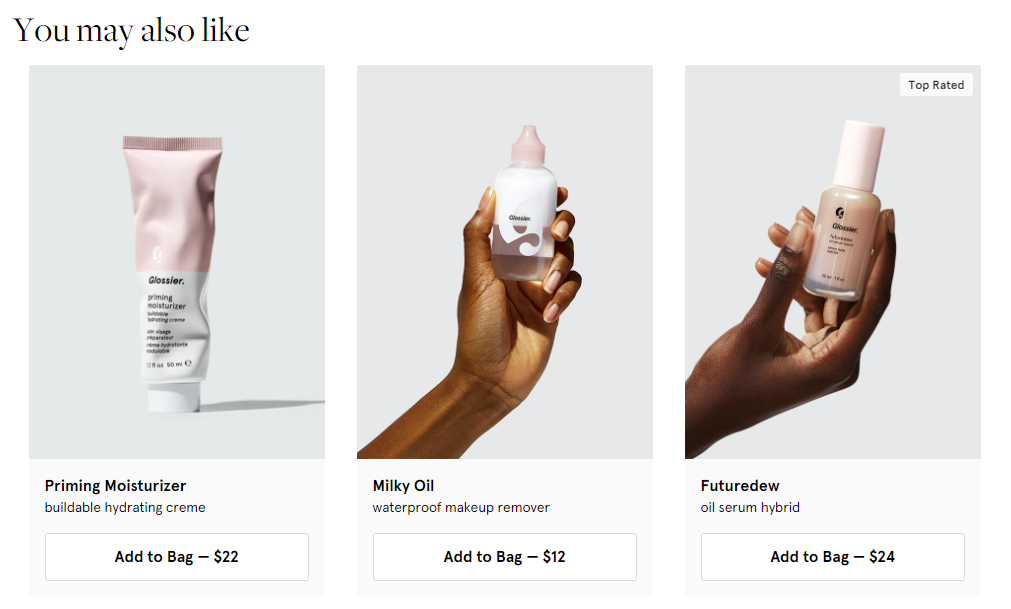 (Don't let searchers go: Point them in the direction of other products that they may find useful.)


#17. Tell Users if a Product is Out of Stock
If a product becomes temporarily unavailable, implement the item availability schema on the page. Or, for similar products, use a 301 redirect. Discontinued products with no equivalent or backlinks can 404 redirect.
Recommended Reading: Driving Organic Traffic with Google Shopping


Schema Markup for Ecommerce Sites
Schema markup offers Google more information about your site, and can generate rich results on the search engine results page, which is great for capturing users' attention!
There are so many different types of schema on schema.org that many can be applied to products as well.
There's aggregate rating schema, award, brand, item condition, and so many more that clue Google and the users in on what the product is about.
This is a great opportunity to demonstrate social proof. Use the Review schema type to showcase reviews and ratings of your products.
seoClarity clients can also use the platform to identify if a competitor is implementing FAQs and FAQ schema for a target keyword. Knowing which keywords your competition is targeting is a great insight to inform this aspect of your SEO strategy.
Here's a helpful resource on schema types for ecommerce sites: A Look at Product & Review Schema for Ecommerce SEO.
Note: Some people find it difficult to implement structured data, which is why we've built a free, community-based Google Chrome extension Schema Builder. You can build, test, and deploy structured data with a few clicks.


Ecommerce Platforms
When you do the work above in this post you'll most likely be logged into a dedicated ecommerce platform, or you'll be asking your developers to adjust the code that feeds through your platform.
In terms of ecommerce platforms, we tend to see Magneto or Salesforce Commerce Cloud (formerly Demandware). Most ecommerce platforms provide out-of-box features that you can take advantage of, but also ensure everything is configured to align with the tactics above.


Conclusion
There you have it: 17 SEO tips for ecommerce sites. Category and product pages have many components that can lead to a more optimized site. After your site is optimized for general usability, then go ahead and implement these strategies!
When you give these multiple features the attention they need, your shoppers will have the best user experience possible, from the time they enter your site to the time they checkout.