It's no surprise that SEO tends to live in a silo. Frustrating, I know.
This silo keeps organic search initiatives isolated from all other company endeavors, including ecommerce merchandising.
Despite this, SEO has an incredible power to fuel brand awareness and drive organic traffic to ecommerce websites. Plus, its focus on the end user experience attracts users and keeps them properly engaged, all in an effort to drive sales and conversions.
Now, let's look at ecommerce merchandising: the display of products, relevant information, and other product attributes to increase awareness and increase sales.
When the two come together we see that ecommerce SEO is not solely focused on ranking — it targets conversions and sales (ROI) from product pages, category pages, and more.
This is exactly why ecommerce merchandisers should be using SEO data to inform their strategies and meet their goal: the two concepts are more related than people think.


What is a Product Merchandiser?
Product merchandisers and product managers are responsible for how a product is sold. They create the customer experience — in this case online — to push searchers toward a sale.
One aspect of this is creating the product name.
What product name is most likely to create more search visibility for the product and company? Does one product name push searchers closer to a conversion?
This is exactly where SEO data comes into play. And yet these departments continue to operate in silos.


The Challenge of Disconnected Efforts
One tactic that digital marketers use to inform their work is data from Google Trends — a free SEO tool that shows a keyword's interest over time.
SEO data is also used for keyword research purposes, as well as content creation. The data gives them a glimpse into the habit of searchers. And online search behavior tends to directly reflect actual user behavior.
But this is something that website merchandisers don't know about. They don't know that this data is freely available.
This lack of communication between departments can have a direct impact on revenue (ROI).
Merchandisers can be missing optimization opportunities that can directly impact search visibility and conversions.


Why is This Important?
When merchandisers utilize SEO data, they can see how users (potential customers!) search for products.
With this data-backed information at the ready, merchandisers can name products and categories in a way that appeals to searchers, which increases those pages' chances at earning search visibility, and (if the pages follow product and category page best practices) bringing in revenue.
Not only does this increase site visibility, it also breaks down the silos that keep SEO separate from other departments within the organization.
Recommended Reading: 9 Ways SEOs Bring Value to Every Team in Their Organization
SEO data can also be used to keep track of the competition and their high performing pages, which can also create new opportunities and insights for your site.


Using SEO Data to Optimize for Ecommerce Products
Merchandisers need access to data in order to inform their approach.
Data from Google Trends
Luckily, a lot of data is made instantly available with Google Trends.
Let's take a look at the keyword "hair clippers" to see how interest in the topic has progressed over time.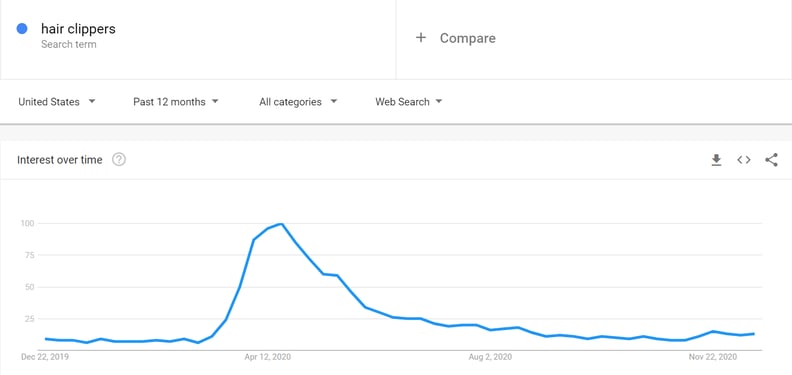 (Google Trends interest level for the keyword "hair clippers".)


Google Trends uses an "Interest over time" scale of 0-100 to classify a keywords relevance or importance.
That search query received practically no interest at the beginning of the year, and then saw the interest level skyrocket.
If the online merchandisers were aware of this rise in demand, they would have known that it would be opportune to focus on those specific grooming products to win the sale.
Data from an SEO Platform
An SEO platform is an incredibly powerful way to uncover SEO and search data to leverage toward merchandising strategy.
The SEO platform's keyword research functionality would be a great place to start to uncover opportunities.
In seoClarity, for example, users can use Topic Explorer to see how different topics are related to each other. You can see the search volume of terms that make up the entire search landscape, so your merchandisers know what to focus on specifically.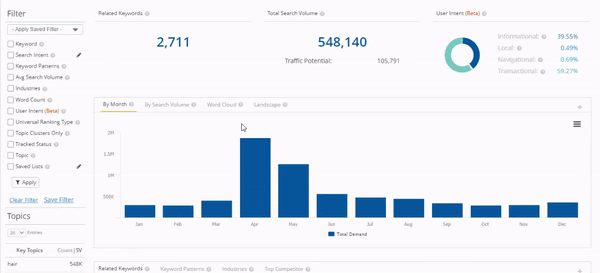 (seoClarity's Topic Explorer is part of the Research Grid.)


Not only can we see the search volume over time (look at how this perfectly matches what we saw with Google Trends!) we can also splice off to look at related topics.
In our case, our product merchandisers would want to focus on things like professional hair clippers, electric hair clippers, the best hair clippers, etc.
This is what people search for, and you have to meet them where they are!
Another way to use an SEO platform for online merchandising is to look at the metrics of a particular keyword.
In seoClarity, that's found on the Keyword Details Page.
This view reveals information about your rankings and various other metrics for that managed keyword.

(The Keyword Details Page reveals a variety of metrics for your managed keywords.)


Plus, you can uncover your associated and ranking competitors for that keyword.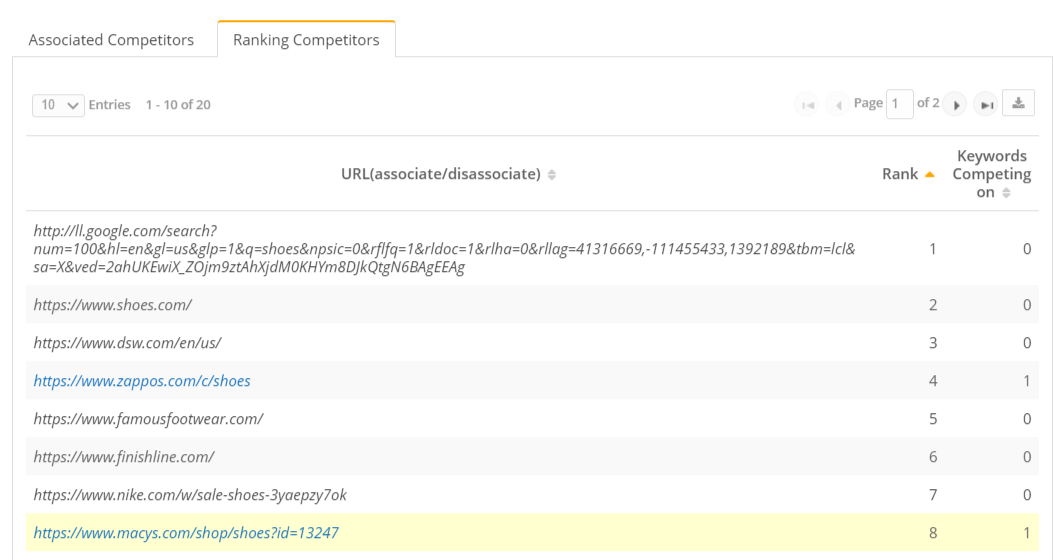 (Discover your associated and ranking competitors in the seoClarity platform.)


This leads us perfectly into how online merchandisers can use SEO data to monitor the competition.


Using SEO Data to Uncover Competitive Insights
Researching competitors' sites can lend itself to great success: you can see how the competition has designed their site taxonomy to provide for the most positive search experience.
When it comes to the user experience and the buyers' funnel, what are people expecting to see? What's the most natural path to lead them down?
Watching the competition can help with this!
To do this at scale with seoClarity, enter a competitor's domain into the Research Grid to see how their site is organized.
You can easily see the site structure at the page, folder, and subdomain level.
With hm.com, for example, we see their second folder tier includes specific product categories.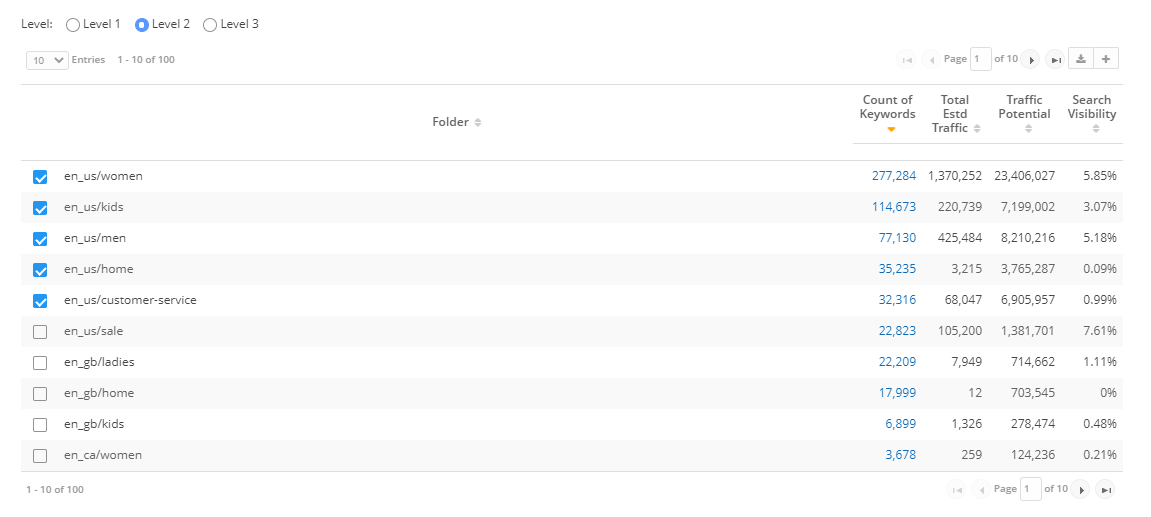 (Uncover the folder hierarchy for any domain.)


You can also look at specific URLs in the Research Grid to see which keywords rank for that URL. This can help merchandisers understand the competitor's approach and what keywords they target.


Repeating the Process: Test the Impact
Once the merchandisers leverage the SEO data to inform their strategy, be sure to monitor ranking and performance data to see how their optimizations affected rank, conversion, and of course, ROI.
Then, report the results back to them so they know this collaboration worked!
For an added optimization, SEO data can be used to see how meta data impacts performance.
A/B test to see which copy performed the best.


Conclusion
Sharing SEO data with product managers not only brings tactical success, but it shows that SEO is useful to yet another team within the organization.
Keep sharing your SEO insights, and keep knocking down those silos!