Online retailers face an extraordinary challenge when it comes to organic search.
The SERP is saturated with 1200+ features vying for a searcher's attention. Appearing in an organic listing these days seems daunting at best.
Add to the noisy SERP challenge a cumbersome user experience and you have yourself a recipe for disaster - a buyer's journey no buyer wants to journey upon.
The solution to ecommerce SEO challenges lies in a single source of truth for monitoring and analyzing SEO data: an enterprise SEO platform.
The following are highlights from seven organic search success stories of seoClarity clients who rely on an our platform to manage search engine optimization for their ecommerce sites.
Recommended Reading: New to ecommerce SEO for enterprise sites? We recommend checking out our guide,
Forming Your Ecommerce SEO Strategy to get started.
Successful Ecommerce SEO: 7 Sites Drive Wins Using an Enterprise SEO Platform
7% Growth in Search Visibility Leads to an Increase of 500k Monthly Organic Visits for Beauty Supply Retailer
A US-based beauty supply brand, offering both a brick-and-mortar and ecommerce experience, leveraged seoClarity to guide their decision-making to increase their search visibility.
Relying on deep data and insights within seoClarity, the beauty brand experienced the following over a 9-month period in 2020:
A +7% increase in overall search visibility over a 6-month period
A +12% increase in estimated traffic results in an incremental 500k monthly organic visits for 9-month period.
An uptick in pages ranking on their site increased 12% over a 6-month period.

Because of these results, this beauty brand anticipates an increase in revenue in the year ahead.
Recommended Reading: 18 Tips for Category and Product Pages to Optimize Your Ecommerce Site


Extreme Sports Merchandise Site Topples Projections, Improves Site Organic Traffic by 49%
An online retailer carrying over 200 brands of extreme sports merchandise relies on SEO to win in organic search against their competitors. In the previous 12 months of working with seoClarity, they experienced a 49% increase in organic search traffic.
With an estimated traffic increase of nearly 100k monthly organic visits, they look forward to continued traffic growth, more site conversions, and an increase in revenue.

Pet Supply Retailer Improves Rankings Across 8,500 Keywords Driving a 500k Monthly Increase in Organic Search Traffic
Many SEOs and digital marketers know that the fruits of SEO take time to ripen - and sometimes, those results take longer than anticipated due to disparate tools and point solutions or a lack of SEO understanding within an organization.
Recommended Reading: Why Choose an SEO Platform Over a Specialized SEO Tool Like Semrush?
Having a single source of truth to process and analyze SEO data helped this online pet supply retailer improve their search visibility in just 6 months.
By leveraging content workflows within the platform to conduct research around the business climate during the COVID-19 pandemic, this online retailer saw the following:
A 7% increase in search visibility bringing 8,500 new search queries to page one


An 11.2% improvement in organic search traffic for an estimated traffic boost of 500k monthly visits in just six months

Their content team continues to rely on the full Content Marketing optimization suite from seoClarity - Content Gaps to discover where they best compete against their competitors, Content Fusion to enhance decaying content that has declined in Search Visibility, and Content Ideas to research new topics they may not be covering for their audience.
Recommended Reading: How to Create SEO Workflows for Consistent, Scalable Results


Online Fashion Retailer Improves Top 3 Rankings by 68% Resulting in 36% Increase in Traffic
A notable online fashion retailer worked to improve their rankings, specifically, their top search queries in positions 1-3 in the SERP. To do this, they relied on seoClarity's AI-driven content workflows to diligently target and improve their ranking content at scale.
In just 12 months, they:
Increased their top three rankings by 68% for nearly 20k new traffic driving search queries
Improved their organic traffic by 36% for an incremental 1.12MM monthly organic visits in just 12 months
This online fashion retailer knew early on with seoClarity that the consistent, repeatable workflows they had adopted were instrumental to their long-term success. In just 10 months time, the brand noticed their traffic had increased by 48% (seen below).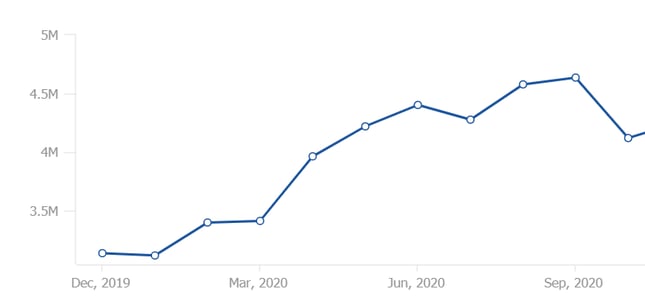 Major Canadian Electronics Brand Increases Page One Rankings 69K Keywords for an 800K+ Increase in Organic Traffic
For a brand as big as this Canadian electronics giant, any incremental traffic improvements are a huge success story.
Focusing strictly on their "low-hanging fruit" opportunities, their ecommerce site managed an increase of 12% more keywords ranking on page one of the SERP (an increase of 69.5k terms in position 1-10) over the span of 10 months.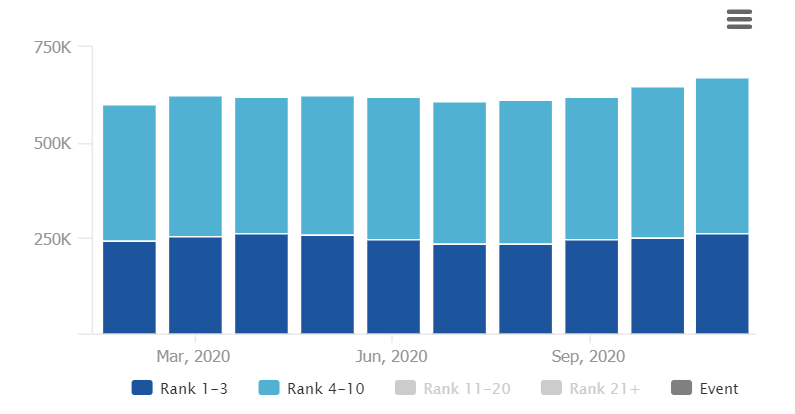 What's more, this improvement resulted in an 800k increase in estimated organic traffic growth in 2020 - impressive gains for such a recognized enterprise brand.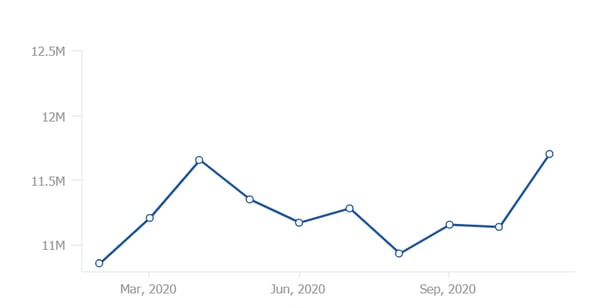 Cosmetics and Skincare Brand Improves Unique Ranking Pages by 30% to Drive Monthly Increase in 8K Organic Traffic
A prestigious skincare retailer worked diligently within the seoClarity platform to improve their unique ranking pages through a series of proven SEO tactics and workflows.
Recommended Reading: 14 Quick SEO Tweaks to Increase Search Visibility
In just under a year, the brand experienced a 30% increase in unique pages ranking on their site.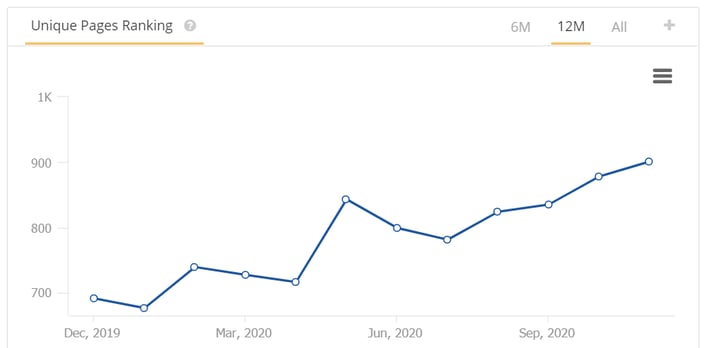 This incredible feat resulted in a 5% increase in organic search traffic for an incremental 8k monthly visits, a trend they anticipate will last with continued efforts in SEO in the coming months.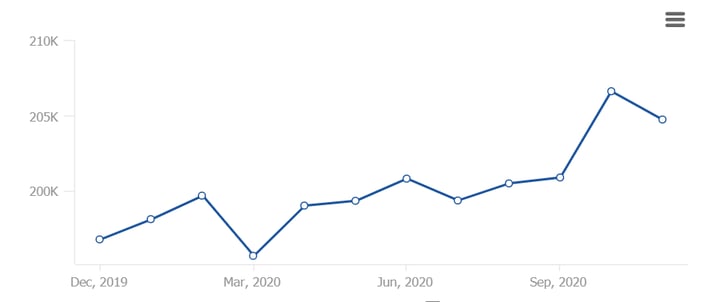 Luxury Jewelry Brand Sees +100K Visits Over 4-Month Period
A US-based luxury jewelry brand realized their need for a consistent, internal SEO strategy. They sought a unifying framework to implement across their entire organization.
With the seoClarity SEO framework in place, their senior marketing lead leveraged seoClarity's Content Services to improve key pieces of content on their site, monitoring their success every 4 weeks in line with the brand's core KPIs.
They created a test to compare the performance of 60 category pages that outperformed the control by 6% over the previous period. They repeated this process across several category pages and target keywords and saw their content drive an incremental 100K visits over the 4-month period compared to the previous period.
Learn how they added visibility for 6,600 new keywords in the full case study.


Conclusion
Fact: organic traffic growth doesn't happen overnight.
True improvements and real results in organic traffic and SEO take muscle but don't take as long as one might assume, given the right investments in strategy and execution.
For large enterprise brands like the ones mentioned above, that means relying on a combination of tactics like proven SEO workflows, a trusted SEO framework, and one, single source of SEO truth for your team to scale their efforts. Do these things and expect major SEO results and ecommerce success to last - so long as you put forth the effort.
Want to see it in action? Sign up for a demo today and see how thousands of brands are improving their search visibility with the power of an enterprise SEO platform.