This goes without saying - Increasing the search visibility requires far more than just optimizing the content for relevant keywords and building links.
Today, the search engines put users first. And as a result, they tend to prioritize pages that offer more than just well-optimized content, backed by authority links.
None of this is new to us. We've developed a framework and a search methodology called Search Experience Optimization to help you meet this new approach, and continue improving your search visibility. I'll also show you what factors affect a customer's experience on your site, and how to deliver the best search experience in 2018 for your customers.
Search Experience Optimization - Overview
You know, in the past, SEO used to be all about search engines. Our primary focus, as SEO practitioners, was to satisfy Google's requirements for quality content. We believed that the closer we got to meeting search ranking criteria, the greater our chances would be to acquiring higher rank position in the SERP.
But there's a fundamental flaw in this thinking. It focused on an algorithm but left out the most important factor in your marketing strategy - the customer.
Thankfully, that's not the case anymore.
(Of course, understanding search engines ranking factors is still critical for the basis of your search marketing program. It's just important to consider how to deliver a great experience to people whom you want to attract to your site.)
Search engines understand that too.
Here's a quick example. Take a look at the list of 200 Google ranking factors so wonderfully compiled by Brian Dean.
The majority of those relate to a domain, page or site-level factors. But a large group of them takes into account the experience a person has on your site. And that includes anything from the quality of the information to the website's usability.
What's more, another large portion of ranking factors looks at users interaction with your content. Which, in other words, means, assessing whether they've found your page valuable.These factors include click-through rates, dwell time, repeat traffic, number of comments, bounce rate, time on site, and much more.
All of those elements relate to the customer experience.
Core Factors Affecting Search Experience
In the Search Experience Optimization framework, we recognize that to create rank-worthy content, you must follow three distinct principles:
#1. You must create a highly usable content
Which in practice means:
Making it easy for users to find the information they need.

Optimizing content to be easily accessible, regardless of the device or screen size your audience uses.

And finally, search engines must be able to crawl it too. This goes for individual pages, but also your entire site structure must be optimized to

make the most of your available crawl budget

.
#2. Your content must also be relevant
Ideally, it should:
Answer all user questions,

Include copy that matches the most relevant user searches and their search intent

And be optimized to provide the greatest value to users
#3. And finally, it must be highly authoritative to earn links
This may seem like a hard task, but if you focus on:
Creating and optimizing content which you are the authority in
Providing useful info and context for your users related to your business
Adding credibility and reference supporting content to build your online reputation
Here's a look at the full breakdown of the three principles: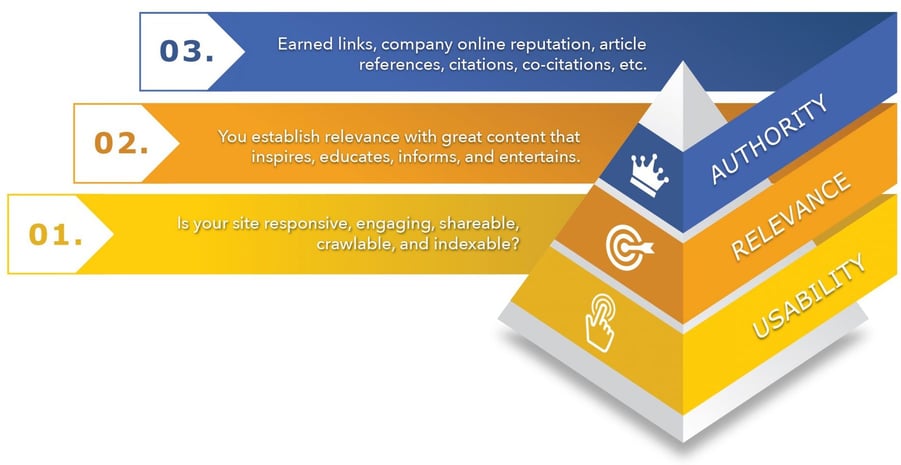 So, let me show you how to use the Search Experience Optimization principles to create content that delivers the best search experience for users.
How to Use This Framework to Deliver the Best Search Experience in 2018
Step #1. Improve Your Overall Site's Usability
I'm sure you have a good understanding of what makes a website usable.
Usually marketers think about usability and user experience as a clear navigation that helps users locate the right information, for example. Or contrasting colors that keep elements clearly visible and text readable.
But in SEO, usability relates to a few other factors.
Specifically your site architecture, or the way you've organized content on the website.
Clear information structure will make content much easier for users to find. If your pages, products or other content are organized logically, visitors will have no problems finding what they're looking for. However, in the opposite scenario, they might continuously end up reaching the information they don't necessarily need.
Also, clear site architecture makes your pages easier to get indexed and classified by search engine bots. At a minimum, find and eliminate potential problems with site architecture such as broken internal links, 404 errors, and wrong redirects that might provide a poor user experience.
Similarly, conduct a thorough site audit to identify crawl and indexing issues.
TIP: Use tools like Bot Clarity to identify issues that are preventing bots from accessing content on your site and to maximize the your crawl budget or the specific pages bots spend time crawling your site.
Step #2. Boost Your Content's Relevance
Ask any content marketer what makes content relevant to a user's needs, and they all concur:
It's one that readers find informative and engaging,

Targets their specific needs and challenges, and

Compels them to act.
However, in SEO, we also look at one more aspect of relevance - a relation to a person's search query, and their intent behind it.
And this generally involves three activities:
Discovering keywords your audience uses to find your content.

Often, they might use different terms to locate information you published. Developing a portfolio of keywords to track will allow you to identify if you're delivering content that matches their need.

Assessing how those keywords relate to your customers' search intent.

Customers use different types of search queries, depending on the stage of the buying cycle they're in. And by understanding why (and how) a person looks for the information, you can devise content that corresponds to their needs.

Developing or optimizing existing content to answer customers questions and deliver the information they searched for.
We wrote extensively on all of the above. Here are the links to those articles:
Step #3. Communicate Your Content's Authority
It's important to know that authoritative content gets more attention and links. And needless to say, that's what helps it to rank higher.
Take a look at the result of a content analysis Brian Dean conducted not long ago, during which he discovered that:
"[...] comprehensive content significantly outperformed shallow content."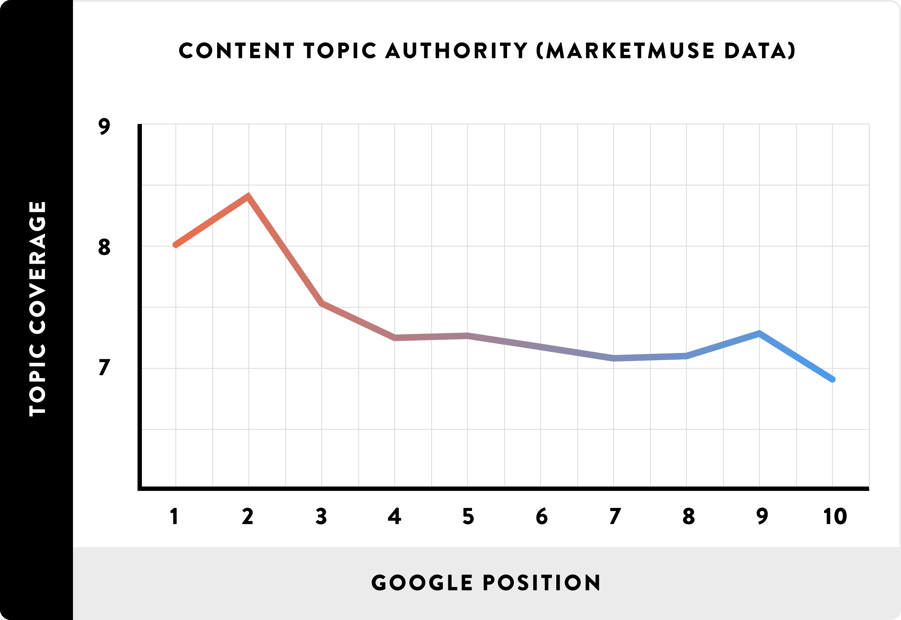 But what exactly is the authority content?
After all, authority is only a perceived value. In most cases, we identify something as authoritative solely on various cues that we consider to highlight authority.
Which means that you just need to include some of those cues to help search engines consider your pages authoritative.
For example:
Publish useful and unique content. By focusing on providing value and answering your users questions. This will in-turn keep them longer on a page and send a strong authority signal to the search engines.

Link to it from high-quality pages on the site

. This will pass link juice to your content, and again, strengthen it in the search engines' view.

Add Schema and other HTML elements that help search engine bots better understand the content.
TIP: seoClarity offers a number of tools that could help you increase your content's authority.
Content Ideas tool helps you discover the exact questions your audience asks online.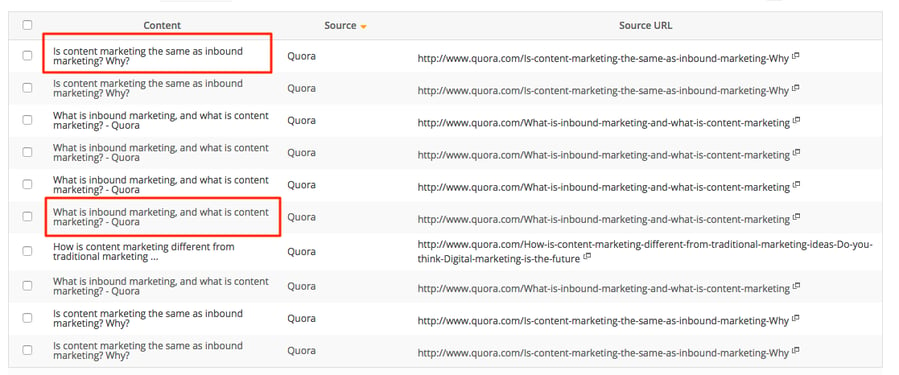 Internal Link Analysis analyzes your interlinking strategy, and identifies opportunities to pass more link juice to your content.
And by using the Research Grid, you can gain insight into the most viable queries for which to optimize your content.

Next Steps
Interested in learning more about implementing the Search Experience Optimization framework? Schedule a quick, consultative meeting with one of our SEO Account Executives, and see how you can start optimizing content to deliver the best search experience in 2018.