There's a tremendous number of ways someone can search for the product or service you offer.
It's a marketer's job to figure out the relevant ways that people search so when they land on your site they'll want to buy.
Search engine optimization is all about connecting content to intent. More specifically, it's about aligning keywords with content.
We'll walk through a simple workflow for on-page SEO:
Identify keywords: What people search for
Identify the content: Whether you need to create it or update existing content
Make sure it aligns: What you offer aligns with what users search for

Prefer a video? Watch the content alignment workflow here:
What is On-Page SEO?
On-page SEO is the process of optimizing the content and HTML elements of your site to earn more organic visibility in search engines.
A number of different factors make up on-page SEO: title tags, meta descriptions, content, internal links, and URLs are a few examples of on-page SEO elements that you can optimize.


#1. How to Identify Keywords
Discovering the keywords that people use for search starts with keyword research. The goal here is to find the terms that people are searching for (i.e. terms that have demand).
There are many ways to do this, from simple to more advanced workflows.
Recommended Reading: The Ultimate Guide to Keyword Research
One option is to use a keyword research tool. If you don't have one, we've put together a list of some of the best keyword research tools available.
Each tool will have a different level of insights available. The seoClarity keyword research data set has 30+ billion keywords with new updates every month to account for new ways that people search.
More than 15% of queries to Google are never seen before!
To get a taste of the data, try our
.
You can also run a content gap analysis, which involves uncovering keywords that your competitors rank for but you don't.
(A content gaps analysis reveals what keywords your competitors rank for that you don't.)
You can also look at your Search Console data to see what terms your content is relevant for – there can be ideas for new content there, too.


#2. How to Create SEO Content
Once you've identified how people search, you'll need to create relevant content to match that search query and its intent.
A content analysis tool is your best friend here. The best content analysis tools allow you to create authoritative content at scale.
Content Fusion, seoClarity's content optimizer, utilizes AI to accelerate the research process and offer an in-depth look at a topic. You'll know what topics to cover in your content, the context behind those recommendations, and what internal links to include.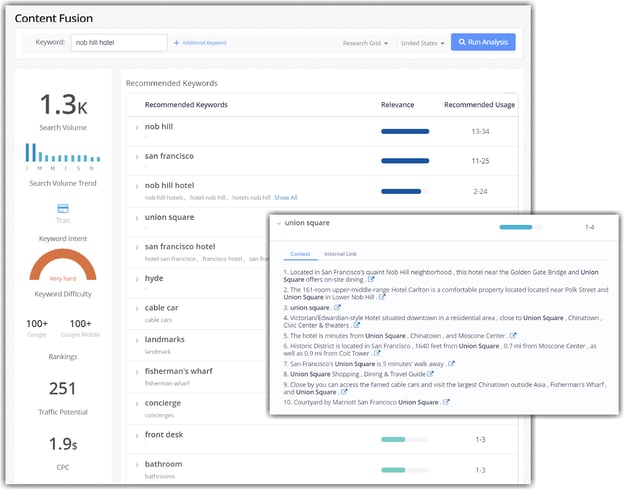 (A look at seoClarity's AI-driven content optimizer.)
If you're ready to get started with content creation, try Content Fusion for free to see how it can change the way you create content.
If you're still looking to learn more about how to create relevant, high-quality, check out these resources:
#3. Aligning Keywords with Content
Once you've identified keywords and have your content, it's time to make sure everything aligns.
Every page needs to be optimized in the following areas.
Page Title
The page title tag is an essential component of on-page SEO.
It helps to provide context around the content of the page for both users and search engines. Plus, it's usually what the search engine displays on the search results page (but Google can rewrite titles on the SERPs).
→ How to Write Optimized Page Title Tags for SEO
Meta Description
Meta descriptions are also essential page elements. They serve the same purpose as title tags: provide further context about what the page is about.
The search engine usually displays the meta description on the search results page, too.
→ How to Write the Perfect SEO Meta Description
Headline
While not essential, an H1 headline is highly recommended. The headline helps to summarize the key idea of the page.
This is important for the user experience — a headline helps users landing on the page orient themselves and confirm they are where they intended to be.
It helps search engines understand, too, but your priority should always be the end user experience, not trying to outperform search engine algorithms.
Category Description
If you're working on an ecommerce site, you have the option to add a category description to your page. This is another highly recommended, but not essential, on-page element.
It gives you an extra opportunity to add more copy to the page to improve that page's relevance.
These elements need to clearly describe what the page is about — that is, the keyword that people search for needs to be included here.
Even from a bird's eye of view, if a user just glanced at a page, they should have an understanding of what that page is about.
Let's look at a real-world example.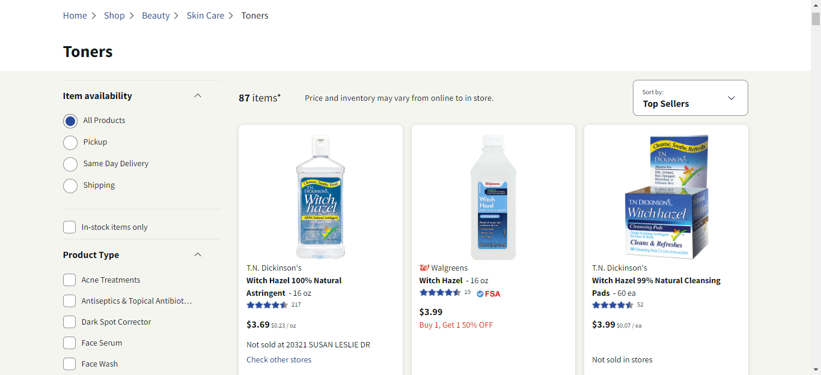 (A category page for "Toners".)
For the web page above, the headline is just "Toners" — but from that bird's eye of view, what kind of toner are we dealing with? Since the top few products are all Witch Hazel, the user may think this page is only about Witch Hazel if they weren't clued in with a proper headline
Making the quick change to "Face Toners" would better align the page to the users' intent and expectations.
Headlines reassure the user that they're on the right page. Right there, point blank.


Optimized Page Templates
The optimal site page will differ depending on what kind of page it is. In the example above, we looked at a category page.
A properly optimized category page will look something like this: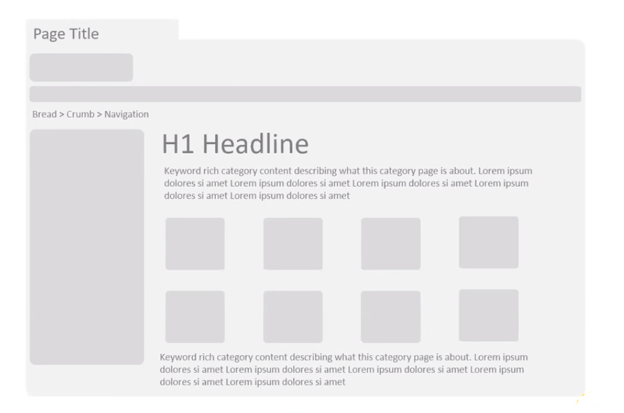 (An optimal ecommerce category page.)
An optimized blog post or article will look different. Here's the ideal template for a blog: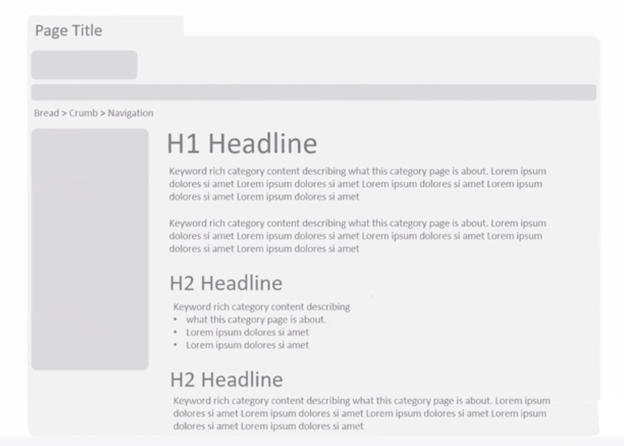 (An optimal blog post template.)


The
On-Page SEO Checklist
On-page SEO is fairly simple. It can all be distilled into a simple checklist to follow.
If you have a page, ask yourself the following questions …
What is the page about?

How do people search for this? What keywords do they use?
Then, are the essentials in place …
Is it present?

Does it use the keywords?

Is the length appropriate?




How to Implement On-Page SEO Changes
If you use the workflow above and find areas of opportunity to improve your on-page SEO, you can make the updates directly in your CMS.
But for enterprise sites, with thousands or millions of pages, this just isn't feasible. Or, maybe your SEO projects end up stuck in the dev queue.
There can be an overall lack of resources when it comes to tech, skills, or your team that stall your SEO projects from being implemented.
That's where ClarityAutomate comes in: it's a next-generation SEO automation platform that lets you get 10x more SEO projects done.
Instead of waiting for dev to come around, you can now fix on-page SEO issues in a few clicks. All of the on-page elements mentioned above are now in your direct control!


Summary
On-page SEO is invaluable.
Align your page to a particular keyword to clearly tell users what the page is about and show them that it properly delivers on their intent.
Don't forget to use the proper SEO tools and software to get the job done right!