For many ecommerce stores, SEO drives the majority of revenue.
According to a study by Custora, 22% of ecommerce orders come from the organic search. And, as Yotpo reports, the search attracts 34% of online store's visitors. Only the direct channel drives more.
But with the online retail market growing at 20%, the stakes for online stores to dominate the search results are incredibly high.
Therefore, for many, the focus is on ecommerce SEO.
They launch product pages, category pages or blog posts to secure first page rankings, and, in turn, attract traffic at every stage of the buying journey.
As any seasoned ecommerce SEO would attest however, increasing an ecommerce store's search visibility requires a unique approach. One, I'm afraid, not every SEO is familiar with.
As a result, many constantly find their actions yielding little or no return.
In this post, you'll discover the 3 critical areas of ecommerce SEO to focus first for higher search visibility.
#1. Keyword Research Beyond Just Search Volume
If you've worked on a new or small ecommerce site, then I'm sure you've quickly realized this:
It's almost impossible to rank for your head terms.
True, these short keywords offer the greatest opportunity in search. For one, their search volume is immensely big. Positioning your domain on the first page would guarantee high traffic levels. Not to mention that they describe your product or category like nothing else. You can be certain that using them would deliver the most relevant visitors.
Unfortunately, most big players in your niche already occupy those SERPs.
Take a look at the example below to see domains any new store selling promise rings would have to compete with.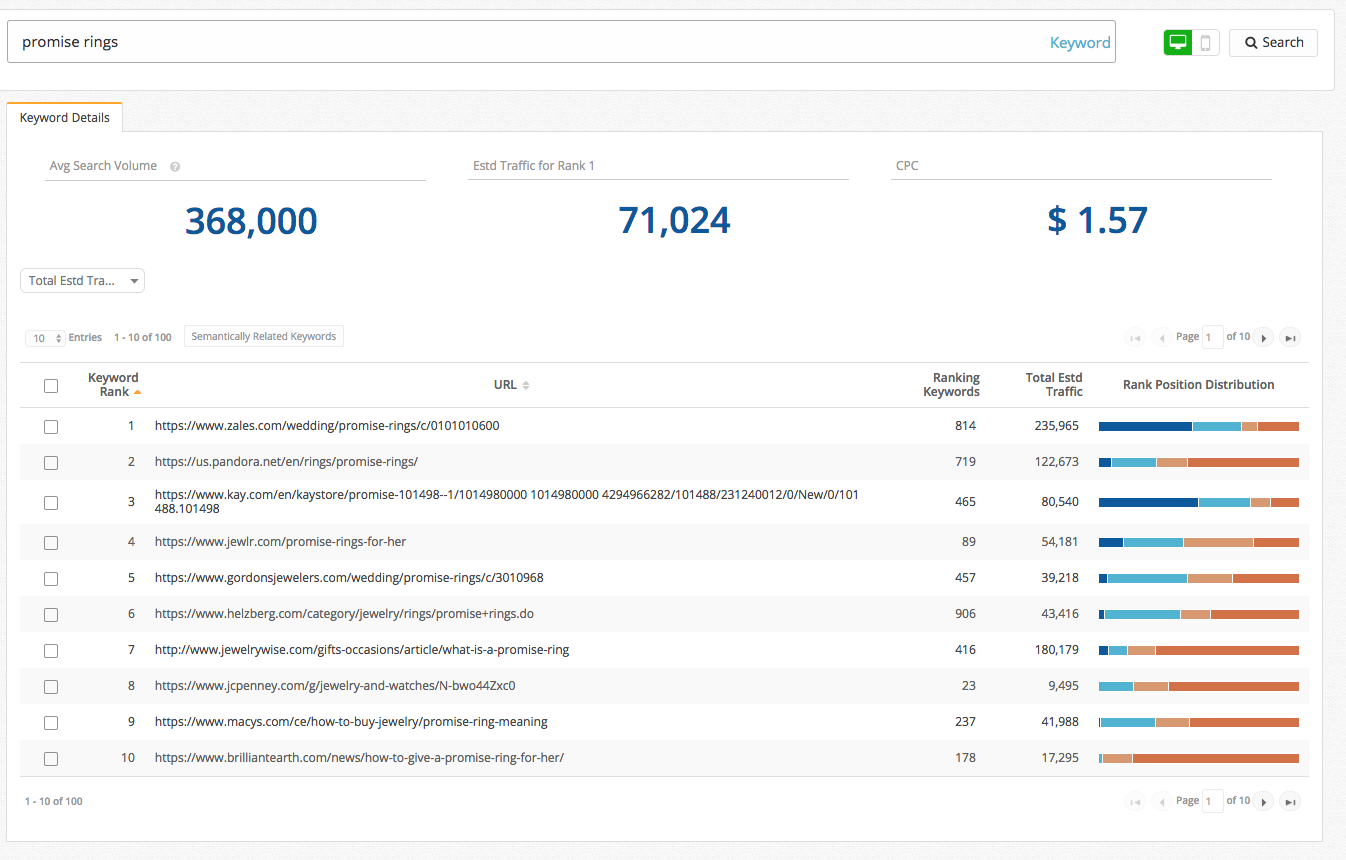 Intimidating, isn't it?
Good news - there is a way to overcome this challenge.
Looking at the top 10 search results, I can see that Google lists both ecommerce results and informational content.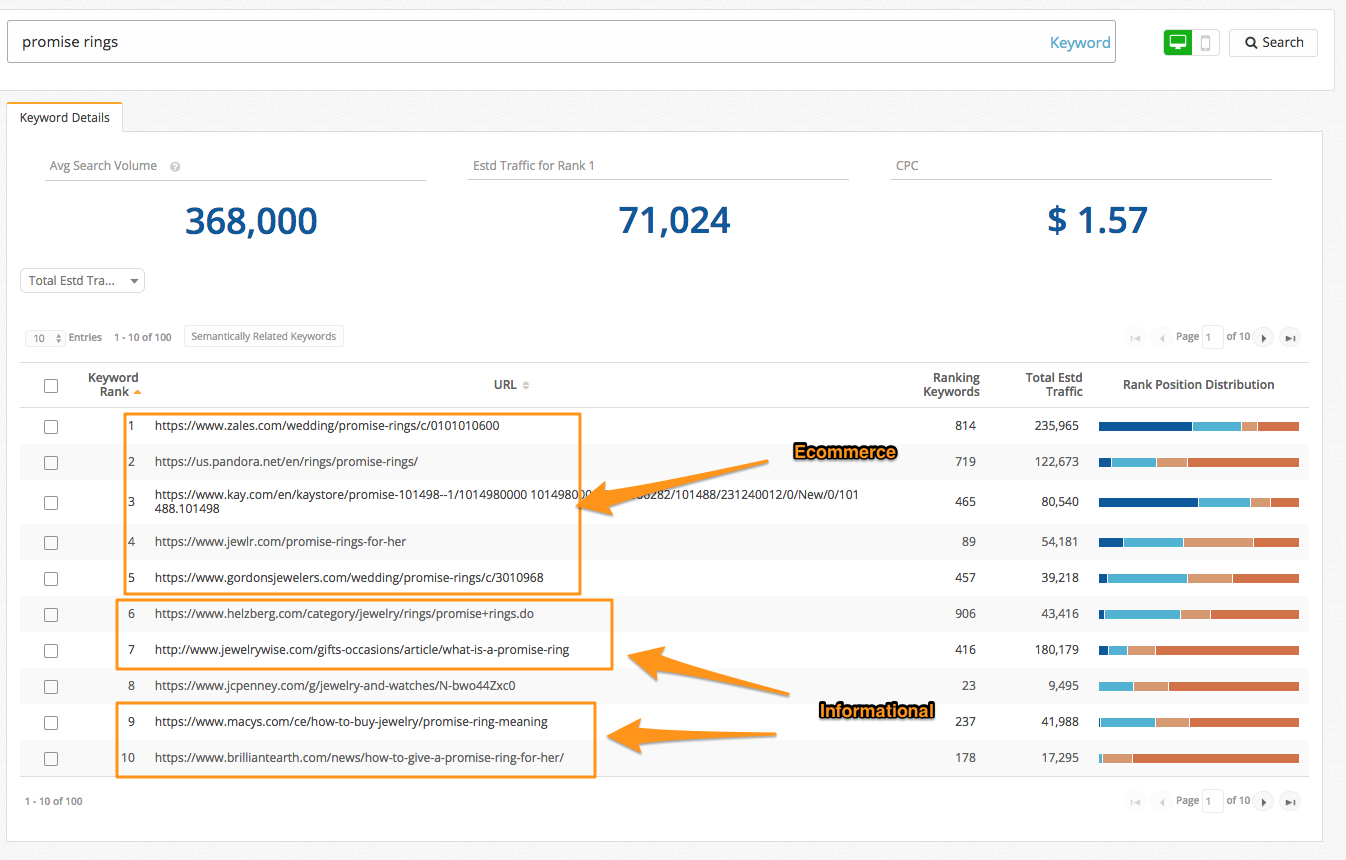 Now, based on these results, I can also tell that it's going to be difficult to rank in those transactional results. At least, not right away.
I could target long-tail keywords and focus on other search intents. How? By publishing blog posts answering my potential customers' questions, for example.
Here's a screenshot of seoClarity's Content Ideas capability showing a whole range of relevant, long-tail, informational topics.
To recreate this view for yourself, select the Filter Option of "People Also Ask" in the left navigation of Content Ideas. This will give you the questions that Google finds relevant when someone is searching for your targeted term.
Another option is to target less competitive phrases first.
Let's take the "promise rings" phrase from the screenshot above as an example. An online store selling such equipment could also target keywords like:
"

what is a promise ring

" or

"

what does a promise ring mean

"

Creating blog posts or long-form content that offers relevant advice is a great first strategy to attract the relevant customer base to the site.
Even though these keywords' search volume is lower so is the competition to rank. Plus, a store could create tens of pages targeting various low-competition keywords. As a result, they could acquire far greater search visibility than if they focused on a handful of head terms.
In time, as your domain acquires a stronger authority, you can turn your attention to the head terms and make progress with those top competitive keywords and topics. At this stage, you are in a better position to take on the big players.
There is one other issue many ecommerce stores find with their keyword research.
That issue is the search intent. At times, Google displays results that, at first sight, might have an irrelevant intent.
Example. Look the phrase we used earlier, "Promise Rings." Although it seems commercial, to the search engine, the keyword has local intent, and it will focus on ranking relevant information in Google My Business listings instead.

(Screenshot of Content Fusion keyword report showing keyword intent.)
Solution: Always assess pages ranking in SERPs for your target phrase. See what sort of information they contain. Doing so will help you identify the right approach as to what content to create for that keyword.
#2. Advanced Technical SetUp You May Have Missed
I admit – Technical SEO is a vast discipline. From server setup, the code powering your website to CMS functionality, it encompasses an incredible range of issues.
I want to focus on a handful of specific ideas any new ecommerce store should consider.
The first one: moving the site to HTTPS.
Google has been pushing domains to move to HTTPS for quite some time.
Back in October last year, the search engine announced that sites collecting information via an HTML form without a security certificate would see a warning appearing in the Chrome's URL bar.
Recently, Google started displaying the warning for all websites.
As a result, many organizations have been moving their sites to HTTP. Furthermore, HTTPS is already a ranking signal.
The issue is particularly important to ecommerce stores. After all, their sheer premise is to engage in a transaction with the visitor.
Here's what having an SSL encryption means for a visitor:
It reassures them that they are on the actual website, not an impostor.

They can be certain that all information they enter – logins, credit card details, and transactions – is secure.
Moving the site to HTTPS starts with implementing the SSL certificate on your server. Your IT team should be able to help with this element.
What comes next is important for you. Because, although your URLs don't change, you need to change the redirect rules to point from HTTP to HTTPS. Or create new redirects, if you had none.
Similarly, many online stores already use the SSL connection on checkout. However, they force the rest of the site to HTTP. Make sure to remove that rule, if it exists on your site.
At the end of the process, audit your site and look for links that might still be pointing to non-SSL URLs.
The second issue is implementing the schema markup.
The schema markup offers an incredible opportunity to boost search visibility. As my colleague, Susan Connelly, wrote earlier this year here on the blog:
"It provides search engines with more information that helps them understand the site's content.
What's more, it allows companies to enhance their search listings with more information relevant to a search query and gain a competitive advantage over any other domain in SERPs."
With a well-implemented schema, you can boost the visibility of your products. Another benefit is the potential for higher CTR from search engine listings.
And as an ecommerce site, you have quite a number of schema rich snippets to choose from. For example:
The

product

, for one, helps Google understand a page as being a product listing.

Ratings and reviews

helps add the much-needed social proof to your search engine listings.

Pricing

helps display your price on the SERPs page too.

And if you sell fast moving goods, the

Availability

snippet might help you generate some urgency in your audience.
#3. Attract Customers with Blogging and Content Marketing
FACT: Content plays an indisputable role in SEO success.
Yet, so many ecommerce stores don't have a blog or haven't invested enough in their informational and awareness-level content. Just focusing your content efforts are to product, category, and similar pages is too limited and only focused on one area of the customer's buyers journey.
Unfortunately, that's not enough to generate high search visibility today.
From conversations with many online retailers I've realized the main reason for such a low focus on content marketing:
Most of them have no idea about what topics to cover on their blogs!
So, here are some suggestions.
A blog typically attracts customers in the early stages of the buying journey.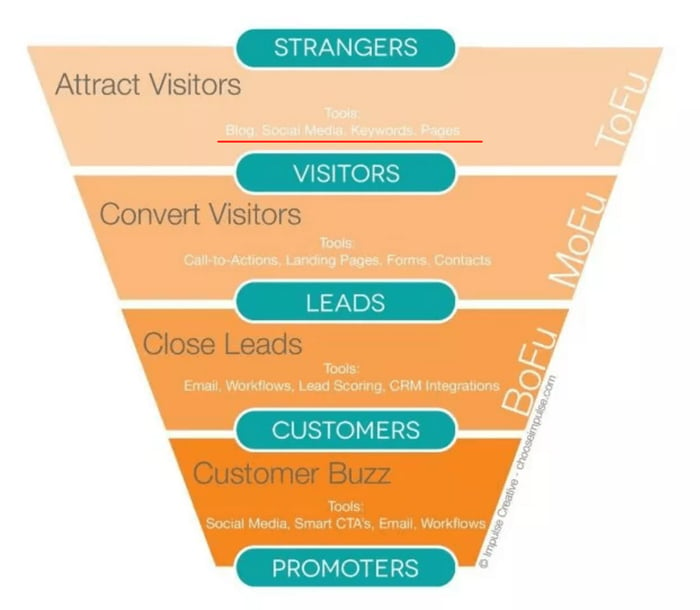 (Image Source.)
These people might not know what they're looking for yet. But many will have a reason for their search.
For example, they might be looking for a gift for a special occasion. Or they'd need more information about a specific product category. Or, to inform their product choice better.
Answering those questions help pull them closer to your store. As a result, introduce your brand or products to relevant buyers.
The store below understands the mechanics of blogging for ecommerce. Look at one of the blog posts they posted, right in time for a special occasion.
Here's how you could find blogging ideas too.
Let's go back to our "promise rings" example above. Using our platform, you can identify different content ideas to analyze the most common questions people ask about water purifiers on Quora.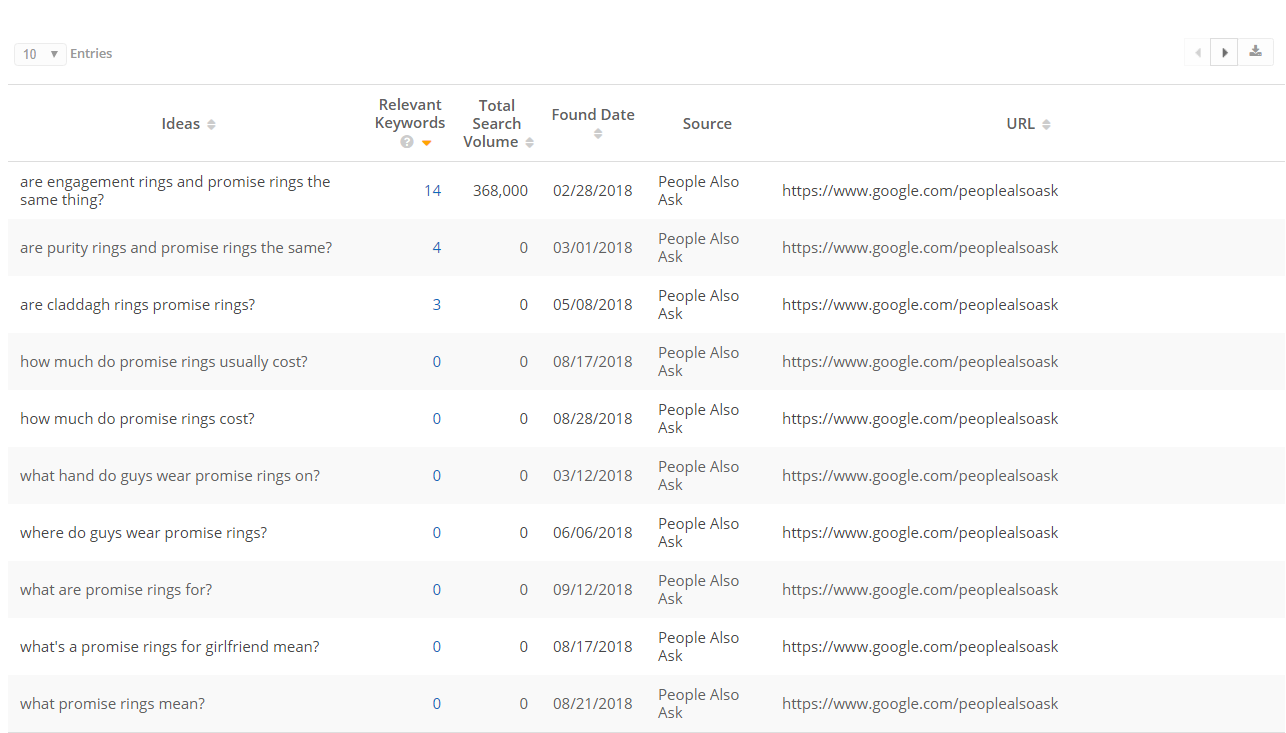 Analyzing the "people also ask" content on Google reveals further content ideas.
By converting the above ideas into highly relevant blog posts, the ecommerce site would attract an engaged audience, introduce them to their brand, and start building a business relationship with them. One that, in time, might develop into new sales.
Conclusion
For many online stores, SEO is the foundation for their revenue. Unfortunately, many ecommerce SEOs approach gaining higher search visibility for their store in the same way they did in other industries. And in doing so, they often focus not on the right things.
Hopefully, in this post, you've discovered what areas of ecommerce SEO you should pay attention to the most.