With a website as unique as yours, you need unique SEO reporting options, too. That's why we built Rank Intelligence to be fully customizable.
Rank Intelligence provides you with accurate, reliable rank tracking that's powerful enough to analyze millions of data points.
See how we're better at ranking analysis: 12 Ways Ranking Analysis is Better in seoClarity.
You may think that having so much data available means more time spent putting together reports, but Rank Intelligence data doesn't just live isolated in the seoClarity platform, it's integrated into a wide range of platform features — all to allow you to scale your SEO reporting.
For reporting purposes, you can highlight your wins with custom SEO dashboards, and pull in your data points via Rank Intelligence dashboard widgets.
This allows you to have a fully comprehensive view of your various metrics right from log in, without having to navigate to a different section of the platform.
With just two widgets, you can create all the different views explained below. Let's take a look at how you can find SEO opportunities and isolate ranking fluctuations with the Rank Intelligence dashboard widgets.


The Most Popular Rank Intelligence Widget Views for SEO Reporting
Finding Opportunities
SEO reporting can reveal many opportunities, from low-hanging fruit to content gaps. A key method to discovering opportunities lies with uncovering and understanding your true competitors.


#1. Find your true top competitors on the SERP.
Part of finding opportunities in SEO involved understanding your competition. But with the state of the SERP today — images, Answer Boxes, ads, and other features that push organic listings further down the page — it can be hard to understand who the competition is.
Because now, it isn't just other businesses. Your true top competitors most likely include Google itself. Notice the Google entities listed below: ll.google.com (which shows local listings) and images.google.com.
With a proper understanding of the competition, you can form a strategy to discover new opportunities.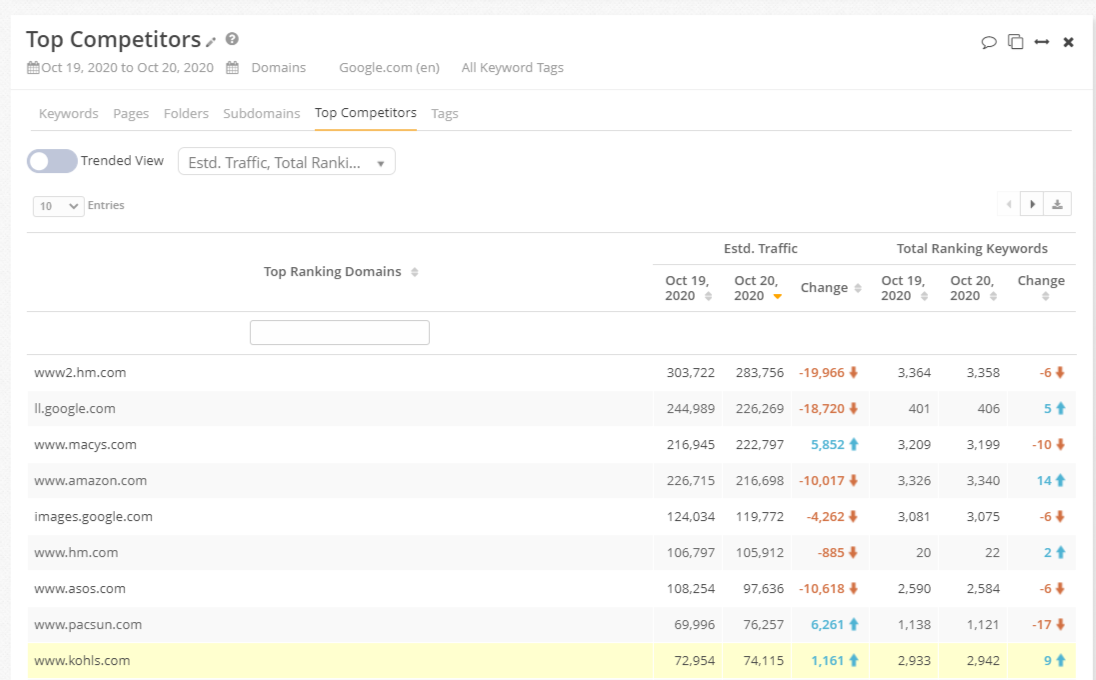 (Rank Intelligence widget: top competitors on the SERPs.)


#2. Compare your ranking performance against any domain.
Enter in any domain that you'd like and the widget will refresh to show your performance data next to the domain of choice.
This competitive analysis can be used to find gaps in your own performance and opportunities for future growth.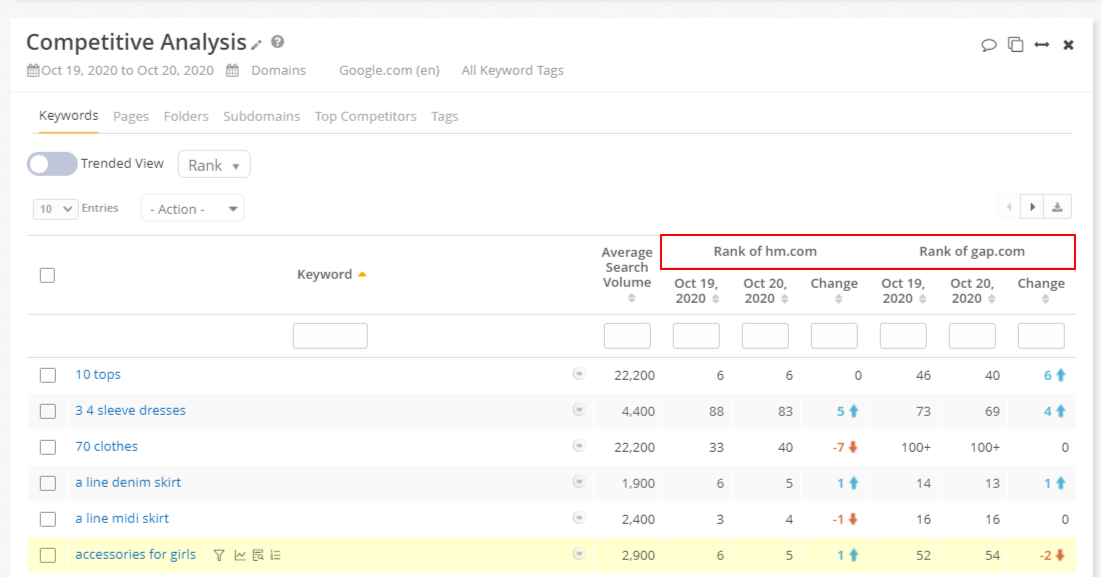 (Rank Intelligence widget: HM data compared against the Gap.)


You'll also notice a number of tab options to choose from besides the keyword view. These views help you segment out data, all for a unique purpose:
Pages: Zoom out to see performance at the page level. This allows you to see performance metrics collected in aggregate.
Folders: Similarly, see the changes for a group of folders for aggregate reporting.
Subdomains: Identify URLs that rank that are subdomains. For example, shop.example.com and blog.example.com. This information can tell you about potential cannibalization with your pages and keywords.
Tags: Filter down to see the keywords of a specific keyword tag that you created. Or, you can edit the entire widget and set the tag to be associated with this particular widget.


#3. Monitor multiple domains' performance over time.
Keep track of trend data for multiple domains, all in one view. You can input any domain you choose, so it could be one that you manage, but this view is especially useful for monitoring the competition's performance.


(Rank Intelligence Trend widget: multi-domain reporting.)


The view shows the top 3 rankings for four domains, but you can toggle between metrics, such as:
Average rank: the average of the rankings for the keywords you track for a day, week, or month.
Weighted average rank: this metric gives each keyword a certain weight based on its search volume.
By position: the amount of keywords ranking within a certain range of position, like 1-3, or 4-10.
By page: the amount of keywords you have ranking on each page of the SERP, like page 1, page 2, etc.
Estimated traffic: an estimated number of clicks that a site receives for a keyword or set of keywords.
Top search volume: this view allows you to see how many of your managed keywords rank with a specific search volume.
And more!


The reporting capabilities of the Rank Intelligence widgets are powerful. Work with your Client Success Manager to create more customized views.


Analyzing Rank Fluctuations
Ranking fluctuations are all too common in SEO. They may be the result of a Google algorithm update, or they may come along after you make changes to your site. Regardless of the cause, it's important to know when and where they occur so you can monitor progress (or catch any errors).
You can alter the Rank Intelligence widgets to create a variety of different views to see your ranking fluctuations, both at the keyword and summary level.


#4. A visual heatmap for keyword rank changes.
With a simple toggle on the Rank Intelligence widget, you can see a trended view of your data, complete with a visual heatmap.
This is a visual, engaging way to see where your rankings have dropped or increased. With a color indicator for drops or increases, you can immediately pinpoint what needs attention, without having to sift through piles of data.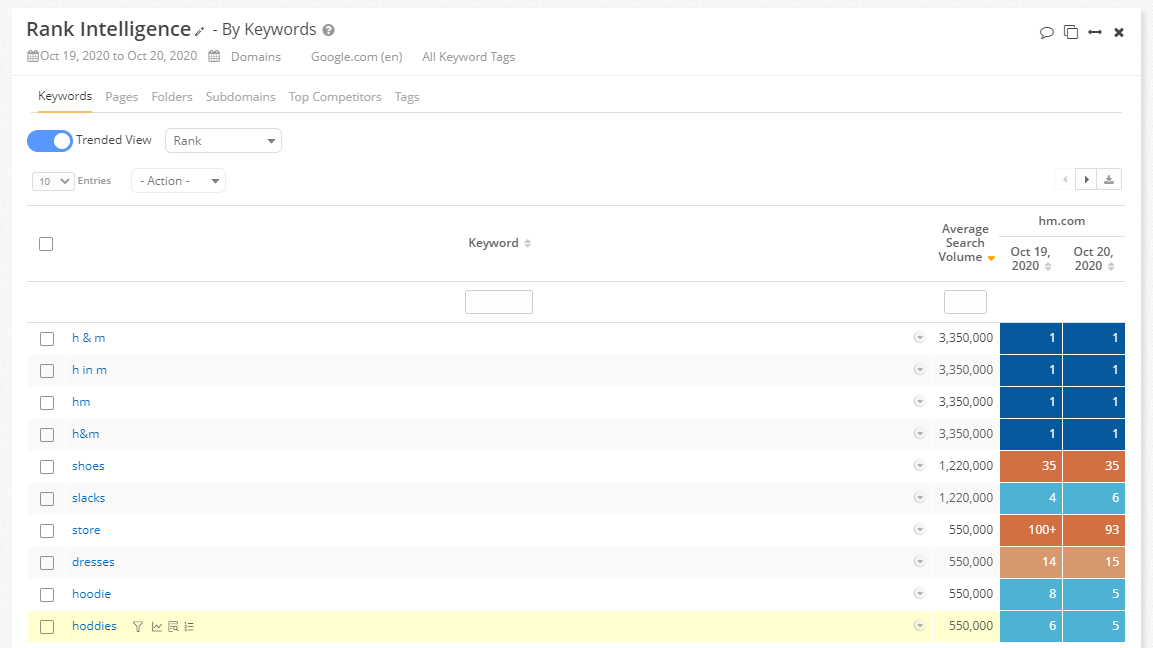 (Rank Intelligence widget: visualize rank changes by amount changed.)


#5. Side-by-side rank gains versus losses.
Customize the Rank Intelligence widget to show you keywords that have increased and decreased in rank position. Similarly, you can tailor the widget to show you new and lost keywords that rank within the top 100.




(Rank Intelligence widget: keyword rank changes.)


This specific example is looking at the keywords within a keyword tag. Set the widget to the criteria you're looking for, and always have that data ready for your reporting when you log onto the platform.
Since the widget allows for live filtering (we're currently looking at keywords listed by search volume) you can enter in specifications in the respective text box to narrow in on the information that matters to you.


#6. Summary-level rank changes.
The Rank Intelligence Trend widget excels at showing top-level data that you can interact with for a deeper analysis.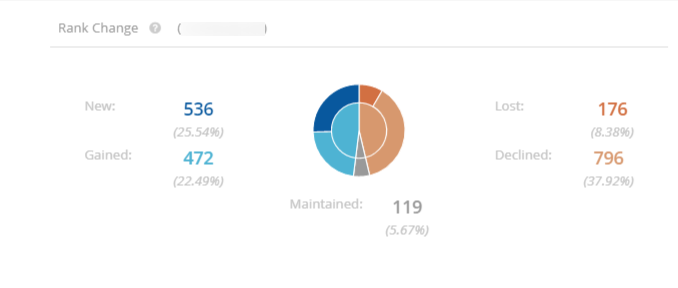 (Rank Intelligence Trend widget: summary-level rank changes.)


A pie chart shows a visual summary of all managed keywords that are new or lost within the top 100, as well as managed keywords that have gained or declined in rank position.
A simple click of the number automatically filters your keyword list to show you those that match the selected criteria.


Conclusion
Rank Intelligence (and its widgets) is capable of so much personalization to pull in the SEO report that you need. With just a few clicks and customizations, you can create a seemingly endless number of views all within two widgets.
Want to learn more about custom SEO reporting? Schedule a demo to see the power of the platform and what it can do for your SEO.