At seoClarity, we work with clients in various industries to implement the idea of search experience optimization at their company.
Search Experience Optimization is a universal concept that companies globally are able to benefit from as it leads to operational excellence. We have successfully implemented this framework with teams both headquartered in the United States, and across many other internationally-based regions.
Often we are asked about the degree of difficulty in helping brands, especially international, implement the Search Experience framework.
If your time is limited, I can tell you this: Our technology supports over 90 countries and every search engine in the world, which makes it by far the best enterprise platform for global teams.
Our Client Success team is experienced in supporting the global SEO community. We thrive in learning about the nuances of SEO in different countries and partnering with those brands to support their rise to excellence.
But it's not just about offering support when you need it, it's about bringing your organization together and navigating your global success: Our Client Success Team has decades of experience with building processes, unifying teams, and integrating technology.
We pride ourselves in our vast experiences with many brands and industries, which enables us to best advise our clients on an approach that has been proven to work.
If you have a few minutes, I'd love to explain to you how we go about doing this …
Recommended Reading: 9 Ways to Get the Most from Working with Your Client Success Manager


The Need for Personalized Support with Global SEO Teams
A global enterprise is made up of diverse teams with different experience, backgrounds, and cultures. Our goal is to bring these individuals or teams together to serve that company's primary purpose.
And while other SEO companies may say they have a support network in various countries, it really just tends to be sales representatives stationed abroad, not a designated support network.
Or they do have support options, but they're most likely going to be de-personalized solutions. (Think online chats, customer service centers, etc.)
So here's the challenge we knew we had to solve: With so many diverse teams, how can we get them all on the same page to share best practices, achieve common goals, and most importantly create a unified experience for their customers?
Recommended Reading: What Support is Offered with an seoClarity Subscription?


Center of Excellence on a Global Level
We've worked with over 6,000 brands over the past decade to help them achieve consistent, repeatable results in organic search.
And not only that — we've helped them develop a framework for approaching SEO that brings value to every department in the organization.
The same is true for global SEO teams: you can simplify, structure, and scale your SEO to build a Center of Excellence in your organization.
What is a Center of Excellence? It's our battle-tested approach to deliver the best search experience to your end users while operationalizing efforts to create efficiency and improve execution.
Here's how we help our global partners execute it:
Reduce redundancy in tools used to manage SEO.
Using multiple tools is going to leave you with disconnected data, which can present trouble for in-depth analysis. We help you consolidate everything under one roof so your team is working from a single source of truth.
Support change management to foster the adoption of seoClarity for the intended purpose.
How you think about SEO matters, and it can be hard to evangelize SEO within your organization. And while there are going to be frustrations with adopting an SEO platform, the benefits of adoption far outweigh the troubles.
Provide virtual and on-site training, regardless of location.
Virtual meetings let individuals connect even if they're physically separated from each other. But if the need arises for an on-site visit, we can do that, too.
Support efforts in building a Center of Excellence and the libraries of standard operating procedures that come with it.
Company mentality and SOPs all affect the ability to grow out a Center of Excellence. We help you form a plan to evangelize SEO within your organization.
Provide customized experiences with our consistent frameworks and playbooks.
SEO is an ever-evolving industry, and everyone requires different approaches to get them to success. Our Client Success Managers are trained to analyze data and spot opportunities for various clients.
Provide tangible results leveraging a company's own data and competitor insights.
Your data and analytics are unique to you, so we believe that the methodologies we provide you should be, too. The results are real, and you'll see a clear change in your search visibility.
It's because of all of this that our clients are able to allocate their time toward strategy execution instead of strategy planning.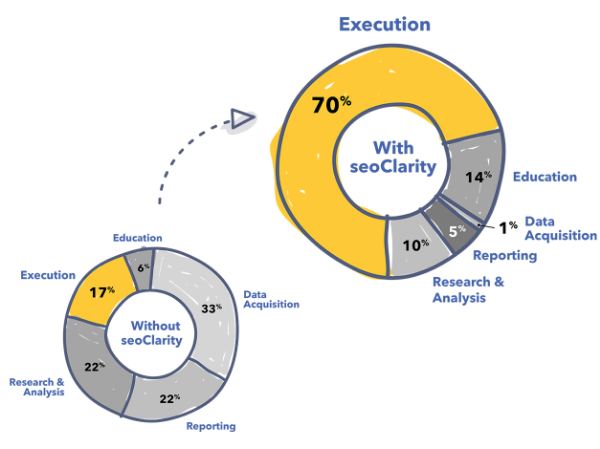 seoClarity's Approach to International Support
Let's dive into how we give SEO support to our international clients.
Flexibility With Your Schedule
We know that having international clients means working outside of normal business hours. Whether that's an early morning training or a late night call for us, we work around our clients' schedules.
And if someone on your team can't make the virtual training, all calls can be recorded and sent directly to you.
Newsletters
In addition to regular calls, we've found that some clients like to have a takeaway of information that they can share with their colleagues.
I personally send a weekly newsletter to a Japanese-based client of ours that includes feature updates, industry news, blog posts, and upcoming events.
It's delivered in English, and I also translate it to Japanese so he can forward it internally. We want to make everything seamless, even for our clients' own internal processes.
Personalized Recorded Messaging
Sometimes a virtual meeting isn't always possible, or a quick workflow comes up that we want to easily share. We use recording tools like StoryXpress and Loom to record these platform walkthroughs and send them to our clients.
In-Person Meetings & Training
There's truly no better way to build relationships than doing so in person, which is why international travel is critical for our global relations.
For foreign countries, there is often distrust working with a vendor from another country, specifically the United States. Meeting face-to-face helps build trust and break down those barriers which enables greater success in the partnership.
We want to make that "ocean" between us (whether figuratively or literally, depending where you're located) seem smaller.
Translations in the Platform
The seoClarity platform allows translations to be uploaded simultaneously with keyword lists to knock down any potential language barriers.
We've also had a contact of ours submit their own translations for Clarity Audits, our site audit and crawler, which we added into the platform.
Training With Each Local Group
For some of our internationally-based clients, we work with many teams, and handle multiple domains.
We hold trainings with each individual group so that each team has their priorities accounted for and all are on the same page.
We want to bring your teams together so you can find success, even when you're separated from each other.


Conclusion
A Center of Excellence can be formed on a global scale, and we would love to show you how it can become a reality at your organization.
We continuously learn from our international clients, and have an established framework that can be applied to any vertical in any location.
If you're interested in how seoClarity can take your SEO forward, schedule a demo with one of my colleagues and they'll walk you through the platform.