Your business competes for search visibility against thousands of different keyword searches every day. Since the top result gets the majority of traffic (the second result receives 50% of the traffic, and the third result, 10%), outranking the competition means reaching more potential customers—no matter your business type.
In order to win top rankings, you first need to understand the competitive landscape. By understanding who your true competitors are and seeing where they stand, you can fully comprehend these insights to set better goals to improve your own practices, rankings, and, as a result, drive organic traffic to your site.
This is extremely important to your brand's overall success as the data shown in a competitive analysis zeroes in on the strengths and weaknesses of your competition, which serves as an indicator of difficulty to outperforming your competitors.
The Competitive Intelligence Framework for SEO
The following steps make up the simple framework to competitive intelligence.
Step 1: Understand Your True Competitors
Who Are Your True Competitors?
You may think of competitors as companies who sell the same products or services as yours at similar price points, but this isn't necessarily the case when it comes to search results.
Your true competitors, however, are those brands that appear in an organic search alongside you or in areas where you strive to rank. For local businesses concerned about similar businesses down the street, their actual online competitors may be a business from a neighboring town, another state, or just an online brand altogether.
Often, the closest competition is different than your business's competition in the physical world. You may compete in organic search with websites you wouldn't expect—for instance, informational blogs, businesses selling unrelated products, and even news or product review websites.
Furthermore, for businesses that sell multiple product lines, competitors are likely different for each category. This is true for brands that carry collectibles, jewelry or assorted gifts, for example - each product line will have different competitors with which you compete.
The Competitive Landscape
Once we have a better idea of who the true competition is, it's time to get a sense for the full competitive landscape. seoClarity helps you understand your true competitors at every level of competition.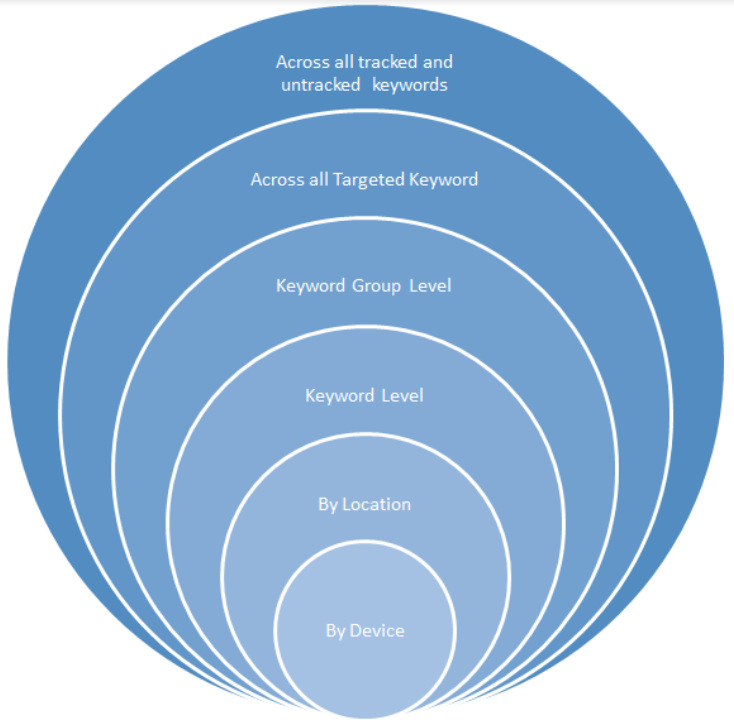 Across All Tracked and Untracked Keywords. Within the platform, there is a universe of keywords, housed in our Research Grid, which is our representation of the entire keyword landscape including all tracked and untracked keywords by your brand (300 million keywords and counting!). We can show any client their competitors across this data set.
Across All Targeted Keywords. For brands who are tracking, say 10,000 keywords in the platform, we can show all of the competitors for those 10,000 terms with the click of a button.
Keyword Group Level. Tracking a group of keywords is especially important for the use case of product lines above. View at this level for metrics of an entire group or "tag" of keywords.
Keyword Level. Even more granular, clients are able to view the competition of a specific keyword - whether tracked or untracked in the Research Grid.
By Location & By Device. Additionally, users can dial down to the location and device type of their competitors, allowing extremely specific details to be shown about your competition. So, for example, if a client wants to know all of the keywords related to their top organic search term in a specific location across mobile devices, seoClarity is able to show this granular detail in a matter of seconds.
You compete for search visibility across both untracked and targeted keywords across different device types and locations. seoClarity's data analysis helps clients understand their position (and their competitors' positions) in the search results.
Within the platform, the Top Competitors Report takes all keywords for a client's competitors and performs an analysis of which sites appear most frequently in the top positions on the SERP. This aggregates all the tracked keywords from your keyword portfolio and then pivots the data—taking top ranking URLs for those terms and displaying who appears most frequently in top search positions.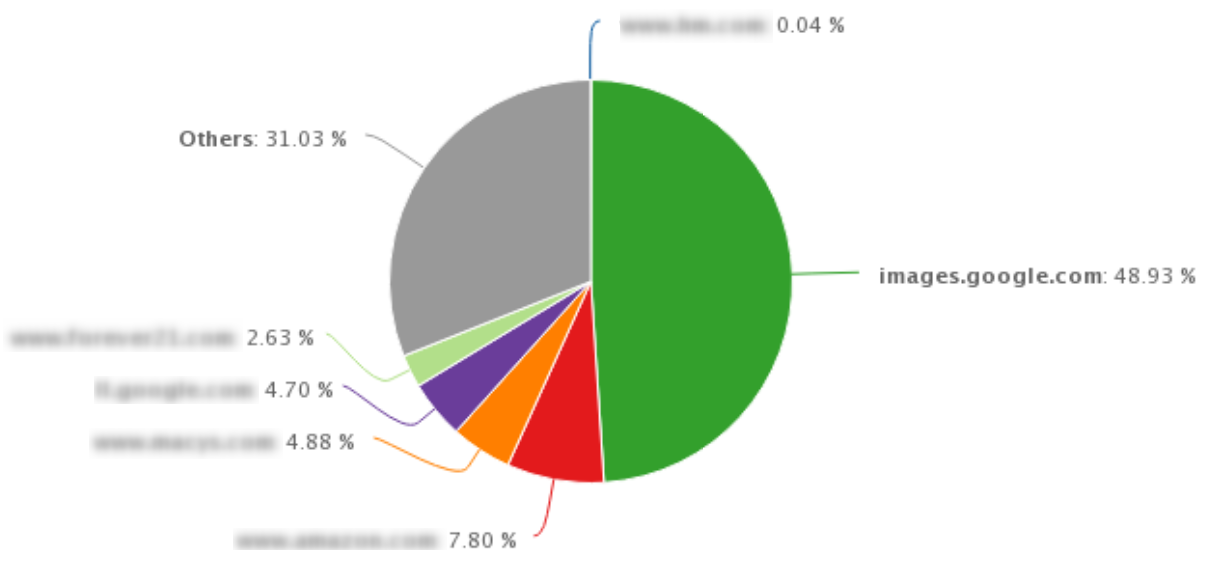 In the case of this clothing brand, Rank Intelligence shows that Google Images actually displays most Top 1 rankings in the SERP.
As mentioned previously, this data shows that sometimes competitors in organic search are not the same competitors as out in the real world. For instance, they may differ by price points, but it's possible they might not sell the same products at all.
The competitive landscape also varies by keyword. Filtering by transactional keywords illustrates a different picture of your competitors' rankings than does including your entire keyword portfolio. Likewise, clients may select a specific keyword group or include smaller competitors in the results to draw more targeted understandings.
In contrast, Research Grid shows competitors across seoClarity's entire data set of 300 million+ keywords, rather than only those in the keyword portfolio. Typing in a competitor's URL shows which keywords drive traffic to their pages. This data can then be filtered by device, rank type, location, and more.
How Is the Landscape Changing Over Time?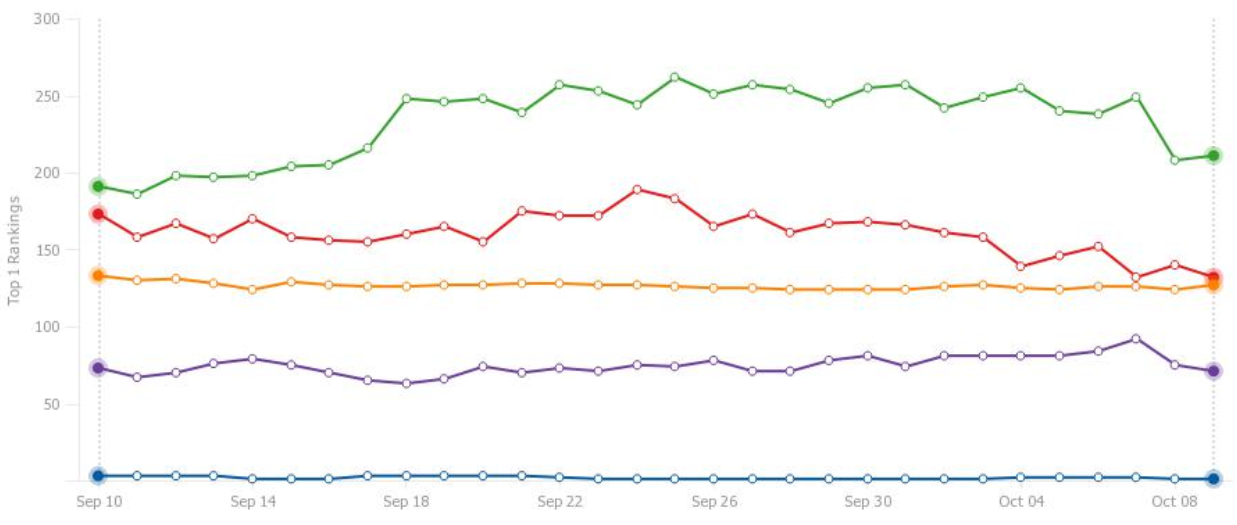 Trended view of a brand's competitors over the past 30 days in the Top Competitors Report.
To fully understand your position among competitors, you need a clear picture of how the search landscape is changing over time—whether due to Google's algorithm changes or competitors' efforts to improve their own SEO. This includes gains and losses in position for targeted keywords as well as those untracked keywords your competitors are ranking for. The trended views on Rank Intelligence and Research Grid show how this data changes over time for competitors and your own company. Keeping a pulse on these changes allows you to take advantage of new opportunities.
Step 2: Identify Strengths and Gaps
After you understand who your competition is, you can identify their strengths as well as gaps in your own understanding and application. Rank Intelligence and Research Grid both show competitors' top performing pages, folders and sub-domains for competing domains, depending on which data set you want to handle. Analyzing this information provides insight into what your competitors know about customer search behavior that you can use in creating new content. Be sure to validate your findings with a few other companies to determine whether opportunities are worth pursuing.
Keywords: Determine the number of top keywords a competitor is ranking for and an estimate of their generated traffic.
Pages: Look for the pages generating the highest numbers. Then, find the keywords driving that traffic for additional opportunities.
Folders: Gather information on how a competitor's navigation drives traffic. This helps determine sections to add to your own website, as well as supports naming conventions for new and existing website sections. Or, use this knowledge to determine a competitor's focus—for instance, if they added a new section that your website doesn't have, it may give you reason to explore new possibilities.
Sub-domains: Sorting by estimated traffic can reveal a company's strategy. If a company recently built a new sub-domain, it shows where they are investing their time and effort. For instance, tracking a blog sub-domain's estimated traffic can show if a competitor is investing in content marketing—developing new content and targeting additional informational keywords. Be on the lookout for any big drops and jumps, which can occur with an algorithm change or penalty, as well as a site transition.
How Can You Determine Content Gaps and Opportunities?
Once you have identified your true competitors, you can run a content gap analysis and identify even more opportunities. Insights gained from competitors' data may lead you to tackle new keywords, build new pages, restructure and rename elements in your navigation, and even create additional sub-domains.
Use your insights to answer the following questions:
What are the new keyword opportunities for us to target?
What are the new pages or sections we should build?
Which links should we look to acquire?
What content should we write?

Content Gaps display of traffic potential between a brand and it's closest competitor.
seoClarity's Content Gaps feature lets users pull a list of keywords that a competitor ranks well for and compares that list to their own ranked keywords, showing overlap as well as opportunities. Remember, using two or more competitors helps refine this data.
Step 3: Adapt and Adopt
Identifying your competitors' top traffic-driving pages and keywords delivers insight into their strategy. Decide which information your company could take advantage of to increase ranking and traffic. Based on where your competitors are focusing, determine if it makes sense for your company to do so as well.
Then you can do the following:
Build Pages. Understandings gained from analyzing competitors' top traffic-driving pages may lead you to target a similar topic. Content Fusion identifies ways to make pages authoritative for your targeted topics.
Build Links. Boost your ranking with quality internal and external links. ResearchGrid displays link strength, while LinkClarity tracks and monitors link status. For more information on link-building, take a look at our Internal Links Workflow.
Build Folders. Evaluating a competitor's folders and subdomains may highlight gaps and opportunities for growth. Topic Explorer evaluates the potential for a targeted keyword pattern.
Step 4: Track, Monitor, Repeat
seoClarity Dashboards provide interactive work spaces to track, monitor and report on tracked keywords and the overall search landscape. Every widget can be added to your dashboard, providing a powerful way to monitor new trends (and competitors).
Within Top Competitor Reports, defining Competitor Groups lets you conveniently track the competition.
Universal Competitors: Monitor frequently used competitors.
Competitor Groups: Consolidate search visibility across multiple domains owned by the same competitor to see what they own in the search landscape. Additionally, create a group based on companies of your choice (for instance, big box companies or online-only retailers) to show data that is meaningful for your company.
Conclusion
seoClarity provides companies with access to meaningful and comprehensive data that helps them lead in a competitive and constantly changing search landscape. By providing software that lets them determine their true competitors in organic search, identify their own strengths and gaps, adapt their own website and content, and add these data tracking widgets to their dashboard, users can draw insights to help increase their rankings and search traffic.