For any SEO, high-quality links mean popularity, trust, authority, and higher rankings on SERPs.
Note that I said, high-quality. That's because backlinks from low-quality sites – untrustworthy or those irrelevant to your industry – can set your SEO efforts back.
The most blatant spam links could even knock your site out of the index (perhaps with little chance of ever getting back).
The thing is, toxic links happen. It's not always because of your link building strategy, yet they do happen. The only way to avoid any problems because of them is to spot and eradicate them early.
In this post, I'll show you how to do this. You'll discover how to perform link profile analysis to identify poor-quality links and maintain a clean link profile. I'll also share what to do to build a strong brand with good, quality backlinks.
What is a Link Profile?
The term link profile refers to the total number of links pointing to a site. But aside from the number of backlinks, the link profile also defines such link characteristics as:
The types of links pointing to your site

Anchor texts they use

The quality of referring domains

Topical relevance, and more
Why Do We Pay Attention to Those Factors?
We can all agree that SEO is a long-term investment. Most of us would see it as a lengthy process with a clearly defined goal – higher rankings and more online traffic.
Google and other search engines use your link profile to determine both your site's and your content's authority, and then rank these things in the search results pages.
A healthy link profile will increase your chances of ranking well for whatever phrases you target.
Too many suspicious links in your profile, however, might hinder your SEO campaign or even result in a manual penalty.

With that said, your prerogative is to not only increase traffic but to also ensure its continuity.
An instant jolt of traffic might seem like a great benefit, but maintaining a flow of visitors to the site over a long period of time is even better. It guarantees that your site will continue to attract relevant buyers, contributing to the company's bottom line.
And that's where link profile management comes into play. Because you see, managing backlinks can help you protect your greatest asset: organic traffic.


What Does a Healthy Link Profile Look Like?
The answer will depend on the website, of course. In general, however, we consider a link profile to be healthy if:
It has many organically-acquired, high-authority backlinks with relevant, non-spam anchor text

Most of the links come from sites with topical relevance to the linked site

It contains not too many site-wide links from low-quality domains (and not many low-quality links in general)

It contains different types of links
As mentioned, the actual breakdown of high-quality vs. low-quality links differs between sites. There is no golden measure to follow.
For that reason, I always recommend the common sense approach. You will get some spam links from low-quality websites linking to you – as you'll see shortly, they are unavoidable. However, if the number of them gets suspiciously high, I recommend corrective action: disavowing them.
Another factor that affects the health of your link profile is the link quantity. Having many links point to your site helps increase rankings. But if your domain has too many links, or has acquired them too quickly, your link profile might raise suspicions and result in a penalty.


How Do Toxic Links Happen?
As part of our work at the Professional Services team, we regularly assist clients with backlink analysis. And if truth be told, we find low-quality, sometimes even toxic links on almost every site we review.
But this is only natural. With so much activity on the Internet, a website is bound to have at least some weak backlinks in its link profile. Here are some reasons why:
Many websites use automated scripts to scrape and republish other people's content. And to look more trustworthy, some reference and link to the source to the page. This, naturally, results in a backlink, albeit far from a quality one.

A company might have been using low-quality link building SEO strategies in the past. After all, it was common for websites to acquire links through content farms, guest posting on low-quality sites, or link exchanges. Today, however, those links are nothing but toxic. That said, they might still exist in the link profile.

Human actions could play a part here, too. A company's SEO could have built some weak links in the past. Similarly, a third party link building firm the organization had hired might have taken some shortcuts when delivering the promised link quota. They might have purchased links from blog networks or used automated commenting software, for example.
For the most part, however, having a small number of low-quality links would have little or no effect on your SEO efforts or overall SEO strategy.
The problem starts when the ratio tilts toward toxic links, or you have too many obviously spam backlinks in your link profile.
So, let's see how to find out whether that's the case.


Link Profile Analysis -

Identifying Toxic Links

Link profile analysis is the process of evaluating your backlink profile to identify potentially problematic references and eliminate them before they hinder your SEO efforts. Think of it as your routine backlink checker.

From experience, I suggest that you conduct one of the following methods at least once every six months. This way, you can clean up your profile before the number of toxic links would cause damage.

Many backlink analysis tools exist on the market, but for the purpose of this post, I'll be demonstrating the power of the seoClarity platform.
Method #1. Review Referring Domains by Trust Flow
Trust Flow, a metric developed by Majestic, predicts how trustworthy a page is based on its quality. It's the clearest indicator of the overall quality of a linking source.
Because Trust Flow relates to an entire domain, it allows establishing how reputable is a source by looking at just a single backlink from it.
In the seoClarity platform, you can sort linking domains by Trust Flow, which gives you immediate access to potentially low-quality sites.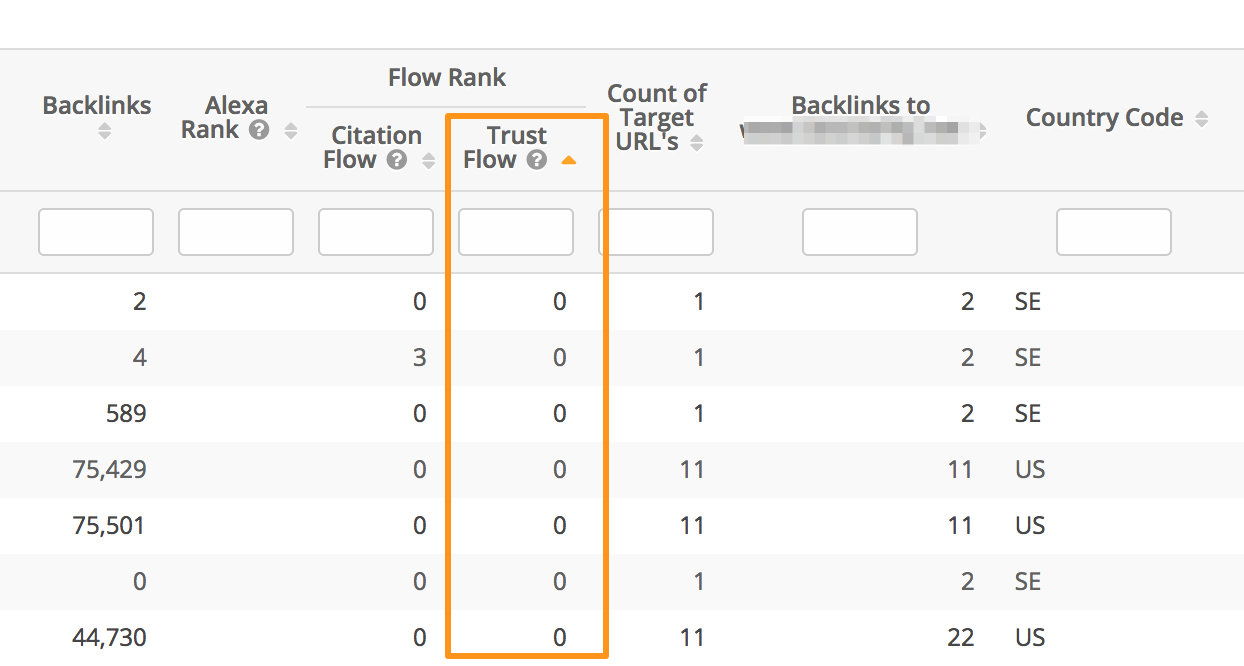 But let me be clear here: a low Trust Flow should not be the only indicator. Some URLs would look suspicious right away. Overuse of keywords in the domain names and other factors might give them away.
Some links, however, might come from new domains that didn't have the time to build up their Trust Flow. With those, do a quick manual check to validate whether they look trustworthy or not.
Method #2. Verify Links from Non-Local TLDs
Many low-quality links come from specific, non-local TLDs like .cn, .ru, .ro, among others.
Note, I'm not suggesting that all domains from those regions would be spam. However, it's worth filtering your link profile by regions. And then, reviewing those TLDs to ensure these sites are good backlinking partners.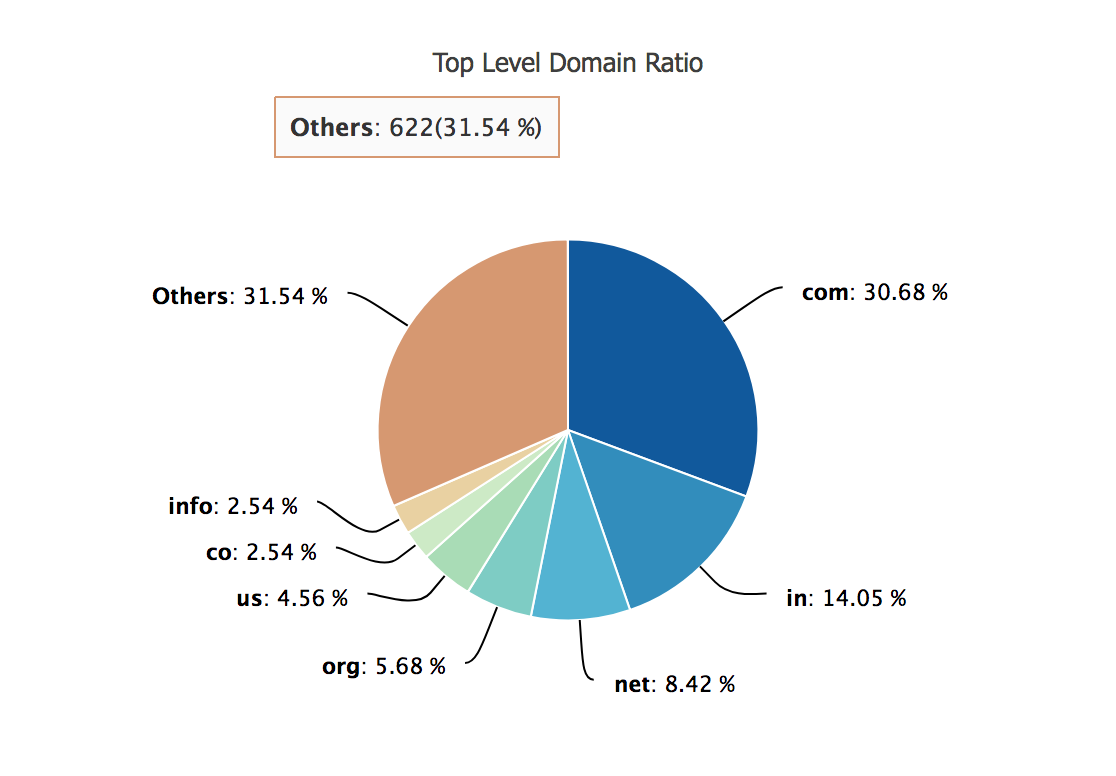 Method #3. Evaluating the Anchor Text
Anchor text might suggest bad links, too. Review the most common anchor texts in the link profile to identify potential toxic links.
(Anchor text report in seoClarity showing suspicious anchor text in Nike's link profile.)
Method #4. Review Topical Relevance
Toxic links rarely come from domains with topical relevance or high domain authority. That's because, most of the time, those sites have no specific topic they cover. Instead, they post (or re-post) random content from the web to increase the page count and make the site look alive.
The majority of Nike's links come from sites relating to sports, which only makes sense, given the company's products.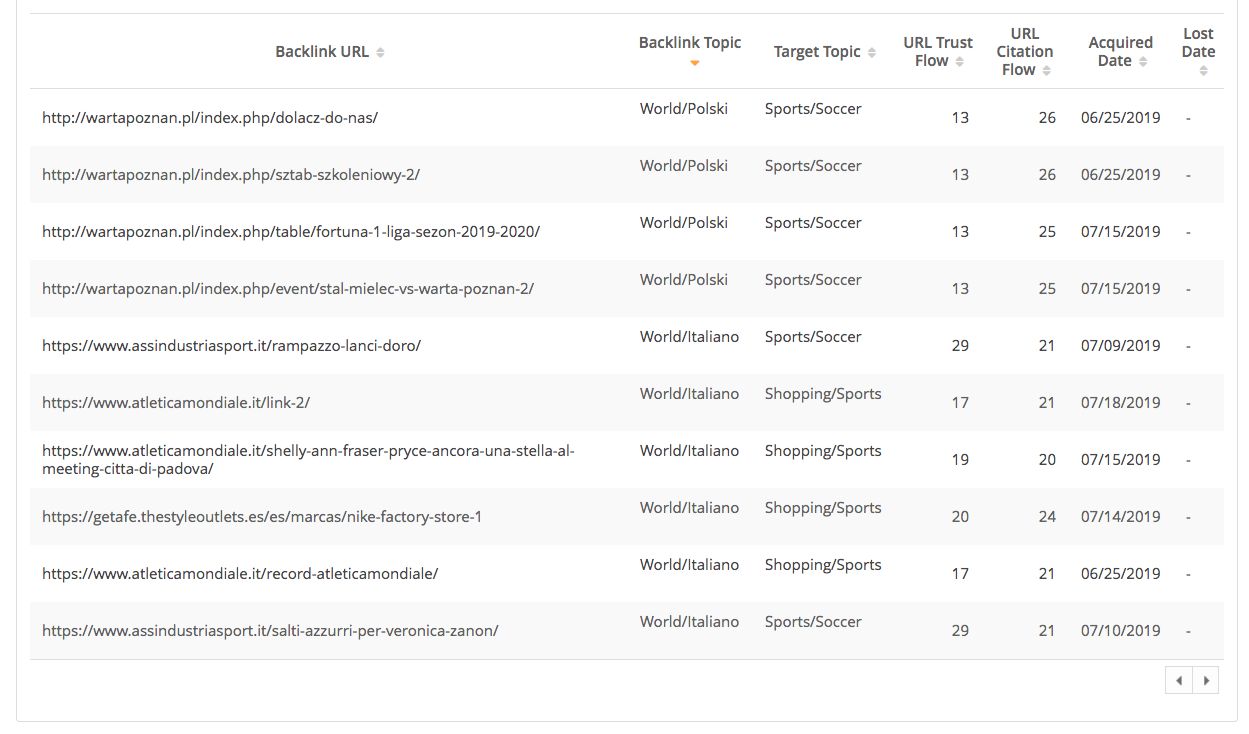 (Topic backlink profile report in seoClarity.)

Recommended Reading: Highlight Your Wins With Custom SEO Dashboards
Removing Toxic Links
There's only one thing you can do to get rid of low-quality links from your profile: disavow them.
Disavowing links allows you to ask Google not to consider certain backlinks when analyzing your profile. And you do it by submitting a disavow list in the Search Console.
But here's a mistake I see companies doing over and over again: they create a new disavow file with every link analysis they've conducted. Each time you upload a disavow file to Google Search Console, the file replaces your previous file. To help ensure all unwanted are disavowed permanently, it is recommended to append the file each time.
Instead, you should append the original disavow file with new toxic backlinks you might have discovered.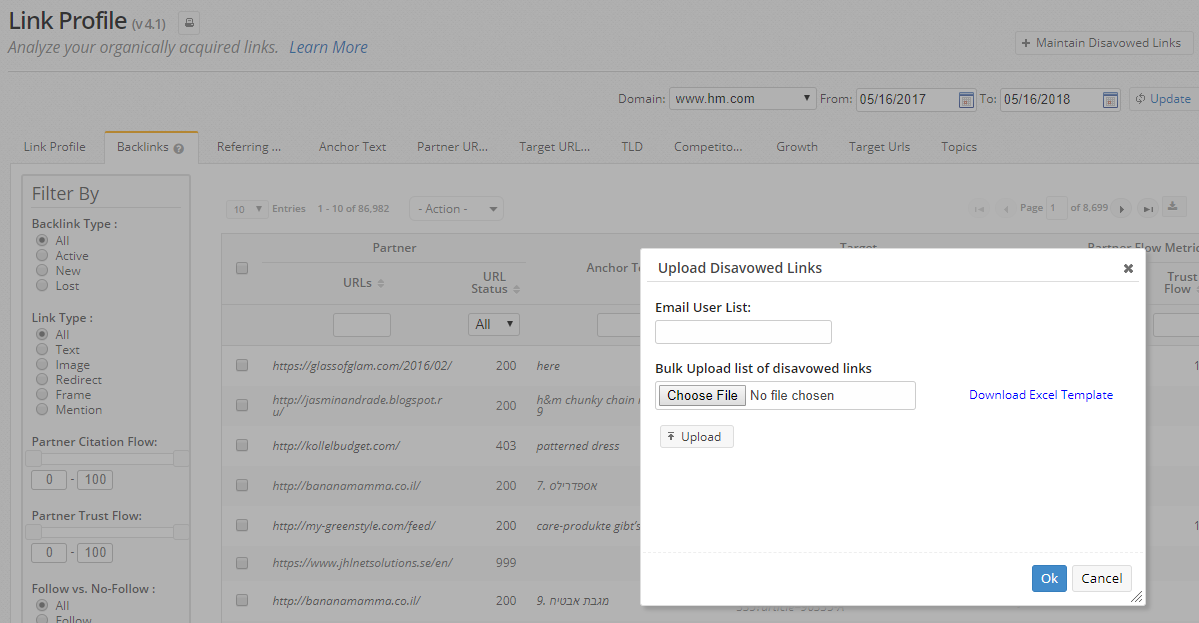 BONUS: Building a Brand with High-Quality Links
The lure of building low-quality backlinks is that you can create them relatively fast. Guest posting-only blogs don't care about content's quality. You can submit almost anything and still get a link. Using blog networks takes as much as signing up and filling in a profile. Buying links is relatively quick, too. Yes, it costs you money, but you get those links fast.
The alternative (acquiring high-quality links) requires work and effort. Take outreach, for example. It can take a tremendous amount of resources and time to create this part of your SEO strategy, from content assets to managing the outreach campaign. And even then, you can never be sure of the result.
But in spite of this, I always advocate the long-term approach. However, there are some strategies that can generate great links with slightly less effort than outreach.
Recommended Reading: Want to Earn High-Quality Backlinks? Here's What You Need to Know.
#1. Press releases
For many brands, a press release seems like a thing of the past. With the rise of digital PR, public relations practitioners have shifted their focus to building online visibility. And for that, they use content, social media, and other channels instead.
But press releases still have their use, even for SEO. Distributing them through services like PR Newswire or Marketwired can land mentions in many serious publications, along with links (if you've included them in the press release, of course).
#2. Building profile links
Most high-quality links today are content-based. However, a few other opportunities remain to build backlinks without having to create original content.
Take social media, for example. Most networks allow users to create profiles. Many have dedicated options for brands to set up pages and company profiles. And all of them permit referencing the person's or brand's sites. Granted, some of those links are no-follow. However, I believe that Google considers them, at least to some degree.
Local store or business directories are another example. Again, some of those links are no-follow, but given the ease of creating them (and additional benefits of having such profiles), they're well worth it.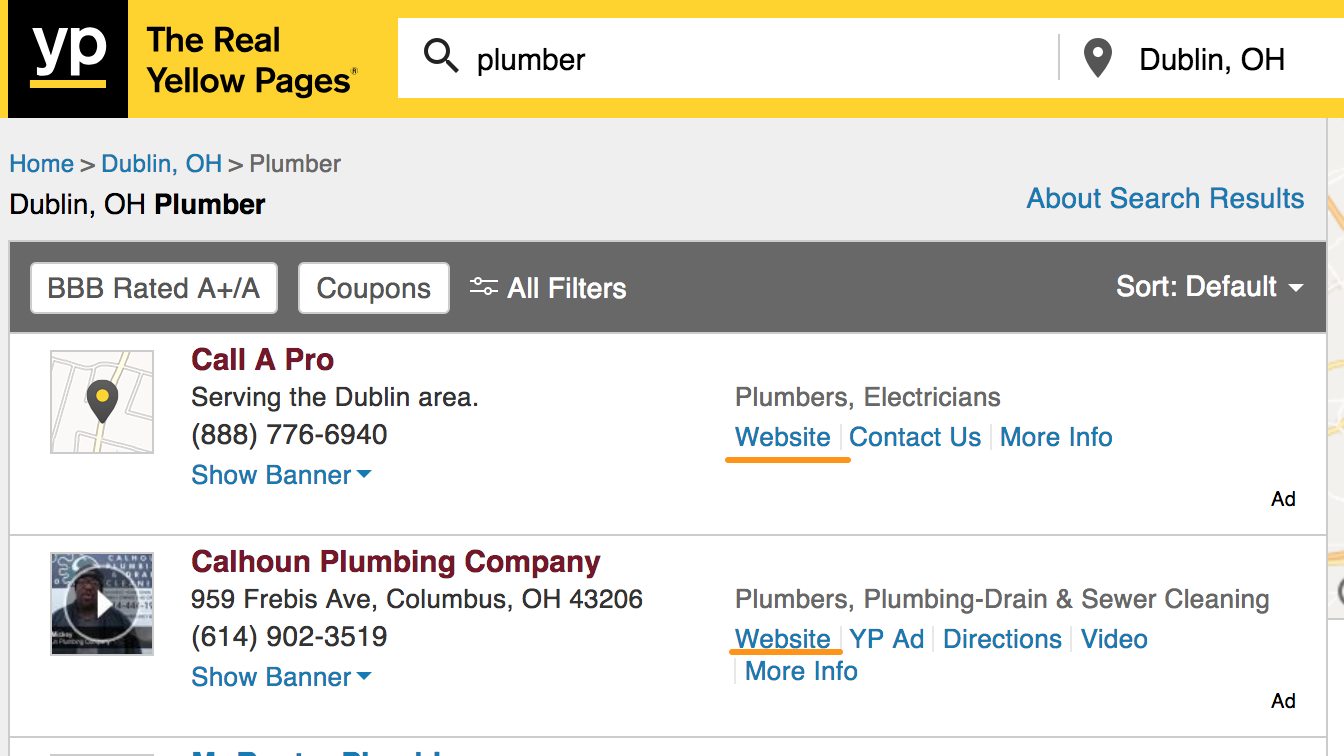 #3. Embedding Link Building Across the Organization
SEO is no longer a siloed discipline. Countless other teams partake in a website's search success. And it's no different with link building.
For example, the PR team, with its focus on expanding a company's online visibility through content distribution could help build many high-quality links.
And all they really need for that is a list of URLs and anchor texts to use.
Recommended Reading: 9 Ways SEOs Bring Value to Every Team in Their Organization
#4. Using Sponsorships as an Opportunity to Gain Links
Sponsorships offer an opportunity to raise brand awareness and align a brand with a right cause. Be it supporting sporting venues, community initiative or school teams; a company can use it to position itself as a socially responsible organization.
But also, to build high-quality links.
Most organizations list donors and sponsors on their sites. And even if they don't link to their websites, there are other opportunities to gain backlinks from them:
A sponsorship announcement on the blog. The organization could simply post a quick article introducing your company as a new sponsor. And link to your site as well.
Press releases. Similarly, it could distribute a press release about it (and publish it on their site too.) This, in fact, could result in more than a single link, should the media pick it up.
#5. Interviewing the CEO
CEOs (and other C-suite executives) are often an overlooked link building asset. Think about it ... they are people of high status in the organizations. They hold key strategic positions and are responsible for directing the company's growth.
Most likely, they hold insights many others would love to gain.
And here's the opportunity: book them on podcast interviews. You can even use services that will organize everything for you. Your CEO will only have to show up.
But since most podcasts publish show notes, containing resources and interviewee bios, you can gain high-quality links this way (and raise the brand awareness in the process.)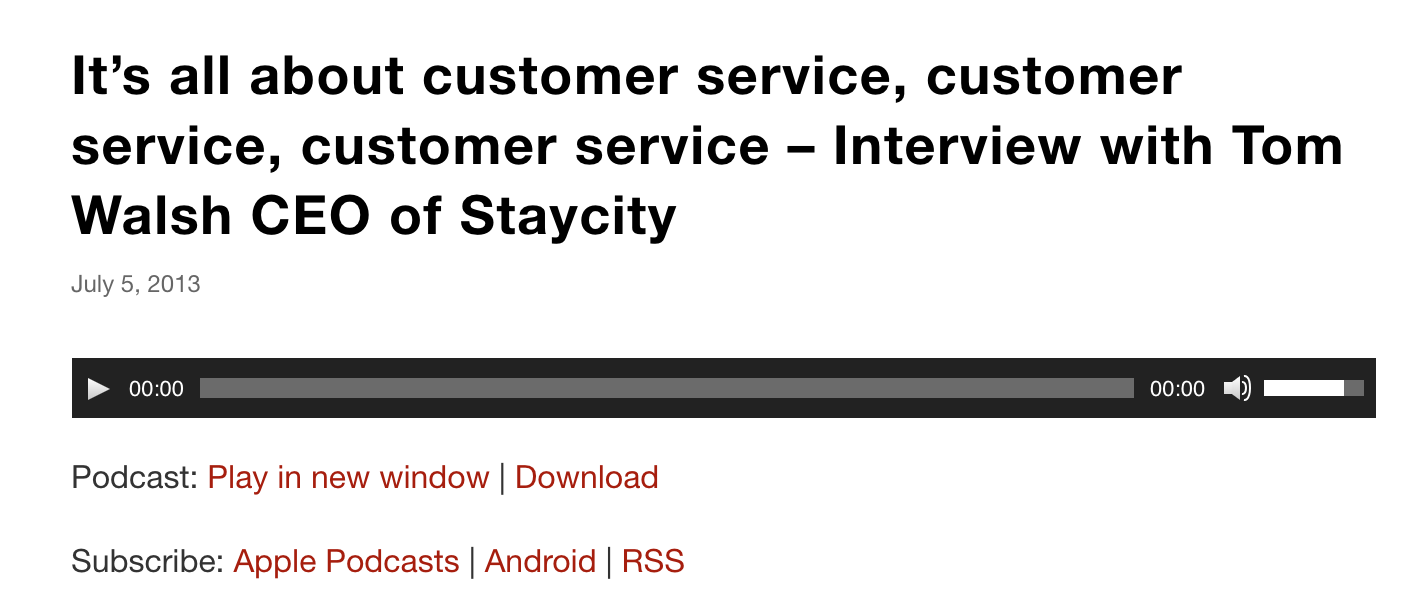 Conclusion
In SEO, inbound links mean popularity, authority, and trust. Unfortunately, toxic backlinks can hinder all your SEO efforts significantly.
That's why it's crucial that you conduct link profile analysis at least once every six months, disavow low-quality links, and focus on building references from more trustworthy sites.
What strategies do you use to maintain your backlink profile? Let me know your feedback and suggestions in the comments below!
---
Editor's Note: This post was originally published in May 2018 and has received updates for accuracy and comprehensiveness.