SEOs looking to tackle a new challenge might consider Answer Box opportunities, a unique offering that provides a way to quickly discover keyword opportunities from Answer Boxes found in seoClarity's Research Grid.
Eclipsing organic search results at the top of search engine results pages (SERPs) and winning a coveted "featured snippet" means more search visibility, increased traffic and higher engagement. There really isn't a data set out there for clients to identify what the Answer Box is and how it can benefit their business, but we have a solution for that.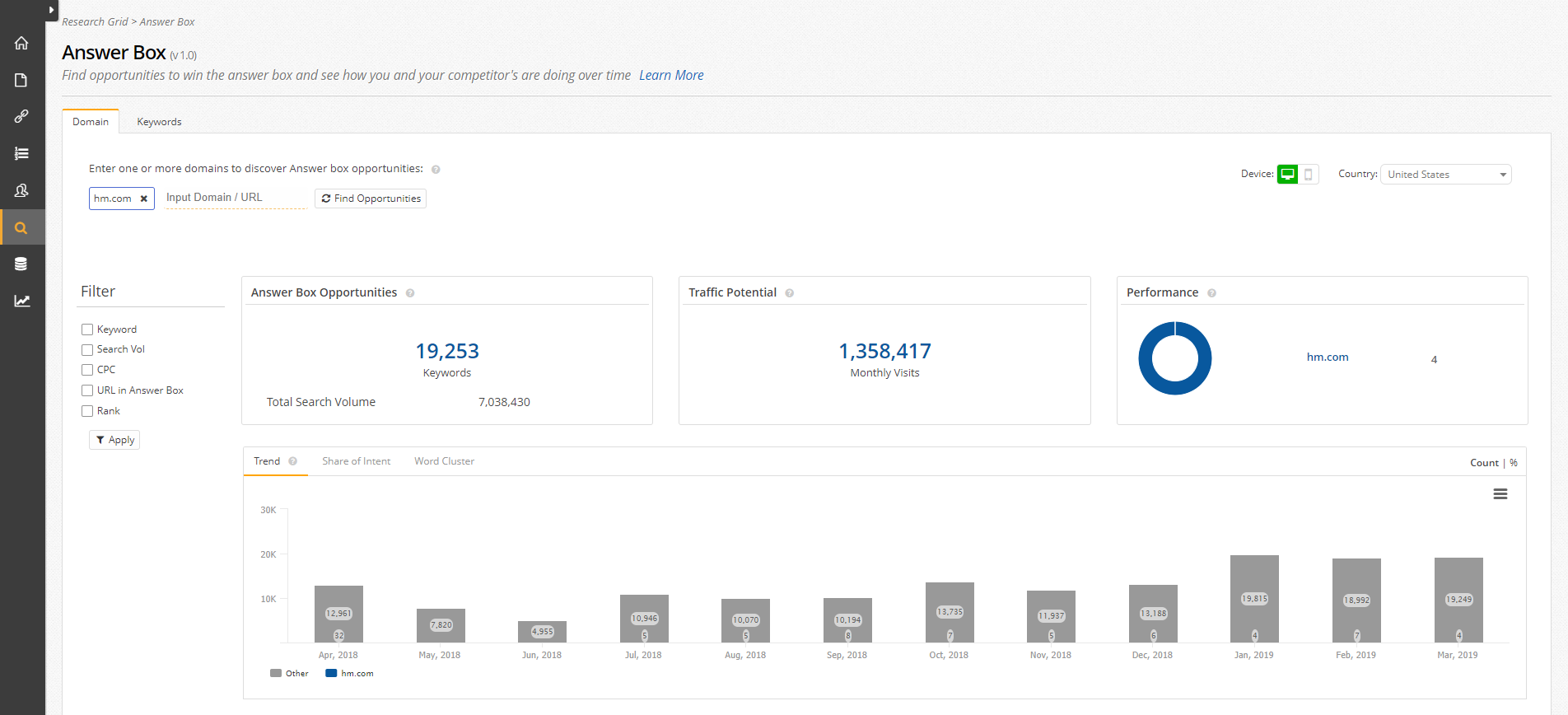 Answer Box feature in seoClarity
Why the Answer Box Is Important
The Answer Box, sometimes referred to as a "featured snippet," is a type of search result that provides a brief and adequate answer to a question at the top of the results page. It's usually displayed in a light gray box and occurs above the organic results. The Answer Box attempts to directly answer a question in a simple and brief manner. Answer Boxes consistently have the highest level of engagement in the SERP and ensure strong traffic to your site.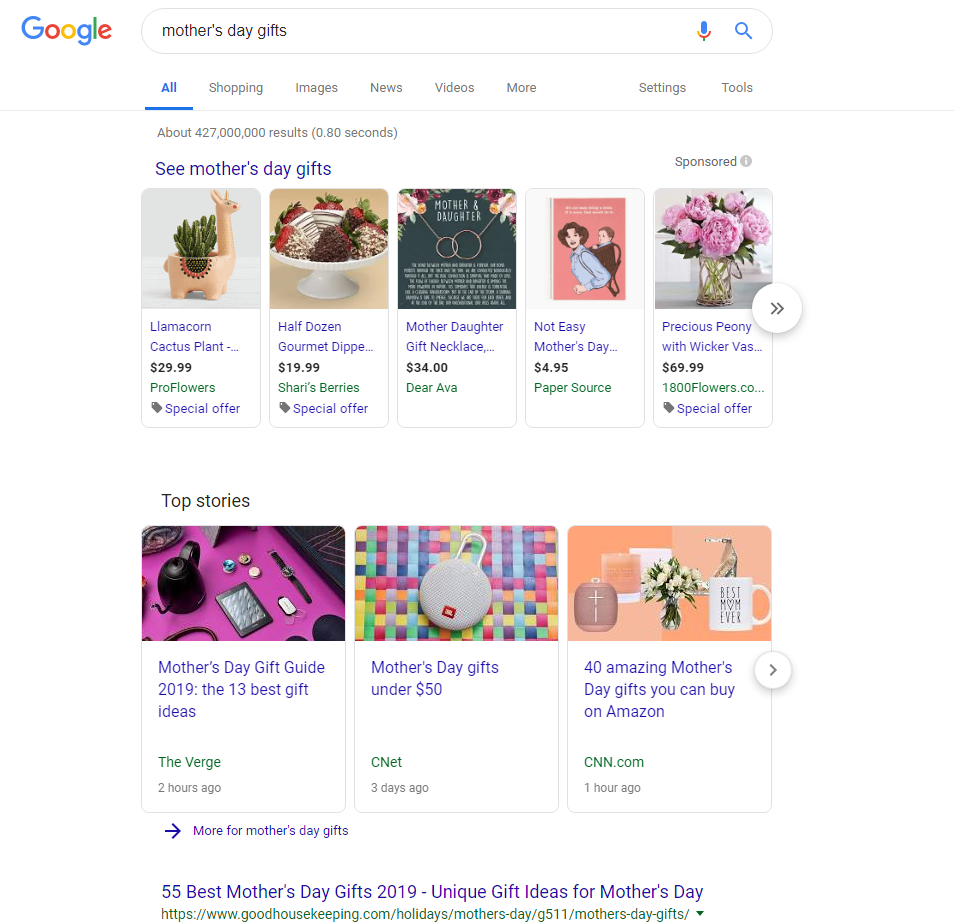 Featured Snippet for Mother's Day Gifts
Here are some statistics:
Answer Boxes have been growing at a steady rate during the last two years that they were introduced. Over 25-percent of the keywords in the seoClarity database have an Answer Box. These terms provide clear and concise information and sometimes answer a question or provide a resource.
By our estimates, 60-percent of the searches in Google have an "informational intent," which means the search has a specific answer. Answer Boxes are expected to keep growing in volume over time, which means now is the best time to take advantage of this opportunity.
On that note, we've seen a lot of updates in Answer Boxes lately. For instance, Google recently began including 2 answers within the one Answer Box, oftentimes (we've seen) from different sources. Google is also including tags within the one Answer Box; if you click on these tags it will land on a new answer box without changing the SERP.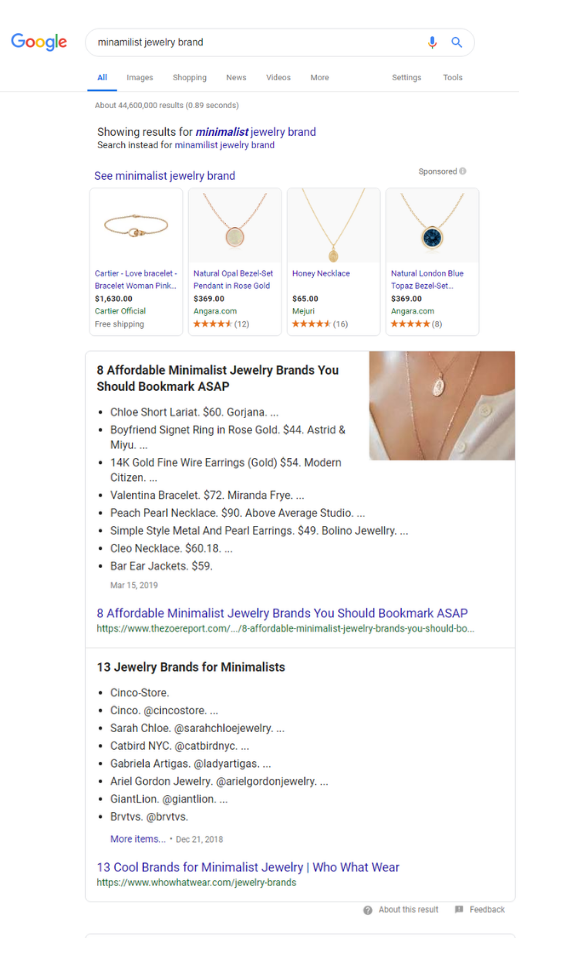 According to our research on voice search, 90-percent of all Google Voice/Google Assistant answers come from the Answer Box. So, when clients ask how to grow in voice search, we tell them that Answer Box is what's most important.
Answer Box Use Cases
What Are the Real Opportunities for Answer Boxes?
If you were to search the internet for the phrase, "how to tie a tie," the Answer Box displays an answer to your query from the top three organic search results, so it's important to consider which keywords hold the top 3 search results for your brand. These are low-hanging fruit terms that you should target first.
Other opportunities include:
Keywords your competitors are ranking for within the Answer Box
Long tail keywords no one is targeting but trigger the Answer Box
Keywords for which you ranked previously
Brand keywords (which you should be targeting anyways!)
Are You Sure Your Brand Keywords Are Triggering the Answer Box?
You wouldn't want to leave your reputation up to strangers on the internet. So, by applying the same logic as the above, create a keyword tag within the platform and add all of your brand-related terms. Look for which keywords are NOT ranking for those terms within the Answer Box. Take those terms and update your content for those pages so you can take back what's yours.
Other Ways to Win the Answer Box
If you want to win against the competition and be sure that your content makes it to the Answer Box, you must make sure you cover all areas of the topic you're targeting.
First, find all the terms that your competitors are ranking for within the Answer Bow where you do not rank. You can do this through the Share of Intent pie chart within the platform. Clicking on one of the sections will filter the table for that domain's ranking keywords.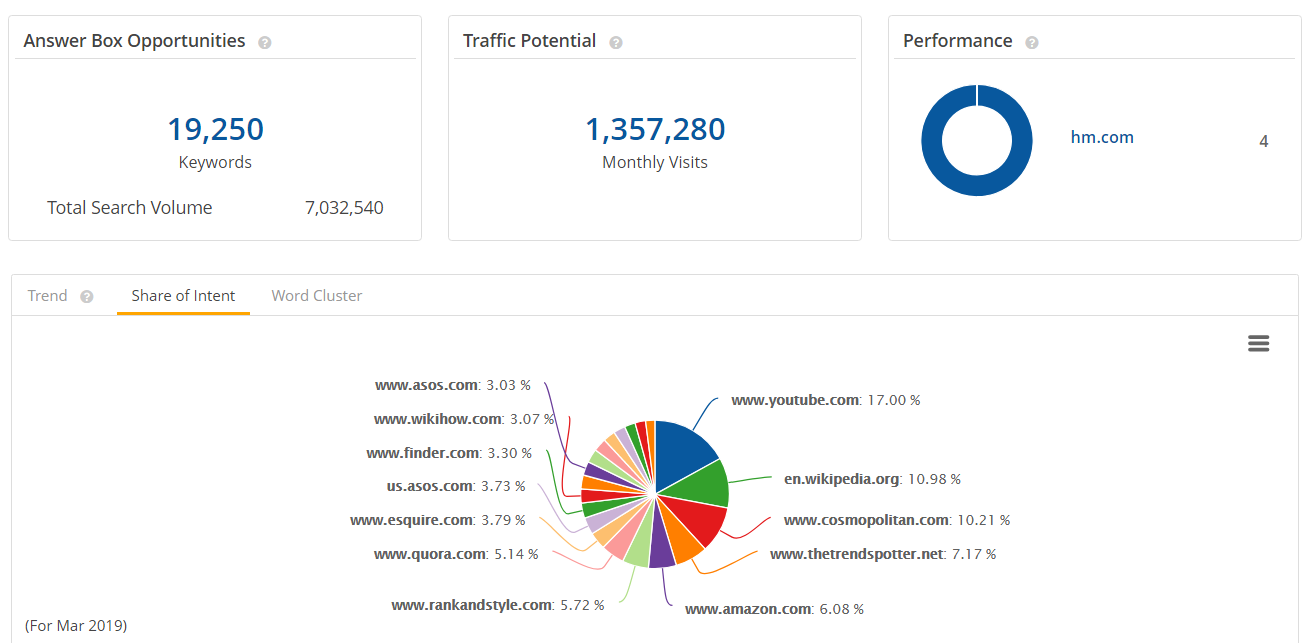 Share of Intent view within the Answer Box opportunity feature of the seoClarity platform.
Also within the platform, you can research the questions that you should target to answer for your business in order to cover a topic. We have the industry's largest database of questions ("People Also Ask") that trigger the Answer Box.
Types of Answer Boxes
The following are some examples of Answer Boxes that exist in the Google SERP.
Knowledge Graph ‒ Information that is directly linked to an entity and contains a link to the source.
Tabulated Answer ‒ Queries that match a range of options, which are displayed in tabular form and also contain a link to the source.
Video Answers ‒ Typically match a "how to" query and contain an embedded video or link to YouTube.
Listed Answer ‒ Queries with multiple options or step-by-step answers. They contain a bullet-point list and a link to a source.
Enriched Results ‒ Queries with related entities, which contain a list, a link to a Google search for entities and a link to the source
Paragraph Answers (the most common!) ‒ Answers that are embedded in a paragraph.
Key Takeaway
A lot of SEOs are obsessed with the idea that they must format their content exactly as it would appear in the Answer Box; however, in most cases, our stance is that it doesn't matter. We want our clients to focus on creating content with authority that covers the topics within your brand to the fullest possibility.
Pro-tip: write your content as if you are answering a specific question with your users in mind. If you create authoritative content that drives value to your customers and follow the above, you'll reach the Answer Box for target terms in no time!