And so, it's official - the mobile-first index rollout has begun.
To our surprise, this happened much earlier than expected. That said, as Gary Illyes revealed at SMX East, we're only in the early stages of the process, and it will take a while before it concludes.
(Not to mention that we might not even know when this happens. More on this later in the post.)
But doesn't that mean that you just need to wait to see its impact.
In fact, the quicker you'll react to any suggestions from Google, the earlier your site will benefit from the new index. And so, in this post, I decided to collect everything we know so far about the rollout, and share more information that will help you get ready for it.
Mobile-First Index - The Rollout So Far
Let's face it; Google has never been too revealing about the mobile-first index. Sure, it may have been hinting at it for years through various other initiatives. The "Mobilegeddon" update is a good example here.
But when it comes to providing any serious details about it since the announcement, the search engine has remained tight-lipped. That said, we did get some nuggets of information on occasion, and were able to learn more about the upcoming index along the way.
For example, we know that mobile-first index will swap the Google's current setup. Google also confirmed that it would not remove desktop results from the index. Plus, we've heard that it will focus on site speed a lot.
And now, we've learned that the rollout has begun, albeit, it's still in early stages.
What's more, according to tweets from SMX East attendees, we might never know when it concludes.
But shocking as this news might be, it does make sense if you consider the complexity of the change. After all, given all the factors involved, Google might not be able to define the end of the process too. Instead, they might roll out the main part of the index. And then, keep iterating it to fine tune all initial quirks and challenges.
What we also know is HOW Google is rolling the mobile-first index out.
First of all, so far, the new index launched for a few selected sites only. This matches earlier announcements from Google. For example, earlier this year, John Mueller tweeted this response: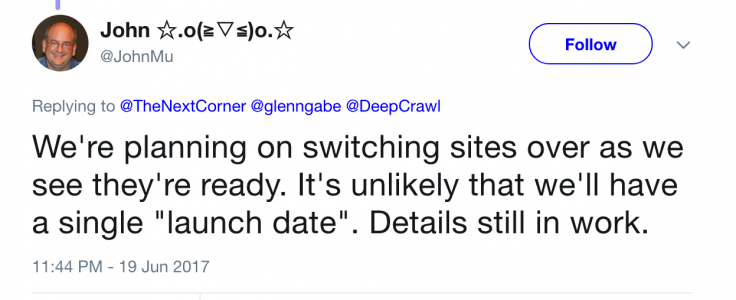 Of course, in line with little information that Google shared about the new index so far, we don't have the exact number of those sites.
And as Gary Schwartz reports (note, the emphasis in bold is mine):
"[...] when I asked Illyes to clarify what he meant by "a few sites," he said a few relative to the Google index. So that could be quite a large number of websites."
As for the process itself, Google has set up what they call "classifiers" to assess if a site is ready for the new index.
According to Search Engine Land:
"Classifiers determine how equal or comparable the desktop site is to the mobile site when it comes to content, links, schema, multimedia, etc."
What's more, if a website doesn't meet the criteria for moving to the new index, Google might inform its webmaster about potential changes they need to implement. For now, however, we know that the mobile-first index rollout has begun. And that, we are in the very early stages of the process.
Is Your Site Ready for the Mobile-First Index?
We've been covering news about the upcoming index since the original announcement, and also conducted some research on mobile-first index optimization. And based on our findings, we've compiled a comprehensive checklist of factors that are the most likely to affect your rankings in the new index.
From technical issues to content, we've covered everything you must do to optimize for the mobile-first index.
Read: A COMPREHENSIVE CHECKLIST TO PREPARE FOR THE MOBILE-FIRST INDEX
How Have Other Sites Prepared for the New Index?
I know, sometimes it's good to see how well (or not) other brands have prepared for the index. To find out, we've researched five leading Ecommerce companies, assessing whether their websites meet all the criteria of the mobile-first index.
Here's a quick snapshot of the results:

Note: The color key indicates Red is not prepared, Green is ready and Yellow is Moderately ready.
And if you want to find out more, including the details of each factor, you can go to the below site.
Read: MOBILE-FIRST INDEX AUDIT REPORT OF 5 LEADING SITES
What If You Have a Mobile Site Already?
A lot of discussion regarding the new index revolves around mobile sites. And rightly so. After all, if your company already operates a mobile site, then technically, it means that you are prepared for a new index, right?
Having a mobile site means that you have a proper mobile-optimized resource that's fast and provides a great mobile user experience. But unfortunately, it poses certain challenges when it comes to managing your search visibility in the new index.
For one, it forces you to manage two separate versions of the site. But in the new index, it'll be the mobile site that affects your rankings.
(Couple that with the fact that m.sites often include only an abbreviated version of the site's content, and you can see why it might not be the best solution in the new index.)
At seoClarity, we openly advocate for responsive design. And in this article, we provide arguments for unifying the desktop and mobile sites.
Read: MOBILE-FIRST INDEXING: MOVING FROM SEPARATE MOBILE URLS TO RESPONSIVE URL
What Else is There to Know About the New Index?
I admit, Google doesn't provide us with much insight about the upcoming index. Having said that, we've been able to learn quite a lot from interviews with Gary Illyes, research, as well as reports from other SEOs.
And if you're looking to understand the new index better, check out these resources we've compiled for you:
Your Turn
Do you have any questions about the mobile-first index we didn't cover in this post? Let us know in the comments, and we'll do our best to provide the insights you need.