When it comes to boosting online visibility, few things beat the effectiveness of local SEO.
Even small tactics - like providing the right location and contact information in Google helps to connect your business with the right customers. But if you've ever managed local visibility for a brand with multiple locations, then I'm sure you'll agree:
Extracting and understanding insights from this data poses quite a challenge.
For example, Google My Business allows analyzing only one location at a time, making correlating the data almost impossible. In addition, nearly one-third of all mobile searches today related to location, and the growing competition for local visibility, the need for such insight has never been greater.
This post will cover how you could leverage metrics and data to measure your local search performance and use it to boost your online visibility.
#1. Understand and Act On the Buying Intent Across Multiple Locations
Fact - customers search for a variety of local information. Customers typically pull out their phones to find out your opening hours or learn how to get to your store.

But they might also inquire about product availability, or even use their phones to find a specific store with their desired item in stock. In fact, according to Google's report called "Understanding Consumers' Local Search Behavior," the most common local-based searches are store address, business hours, product availability and directions.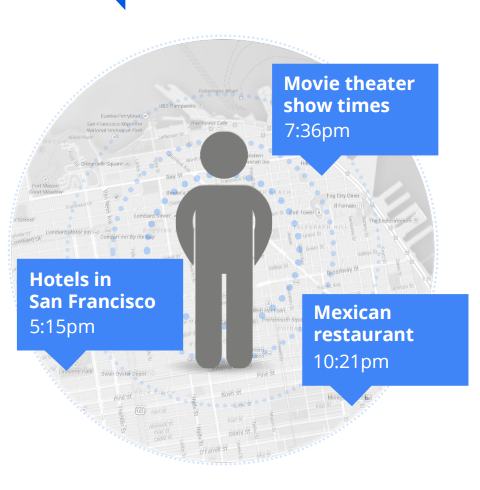 But most importantly, customers act on these searches. Again, as Google reports:
Local searches lead to more purchases than non-local searches.
50% of consumers who conducted a local search on their smartphone typically visit a store within a day.
The challenge - How do you uncover and capitalize on the specific local intent across multiple locations?
One of the most powerful ways is to analyze what actions your customers take when they view a particular location in Google. And then, improve any areas of your local visibility that correspond with those actions.
For example, let's assume that the majority of your customers engage with your listings to find specific product availability. With such insight, you'll quickly know that you need to improve product information and schema markup for products to ensure they find this information faster (and discover you as the provider, not the competition).
Another example, customers reach out to your particular local listings for your contact number, then you know that you need more people to answer the phone when customers call.
How do you discover the local intent across multiple locations?
As you already know, Google My Business only allows you to view one location at a time. Luckily platforms like LocalClarity allow you to analyze and correlate results from multiple locations on the fly. LocalClarity provides insights on an aggregate level so you can drive your local strategy for these insights. For instant, if your audience is engaging over the phone, then you can make sure that your phone numbers and hours are up to date in the Google My Business profiles. Similarly, if your audience clicks on driving direction most frequently, then make sure that your NAP is accurate in GMB.
#2. Use Reviews to Gain Insights About Each Market's Performance
There are many ways to learn and monitor how your various locations perform, but nothing beats reviews for assessing problems and challenges your brand faces regularly. The thing is, those issues might differ between various locations. One of the key aspects to optimize your local visibility is to also identify and address them on a location-level.
When you analyze and correlate reviews from multiple areas, you could discover issues customers face in selected locations, but not nationally.
For example, here are some reviews for a hotel chain I've found online. Notice similarities in problems they outline: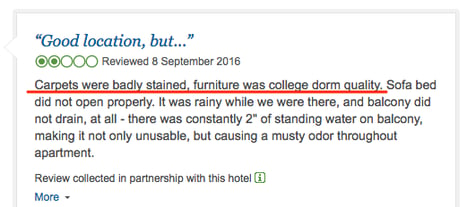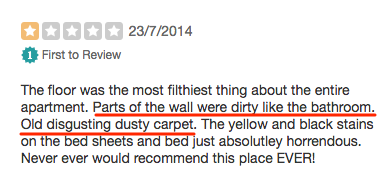 However, customers in their other locations praise the cleanliness and the room interior. Using insights like this could help national brands identify factors that detract customers from engaging with their products, and boost overall customer satisfaction.
So, what should you look at when assessing reviews?
The frequency of negative vs. positive reviews by location.
Most common problems customers mention in reviews by location or area.
And the severity of those problems, to pinpoint locations that would require immediate attention.
LocalClarity help national brands access reviews and other customer data across multiple locations from one single dashboard, making it easy to quickly spot issues requiring immediate attention. In addition, it also allows you to respond to reviews so you can quickly get to all of your locations' reviews all from one place. The platform allows you sort and go directly to the negative reviews so you can answer those quickly.
#3. Monitor SERP Rankings on Local Level Per Keyword
Local intent helps you understand what information customers in various locations look for when engaging with your online listings. Along with location-specific reviews, they can help identify issues and challenges you need to address in different areas. But to gain the fullest insight into how your national brand performs in local search, you also need to know how customers find your listings and other location-relevant content.
And that's where tracking keyword rankings on the local level comes in really handy.
When you track keywords by location, ideally by the city, zip code or area your business operates in; you gain the most accurate insight into what phrases attract customers to your company. You can also discover what areas or locations to focus on to boost rankings and drive more targeted traffic.
When you track thousands of keywords in each location, it is easily overwhelming. That's why seoClarity offers two unique ways to manage this problem:
Tagging that allows you to associate tag pairs that help identify individual locations. For example: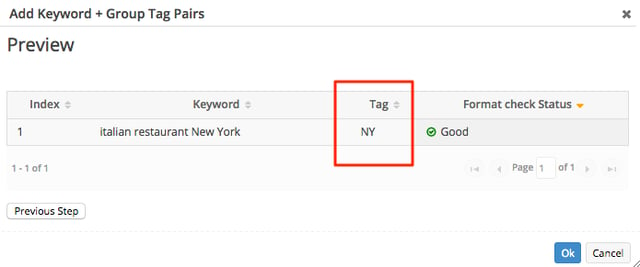 Leverage machine-learning insights to help you quickly discover opportunities and gaps quickly from vast and complex data sets.
Wrapping Up
Few things work better at boosting online visibility as local SEO. However, when you manage a national brand with tens or even hundreds of locations, gaining valuable insight from all the data might prove impossible. Luckily, it's not. Thanks to platforms like LocalClarity, you can quickly understand why customers engage with your listings, what challenges they experience per location, and what else you should do to boost each area's search visibility.