Europe is an amazing place full of all sorts of cultures, languages, and customs which makes doing SEO somewhat different to doing SEO in say the United States.
From the English speaking United Kingdom, to multilingual Belgium and everything in between, it's a fascinating part of the world that has so much potential if the right resources are in place.
We have a number of international resources to help international SEOs optimise their sites for different languages and locations to create the best user experience.
For the purposes of this article, I want you to get into the mindset of SEO being search experience optimisation, rather than search engine optimisation.
Serving your target audience the wrong version of a page based on country or language targeting can not only ruin the search experience of even the most prepared site, but can mean the difference between converting and not converting.
This post will be extremely useful for brands with a presence in Europe, or those looking to expand in the European market, or even those brands already in Europe but want to expand into several other countries.
Full disclosure: I'm based in the UK myself but have a number of years experience working with a multitude of SEO teams not only here in the UK but also on the continent.


Why Multi-Language SEO is Important
Europe as a continent contains a myriad of different languages and cultures, and each country has their unique cultural ecosystem. Language in particular varies significantly from country to country.
Some countries — like the UK or Germany — have one official language, but are composed of several different dialects. The way a Londoner speaks is vastly different to someone from, say, Liverpool.
On the flipside, other countries like Belgium or Switzerland have vastly different communities speaking very different languages but are united under one common nationality. So, SEO in these countries requires keyword research and content strategy in both Dutch (Flemish) and French.
With that in mind, a multi-language SEO strategy is crucial for any business looking to expand into this part of the world — a region where ecommerce penetration is exceptionally high. The United Kingdom, for example, has the highest percentage of ecommerce adoption at 92% with the rest of Europe quickly catching up.
… Western Europe boasts the highest share of total European e-commerce turnover for 2020 …"
This in itself presents a commercial opportunity to invest heavily in having not just an English speaking SEO strategy, but a strategic multinational and multilingual strategy.
In addition to this, according to Webinterpret, there are two other very critical business cases to consider when deciding to invest in a multilingual SEO strategy:
Only 54% of Europeans can hold a conversation in another language
9 in 10 prefer to buy in their own language, if given the choice
And so, although more than 50% of Europeans are multilingual, they're still far more comfortable with transacting in their own local language.
Needless to say, now isn't the time to test your Duolingo skills if you don't fluently speak multiple languages!


When to Use Local Language SEO
There are two instances where language considerations become a part of your SEO plan.
1. Countries that speak multiple languages
In this case, you want to target the right language region.
For example, Belgium has distinct Flemish (Dutch) and French language communities.
Switzerland — with French, German, and Italian, and to a lesser extent Finland (with a 5% minority speaking Swedish as a first language) — also fits this mold.
2. Countries where the language is only spoken in that country
Denmark, Poland, and even Turkey are great examples. Each country has their own unique language that's spoken only within their own borders.
From experience having worked with teams in other languages, this can have an impact on the roles and responsibilities of SEO's, from specialists to a more general flexible all-rounder (which is something English native speakers at times could take for granted).
To help even further, Google has documentation on managing multiregional sites as well.

Multi-Language SEO Considerations
There are two main avenues to take, depending on what you're after:
Country targeting
Language targeting
Country targeting identifies the country that a user searches from. It involves more than a simple translation to match the language of the country of where the searcher is located.
My colleague Susan offers this great example in our complete guide to international SEO: An American company wishing to expand in the UK won't need to worry much about copy (for the most part) but things like sizing conventions and currency must be addressed.
Language targeting, on the other hand, targets users based on the common language they speak irrespective of their geographical location.
Take Spanish — or even French — for example, which is spoken in dozens of countries all over the world …
Each has its pros and cons, and should be considered depending on your situation.
It's best practice to not automatically redirect a user to a certain language version of your website just based on location… You can, however, offer the suggestion to translate."
Other SEO Language Considerations
#1. URL Structure
There are three ways to set up your international site:
1. ccTLD (Country code top-level domain)
These domains typically refer to a specific country and should look quite familiar.
Here's an example domain name: domain.se.
"se" in this case stands for Sweden.
Other country codes include:
.uk = United Kingdom
.fr = France
.eu = European Union
The ccTLD is a website of its own, so may require more time and attention. It's not a subsection of another site, like we'll see with subdomains and subdirectories.
2. Subdomain
Continuing with our Sweden example, a subdomain may look something like se.domain.com.
The country-specific content is a part of the main website at large.
3. Subdirectory
The subdirectory also places the content on the root domain. Here's our example: domain.com/ie/.
So, which URL structure should you use?
As my colleague explains: "If you opt for the country targeting, use ccTLD. For language targeting, use the subdirectory."
We break down URL structures more in our guide to international SEO.


#2. Sitemap
Your sitemap can play a role in your SEO targeting.
Be sure to keep your sitemap up-to-date and accurate with language considerations. This also means submitting your sitemap in the right language!
Recommended Reading: 4 Steps to Create an XML Sitemap with Hreflang Tags for Multi-Location Sites


#3. Hreflang
The hreflang tag is important for a couple of reasons. Not only does it help with your multilingual SEO, it also helps to prevent duplicate content.
Although hreflang can live in the sitemap, it doesn't have to. It can also live on the page itself.
And so, you'll want to ensure the correct hreflang tags are implemented.
Recommended Reading: Does Your Site Need Self-Referencing Hreflang Tags?
Hreflang Language Codes
Here are the hreflang codes for various European languages from hreflang.org:
| | |
| --- | --- |
| Language | Hreflang Code |
| Croatian | hr |
| Czech | cs |
| Danish | da |
| Dutch | nl |
| English | en |
| Finnish | fi |
| French | fr |
| German | de |
| Irish | ga |
| Icelandic | is |
| Italian | it |
| Greenlandic | kl |
| Luxembourgish | lb |
| Norwegian | no |
| Polish | pl |
| Portuguese | pt |
| Romanian | ro |
| | |
| --- | --- |
| Russian | ru |
| Swedish | sv |
| Ukrainian | uk |

And the codes for European countries:
| | |
| --- | --- |
| Country | Hreflang Code |
| Albania | AL |
| Austria | AT |
| Belarus | BY |
| Belgium | BE |
| Croatia | HR |
| Czech Republic | CZ |
| Denmark | DK |
| Estonia | EE |
| Finland | FI |
| France | FR |
| Germany | DE |
| Greece | GR |
| Greenland | GL |
| Hungary | HU |
| | |
| --- | --- |
| Iceland | IS |
| Ireland | IE |
| Italy | IT |
| Latvia | LV |
| Luxembourg | LU |
| Monaco | MC |
| Norway | NO |
| Poland | PL |
| Portugal | PT |
| Slovakia | SK |
| Slovenia | SI |
| Spain | ES |
| Sweden | SE |
| Switzerland | CH |
| Ukraine | UA |
#4. Currency
In order to create the best search experience possible (and therefore make the user feel comfortable) it makes sense to sell products in the searcher's native currency.
For example, if your customer is in the UK then sell in Pounds (£). If your customer is in Norway, then Norwegian Krone (kr).
This in turn will increase the likelihood of conversion.
Another consideration when it comes to currency: shipping and taxes. Different countries have different regulations, so be mindful of the customer's buying journey from start to finish.


#5. Intent of a Keyword
Perhaps the most important part of international SEO and language considerations is the content itself.
Just like with any other SEO content writing project, the actual writing process shouldn't begin until adequate research has been done.
To start, as a really good workflow, drop in a head term into seoClarity's Topic Explorer to search our 30+ billion keyword data set.
Better still, you can filter by country to uncover search volumes on a country by country basis.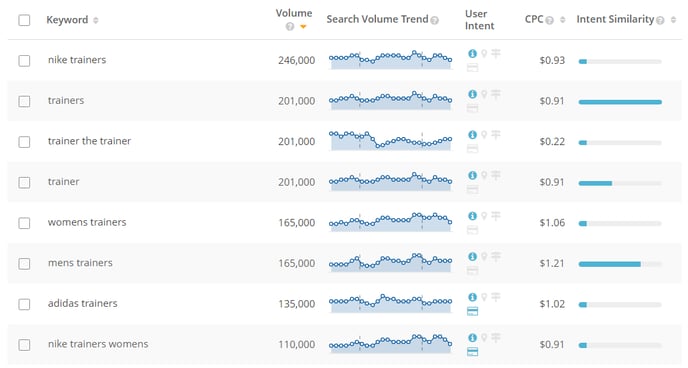 (Keyword research for "trainers" in the United Kingdom.)
Once you've identified the term you wish to optimise for, use Content Fusion, an AI-driven content optimizer, to assist with writing the content. You'll see questions to answer and suggested topics to include in your copy to improve the relevancy and readability of that particular piece of content.
The great part is that Content Fusion covers not only the major languages such as English, German, French, Spanish and even Dutch, but also covers all four Nordic languages (Swedish, Danish, Norwegian and Finnish).
This is perfect for the multilingual SEO team and can be scaled across multiple countries.
Since different words in different countries have different meanings, it's recommended to work with a translator if you're not a native speaker yourself, otherwise you may end up with a lost in translation moment.
In the United States, the term "sneakers" is actually "trainers" in the UK. In France, it's "baskets".
Even a single country can have some confusing terminology if you're not a native. Take for example the term "boots" in the UK SERPs. Rather than a product term it very much is a branded term referring to the pharmacy/retailer rather than footwear, which is semantically very different.
Recommended Reading: International SEO Keyword Research for Enterprise Brands
Another content consideration is language structure.
For example, in French, a language I speak, the noun generally is first before the adjective. Here's an example: "voiture rouge" (i.e. red car). Some words are either feminine or masculine, which is similar in Spanish. This doesn't exist in English.
Then you have other significant language constructs unique to that particular language — German and Finnish come to mind. However, full disclosure, I am by no means an expert in either language.
In short, investing in a good local translator with specific cultural knowledge can be greatly beneficial.


#6. Technical SEO
Technical SEO doesn't just apply to a home-grown site — in fact, with a multilingual site, there are chances that you do have technical SEO issues.
To help even further, here's a quick list of some technical spot checks to run:
Confirm that you've translated the meta title and meta description
Double check the home page, category pages, footer blocks, checkout page, and default messages to be sure everything's translated, too
Again, check that your hreflang tags are properly configured for each language


Conclusion
Expanding into a new market can lead to great ROI for your business. Just be aware of common best practices for multiregional or multilingual websites so you can reap the benefits and properly execute your SEO strategy.
Plus, you can leverage an SEO platform to streamlining your organic search strategy (and growth).
seoClarity supports global teams across the world — here's how we prepare you to go global:
AI content optimization in 11 global languages, specifically in English, French, Spanish, German, Dutch, and all Nordic languages
International keyword research with

30

+ billion keywords across 170+ countries
Rank tracking across 180+ countries
A dedicated Client Success team with an ever-growing team in Europe