A successful SEO program requires more than just a powerful SEO platform — a partnership with that SaaS provider is what takes you from good to great.
As the Director of Client Success at seoClarity, I want to show you how we act as an extension of your team and how we mean it when we say that your success is our success.
If you're short on time, here's the summary:
All of our Client Success Managers have been trained and certified in "Enterprise SEO Best Practices"
Client Success Managers are dedicated to a limited number of clients so they can truly partner with you and become an extension of your team.
We provide unlimited training to all end-users, regular executive business reviews (EBRs) with recommendations and performance overviews, and we deliver regular keyword portfolio audits as well as performance analyses.
We train, analyze, recommend, project manage, and work alongside you to reach your SEO goals.
Our team facilitates guidance and best practices for your internal projects, such as site redesigns and migrations, and we onboard your new team members and assist with dashboard and report building.


Our Approach to SEO Success
We don't leave you in the dust after onboarding or have you blindly click your way through the platform.
In fact, we've worked with (and learned from) more than 3,500 brands across a multitude of industry types … See what they have to say about us on G2.
It's partnerships like this that have allowed us to refine our Success Coaching Program.
This is our tried-and-true approach to client success.
It begins with how to build an SEO Center of Excellence — our term for a holistic, company-wide approach to organic search.
With centralized data, clear communication, and common objectives, you can demonstrate to your organization that SEO benefits every team at the company.
Recommended Reading: Building an SEO Center of Excellence: A Proven Approach to Simplify, Structure and Scale Your SEO
Ongoing strategy sessions then align seoClarity to what your company's goals are. We adapt to your priorities.
To meet and exceed your goals, we follow proven frameworks and benchmarks that have been enhanced over the years while working with leading companies and SEOs.
Our enterprise SEO platform lets you set up SEO management workflows to get things done in your organization, and discover and track new competitors.
You don't only receive insights into you and your competitors' domain performance, but industry insights, too.
We share learnings about the greater SEO industry, your specific industry, and tips on how other leading enterprises use seoClarity to achieve success.
Our approach to SEO success all comes down to our 3-stage success blueprint.
I'll explain this in more detail down below [jump], but the blueprint lets you scale your efforts and operationalize SEO with role-based training and workflows. We help you identify the most impactful and repeatable workflows based on your KPIs.

Onboarding, Transition Management, and Unlimited Support
Before I explain our unique framework to SEO success, I want to highlight some of the advantages of working with a dedicated Client Success Manager at seoClarity.
Dedicated Client Success Team
seoClarity clients don't only have a dedicated Client Success Manager — there's a whole Client Success team supporting you, including a Client Success Associate and a Technical Account Manager.
Complete Transition Management
To get you up and running in the seoClarity platform, we'll help you with historical data migrations, as well as dashboard creation, tagging structures for segmentation, analytics integrations, exports, and more.
Success Blueprint Coaching
Hit the ground running with several weeks of guided training and project execution for adoption across your entire team.
Already have a plan? We work alongside you to align with your goals and project manage your tasks.
We do it with you while simultaneously teaching you how to do it.
Unlimited Training
We make it easy to simplify SEO throughout your entire organization.
One way we do this is with role-based training and new user onboarding. For example, there are different workflows for an SEO, a content writer, data scientist, etc.
An SEO platform benefits every team in an organization. We help you find (and demonstrate) that value.

The Client Success Blueprint
The Client Success Blueprint is the timeline that takes you from onboarding to SEO success.
In just a few days, we have an account set up for you with immediate access to our expansive keyword database and on-demand resources.
Recommended Reading: How Quickly Can I Get Started Using seoClarity?
Everything is configured in the first few weeks, and if you're migrating historical data into seoClarity, we can of course help with that.
Within this same time frame, you'll also attend a kickoff call to meet the folks supporting you, followed by a technical onboarding call where you'll talk through data, integrations, and hop into the platform for a live walk-through.
Within the first few weeks, we'll complete the Structure stage of the blueprint. This involves gathering and organizing your data, organizing it, and setting up monitoring and automation.
Within the first couple months, we'll perform an analysis of your SEO performance, and identify areas to defend, improve and grow your organic performance.
This is also where we work with you to align the platform with your goals and prioritize projects based on your KPIs and available resources.
Let's break down each stage of the blueprint.
Stage 1: Structure
Purpose: Building the foundation to operationalize SEO
A successful SEO program has a logical and planned structure. In this stage, we work on centralizing your data so you can have a single source of truth for your SEO reporting.
Think of it as having everything under one roof.
The structure stage also involves tagging, grouping, and organizing the data so it can tell a meaningful story for your SEO goals and objectives.
More on segmentation and SEO >
To scale processes even further, we help you implement automation for monitoring and reporting. The seoClarity platform is full of features that can be automated, all to make your job a little easier.
Recommended Reading: How seoClarity Automates Your SEO
Stage 2: Strategy, State of Affairs
Purpose: Benchmark and strategize
The strategy stage begins with a comprehensive State of Affairs — a report on your domain's current performance in various areas.
We identify areas where you can defend, improve, grow, and recoup.
This is all in an effort to benchmark performance so we can track progress in the future. To achieve that growth and progress, we also define a go-forward strategy in this stage.
Stage 3: Scale, Improve Performance
Purpose: Deliver playbooks, workflows, and insights
We have an established methodology at seoClarity that we call the URA framework. This stands for Usability, Relevance, and Authority. They're the three areas to tackle, and in that order! After all, you can't have a strong SEO program without proper usability (technical SEO).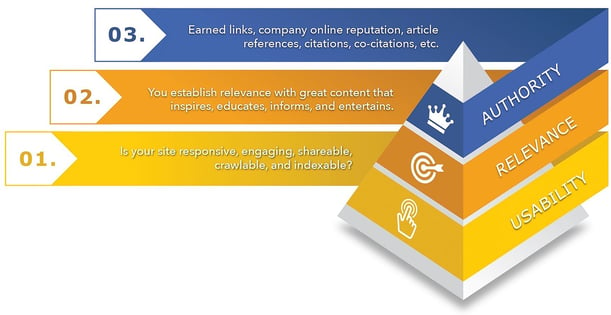 This stage of the blueprint works with those URA playbooks, as well as SEO activity workflows.
We have an entire collection of SEO workflows on our blog, too.
We'll also cover pragmatic SEO marketing, user persona training, and ongoing analysis, and insights during this stage.


An Ongoing Partnership
This is more than a "subscription" — it's a partnership.
The entirety of our partnership is packed full of value, insightful deliverables, project management, and ongoing SEO maintenance so you can create your own SEO Center of Excellence.
We'll help you build a roadmap for SEO success and meet you where you are in your organic search journey … Your specific industry, projects, success metrics, and needs.
So when we train you, we train you in your domain with your data. No dummy data here.
We want to see you win at SEO, so it bears repeating: your success is our success.