Congratulations! You're in the process of becoming seoClarity's newest client.
We are so excited that you've chosen to structure, simplify, and scale your SEO with an enterprise SEO platform that is trusted by over 3,500 brands.
You can count on us to be your true partner in driving SEO success at your business.
As the leader of the Technical Support Services (TSS) team, it's my job to lead efforts to get your domain (or multiple domains) uploaded into the platform so that you can access the rich data our platform provides, especially since seoClarity is the only platform that provides all SEO data, metrics, and capabilities without artificial limitations.
By now, you've met your Client Success Manager, your main point of contact in your seoClarity relationship, who is equipped to address all of your questions about driving consistent SEO success at your business.
Our teams work closely together to do the heavy lifting, making your part in the onboarding process a breeze.
This means that while there are a few simple things for us to take care of before we get started, it's our intention to have you and your team up and running in the platform in as little as 48 hours—provided you share a few basics with us first.


Get Started in as Little as Two Business Days
Two business days sounds unbelievable, but you'd better believe it! We simply need, at the very least, your domain(s) and a list of approved users who will need access to the platform - that's it.
Once we have this information and configure it on our end, you gain access to the platform.
This immediacy allows you to log in before any of your historical data or ranking data populates so you can start using the Keyword Research Grid to explore your competitive landscape, or do topic research in Topic Explorer, or even kick off your first site audit.
Of course, the more information we receive from you, the more we are able to configure.
We provide you with our helpful onboarding worksheet (also available as an Excel file) to get your account set up as quickly and as thoroughly as possible, given you provide us with the following:
Your starting domain. You can send us all of your domains immediately as well - but if getting access to the platform is your top priority, we can start with just one domain and work from there.
Country of focus, or location of the primary ranking data.
Protocol for the domain (secure HTTPS or standard HTTP)
One search engine from which you'd like to receive ranking data
An account administrator's email address for each domain, as in the email address of the person managing that particular domain for your business.
Keywords you want us to track in the platform.
Once we receive this information, we will do what is referred to as domain provisioning (a technical way of saying that we'll upload your domain in the platform) and create your brand's complete profile within seoClarity.


What Exactly is Domain Provisioning?
Domain provisioning is the process of adding a profile to the seoClarity platform to be managed exclusively by you or those you choose to manage your domain or domains.
If you consider the analogy of buying a new car, it's as though we are completing the paperwork to give you the keys to drive the car off of the lot.

Domains can be added or removed from the platform upon request by emailing our team at support@seoclarity.net.
The number of domains you can upload is based on contract details which can always be changed, but be sure to discuss with your Client Success Manager to review the process.
In seoClarity, you can see all of the domains provisioned by your brand in the Managed Domains view. This view appears as soon as you log into the platform.
There, you can see how many managed pages and keywords fall under each particular site.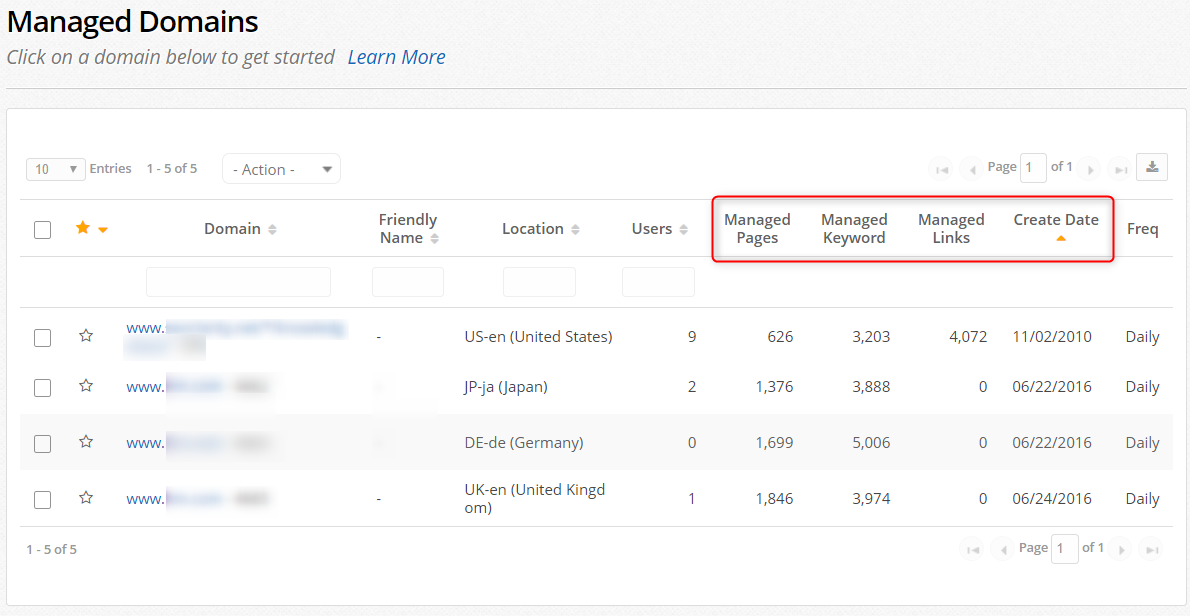 (Managed Domains view in the platform.)


Experience Seamless Onboarding for Your Domain

The first order of business is to complete the aforementioned simple provisioning worksheet, a straightforward document where you can list all of your brand's domains that you would like to set up in the platform, grant access to specific users, and share a list of keywords and pages that you would like to track (for both branded and non-branded terms).
Whether you have just one domain or hundreds of domains under your brand umbrella, we are equipped to add all of this to the platform as soon as we receive the worksheet from your team.
The steps below outline exactly how we work with you to complete this process.
Provide a Domain to Provision
As I mentioned earlier, the minimum information required from you for our team to provision a domain is simply:
Domain name
Country for ranking data
Domain protocol
Search engine preference
Account administrator contact information
Beyond the required information to get started, we also ask you for the following to help us get up and running toward success:
Weekly Start Date: This is your chosen start date for the weekly reporting period for each domain.
Analytics Integration: This indicates the preferred method for analytics integration for each domain. We'll help you should you decide to change your analytics integration in the future.
Main Competitors: Give us the name of your top 5 competitors and we'll show you their data in a reporting dashboard. You can always add more competitors later, but this provides built-in comparison throughout the platform from the get-go.
Grant Access to Multiple Users
As part of this process, clients can also add Managed Users, or those individuals within your organization who have permission to access the platform.
With single sign-on options through major providers like Microsoft and Google, access can be controlled within the platform or at the administrative level. If you want to add or remove users in the future, reach out to your Client Success Manager for assistance.
You can add as many users as you require to the platform and give existing users different levels of access to information they need.
Recommended Reading: Structuring Your In-House SEO Team: On-Boarding an SEO Platform
This is great for assigning top level management access, setting access permissions for the default dashboard, or setting up the permissions for existing users so they can focus on the parts of the platform they need to work within.
Determine Keywords to Upload
Now comes the fun part! For every domain, we ask for a list of corresponding keywords you would like uploaded to the platform. If you aren't sure what keywords to track, your Client Success Manager will help you create your keyword portfolio.
This SEO workflow, leveraged by thousands of brands, identifies keywords to track for benchmarking, optimizing, and building your search visibility.
In choosing keywords to upload, you also have the option to add preferred landing pages and tag groupings.
We recommend completing this during the initial set-up process, but it's not required as your Client Success Manager is capable of completing bulk uploads like this for you.
Pro Tip: We make formatting really easy in the worksheet; be sure to follow the formatting guidelines in the Keyword section!


(Sample view of our domain provisioning worksheet.)
Beyond the standard keywords you want to track, we also provide space for you to add brand-specific keywords and page types. If you do choose this option, it's important that you complete this process for every single domain you wish to provision.
It might seem like a lot of work, but there is an awesome benefit to clients who do this in the provisioning stage.
For keyword types, these filter analytics data based on brand keywords. Similarly, page types filter analytics data based on URL patterns.
Send the Provisioning Document
The last step is to send or share the provisioning document with our team. If using a Google Sheets file, simply open the File Menu option and select "Email as Attachment". Attach as Microsoft Excel (.xlsx) and email to support@seoclarity.net.


Last Step: Finalize Your Set-Up
We are equipped to support a variety of brand types, whether you have a few domains or hundreds of domains to provision. Working together, we can complete the entire integration process, referred to as the Configuration Window, in just 15 days.
"But, Ryan - can I use the platform while my domain is being provisioned?"
Of course you can! As I mentioned earlier, all we need are a few minor pieces of information, and you're set. Remember, your Client Success Manager is your life raft and we work closely with their team to ensure that your information is integrated into the platform correctly.
If you want to make a change in the future, we are happy to work together to meet your request.