Lowe's Canada is a home improvement enterprise brand that operates 450+ corporate and affiliated dealer stores across Canada. Their parent organization, Lowe's Companies, Inc., is a Fortune 50 company (currently ranked #31) as sales rose an impressive 24.2% to just under $90 billion in 2020.
Aside from making home improvement purchases in-store or online, Lowe's Canada customers can also read about home improvement tutorials, home design inspiration, and projects completed by staff on the website.
Challenge:

A Need for Centralized Understanding of Consumer Search Trends

The team at Lowe's Canada had a primary objective to drive success on their site by targeting organic search opportunities and growth.

Oguz (Oz) Sarkut, Lowe's Canada's Head of SEO, determined that in order to accomplish this goal, they needed a centralized way to understand user behavior, data, and consumer search trends to inform the decision-making process across the organization.

To reach their objectives and see results, they sought the support of seoClarity's all-in-one SEO solution.
Solution:

Operationalizing SEO Throughout the Organization

Within their partnership with seoClarity, Oz and his team first leveraged Bot Clarity, which provided the SEO team with an advanced server log-file analysis. This allowed them to make the correlation between their rankings and bot activity and surface important search engine crawl issues and opportunities.

From there, they dove into Search Analytics to see what branded and non-branded terms were driving traffic to their site. Search Analytics is the ONLY enterprise solution to reveal 90-100% match of keywords actually driving traffic to your site.

They also leveraged Research Grid to conduct competitive analysis and determine what keyword opportunities exist for the Lowe's Canada brand specifically, in order to target what they hadn't previously considered as competitive terms.

Recommended Reading: The Competitive Intelligence Framework: Understanding True Competitors

The seoClarity team provided desired training and workflows to supplement the success the Lowe's Canada team was already experiencing.

This encouraged adoption of the seoClarity platform across the organization and built an understanding of SEO workflows the team could leverage toward their desired results.
Results:

30% YoY Traffic Increase Over 6-Month Period

Once they integrated SEO into various processes across the organization, they experienced the following increases and improvements across their site:
A 16% increase in unique pages ranking from June 2020 to May 2021
A 30% traffic increase from December 2020 to May 2021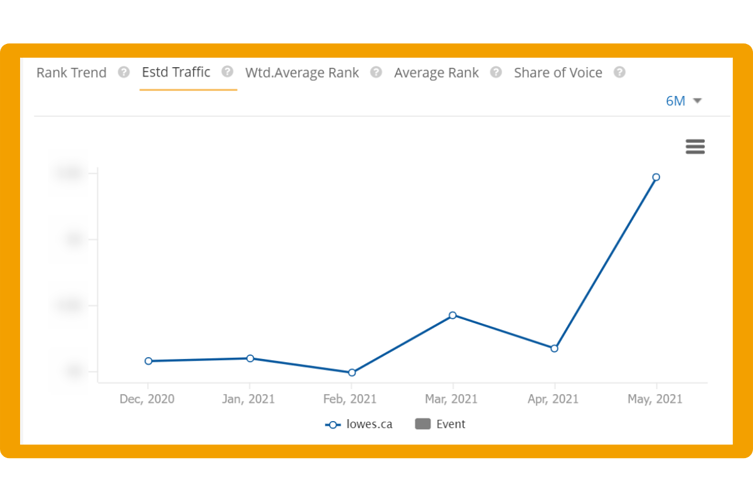 Anecdotally, Oz noticed a significant improvement in the way the team adopted SEO within their processes. He particularly noticed an increase in user engagement within the seoClarity platform. Every department across their team makes use of the platform in some way, whether through reporting, research, or optimization.
Conclusion
Thanks to the deep data and insights, unique reporting capabilities, and training and partnership provided by the seoClarity platform, the Lowe's Canada team experienced incredible results, propelling them toward sustained organic growth.
With the right approach and the best all-in-one enterprise platform, our team delivers the support and training enterprise brands deserve to drive consistent, repeatable success, maximizing overall efficiency across the organization. Schedule a demo with our team to take ownership of your SEO success.