On the surface, increasing search visibility doesn't seem like a big deal. You just need to create engaging content that's optimized for specific keywords continuously, then build links to it, and you're done, right? So why, then, it is so hard to do? Well for one, it's because the majority of online marketers already do exactly the same thing.
Let me prove it:
According to the Content Marketing Institute's 2017 Benchmarks Report, 89% of marketers already use content to promote their businesses. And 51% use rankings to monitor their content's effectiveness.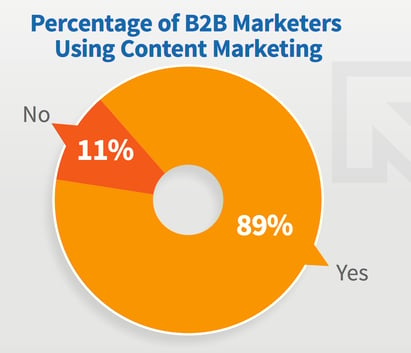 There's more.
A 2015 research by Ascend2 showed that 89% of marketers rated SEO successful at improving search visibility, website traffic, and lead generation. (data via eMarketer)
And according to Econsultancy:
"73% of in-house marketers and 76% of US agencies worldwide said SEO provided excellent or good return on investment (ROI)" (data via eMarketer)
The massive adoption of SEO comes as no surprise. Nor does the growing competition for the highest rankings. So, what can you could do to improve your search visibility? There are a few key features that seoClarity offers and that can make an impact to gain your site greater search visibility in 2017.
#1. Focus Your Content on the User Intent
You already know that 89% of marketers use content for greater search visibility. But here's something you might not be aware yet:
The majority of marketers find creating relevant content as both, the most effective part of the process, and also as the most difficult.
Interestingly enough, marketers feel the same about keyword research.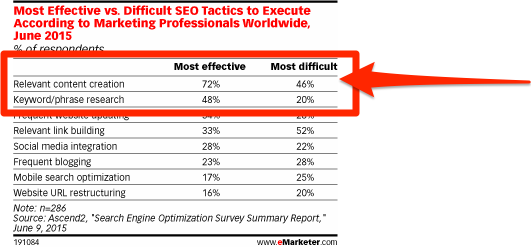 Because the amount of content we produce has increased, searchers became more sophisticated in identifying the information that matches their intent. In other words, to reach searchers, we need to target not keywords but specific problems of your audience and how you answer those problems.
seoClarity can help you uncover those:
Search Volume Report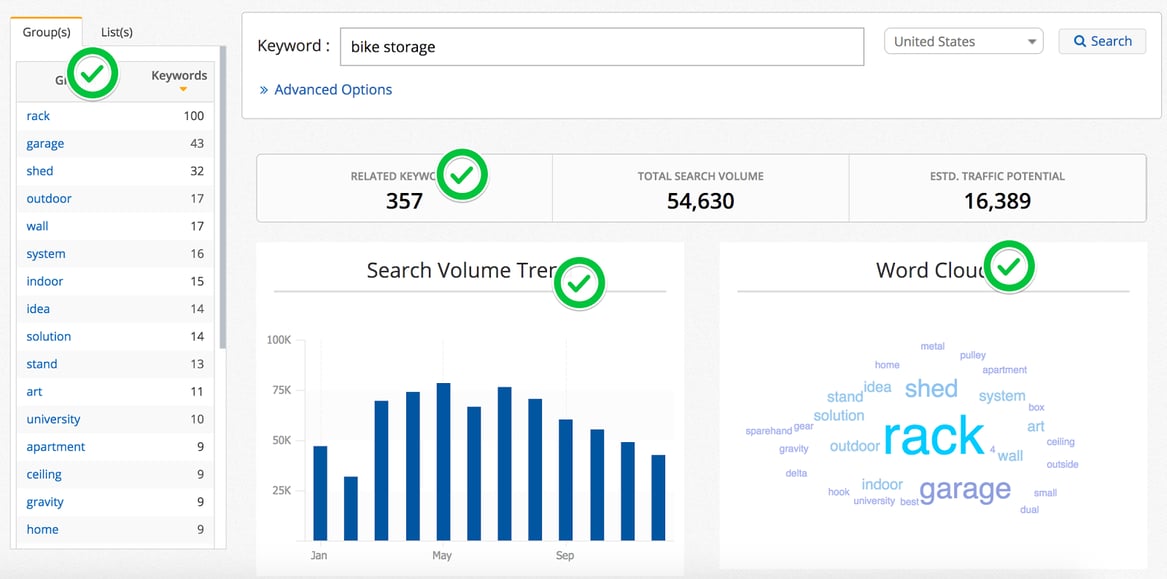 At first sight, this report displays search volume from the Google's Keyword Planner.
However, it includes a couple of features that will help you identify your audience's goals when searching for those keywords:
Keyword Groups, bringing various commonly appearing terms. By using this list, you can quickly sort out various intents.
Related Keywords (not shown in the above screenshot), as the name suggests, allows you to go deeper into keywords and find out related terms your audience might be using.
Search Volume Trends that highlight potential seasonality of the keyword.
Word Cloud through which you can quickly identify the most popular terms or concepts behind the keyword.
Content Ideas
This tool allows you to find topics relevant to your keywords. Unlike the Search Volume Report, this feature reviews multiple and diverse sources online to help you to uncover what information your audience seeks about your search term.
Here, take a look at the content ideas for the "bike storage" term.
#2. Get Your Content on the Answer Box
I admit, for searchers, getting immediate answers to their questions in the form of the Answer Box is nothing short of a blessing. And for a brand, it offers an opportunity to massively boost your search visibility for a specific phrase, and attract far greater traffic than anyone who's site doesn't appear in the Answer Box.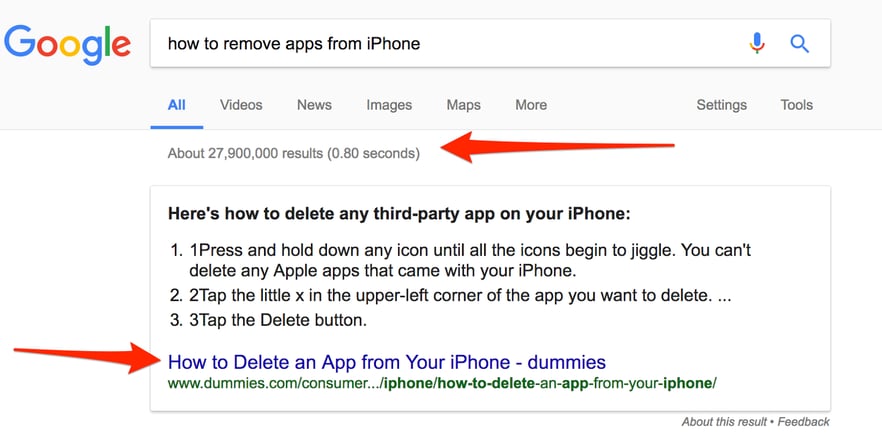 Plus, appearing in the Answer Box makes your site look like a perceived authority on the topic, driving important brand connections with your audience. But here's where this gets interesting - more and more search results return answer boxes. Last year, we analyzed 40 million keywords, and just shy of 10% included the Answer Box. And, based on an early look at our 2017 data, we know this has increased.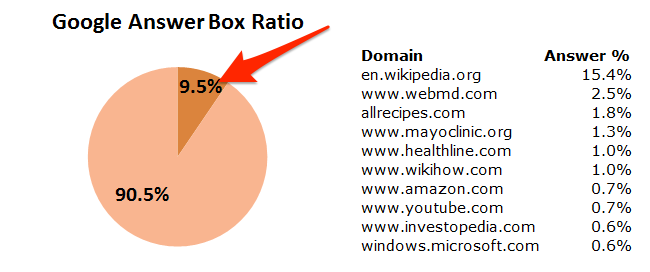 To get your content featured in Google's Rich Answer Box is likely to become increasingly important in 2017.
And seoClarity is the ONLY platform to offer the insights and reporting specifically for Answer Box.
Our Universal Rank Types report includes information on:
How many of your keywords trigger Answer Box
Your share of the Answer Box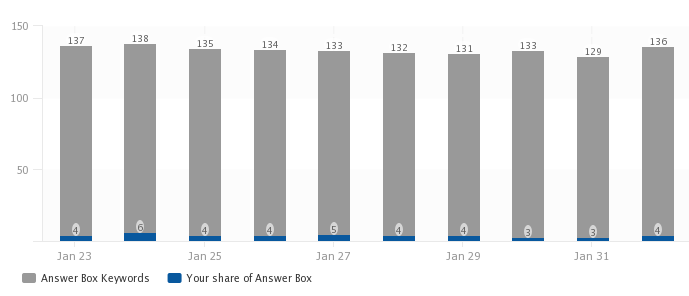 Furthermore, you can review the keywords that trigger the Answer Box, and see what URL (yours or your competitor's) they point to.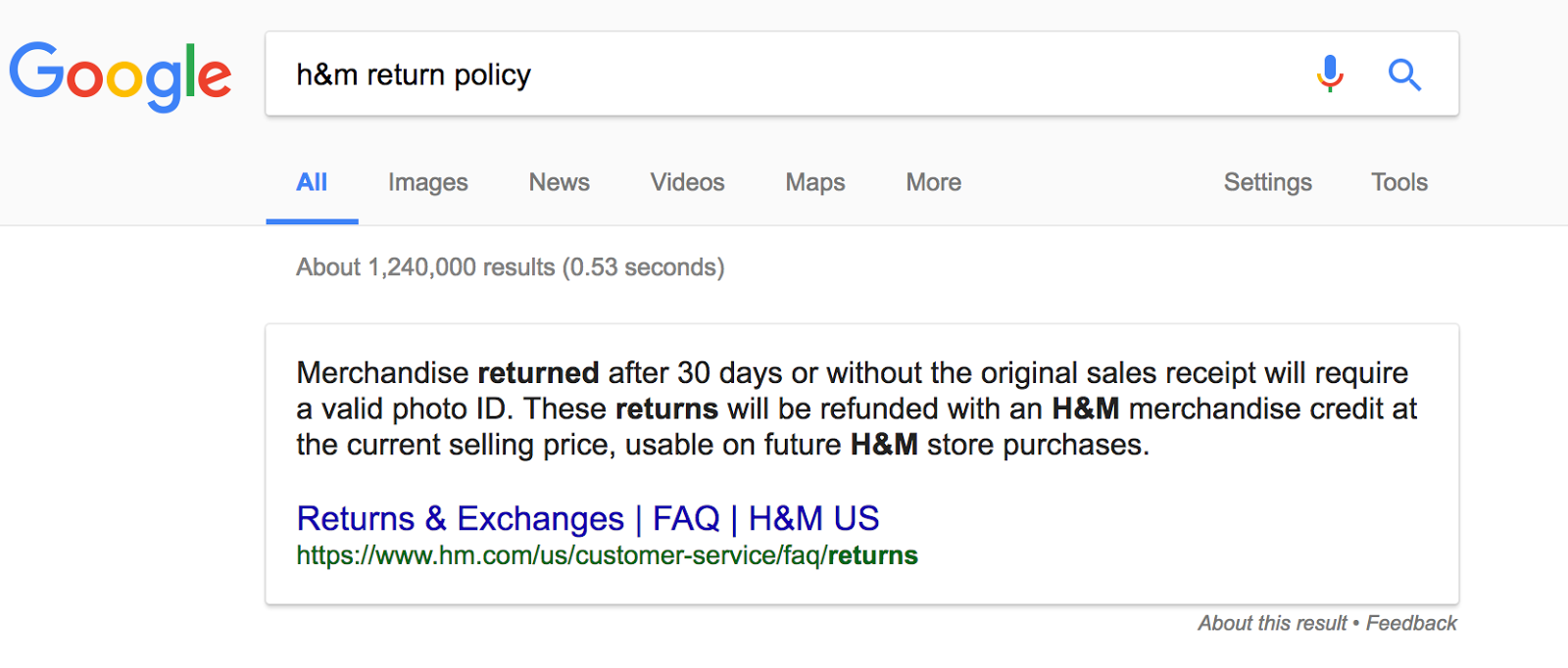 Find out more about this feature here.
#3. Optimize for Mobile Search Visibility
To call 2017 the year of mobile would be a serious understatement. We're not even halfway through the first quarter, and Google's already introduced many mobile-focused changes to the algorithm:
The Pop-ups update
The removal of the mobile-friendly label (because it was no longer needed, as many as 85% of results are mobile already)...
(And I agree, we knew about those for a while. Nonetheless, as they've all come into play around this time, I consider them as recent developments.)
It all suggests one thing - optimizing for the mobile search visibility should become your top priority for 2017.
And here are a few ways seoClarity features help you with that:
Daily Mobile Rankings. The platform uses a mobile user agent that mimics what a mobile user would see to provide your true mobile rankings.

Mobile Page Speed that indicates your mobile pages load time along with insights into issues that impact your mobile experience.

Competitive Insights Report that allows you to compare the performance of your and your competitors' sites.
#4. Optimize Your Images for Google Image Search
Look, you may be thinking why do I really care about what shows in the Google Image Search? But this is an important part of connecting with customers in all stages of their buying cycle. Google Image Search important part of your customers' informational stage to be there in their awareness and consideration stage of specifically a product they are looking to buy.
In addition, as various studies point out, there is a huge benefit in optimizing visuals for Google Image Search, particularly if you sell something that can be represented visually (a definition that actually covers almost every product on the market). This shows customers likely further into their buying cycle, moving from consideration to research and discovery stage.
For example, Wordstream noticed a nice boost in traffic after they optimized their images for search.

What's more, as they point out: "The bounce rate for this traffic is also relatively low – in fact it's lower than our site average."
And that suggests that Google Image Search can deliver relevant, high-quality traffic. So why not take advantage of this opportunity?
Start by identifying whether your images rank in image search results.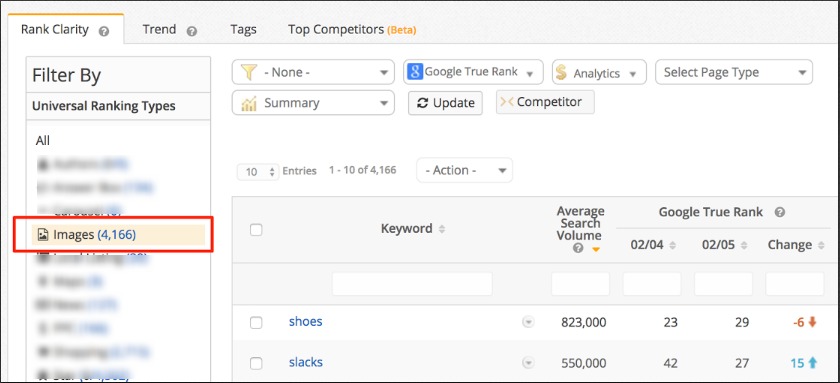 You can also compare your images' performance with the competition, and finally, check the site audit to identify images which are poorly optimized for search.

#5. Track Your App's Rankings
I admit this feature applies to you only if you have an app in the App Store. But if you do, then I'm sure you already know how important it is to boost your app's visibility in search.
(In case if you don't, though, here are some stats from Business Insider that prove it: "Although the majority of users find new apps by searching the app store, a large number also discovers them on 3rd party site, including organic search").
Here, take a look: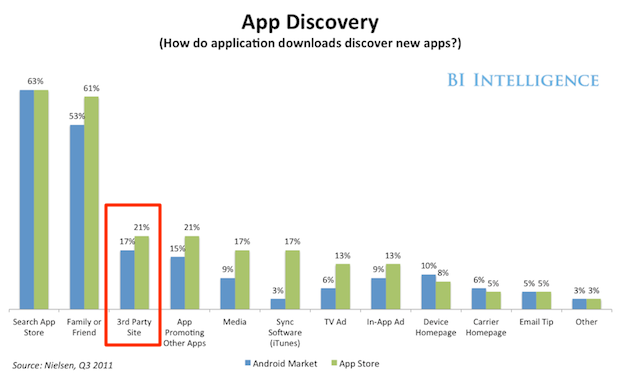 And here's another research, this time from Apptentive, showing downloads from organic traffic as a separate category (quoted via Kissmetrics):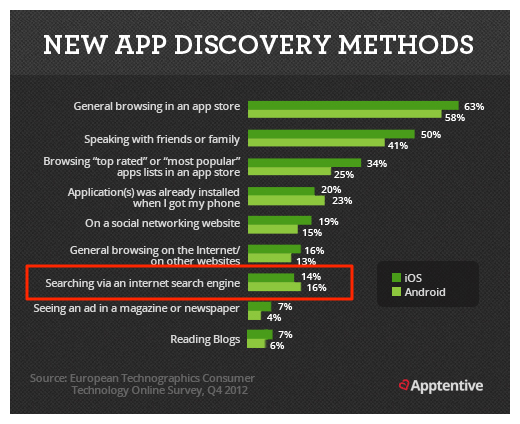 If you're not improving your app's visibility in Google, you're missing on a potentially large discovery channel for your app.
seoClarity could help you with that too (note: at the moment, we only track iTunes App rankings in Google Search). Based on the App ID Setting for your domain, the platform displays your App ranks compared to the total number of results that feature apps.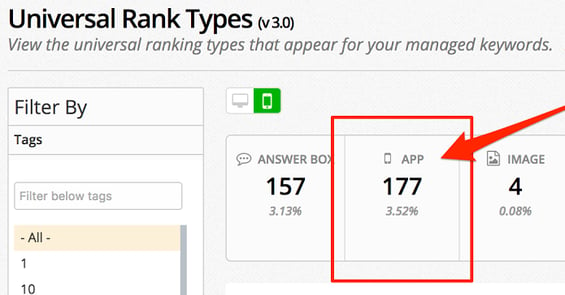 In conclusion, with everyone doing the same thing to increase search visibility, how do you stay ahead? The answer is simple - by using data and insight to identify opportunities they may have been missed, and to focus on the places that can truly make an impact in your overall visibility.