I'm sure you'll agree with me on this - in spite of its significance, we still know ridiculously little about the Google's mobile-first index.
Well, at least, officially. Sure, we have the original announcement and a lot of information scattered around the web, but we still miss some definite guide.
Luckily, the SEO community has been active in predicting the impact of the new index. I published two articles about it as well, including our findings from analyzing data from 2,000 brands we track through our platform (if you've missed those, you can check them here and here).
But in this post, I decided to compile what other industry leaders predict, or have found out about the mobile-first index and its impact on our work. We are all curious what the changes mean for our search visibility.
Why Mobile-First Anyway?
Google concluded their 2011 report, The New Multi Screen World: Understanding Cross Platform Consumer Behavior with these words (note, the emphasis in bold is mine):
Smartphones are the backbone of our daily media use. They are the devices used the most throughout the day and serve as the most common starting point for activities across multiple screens. Google mobile has become a business imperative."
Although at that time, they most likely referred to the SERPs design, I read this statement as an early indication of the shift towards focusing on mobile users first.
Two years later, Google added the mobile usability report to the Webmaster Tools, and a month later introduced the "mobile-friendly" snippet in SERPS. And the rest is history - the mobile-friendly algorithm update, mobile micro-moments, AMPs…
As Mike King put it:
Brands should focus on speed, structured data, and mobile-friendliness. All of the things that Google has been pushing for as of late, come down to those three things."
And now, we're approaching the full rollout of the index that puts mobile pages ahead of their desktop counterparts. Let's take a look at what we know so far, and what other industry leaders think are important factors that will affect our rankings after the change.
Mobile-First Index Will Swap Around Google's Current Setup
We know that the new index will impact rankings. There's no question about it.
Here's how Will Critchlow sums up a potential severity of the new index:
Depending on exactly what they mean by this, it could have serious impacts on mobile and desktop performance, even on businesses that don't get large amounts of mobile traffic, and who may have so far deprioritized mobile site friendliness."
This makes perfect sense.
First of all, according to Google's Gary Illyes, the new index will pretty much swap around the current search engine's setup - instead of showing desktop results to mobile users, it will now show mobile results to anyone searching on a desktop machine.
At least that's what's apparent from this Twitter exchange (found via Hubspot):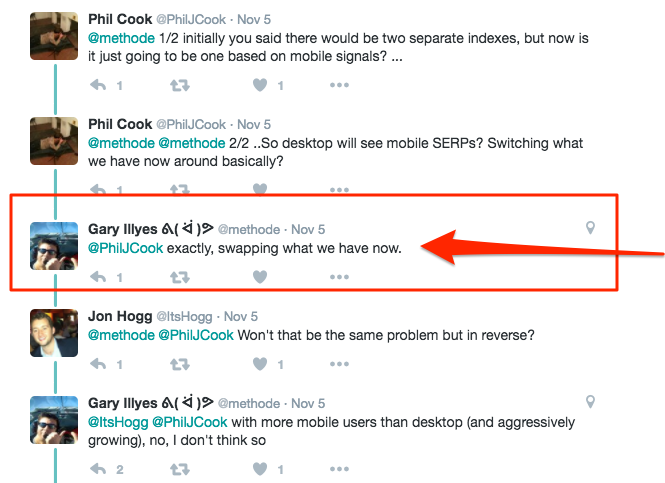 This also confirms that there will be no separate indexes. The update is more about shifting the evaluation criteria from desktop on-page factors to mobile. This means managing your on-page optimization for mobile is critical.
seoClarity clients can optimize their mobile search visibility. The platform provides accurate mobile rankings by showing the results based on queries to the search engine exactly like someone from a mobile device would see it. This provides the true rank calculation.
Which brings us to the next issue:
Google Will Now Use Mobile Content to Rank Sites
Until now, you've used desktop content to rank a site. However, once the new index fully launches, that'll no longer be the case.
As Kristine Schachinger pointed out on SEJ:
[...] the content they use to rank your site will only be what is found in your mobile version, even for desktop users. Not just content either, most SEO signals will also switch from desktop to mobile only.

This means whether the user is on desktop or mobile, the algorithms will primarily use these signals from your mobile version to position your site in the search results. Now, this is less of an issue for responsively designed sites and much more a problem for m., however everyone needs to evaluate their mobile site for potential performance and indexing issues."

And this means that if you have separate desktop and mobile sites, and particularly if the mobile site contains less or different content, you're likely to get affected by the new index.
However, that shouldn't be an issue if you have a responsive site (or at least your mobile and desktop pages are the same).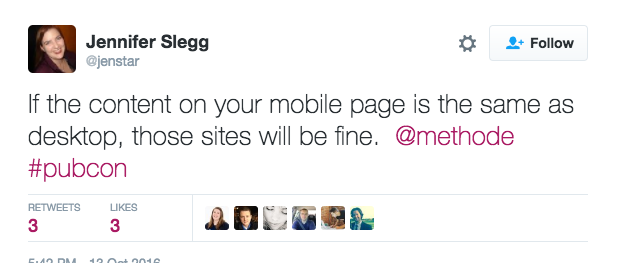 (source)
But if you've launched a m. site, then, as a precaution, I recommend you ensure that your mobile content matches (or at least comes close) to the desktop on-page optimization.
Review your pages beyond just the wording. Check your schema markup tags, and internal links to ensure the same level of on-page optimization between the two.
For this, seoClarity clients can do a Technical Site Health Audit through the built-in crawler to collect all on-site optimization data from both mobile and desktop sites. Then, compare the pages for both and optimize where the data shows opportunities.
Luckily, Mobile UX Won't Hurt Rankings [Confirmed]
The challenge with optimizing pages for mobile is a much smaller screen estate. Of course, we could always just create a long page, but ultimately, that's not always good for the users.
A solution? Hide various elements behind accordions and other UX elements and allow users to access them when needed.
And luckily, as Gary Illyes confirmed, hiding content behind an accordion, for example, or using any other design techniques to optimize a mobile page for better user experience shouldn't affect your rankings either.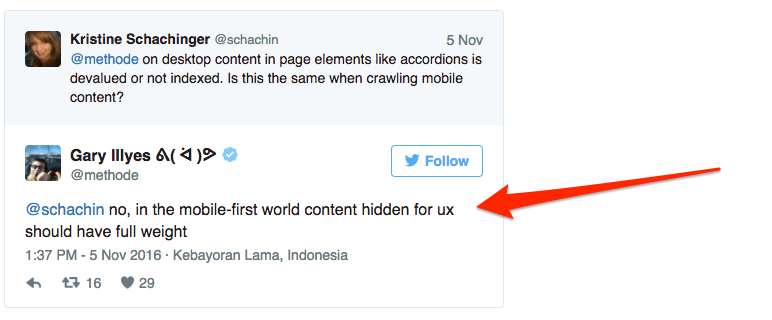 (source)
But, Will We Have to Produce Different Content Lengths?
Gary Illyes confirmed that mobile-first rankings would be based on the mobile content. That means that if your mobile pages contain less information, that's going to affect how they rank in search:
Now, I admit, this is a pure speculation, but Jesse McDonald raised a valid point:
[...] with the index switch, SEOs will have to think about what content they are putting on a site based on what the mobile user will be seeing. One of the biggest implications of this will be SEOs thinking about pages with less content. SEOs are going to start really having to figure out what will best answer users questions while simultaneously pleasing search algorithms. This is probably the first time in the history of SEO where the practitioners will actually be taking a "less is more" approach to page building."
Jesse suggests that to maintain rankings in the mobile-first index, we might have to rethink our approach to content. Instead of expanding the length of a page to include more relevance signals to Google (keywords, LSI's…), we will have to raise the quality while using fewer words than before.
I admit, this is an interesting notion that might have severe consequences on content creation moving forward.
AMPs Do Not Equal Mobile in the New Index
Shocking, isn't it?
We're still adopting the Accelerated Mobile Pages, and Google has already confirmed that it won't use them as mobile counterparts for our content.
Both Maile Ohye and Gary Illyes confirmed that where your site has a desktop and AMP version the mobile-first index would, in fact, ignore the AMP and index the desktop version instead.

(source)

(source)
The only exception is if you create AMP pages for your mobile pages, then the AMP will get picked.

(source)
Finally, What's Next?
I realize that we're still waiting to see the full impact of the mobile-first index. However, Will Critchlow raised an interesting point - could we expect a mobile-ONLY index in the future?
Will speculates that once the mobile-first index settles, Google might start crawling mobile links. And it wouldn't be a massive jump to start using mobile crawl for link metrics. Although, as he points:
[...] unlikely to happen until they see a convergence between the mobile and desktop link graphs - until then, they are just throwing away valuable data - but I imagine they will get there eventually because, in the long-run, a double-crawl seems unnecessary."
What are your expectations or speculations about the mobile-first index? Let me know in the comments below.