Fact: The mobile-first index has become one of the most discussed topics in SEO, and rightly so. After all, putting mobile pages ahead of their desktop counterparts could have potentially significant implications for businesses, small and large alike.
As Will Critchlow put it last year:
"[Mobile-first index] could have serious impacts on mobile and desktop performance, even on businesses that don't get large amounts of mobile traffic, and who may have so far deprioritized mobile site friendliness."
But in spite of earlier announcements, the mobile-first index still hasn't rolled out, leaving us with speculations based on sporadic announcements from Google. I wrote about the mobile-first index before. You can check my posts here and here.
And, in this post, I decided to bring together the latest updates regarding the Google's new index.
So, let's begin.
Mobile-First Index - The Timeline So Far
Google's been hinting at the importance of mobile platforms for user experience for years.
In 2011, they wrote in "The New Multi Screen World: Understanding Cross Platform Consumer Behavior" report:
"Smartphones are the backbone of our daily media use. They are the devices used the most throughout the day and serve as the most common starting point for activities across multiple screens. Google mobile has become a business imperative."
Two years later, they added mobile usability report to Webmaster Tools, and launched the "mobile friendly" label in search listings, followed by the "mobilegeddon" update. And then, in September 2015, Gary Illyes hinted at the possibility of a mobile-first index. Here's the original tweet he posted: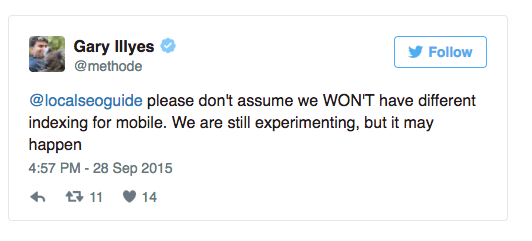 Finally, just over a year after Gary posted his message, the search engine made the following announcement:
"To make our results more useful, we've begun experiments to make our index mobile-first. Although our search index will continue to be a single index of websites and apps, our algorithms will eventually primarily use the mobile version of a site's content to rank pages from that site, to understand structured data, and to show snippets from those pages in our results."
The thing is, though, that in spite of more than half a year passing since Google uttered those words, the mobile-first index is still not live. However, the speculation about it is growing with each month, most certainly fueled by Google statement like these words uttered by Gary Illyes during SMX Advanced in Seattle in June (cited via SEL):
"It's going to be a big change, but don't freak out."
So, let's take a look at what we've recently learned about the mobile-first index, and how this information could help you better prepare for its roll-out.
What is Happening with the Mobile-First Index?
#1. The Roll-out is Still Far Away
This latest announcement also comes from Gary Illyes talk at SMX in Seattle. As it turns out, Google has no definite plans for the mobile-first index roll-out. At least, not yet.
However, we do know now that it's not going to happen this year. To quote Gary on this (via SEL):
"We don't have a timeline for the launch yet. We have some ideas for when this will launch, but it's probably many quarters away. Our engineers' timeline was initially end of 2017. Right now, we think more 2018."
What's more, the roll-out might not happen instantly but instead, Google might roll it out on a site-by-site basis. Here's a tweet from John Mueller informing of this option: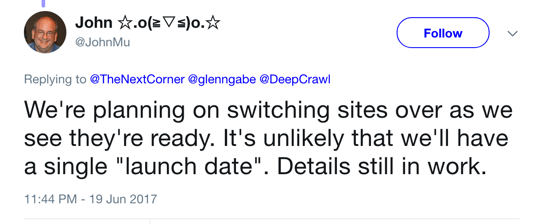 But as with many other mobile-first index-related information, there's still a lot of uncertainty about how this will work. On the flip side, we might soon find out.
Google's promised that it won't leave us in the dark about the roll-out for long. Gary's confirmed that the search engine intends to communicate more information regarding the mobile-first index with webmasters, and, as he put it - "not let them get surprised by it."
#2. Mobile-First Index Will Not Remove Desktop Content from Rankings
Undoubtedly, this has been one of the main areas of confusion regarding the new index. SEOs have been asking whether mobile-first means that any desktop only content will simply disappear from SERPs. And now we know. No, it won't.
The switch to mobile-first index will not denote any desktop content from rankings. It just means that Google will look for mobile content first, and providing it finds it, rank the mobile version of the page first.
(Which brings us to the next point…)
#3. Google Advises to Switch Mobile Sites to Responsive Design
As you know, we have two options to optimize sites and content for mobile devices:
Build a mobile version of the site. This is a separate entity, residing on a subdomain (typically m.domain.com), and containing a mobile-only layout and content optimized to view on smartphones and tablets.
Use a responsive design that adapts your current website to mobile displays.
And although they both work equally well, Google now advises that, in a case of brands that already have a mobile site, switching it to responsive before the roll-out.
The rationale behind it is simple. As Google operates only with the desktop-first index at the moment, it doesn't index mobile sites per se. This means that once the mobile-first index rolls out, it will have to re-index your mobile content, before ranking it. But since a responsive layout doesn't use a separate content for mobile and desktop, your content is already indexed and will remain so after the rollout.
(Plus, you won't have to maintain two instances of the same content, greatly reducing the possibility of important content to be missing from the mobile site.)
#4. Focus on Site Speed
By far, optimizing the site speed is not a new issue in SEO. We've known about the importance of ensuring that site pages load fast for quite some time. But it becomes even more important in the mobile-first index. And that's not just because Google factors site speed into rankings.
Just think about it, mobile connections are usually slower than desktop. This results in further delays in page load. And that, in turn, can result not only in lower search visibility and ranking performance but affects the business too.
After all, given the amount of mobile traffic these days, slower pages will translate into lost traffic, lower conversions which results in poorer sales.
Just as Kissmetrics point out:
"If an e-commerce site is making $100,000 per day, a 1 second page delay could potentially cost you $2.5 million in lost sales every year."
Closing Thoughts
True, the mobile-first index may not be as shrouded by a cloud of mystery as it has been when we first heard about it. That said, we're still uncertain about many of its aspects, and the effect it will have on online visibility. Hopefully, though, this post has informed you of the most recent updates and snippets of information we've learned about the coming mobile-first search index.