If you were at all surprised by Google's announcement last week that it will make mobile-friendliness a ranking factor in mobile searches globally, starting on April 21st, you probably had not heard the subtle but steady drum-beat emanating from Mountain View since 2012.
As early as April of 2012, Google Webmaster Central began providing recommendations on how to create a responsive design for your website. In 2013, Google's Matt Cutts upped the ante a bit:
At SMX Advanced in June, he said, "You really need to be thinking about mobile. We're starting to think a lot about mobile…" (source SearchEngineLand)
At Pubcon Vegas in October, he stated that the top two priorities that sites should consider for 2014 were mobile-friendliness and semantic markup
In the following June at SMX Advanced, Cutts stated that mobile was growing faster than anyone had expected, and reiterated Google's preference for mobile responsive. So, when he tweeted this post last week, it really shouldn't have been a surprise.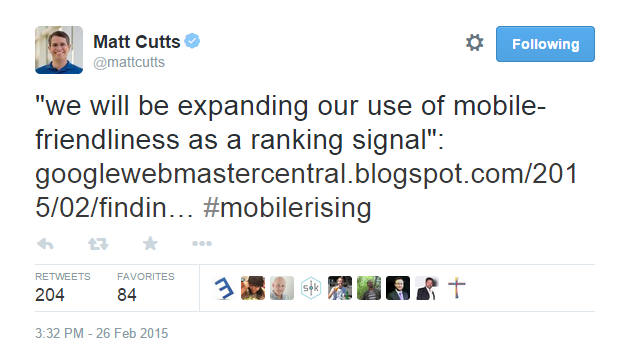 As you can see, the growth of mobile in conjunction with desktop is tremendous: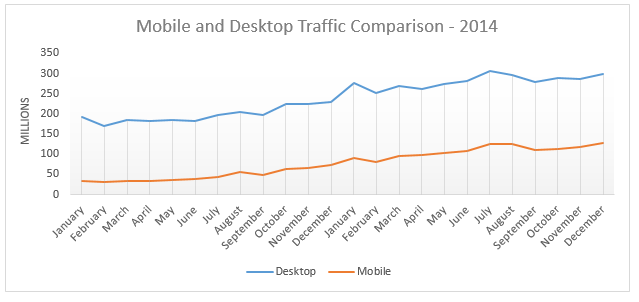 [su_button url="https://attendee.gotowebinar.com/register/3973455067795780610" style="flat" background="#ef922d" size="8" center="no" target="blank"]FREE WEBINAR - SIGN UP NOW[/su_button]
In SEO, as in many marketing practices, an activity can be classified as offensive or defensive. In 2014 (and prior to it), making your site mobile-responsive and/or -adaptive was an offensive activity. It put you ahead of your competition.
In 2015, businesses that aren't ready for this shift will need to defend their position by incorporating mobile-responsiveness at the very least. In other words, going mobile-friendly in 2015 won't put you ahead of your competitors as much as it will keep you in the game.
Businesses that don't address this issue before April 21st could see the following results:
A drop in mobile rankings
Mobile traffic loss
Loss of discoverability
That last item could directly impact B2B sites, which, while they may not see on-site conversions, rely heavily on being discoverable in mobile results. Data suggests that some of these clients may be researching on mobile and converting on desktop.
So, how can you tell if your site is mobile-friendly? And how does this change at Google truly impact you? Some questions you should ask yourself include:
How mobile-friendly is your site?
If you are mobile-friendly, how does your site speed compare to other sites?
How much of your traffic is from mobile and how well does it convert?
If you were mobile-responsive, how much more traffic could you receive and how well would it convert?
How are your competitors performing against you?
Well, aside from Google's mobile-friendly test page, if you are currently an seoClarity subscriber, you can reach out to your Client Success team to see how seoClarity can answer these questions for you. If you aren't a subscriber, reach out to us and let us help you.
In the coming days, we'll be setting up a webinar to answer your questions regarding Google's mobile-friendliness update and we'll publish a whitepaper to help you prioritize this in your development roadmap.
Stay tuned!
[su_button url="https://attendee.gotowebinar.com/register/3973455067795780610" style="flat" background="#ef922d" size="8" center="no" target="blank"]FREE WEBINAR - SIGN UP NOW[/su_button]