UPDATE (February 13, 2020): It appears that Google has extensively reversed whatever it did on the weekend of February 7-9, 2020. For details, see the section "Update: A Google Reversal?" at the end of this post.
According to SEO news reporter Barry Schwartz, the SEO community online was buzzing about what looked like a major Google search algorithm update rolling out over the weekend, starting February 7.
By Sunday, we were able to confirm from our vast keyword research data-set that a large number of sites had experienced either significant gains or losses in top ranking keywords over the weekend.
Here is a quick sampling of our initial findings. For every domain we track we compared the number of keywords ranking in the top 3 on February 7 versus how many ranked top 3 on February 9. We'll continue to dig further into the data and report any other insights as we find them.
Google Gains Ground
Before we go into any of the most volatile commercial sites, we should note that two Google properties appear to have made significant gains from this update.
Google Images had a 10% gain in top three ranking keywords, while Google's organic product feed listings (introduced for mobile in January and desktop in February 2019) increased by 22%.
More on the possible significance of this below.
Let's look at the impact on several verticals.
Traditional Retailers
Some of the most widespread ranking changes occurred among traditional, well-known retail brands (stores that began as brick-and-mortar chains, then later moved online). Some of the biggest losers:
Kohls down 34%
Dillards down 33%
Macy's down 26%
Nordstrom Rack down 21%
Sak's Fifth Avenue down 19%
Men's Wearhouse down 18%
Crate and Barrel down 17%
There were some gainers here too:
IKEA up 33%
Jared up 33%
Target up 30%
Forever 21 up 26%
Nordstrom up 23%
Pandora up 21%
Walmart up 8%
Ecommerce Sites
There was also some volatility among stores that are purely online. The big losers;
Zappos down 38%
Wayfair down 32%
6pm down 30%
And the gainers:
Goibibo (travel) up 58%
Cars.com up 26%
Evaluation
It's too early, of course, to pick out specific patterns here. There were winners and losers in many verticals, but it is interesting how much volatility there was in traditional retail in particular.
Given that Google itself gained in top ranking spots for both images and the newer organic product listings, we have to wonder if there is any correlation to the stores that lost many keywords in those spots. That's something we'll try to investigate further.
What Should You Do?
If you saw some of your keyword rankings drop over the weekend, were you affected by this update?
Maybe, but not necessarily so. The shifts we have seen so far are from a diverse set of sites, and there were both losers and gainers in every vertical. When we see that occur in an update it usually indicates the update targeted multiple components and factors, meaning any effect on a particular site will be nearly impossible to pin down to any central set of causes.
What you should do is not panic, but instead concentrate on these two responses:
1. Do a careful assessment. Rather than focus on any speculation about what changed in the algorithm, first nail down what parts of your site saw losses. Keep in mind that it's possible the changes in ranking or traffic had nothing to do with a particular update. There may be other issues in play, and worrying to much about the algorithm may keep you from finding those causes.
Google sometimes runs tests that can cause temporary fluctuations. And even if your drop is from a particular algorithm update, sometimes Google makes a later update that corrects anomalies in a previous update. So sometimes sites see their rankings return without doing anything.
So what you should do is analyze ranking fluctuations on your site, asking yourself what was impacted, how large was the impact, who took my positions, and then finally, ask why you were impacted.
2. Return to the fundamentals. Unless you know you've received a specific Google penalty, there is little you can do to directly address the effects of an algorithm change. Your time will be much better spent doubling down on the things we already (should) know make sites perform better in Google. If you keep your strategy focused on delivering the BEST search experience for your user with these check points in mind, search visibility will continue to improve!
Clean up technical errors on your site.
Perform a content audit. Fill in your competitive content gaps, but also improve existing content to increase your site's authority, relevance, and trustworthiness.
Promote your site's content in ways that will earn it links from trustworthy sources.
Above all remember that Google is constantly changing. Trying to chase those changes will only distract you from the real work of SEO. Instead, build for long term excellence.
Update: A Google Reversal?
As of February 13, 2020, it appears Google may have undone almost all the major ranking changes we saw over the past weekend.
We are seeing almost all sites that either lost or gained a significant number of ranking positions between February 7 and February 9, 2020, back to where they were before the weekend.
For example, this chart shows what happened to the number of top 3 ranking keywords for a major online retailer over the past week: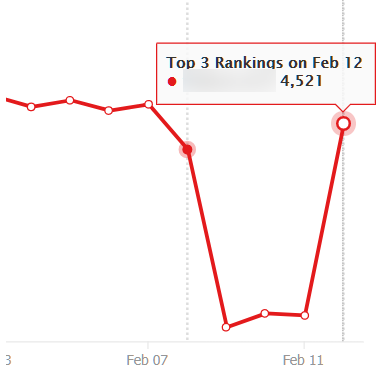 So What Happened?
First off, Google is saying this was not a core update of the algorithm. A core update is a major change to the Google search ranking algorithm. While Google does small updates to its algorithm almost daily, core updates occur less frequently (typically once a quarter) and are usually confirmed by a Google spokesperson.
When asked to confirm whether the fluctuations seen over the past weekend were a core update, Google Search Liaison Danny Sullivan stated it was not a core update, but rather there were a series of updates along the lines of what they do "on a weekly basis."
We do updates all the time. I would suggest rereading our general advice about this: https://t.co/aL4QObvvhH

— Danny Sullivan (@dannysullivan) February 13, 2020
So if this was not a core update, what did Google do that could cause such a massive shift in rankings across so many sites, something that would be almost entirely reversed a few days later?
We can only speculate, of course, but it may have been one of these scenarios:
Google rolled out either one large (but not "core") update that affected sites in a way they didn't intend.
They introduced a series of updates that interacted with each other in ways they hadn't anticipated.
Something broke on Google's side that took a few days to fix.
Also worth noting: Around the same time as these ranking fluctuations, Google also introduced a change to its Answer Box in search results, where quick links began appearing at the bottom of the box which were being represented in Google's template as organic links.
In the HTML of Google's template for the search result page, these links appear exactly the same as other links that occupy ranking positions.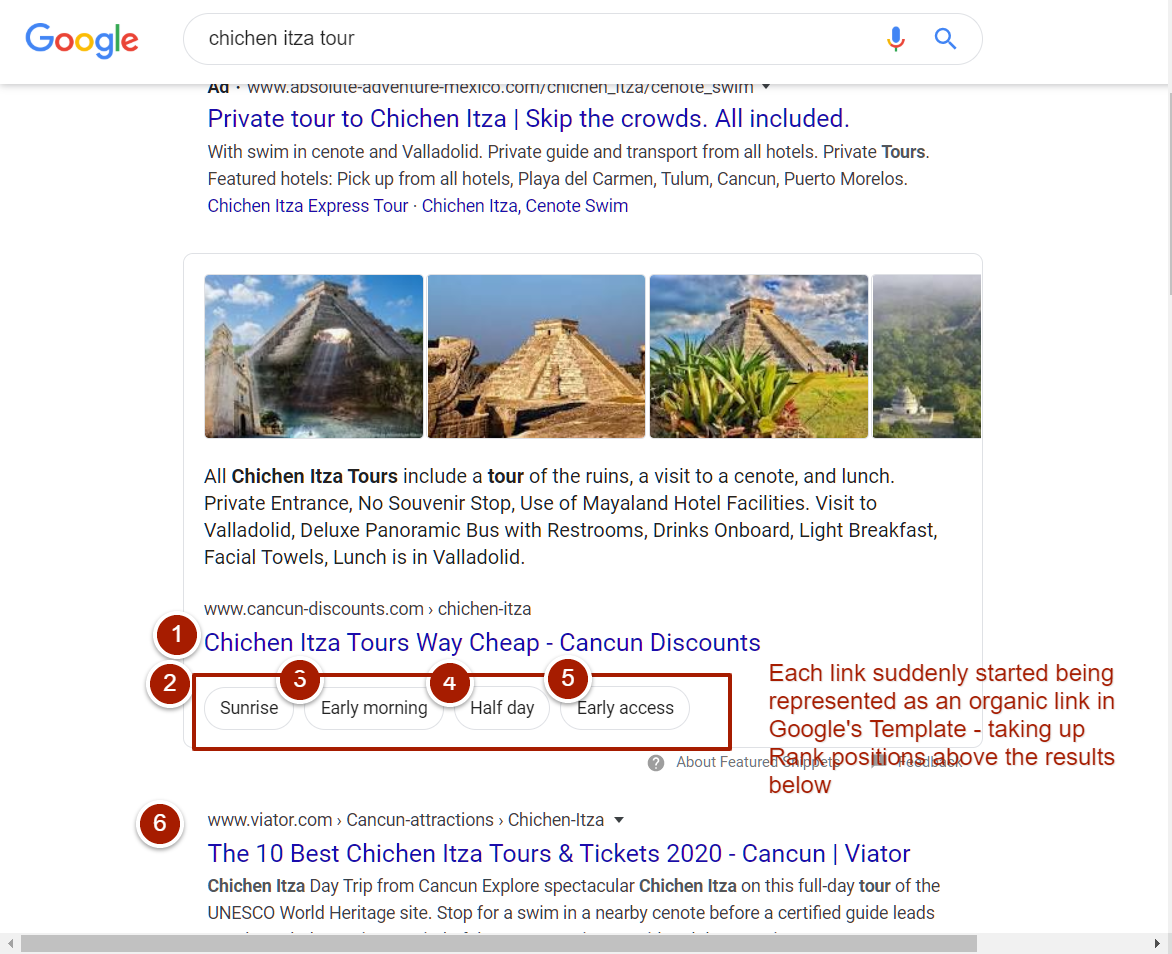 So in the above example, the four quick links would appear to occupy ranking positions 2 through 5, pushing what would have been the #2 position down to #6. However, we don't know if Google is counting them that way when they report things like average ranking position in Google Search Consol.
Also, this change would only affect the keywords that show an answer box (about 1-5% of keywords for most sites). Most SEO's will want to exclude the quick links from counting as organic results (regardless of how Google itself indicates them in the HTML).
For seoClarity clients, we have reprocessed our data to ignore these new quick links so there will be historical continuity in ranking reports before and after this change.
Conclusion
The fact that these recent ranking changes were so quickly reversed by Google underscores the "don't panic" message in the "What Should You Do?" section of this article. This is not the first time we have seen such a quick reversal by Google, and it likely will not be the last.
Whenever you see a big change in rankings or organic search traffic for your site, don't assume it was caused by either a permanent algorithm update or a penalty. Instead, apply the principles we shared above, do a careful assessment, monitor daily, and keep on a steady course of sound SEO practices.