Are you wondering how to manage your backlinks? Do you struggle with developing an effective backlink management process? Given how critical links are to your site's SEO, it's wise to have an approach to managing your link profile.
Just as authoritative content helps you to rank for relevant keywords, backlinks also reassure the search engine of page authority. It comes as no surprise, then, how much focus some SEOs put into building and managing their external link portfolios.
In this post, I'll show you a solution for managing these backlinks in three different stages: protect, review, and grow. You'll also learn why an enterprise-level platform offers the biggest opportunity in these areas and how to use it to manage backlinks to benefit your site.
Why Care About External Links
The answer seems simple, doesn't it? External links remain one of Google's most important ranking signals.
After all, Google looks at the quality of backlinks to establish site authority and, in turn, its rankings.
Links remain a fundamental part of the web. Nearly every attempt to list SEO ranking factors includes external links. Some even dive deeper into the importance of links. In one such study, Brian Dean of Backlinko confirmed that:
"[…] the number of sites linking to a page correlated with rankings more than anything else." (Source.)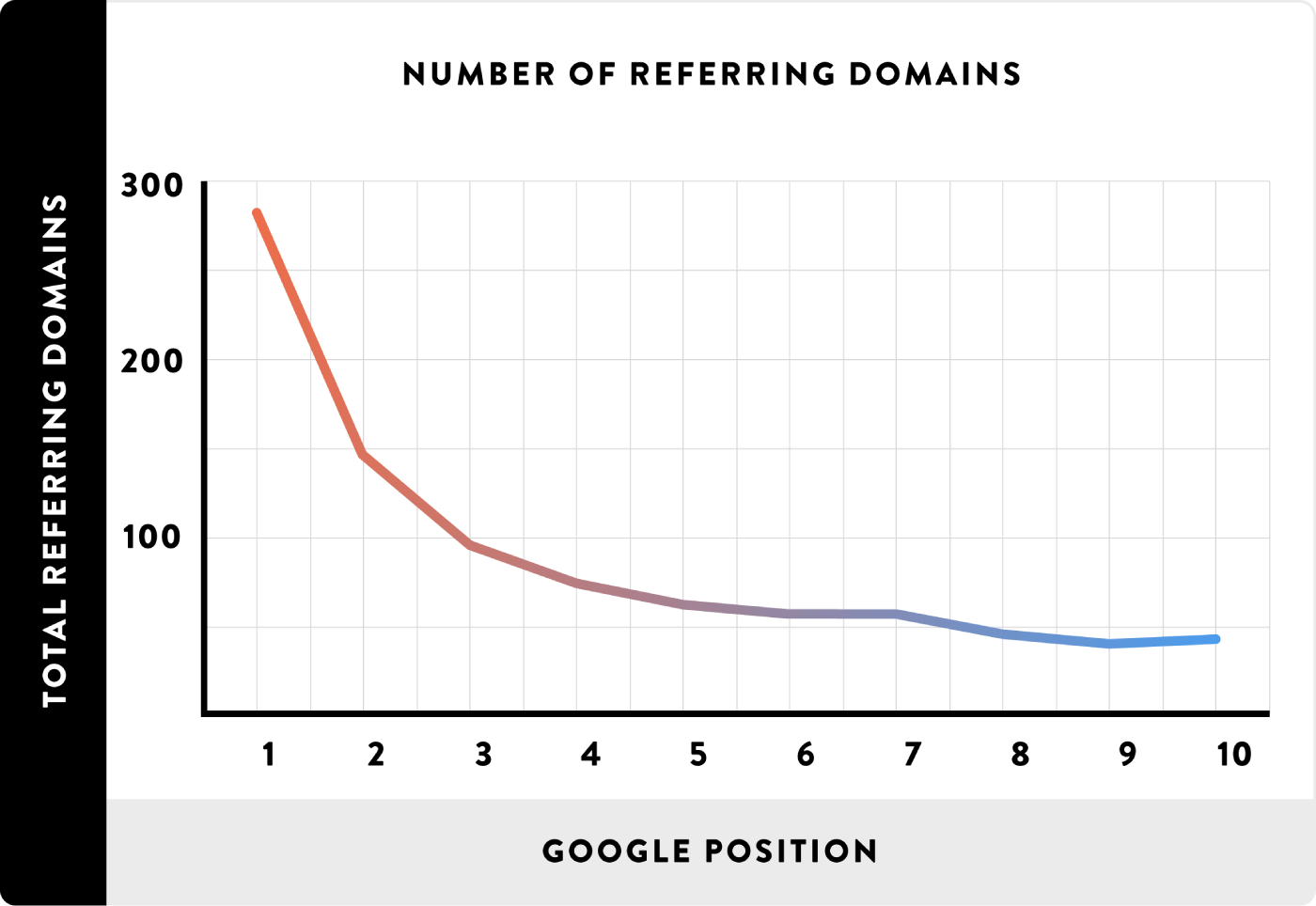 There are other reasons, too, why you should pay attention to how your site is linked to.
Link quality. It's actually relatively easy to build links, even today. The problem, however, is that most of them would probably have extremely poor quality. They could very well impact your search visibility – most likely in a negative fashion.
Which leads us to anchor text. The clickable text of your hyperlink needs to contain terms that are relevant to your linked page, rather than including unrelated terms in your anchor text. The best anchor text tells users that if they click that link, they will get the information associated with that term.
Regular backlink management gives you the opportunity to spot and eradicate potentially harmful links early.
Broken links. A link pointing to a non-existing URL doesn't help your SEO either. It provides poor user experience to anyone trying to access the content the link promises but lands instead on a 404 page, for example.
Here's the challenge – backlink management of the entire profile and using it to boost search visibility requires a lot of data analysis and the insights to develop a plan.
And this is where having an enterprise-level platform will help.
Why Use an Enterprise-Level Platform
to Manage Backlinks

?

The web is big - truly, extensively big. Trying to stitch together any sizeable amount data to connect how it's linked together is challenging. Not only is it massive, but these sources can be disparate and of course grow exponentially with the web.

An enterprise-level platform can pull all of this dispersed information into one place, helping you to monitor backlinks by giving you both a birds-eye and detailed view of your strategies. This, in turn, correlates information from different strategies and tactics to inform new link building ideas and campaigns.

It works the other way around too. An enterprise SEO platform can bring link data into any other strategy as well.

For example, when identifying new topic ideas, analyze the most linked-to content to identify:
Top characteristics of the most referenced pages

Content types that generate the most links

Types of websites that link to your content the most, which informs your outreach strategy.
So, let's see how to use an enterprise platform to achieve it all, specifically.
What Metrics Do You Need to Track in Your Link Profile?
Before I show you how to manage the link profile, let's discuss the metrics you'll be paying close attention to.
I recommend you evaluate each link for the following information:
When was the backlink discovered? This metric might not indicate when the link went live, actually. However, it will tell you, roughly, when it became obvious (and, most likely, noticed by Google.)
What is the referring domain? In short, who is linking to you. Reviewing the linking URL will help you spot many potentially spammy links and eliminate them before they cause any problems to your search visibility. You can use additional metrics like Trust Flow to establish the value of the referring domain.
What is the anchor text used? Does it relate to the linked content or contains generic phrases like "click here." I agree that you have not much influence over the anchor text. Having said that, I have had situations where I asked the linking site to amend it to match my page better and they did.
Is the link dofollow or nofollow? Although, Google uses both (although in different ways,) it's good to pay attention to how many dofollow and nofollow links you acquire.

A report showing all the above metrics in an enterprise-level platform
How to Manage Your Backlinks Using an Enterprise Platform
Backlink management consists of three stages:
Each delivers separate outcomes, so let's go through them in turn.
Note, for this walk-through; I'm going to use our enterprise SEO platform, seoClarity to detail it's link building and management capabilities.
Stage #1. Protect Existing Links
Links are an invaluable asset. Losing high-quality backlinks, especially if it happens faster than you can manage to acquire new links, will always have a negative effect on your visibility.
Unfortunately, there are many different ways in which the above could happen.
In the screenshot below, there are target URLs with 301 or 404 server response codes. As your website evolves, pages get deleted, moved, and URLs can change. Unless you correctly redirect those assets to updated versions or other relevant sections of the site, any external links pointing to them lose their value.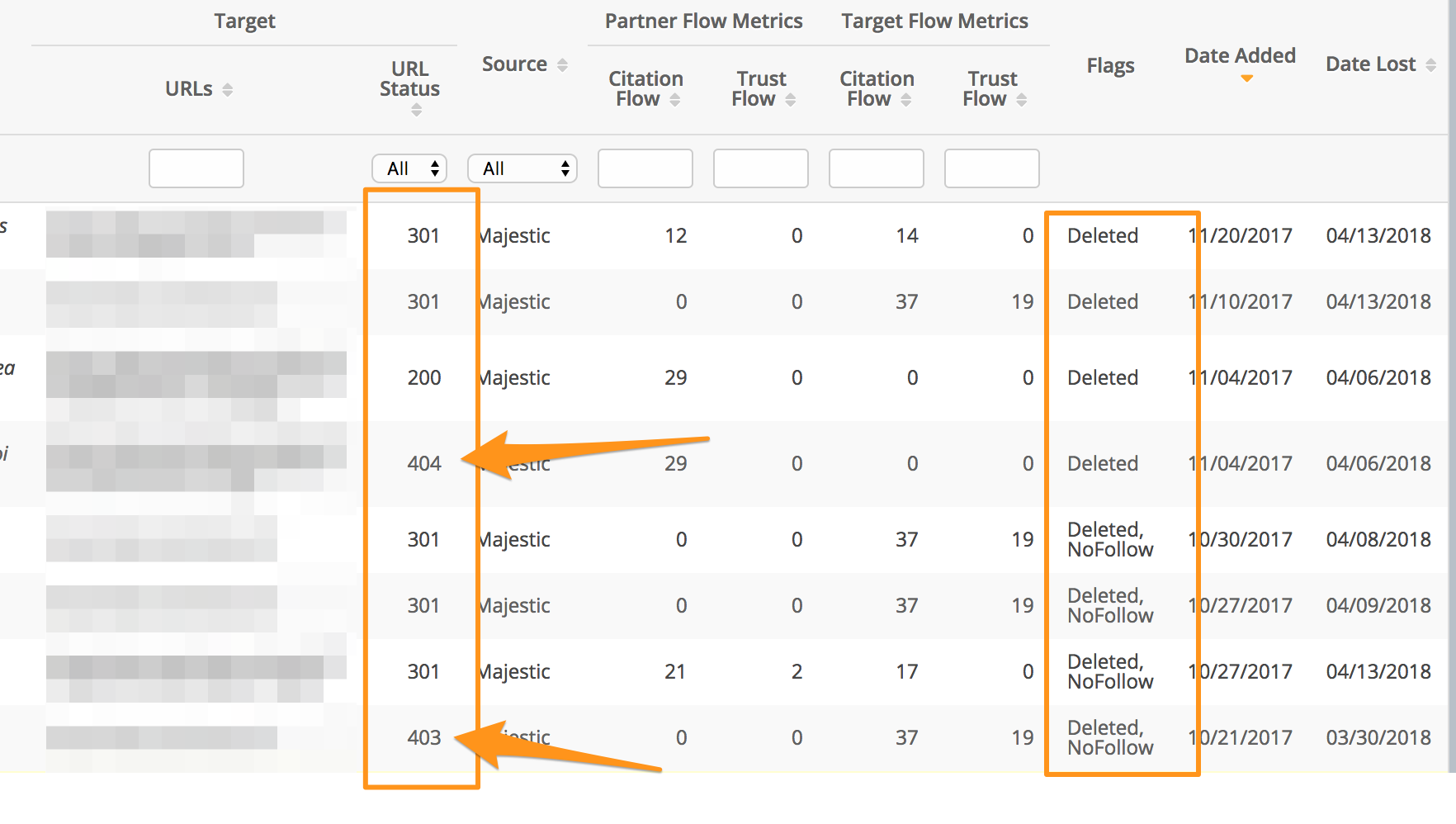 Screenshot from seoClarity's Link Profile report showing lost links
This, as I've explained before, provides not only a poor user experience, but also loss in link equity.
And so, the first stage of managing your backlink profile is protecting the assets you already have.
In seoClarity, you do this by setting up alerts to notify you when you lose a link, or something else happens to a resource pointing to your site.
Of course, you won't be able to protect all of your links. After all, websites close down. Webmasters regularly remove outdated pages, too. And some simply decide to reference other sources instead, removing your link in the process.
But there are also many situations where you could revive a lost link. For one, a webmaster might not even realize a problem with a page or server. A quick notification could help republish it, bringing your link back.
TIP: Pay special attention to links you've acquired through different partnerships. We refer to them as managed links - backlinks you know about because you've built them.
An enterprise-level platform like seoClarity allows you to add them to the link profile, and manage separately. You can monitor when those link shave gone live, what happens with the referring URL, the link status and other metrics.
Why monitoring managed links is so important? Because it gives you direct insight into your link building strategies, and the success of your efforts without having to sift through thousands of other links you have.
You'll also know when a link's gone down or the linking page is down. As a result, you can take actions to recover the link (or, in a case of links build with various link building assets, reuse those somewhere else.)

(Managed backlinks report in seoClarity)

Stage #2. Review Incoming Links
New links reveal plenty about your strategies and how the web sees your content.
For example, analyzing fresh backlinks will help identify what content resonates with your audience the most. That's because a constant growth of links to a page signifies that other webmasters find it:
Authoritative and worthy of sharing with their readers

You're providing the insights others find reliable and engaging.

Relevant and expanding their content.
Analyzing such content further could yield insight into what makes them consider this content link-worthy. Replicating that on other pages could increase their chances of acquiring more organic links.
This is where it pays off to manage links through an enterprise-level platform, too, allowing you to not only analyze content to determine how link-worthy it is, but also giving you an opportunity to pinpoint spammy links in your content.
Let me show you an unusual (but enormously effective!) way to go about it.
I'm sure you know that backlinks with topical relevance build your authority faster than those without it. As a result, much of your link building efforts revolve around acquiring links from websites in the same industry as yours. Unfortunately, you have no control over that aspect of any organic links that your site acquires organically. You cannot prevent or encourage someone to link back to you (or not, if their site covers an unrelated topic).
But with an enterprise-level platform, you can monitor your links for unusual topics. seoClarity reports on topics your referring domains belong to, revealing the topical-relevance of your links.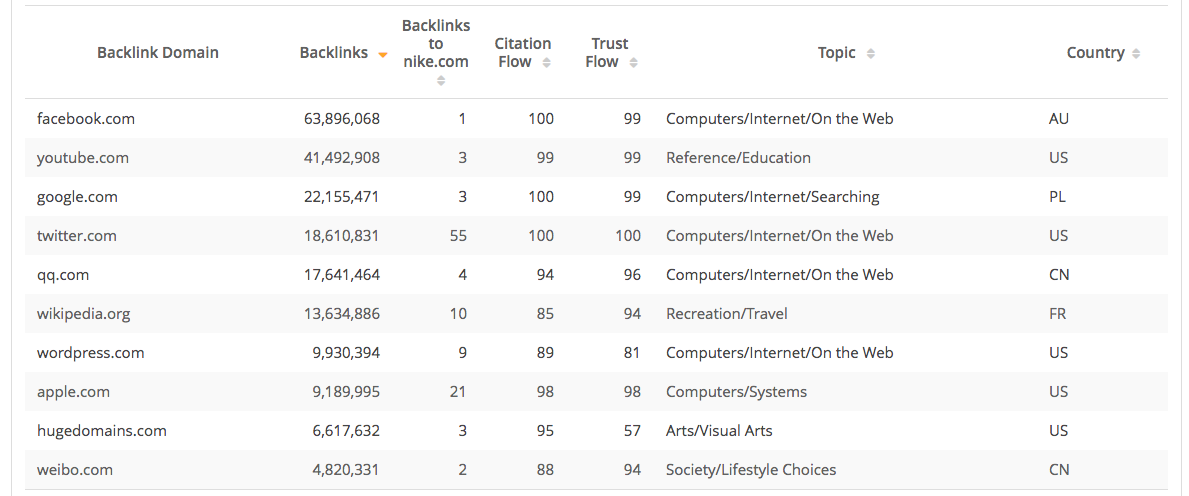 Topics report in seoClarity

As mentioned above, a platform allows you to combine dispersed data and insights from multiple sources into one place. In this case, you could combine fresh link data with content performance and social sharing for additional insights into:
Which of your existing pages to promote further to gain more links

What pages relevant webmasters find authoritative. And what goes with it, which assets outreach to them with next.
Stage #3. Grow Your Link Profile
In addition to running with ideas gained in Stage 2, a common strategy for growing backlinks is to identifying the best link sources in the industry.
One way to do it is by analyzing competitor's links. Researching the top performing site's link profiles often yields ideas for new backlink strategies. And these can include more than just publishing guest posts on the same sites.
Auditing their link profiles and social shares reveals specific strategies that delivered exponential results. It might have been an infographic they've promoted, a long-form content, ultimate guide, the opportunities are many. Each industry tends to have specific patterns on what is shared, think white papers vs selfies.
An enterprise platform helps correlate many data points to identify their most successful strategy. Here's a screenshot from seoClarity that details the social shares from Facebook and Pinterest.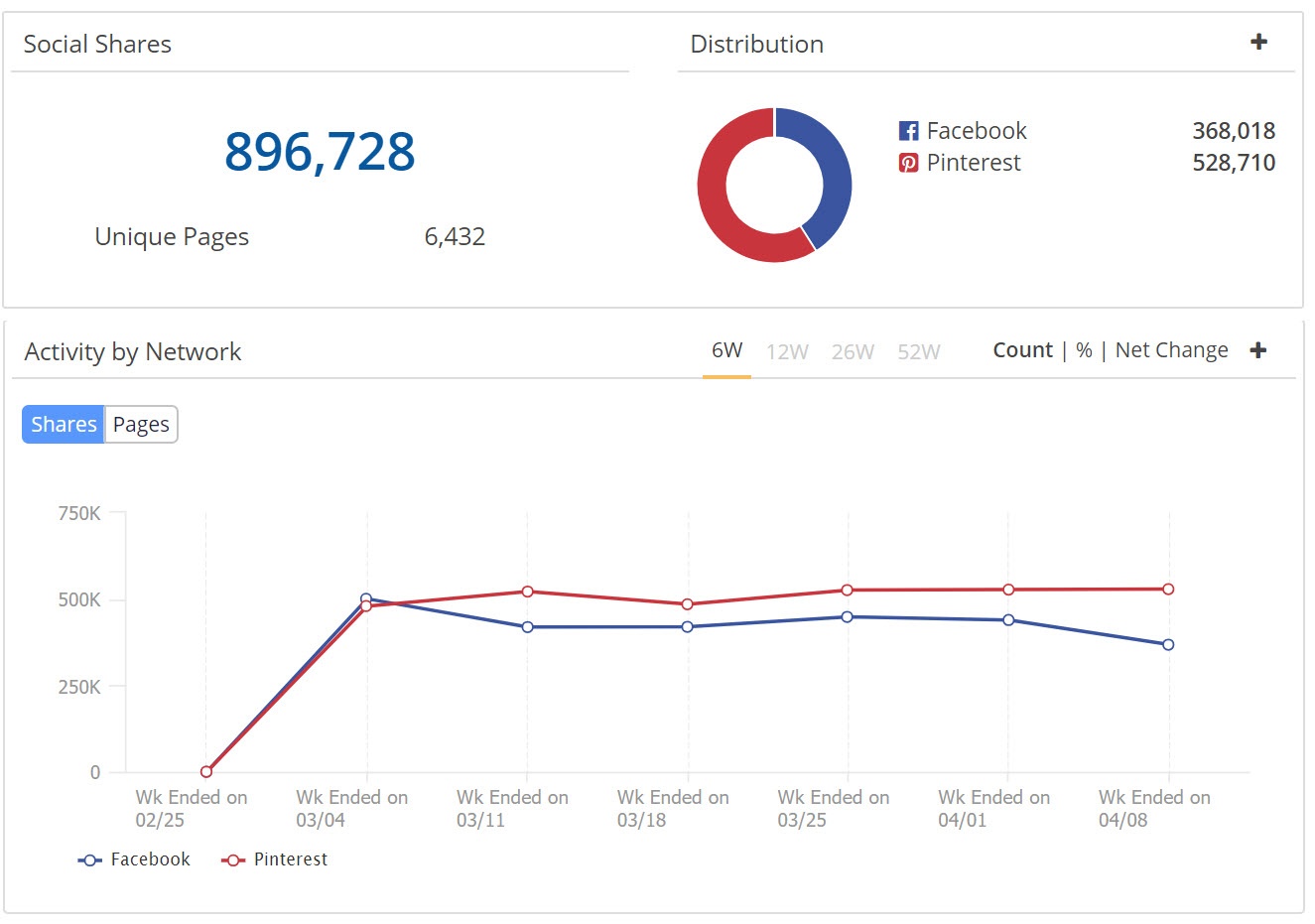 Inspecting Industry Links. Similarly, auditing top sites can show you how links are distributed in the industry. From types of links to assets they point to could spark ideas for long-term strategies to build up your profile.
Finally, an enterprise platform brings the whole team together to ensure a project's success. Tasks capability and workflow management, for example, will help assign responsibilities to help link outreach campaigns on track.
Conclusion
Links are invaluable to SEO success. Oftentimes, however, to properly manage your backlinks profile and grow the site's authority you need to manually analyze data from dispersed sources. This typically leads to wasting too much time and missing out on many opportunities to boost the search visibility.
An enterprise-level SEO platform helps to overcome all of those problems of backlink management by providing a birds-eye and detailed views of your entire SEO strategy to protect, review, a grow your site's backlinks so you can make the next great link worthy content.
---
Editor's Note: This post was originally published in April 2018 and has been updated for accuracy and comprehensiveness.