I don't think that I have to convince you of the role of comprehensive keyword research in the success of an SEO strategy.
Unfortunately, I also, most likely, don't have to remind you of how challenging finding new phrases to target has become. It takes more than just plugging a phrase into a keyword research tool (the Google Keyword Planner, for example) and selecting queries that seem relevant to your target audience.
(Although, I do remember the days when that was all you had to do to build a list of keywords for a strategy.)
Today, finding relevant organic keywords requires evaluating factors like the user intent or industry and topical relevance to determine the keyword quality and your chances to rank.
The whole process is cumbersome, but luckily there is a shortcut – competitor keyword research.
In this article, I'll discuss the pros and cons of analyzing the competitive keyword set. I will also show you how to do it.
What is Competitive Keyword Research?
My colleague Ryan Heuser defined the process wonderfully in an earlier article, saying:
"In the simplest terms, the competitive keyword analysis is a process of a) understanding who your actual online competitors are, and b) identifying what specific keywords or topics drive their success."
Thanks to the process, you can uncover new opportunities fast and learn from someone else's experience.
But the benefits of conducting competitor keyword research go far beyond figuring out what phrases they rank for and you don't.
By analyzing the competitive keyword set, you gain a better understanding of how customers search for information related to your products or services.
But back to the actual keyword research.
When evaluating competitors' keywords, your goal is to identify phrases you are missing in your strategy, focusing on what we call a low-hanging fruit – search terms for which you could rank relatively easily.
You're also looking to build an image of what phrases your customers use throughout the buyer's journey.
I also recommend our clients review phrases for which their competitors don't rank well. The fact that a competitor failed to position their domain in the SERP doesn't discount the value of the keyword. However, I also suggest that, when working on ranking their site, they focus on highlighting their unique position. In other words, instead of repeating what the competitors have done, focus on what makes you different and unique in the market.
Keyword Difficulty, Relevance, and Authority
Before we get to the practical part, I believe we should address these three concepts of competitive keyword research.
Keyword Difficulty
I admit that I am not a big fan of this metric. That said, I understand the purpose behind it. Originally, keyword difficulty aimed to help determine how competitive a keyword might be to rank for.
Unfortunately, the metric isn't reliable. It typically considers the difficulty out of the context of your site. As a result, it gives only a general indication of how challenging ranking might be, but it's not something I would base my decisions on.
Many other ways exist to evaluate the keywords difficulty (although, at seoClarity, we prefer to refer to it as keyword value.) Analyzing the paid keyword's cost per click indicates its commercial potential, for example. User intent will help determine whether you can rank for the phrase with the content you have already – something far easier to do than creating a brand-new page. Seasonality, on the other hand, will reveal when to start working on the keyword.
Site and Topic Relevance
Did you notice that, often, the highest-ranking domain isn't the most authoritative (measured by its Domain Authority, for example)? Have you wondered how this is possible?
It's simple. The site is a bigger authority on the topic. A friend of mine, the owner of a law marketing agency, constantly outperforms much stronger domains. His site ranks in the top three positions for many legal marketing-related terms, in spite of having ridiculously low DA (compared to other agencies.) But he covers only law marketing topics on the site. You'll find no fluff, steering off-topic, personal stories, company updates, or newsworthy content on his site, just marketing advice for lawyers.
As a result, Google considers his site as the authority and rewards them with top rankings.

Content Authority
Similarly, creating content that matches the user intent will also result in higher rankings. Why, because Google rewards pages that best cover the topic with the highest spots in SERPs.
Putting It All Together – Researching the Competitive Keywords Set
With all the theory out of the way, let's see what the competitive keyword research process looks like in practice.
For that, I'm going to use different capabilities of seoClarity's Research Grid, a database containing the world's largest competitive dataset. With it, you can understand and analyze the complete search and keyword landscape to drive your SEO strategies forward.
Here's how to do it.
#1. Identify the terms your competitors rank for already
I'm assuming that you know who your online competitors are. However, don't worry if you don't, we'll cover that in the next step anyway.
For now, if you have a particular competitor in mind, run their URL through the Research Grid. The tool will report on various metrics regarding the domain's performance, including a list of keywords for which it ranks.
In the example below, I researched a t-shirt company's URL for top keywords. Please note that I filtered branded phrases to get to what interests me the most.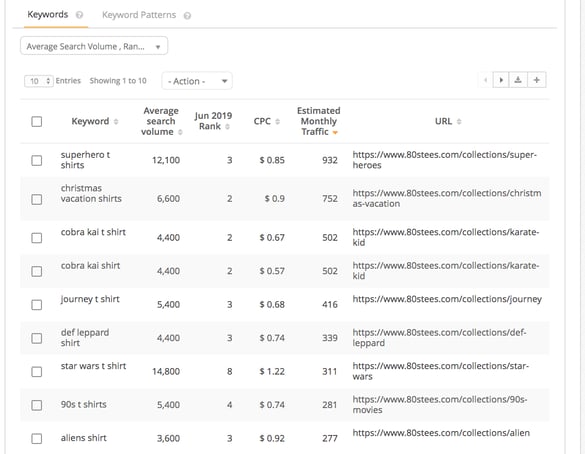 Research Grid results for a specific URL.
I can use many other filters to fine-tune my search, of course. The key thing is that the capability allows me to learn what phrases drive traffic to my competitors.
#2. Conduct similar research for your keywords to identify competitors you haven't thought of
Often, you have to compete in two distinct compsets - offline and online. If you're unsure what domains are in the latter, reverse the research above and review who else ranks for your top phrases.
In the case of our t-shirt store, I researched their highest traffic-generating keyword, "superhero t-shirts," to evaluate other ranking domains.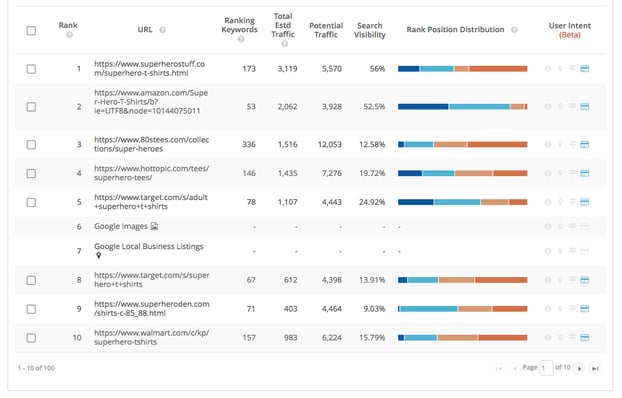 With this data, I can research what other keywords those domains rank for and greatly expand my competitive keyword set.
#3. Build on those new keywords
The two steps above help understand who your online competitors are and what topics they cover. I admit that you can greatly improve your strategy with such insight alone.
But you can go much further. Using the Topic Explorer, you can learn more about each topic that's important to your competitor.
You can:
Identify semantically-related phrases to target,
Find more long-tail keywords that could drive traffic to your domain,
Discover keyword patterns for each topic, and even,
Verify whether the keyword is relevant to your specific industry.
Let's assume that my company does not sell t-shirts to everybody. We focus on supplying costume rental companies with apparel. Logically, not every phrase a t-shirt store targets would be relevant to me, and Topic Explorer can uncover that insight for me.
Researching the above keyword - "superhero t-shirts" - further, I discover that only 14 of its 95 variations are relevant to my use case! Focusing on the rest would be a massive waste of my time and effort.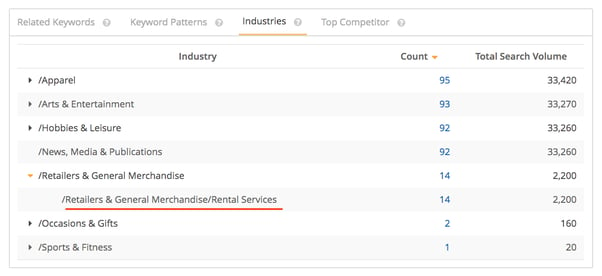 #4. Compare top competitors' keywords to identify the most important phrases in the industry
Finally, I can compare what keywords my competitors rank for but I don't. In the process, I can build a list of the most important phrases in the industry that I miss out on so far.
In the research below, I've compared 80stees.com with another of their competitors, looking for phrases both domains rank for in the first five search results.
Looking at my findings, I have a whole list of top industry keywords I can now start tackling! Incredible, isn't it?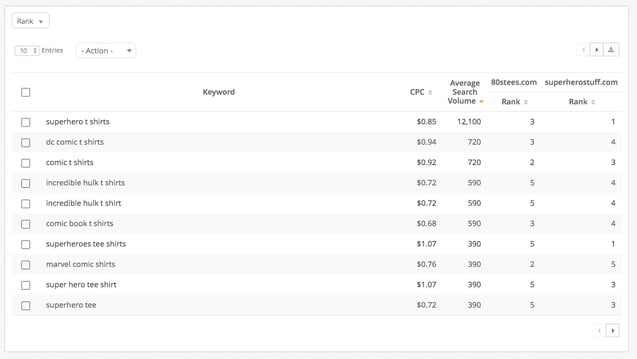 Key Takeaways
Competitive keyword research allows you to understand who your online competitors are, actually, and what phrases drive their success. Such findings, in turn, allow companies to plan better SEO campaigns and ensure they target the most relevant keywords only.
What's more, the process isn't complicated, although it requires access to relevant data about the competition.
Want to see how seoClarity will help uncover your competitors' SEO strategies? Book a demo and one of my colleagues will walk you through it.