Just before the new year, our co-founder, Mitul Gandhi wrote:
"The pace of change in the digital landscape is enough to make anyone's head spin."
In the last two years alone, Google issued 17 updates to their algorithm (not counting smaller enhancements). Not to mention changes in consumer behavior and emerging search technology (smart home devices for instance) and consumers increased use of their mobile devices.
But here's the catch:
As the leading content optimization and natural search insights platform, it's our job to always keep abreast of the new industry developments in SEO and content. We can't be intimidated by new algorithm changes or emerging technology.
We remain focused on our goal to be a technology provider to solve our clients' toughest marketing challenges that will in-turn boost their search visibility. And we do it by constantly evolving to embrace these new trends by updating to keep ahead of the fast pace in this digital industry.
What's more, many updates come directly from our users' feedback. If two clients make a request for an enhancement or feature, we deliver it.
It's that simple.
So, with the year coming to a close, I thought I'd be a great idea to let you know what's been going on at seoClarity in 2017, and show you various new features and enhancements we're really proud of.
(Naturally, we made many more enhancements than the ones listed below. We couldn't possibly include them all here in this one post as there are far too many to list.)
But here is the recap of some of the major seoClarity's new product launches, enhancements, and relaunches of 2017, as they happened.
1st Quarter
#1. AMP Filtering
This offered clients the ability to filter keywords by AMP page and how these pages changed or to better understand the impact of AMPs on their keyword rankings.
#2. Site Audits
Our built-in site audit technology, Clarity Audits, received a major relaunch. This was a re-build from the ground up and provides our clients with the ability to have deeper analysis. In fact, every page crawled is analyzed against 40+ advanced technical issues and continues to learn and evolve to identify new issues over time.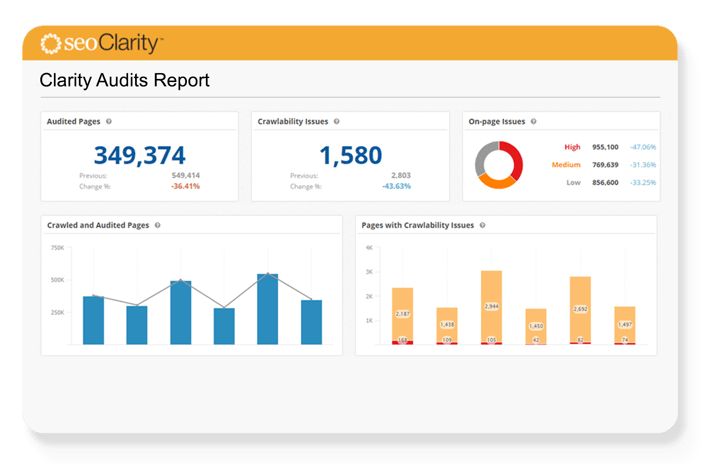 #3. Research Grid
Using Research Grid, a newer, relaunched version of our Competitor Keywords tool, enhanced with machine learning to deliver insights to power their SEO strategies. It provides access to the entire search landscape to understand content performance, gaps, and opportunities.
In practice, this is how it works - the only way to make meaningful decisions regarding the next actions you want to take to improve your organization's search visibility is by analyzing the data first.
But how often do you find yourself lacking the right information?
That's where Research Grid comes in. The tool provides a complete view of the performance of any keyword, domain, and content on the web. And you can use it so many ways. For example, to find opportunities to appear in the Answer Box (aka featured snippets).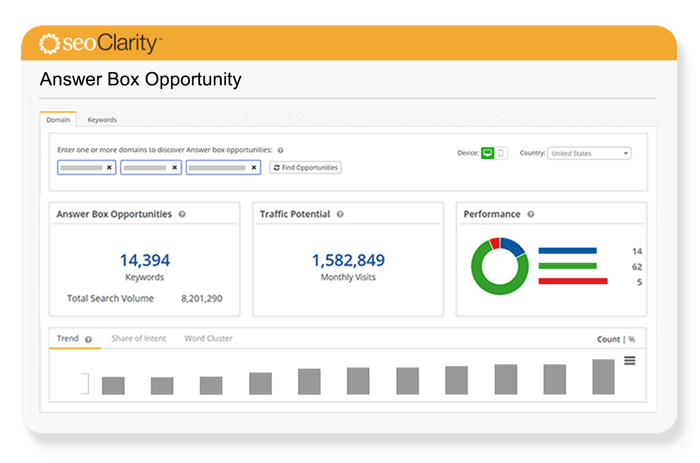 Another tool within Research Grid, Content Ideas helps you identify questions your target audience asks, and power up your content development.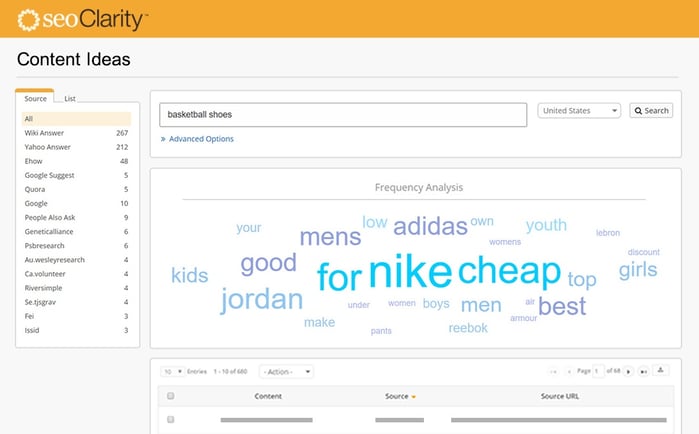 And there is so much more…
(Note: To help you get the most the Research Grid, we wrote about practical applications of the Research Grid.)
#4. SERP Preview
We also enhanced our SERP preview tool, adding transparency and more detailed view in the data for Google, Yandex, and Baidu for all managed keywords. This helps alleviate any concerns in data accuracy and to give our clients additional context when reviewing their rankings.
2nd Quarter
#5. Content Gaps
Shortly after re-launching the Research Grid, our Wisdom of the Crowd tool received a major boost, and we relaunched it as Content Gaps.
The tool allows you to start capitalizing on keywords that already work for your competitors but you don't rank for yet.
Here's how the main report the tool provides looks like: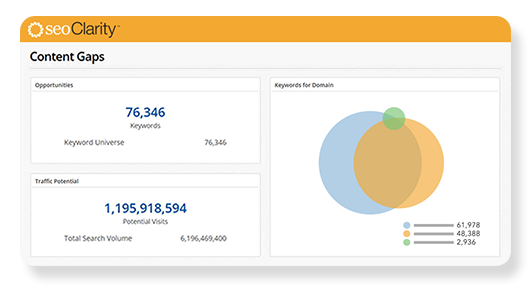 And you can read more about closing the content gap.
#6. Bot Clarity
In May, we released an enhanced version of Bot Clarity, a tool that provides quick insights and analysis of crawl activity, and helps you eradicate any potential issues before they affect your online visibility. This was an important update to ensure all clients could have access to our log-file analyzer to scale their ability to manage their crawl budget.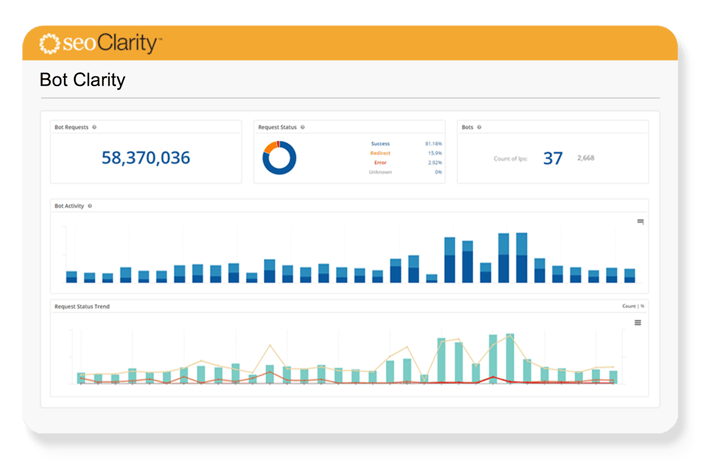 #7. Local Clarity
If you manage online visibility for a multi-location business, then I'm sure you've experienced that managing Google My Business insights and reviews is challenging.
Seriously challenging, in fact.
That's why we added LocalClarity to our suite of tools. It allows multi-location businesses aggregate and manage GMB data from one single location daily.
But that's just the tip of the iceberg.
From filtering insights by region, territory or even a manager, to viewing trends by date, to correlating optimization efforts with actual results, the tool gives a full overview of your entire business.
(You can check out LocalClarity here.)
#8. Research Grid Enhancements
Shortly after Research Grid went live, we introduced its further enhancements. We added the ability to save filters, and instantly download up to a million records. The most impactful update in this was the ability to see the historical trends as far back as January 2016.
#9. Voice Search
Finally, in June we launched a suite of tools to allow our clients optimize for voice search.
(And this makes seoClarity the ONLY tool in the industry to offer tools that help boost visibility in search assistants, etc.)
Because let's face it, voice search is by far one of the most disrupting trends in search today.
Just take a look at these couple of stats:
And to help brands capitalize on this opportunity, we launched voice search optimization tools.
Specifically, our users are now able to optimize a number of elements that affect their voice search performance:
Discover which of their keywords trigger the Answer Box
Analyze the Answer Box opportunity within the entire industry
Discover what people also ask for in search (via the "People Also Ask" widget), and
Analyze their page speed.
We launched those tools in turn across a number of months. But given how interconnected they are, it made the most sense to interconnect them together.
3rd Quarter
The days between July and September were busy for us too. For one, we made another major improvement to the Research Grid:
#10. Research Grid goes LIVE!
In August, Research Grid was upgraded to provide live data, now offers updates all month long to track and monitor content performance in real-time. It allows you to identify any volatility in ranking updates across the entire search landscape, execute A/B testing (yes, in SEO!), and understand page-level opportunities that gain or lose visibility -- plus, much more!
#11. Real-Time Rank Checking
A specialty feature was added for a specific use case to understand ranking fluctuations and changes within a 24 hour period. So, since September, we're capable of analyzing rank changes in real-time. If you want to assess how long does it take you to rank for specific keywords on a product launch day, for instance, or any other event-like occasion, we can provide that data. It's amazing to see how quick the search engines respond and update the SERP in this type of use case.
#12. Local Business Rankings
As you already know, in Q2, we launched Local Clarity, our standalone tool for managing Google My Business data for multi-location brands.
And just a couple of months later, we enhanced our local rankings analysis in our main platform. From September, you can monitor how your brand ranks within local listings, and analyze it by country, city, state or even at a zip code level.

#13. Rank Intelligence
I'm sure we can all agree, ranking reports often don't reveal enough insight to help you make informed decisions about your search growth.
Even extracting information from them often means going through various separate reports, and collating the data to make any sense of it all.
As Mitul wrote a couple of weeks ago:
Albeit useful, a typical ranking report fails to offer you the opportunity for gaining extensive insight into your search visibility.
(And he's made a very strong case to prove it. You can read his post here.)
Needless to say, we've tackled that problem at seoClarity too, and in September, released a new feature - Rank Intelligence.
Rank Intelligence is the industry's ONLY real-time, fully interactive SERP intelligence tool.
It allows you to explore your managed keyword data in real-time, and access incredibly in-depth insights right when you need them.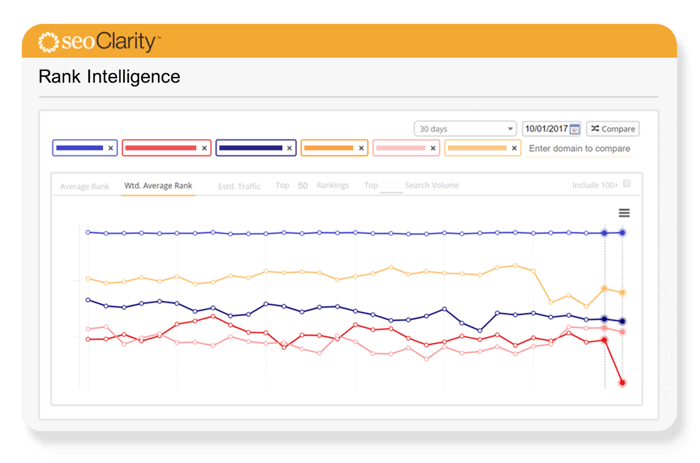 #14. Search Analytics
Remember how four years ago, Google took away the search query data from us, replacing it with the dreaded "not provided"? And with that, reduced our ability to make data-informed decisions to increase our search visibility?
We've figured out a way to get it back. We've reversed Google's search query encryption, and unlocked the search query data through our new tool - Search Analytics.
The tool allows you to:
Uncover search phrases behind the "

not provided

" label.

Analyze ~100% of the actual keywords driving traffic to your site

Allows you to correlate keyword level data with all of your other SEO metrics

Conduct the most accurate brand vs. non-brand analysis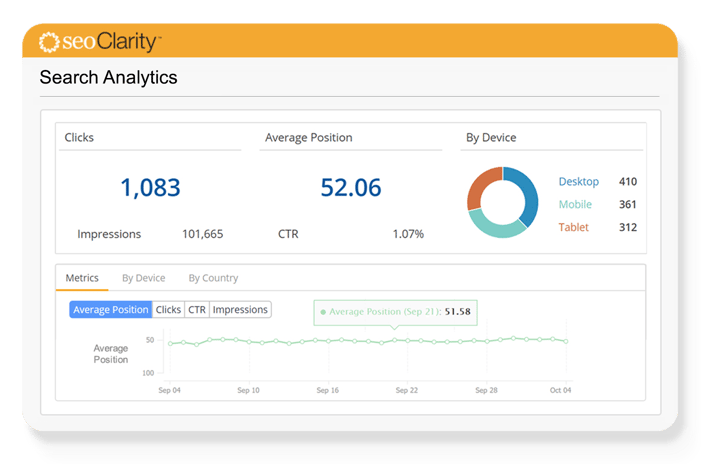 4th Quarter
With a year drawing to a close, we didn't slow down a notch. In the last months of the year, we released one major enhancement, one new tool, and relaunched two others.
#15. Javascript in Clarity Audits
Remember, we relaunched Clarity Audits in Q2. And at the end of the year, we enhanced it with the ability to crawl Javascript and assess various issues related to it on your pages.
#16. Internal Link Analysis
We've also added the ability to audit your internal links to the Clarity Audits tool. Here, take a look:
#17. Social Metrics
There's an unimaginable insight you can gain from the content's virality. Discovering the most trending topics for your competitors can help steer your content development.
Identifying what pages your audience loves the most might suggest what similar assets you could develop, and so on. And to help you gain this and many other insights, we've relaunched the Social Metrics tool. In short, the tool allows you to discover the top shared pages for any domain and evaluate their social metrics.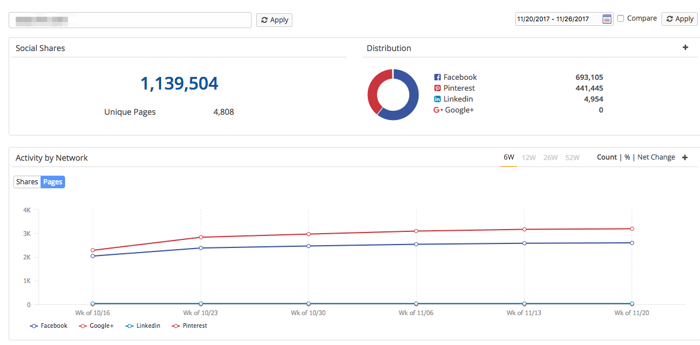 #18. GeoRank
I've already told you about Rank Intelligence, our real-time SERP intelligence tool.
But given how much location dependent rankings might be, in December we've also relaunched our GeoRank tool to allow you gain similar, real-time, interactive insights as Rank Intelligence but for location-dependent queries.

And there you have it.
18 of the major new releases, enhancements, and improvements we've made to the seoClarity platform during the last 12 months.
Have a suggestion?
Many of our new releases come directly from user feedback, and we're always keen on hearing more. If you are a client, you can make those feature requests or enhancements here which is evaluated constantly.
Plus, with Clarity Grid, our technology stack that enables interactive, real-time analysis right within the platform. It also enables us to deploy updates pretty quickly.
(Which I'm sure the above list proves well.)