Several years ago, link building was considered a major focus for SEOs. Unfortunately, some took advantage and began manufacturing authority with unnatural backlinks, which drew the attention of Google. The search engine then launched the Penguin Algorithm Update in 2012, removing authority from unnatural links and penalizing sites that had used them.
Building site authority with strong backlink management is still an important part of any SEO campaign—it's just a tricky one to get right. It takes a sound link building strategy and the right data to naturally build a link profile, but when done successfully with quality links, it's a valuable way to gain credibility with both users and search engines.
The following blog post is designed to familiarize readers with how seoClarity can help clients build site authority and improve the user search experience by optimizing their backlink index via link reclamation.
seoClarity and Backlinks
Google's guidelines on link schemes and inorganic link building strategies make acquiring high quality backlinks somewhat difficult for most enterprises, but our objective isn't to be the resource for finding every opportunity for backlinking that exists.
Rather, we are interested in driving the best possible search experience for clients' end users. Receiving a link back to your site from an authoritative site is an effective SEO tactic, but link building toward a non-relevant industry's site is really only a way to influence search algorithms—it isn't helpful to your users, and you can be penalized for doing it.
Where Does Our Data Come From?
Research Grid is populated entirely from our own proprietary databases (that we compile). The one exception to this is our backlink data. We get our data for Backlinks Explorer from Majestic, one of the three primary players in the backlink data game. We use Majestic's data simply because the amount of data you get and the data points provided are unparalleled.
Domain Types in Backlinks Explorer
Backlinks Explorer divides domains into three different types:
Provisioned Domains – Provisioned domains are domains that have an account; they have been added directly to the seoClarity platform.
Competitor Domains – Competitor domains have been specified by account holders of provisioned domains as belonging to the competitors they are interested in investigating. We also maintain the freshest data possible on competitor domains.
Ad Hoc Domains – Any domain that isn't a provisioned domain or competitor domain is an ad hoc domain. If you search for the data on an ad hoc domain, the Backlinks Explorer will tell you that there is no data in the platform for that domain and ask if you would like to retrieve it, a process which takes 5-10 minutes. Once you've retrieved data from an ad hoc domain, the system does not automatically refresh the data, as it does for provisioned domains and competitor domains (although there is a feature coming that will auto-refresh data for previously searched ad hoc domains!).
For both provisioned and competitor domains, the freshest possible data is 7-10 days old, which is above the industry standard (and only the case for backlink data in the platform).
What Do We Do with This Backlink Data?
The first thing we do—which is unique to seoClarity—is automatically recrawl every single one of those links. We do this every month to ensure that the data we are getting from Majestic is 100% accurate, so as to confirm that we provide the best information possible for our clients.
Looking at a backlinks report, the number of Unique Backlinks may seem important, but the most valuable metric is the number of Unique Linking Domains.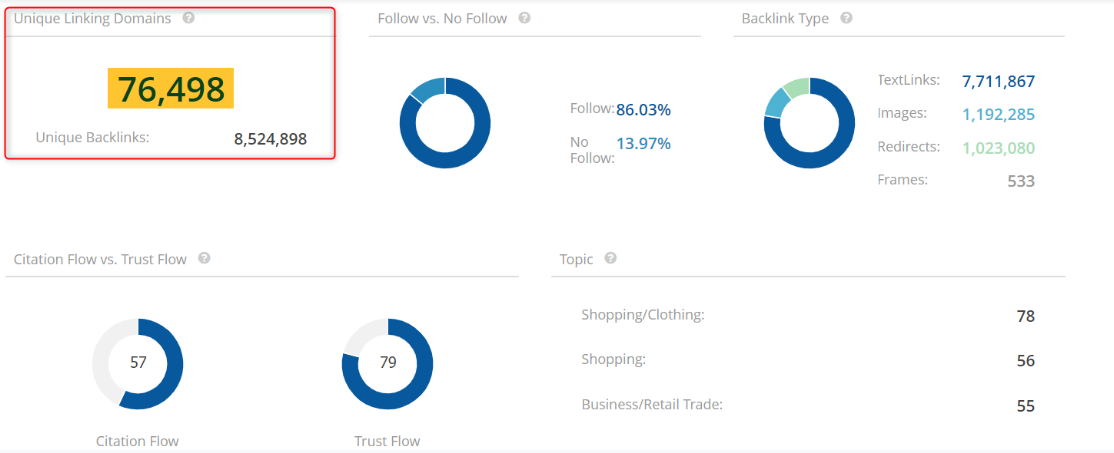 Backlinks Overview in the seoClarity Platform. Unique linking domains are highlighted for this particular domain.
Here's an explanation by way of metaphor: If you treat links to your site like a recommendation from someone, then the Unique Linking Domains show the number of people doing the referring, and the Unique Backlinks show the number of recommendations you have been given.
For our purposes, you would rather have 10 people referring you one time each instead of one person referring you 10 times. This explains why Unique Linking Domains is the more important metric; after a site's first link to you, search engines value the others less—no matter how many exist.
How Does Backlinks Explorer Compare to Competitors?
Brightedge only retrieves data once—you get 50,000 links, which are not updated unless you ask. Conductor does not have Majestic or backlinks data at all. Search Metrics uses its own data set, which is far smaller than Majestic's, and SEMrush charges per row of data downloaded. Ultimately, seoClarity's tools simply reach farther and perform better.
Backlink Reporting
What Can a Backlink Report Tell You?
A backlink report tells you a number of things:
Number of links you have gained or lost over time
Percentage of your backlinks that are follow vs. no follow
Breakdown of backlink type (text, image, etc.)
But of all the capabilities of Backlinks Explorer, the two most important for improving search experience are finding broken links that you should fix (also known as link reclamation) and finding "toxic" links that you should remove.
Fixing Broken Backlinks: Link Reclamation
Fixing broken backlinks is important because if some other site has a faulty link to your site, a positive search experience is not provided for your users.
To find broken backlinks, filter the data by clicking the status box on the left of the page under the Target URL title. This will give you a further drop-down menu of filters, some of which are errors, like system (500s) or page errors (400s).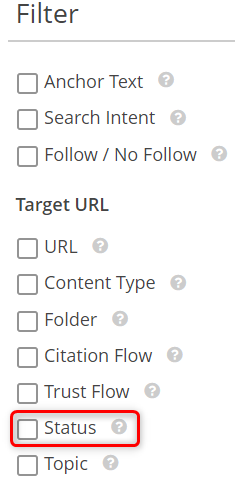 If you click the page error box, for instance, it will filter the data so the system returns a list of backlinks that point to a page on your site where the target URL is broken—meaning that if someone were to click this link, it would bring the user to a broken page. Once you have this list, you are able to contact site administrators directly to ask them to replace broken URLs with working URLs.
Why Bother Fixing Broken Backlinks?
Fixing broken backlinks is particularly important if they are coming from high value sites. Majestic measures value with two helpful metrics: Citation Flow and Trust Flow. The Citation Flow number measures how influential a URL might be based on how many sites link to it (so, in essence, the value is determined by how many sites point to another site that links to a site that links to your site). Trust Flow measures the quality and trustworthiness of the sites in the Citation Flow (like a high traffic news site as opposed to a low traffic blogger featured on a smaller site).
If a site's Trust Flow is high (30+), then that site is a valuable backlink. By sorting broken backlinks by Trust Flow, you'll find the sites with the highest Trust Flow—these are your best reclamation opportunities.
This same process works for 500 errors or any other errors you might want to look into.
Trust Flow is also valuable because it shows you what sites you do not want linking to your pages; any site with a Trust Flow number of 10 or below may be toxic.
What to Do with Toxic Backlinks
The only way to deal with a toxic backlink is to disavow it, a tool Google began to offer after clamping down on bad backlink practices. Disavowing a backlink means that you, the owner or operator of your site (or your webmaster), recognize that there is another site linking to yours that you do not want to count toward improving your search rankings. In other words, you want Google to discount or discredit the link.
When to Disavow a Toxic Backlink
Our advice: Disavow as infrequently as possible.
It's tricky; if you tell Google there are links you don't want to count, you are inflicting pain on yourself. But if you disregard or leave up truly toxic links, links that Google might notice and think you've purchased, penalties are looming. If you do feel that you need to disavow, do it as sparingly as possible, and be very sure that the links you are disavowing are worth disavowing.
Toxic Backlink Workflow
The Backlinks Explorer will show you links with Trust Flow scores <10, but in order to determine what links you may actually want to disavow, we recommend following this workflow:
Check Trust Flow.
Manually examine the site for relevant content.
Check Research Grid Keywords to see if the site ranks for any keywords on Google.
Check to see if any of those keywords are relevant to you.
If all results point negative, consider disavowing. If you can imagine a user stumbling from that website to yours and appreciating the transfer, then by all means keep it.
Key Takeaways
Link building is a valuable way to build site authority, but it is savvy to be careful how you go about it. With seoClarity's Backlink Explorer, clients have access to the freshest possible data, which they can leverage to improve both domain authority and their clients' search experience through link reclamation.
Something else to consider: removing toxic backlinks is really a preventative measure, taken to preempt Google from potentially penalizing you for unnatural backlinks.
---
Editor's Note: This content series showcases consistent and repeatable SEO workflows, trainings and guidelines for content marketers and SEOs to see the power of our platform and the solutions our clients are raving about, according to our Client Success Team. Not a client yet? Book a demo with us today to see our platform in action!