Here are the search-related news and developments we think mattered most for enterprise SEO this past week, with our point-of-view on why they matter and what action to take (if any). Look for the POV tag after a news item.
More Info About Sites/Pages in Google
On April 2, in conjunction with International Fact-Checking Day, Google announced five new or updated initiatives to provide more background information about sites that appear in its search results.
Three dots will now appear next to most search results. Clicking them will reveal in a panel showing more information about the site.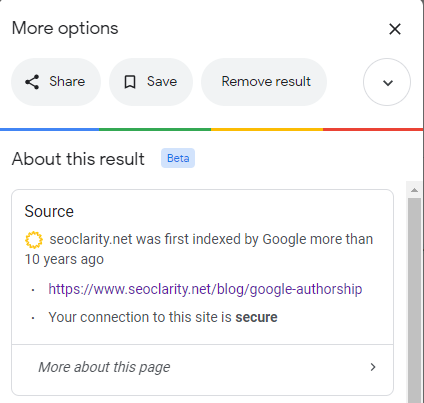 Among the information Google says it will show may be an "About this author" section.

POV: I'm calling attention to the "About this author" feature as an example of how recently Google has been showing renewed interest in the authors of content, as I detailed in this recent blog post about Google Authorship.
While we can't (yet) say that having a known relevant author on your content is a direct ranking factor, I think the level of interest Google is showing in knowing and surfacing legitimate authors means you should seek to show clear authorship, at least on your pages with your most critical content.
Best practice: Have a unique page for each of your authors that their bylines link to, and link from that page to other places they've written and their social profiles.
March 2023 Google Core Update
Last week Google announced they had completed the previously-announced March 2023 Core Update. According to Google, Core Updates are "designed to ensure that overall, we're delivering on our mission to present helpful and reliable results for searchers."
Lily Ray published a list of apparent "winners and losers" after this update. Her analysis confirms what we've been seeing for a long time: it is difficult, if not impossible, to pick out the specifics of what may have increased or decreased in value from a core update.
That's because Core Updates are rarely focused on a single factor. Instead, they are a mix of many changes, some small, some larger, meant to bring overall improvement to the quality of search results.
POV: Our advice is always the same in regards to core updates: If you are practicing all the fundamentals of Search Experience Optimization, working to optimize your site's Usability, Relevance, and Authority, you'll probably do fine through any such updates.
However, if you think you were impacted negatively by and update, or worry that you aren't prepared for future updates, we have two resources you should turn to first:
Google Reducing Brand Names in SERP Titles?
Many searchers have noticed that Google appears to be reducing how often it shows a site's name in the title of a search result even if that name is in the page's title tag.
Barry Schwartz provided this example: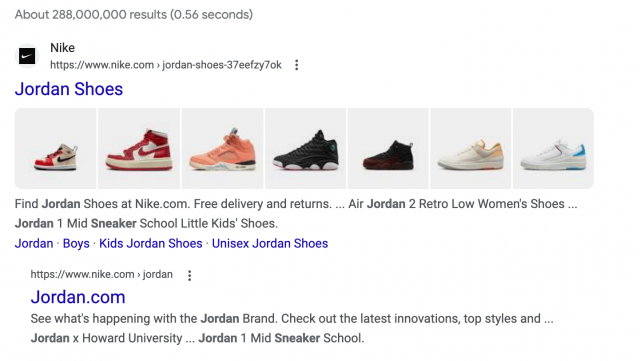 Image courtesy Search Engine Roundtable
A check of the Nike page shows that the title tag is "Jordan Shoes. Nike.com" but Google shows just "Jordan Shoes." This could be because they have recently increased showing the brand name and favicon with the URL in the result, as you can see above.
POV: Check how your title tags are being displayed. If you include your brand name in your title tags but Google is not showing it, perhaps consider using that character space for other messaging that might increase CTR.
More URLs in Core Web Vitals Report
Google updated its Search Console Data Anomalies page on March 27 to alert users that they are now reporting on more URLs in the Core Web Vitals report (by including some that previously fell below the reporting threshold) which may cause users to see an increase of URLs in their reports.
That's a wrap!
Watch next Friday for another edition of Search This Week and stay up to date on the search news that matters for enterprise SEO!