Here's something I'm sure we can both agree on:
In spite of all the changes to how Google ranks domains, link building remains one of the best strategies to ensure higher search visibility. Sure, new ranking factors rise while others diminish in their importance.
And frequent algorithm updates introduce new challenges and opportunities for boosting a domain in the search results.
That said, if you want to rank, you still need links.
Plenty of them.
But here's a common challenge we hear about from our customers:
They know that they need more backlinks.
They're aware that these can't be just about any links but good quality ones.
Yet they struggle with finding ways to gain them organically.
And so, in this post, I'll detail four ways to create link worthy content that generates high-quality backlinks. On autopilot.
Intrigued? Then let's take it from the top.
What Makes Linkworthy Content
Today, the best links come from organic mentions and references. One example of this is webmasters who include your content in their blog posts, quote your ideas or cite you as a source.
Can you guess who are the best people to target when building links?
Content creators. Writers. Content marketers. Because all of them constantly need resources to enrich their words with authoritative references.
SEO is one reason for that, of course.
Although Google has officially denied that they use external links as a ranking factor, many of us believe that references we include in the content act as a sign of quality.
As Andrew Dennis from Siege Media points:
"Google uses links as a signal of trust in their algorithm because people tend to link to trusted authorities online."
Authority is another.
Nobody writes content for the sheer pleasure of putting words and sentences together. We do it to attract new audiences and start building a relationship with them. And let's face it, to do that, we need to make our content sound more authoritative than our competitors.
That's one reason why data-driven posts rose in popularity.
In 2014 alone, according to the data from LinkedIn, professional and relevant content consumption rose by 65%.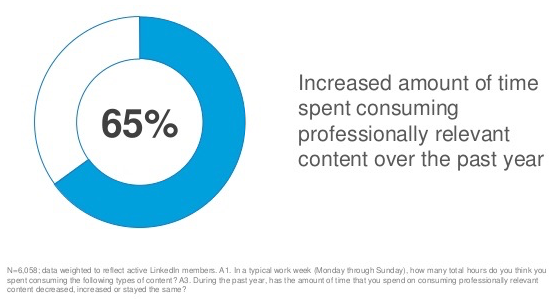 This type of content constitutes nearly half of our entire information consumption. Here, see for yourself:

And here are just some of the benefits of creating authoritative content: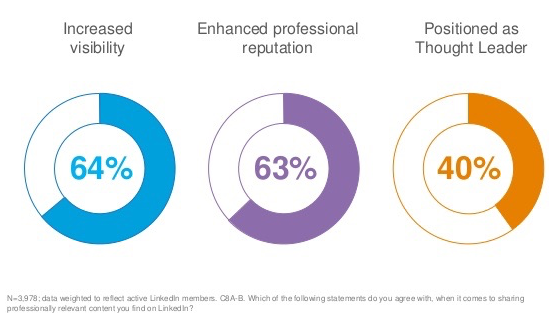 It's no surprise that so many marketers create content that helps highlight their authority and positions them as thought-leaders. But here's the catch:
To achieve it, they need references, quotes, and data.
And that's the secret for creating link worthy content. You need to create resources others can reference to boost their reputation and authority.
Resources like these:
#1. Proprietary Research
Nothing beats unique research when it comes to the ability to generate links. For one, if done well, research provides intriguing insights that attract the attention of your target market.
(It's one reason why research-based content attracts so many views and social shares).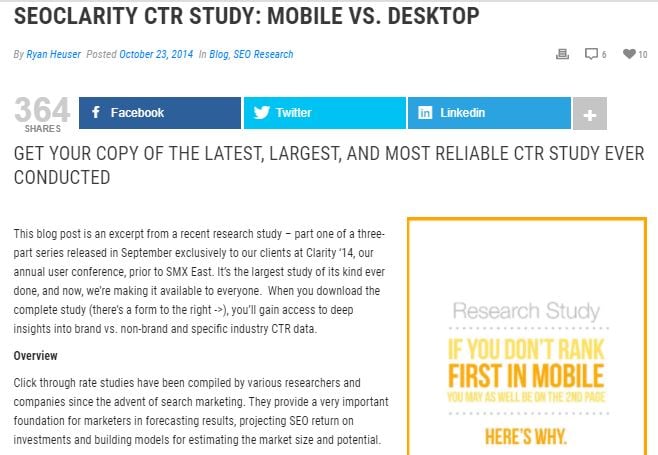 Plus, it gives other content creators relevant information to share and enhance their content with. Here, just take a look at some of the backlinks the post from the above screenshot attracted.
Search Engine Land: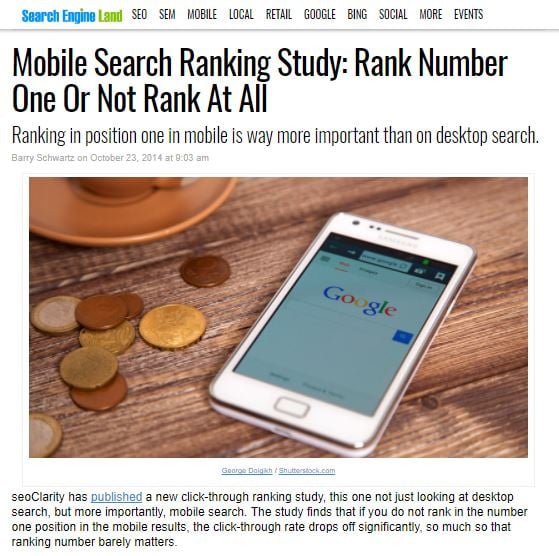 And the best part? You don't need to use surveys or engage people in any way for your research.
In fact, the most popular research projects lately focus on analyzing the data you have available to uncover insights that:
are relevant to the target audience and also,

provide actionable insights that would help them quickly improve or overcome a particular challenge.
Here, let me show you: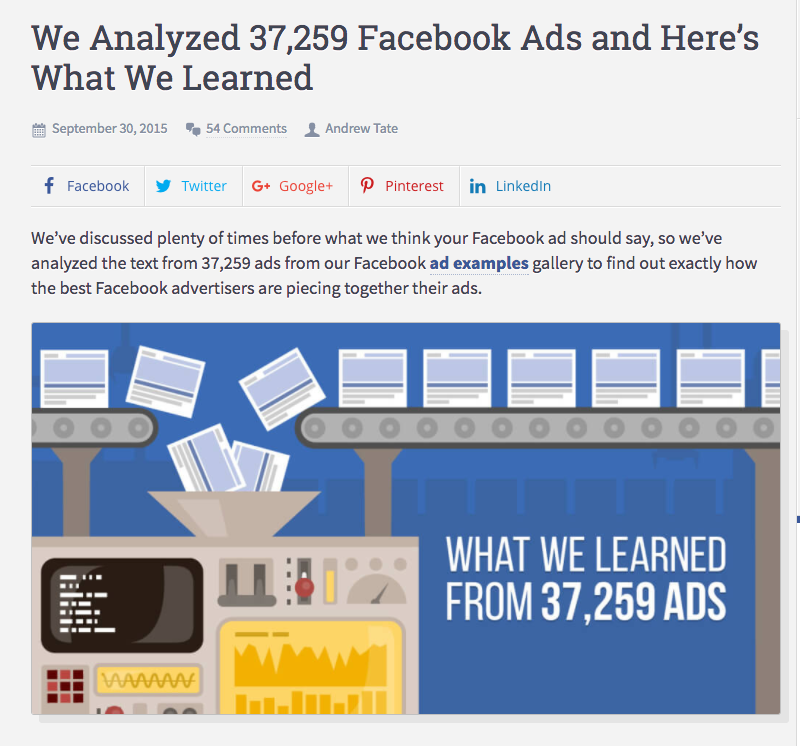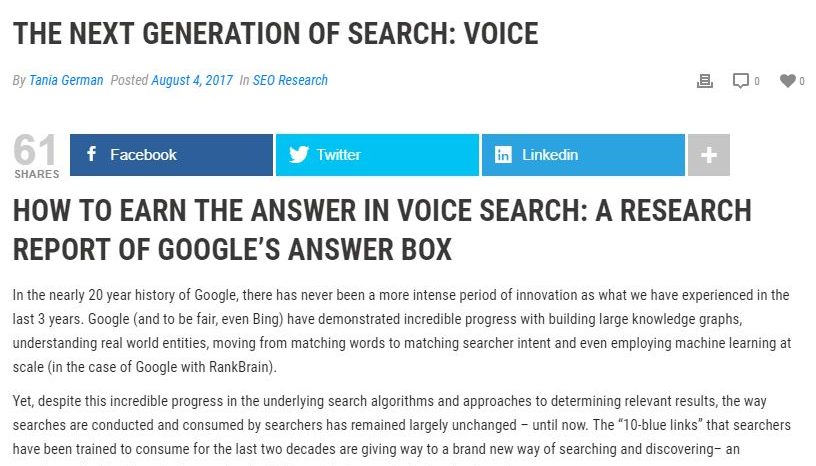 Amazing, isn't it?
#2. Quotable Content
True, others can quote pretty much anything you write.
At the same time, would they? I sincerely doubt it. That's because, for the most part, content creators seek out specific content to quote - one that helps them highlight any points they make.
In other words, they seek out original opinions and arguments that explain the WHY of specific ideas.
Here's one example from Inc.com. Look how the author used a quote to provide an argument for implementing a specific local search strategy: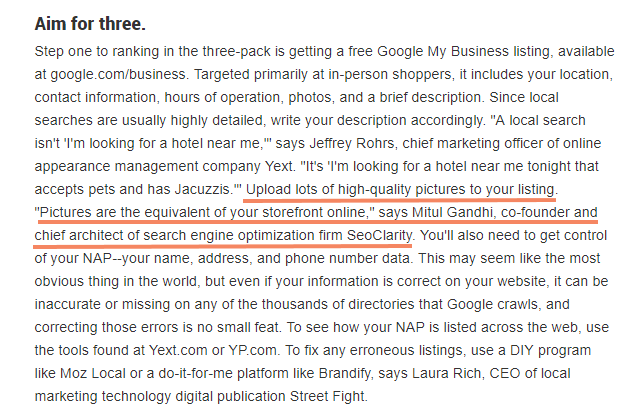 And you can see why a person may have used this quote (and how did they find it) when you look at the original: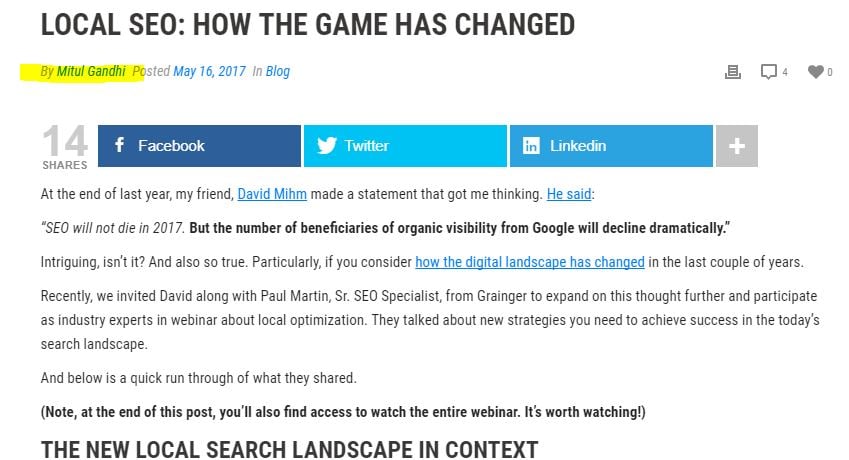 Notice how the original focuses on providing arguments. These can be used by others to enhance their content. And so, when creating content for your site, consider enhancing it with arguments that others could use and quote in their content.
It's a passive link building strategy that could provide amazing results in the long run.
#3. Resource Lists
Here's the thing:
Resource lists attract links because they provide a lot of referenceable material to others. For example:
Writers can include it in their resource lists.

They can also quote sections from your post relating to specific items you've mentioned.

Or even use it to boost SEO by linking to an authoritative source.
Here, let me show you. These are just some ways writers and marketers referenced Jon Cooper's Link Building Strategies resource page:
Hubspot:

Neil Patel:

Single Grain:

Plus, creating resource lists is relatively easy, albeit it can take a lot of time. But as you can see, the rewards for creating them can be extraordinary.
How to know what resources would generate the most links?
The answer is actually simple - your list should revolve around solving your audience's questions or pain points. Take content writing as an example, create a list of resources that help you learn how to write a more engaging copy, and so on.
TIP: Using seoClarity's Content Ideas tool you can quickly identify questions that could be answered in a form of a resource list. For example,

#4. Video/Interactive Content
I'm sure you've already seen stats proving the effectiveness of video or interactive content.
If not, here are a couple that highlights it:
51% of marketing professionals worldwide name video as the type of content with the best ROI. (

source

)

Marketers who use video grow revenue 49% faster than non-video users. (

source

)

Video drives a 157% increase in organic traffic from SERPs. (

source

)
But here's another fact about videos and other visual content - they attract links. Marketers often mention and even embed visuals into their content, and reference the source.
Conclusion
Fact: If you want to boost rankings, you need links. And to acquire them, you need to publish content types writers and marketers will want to link to. Hopefully, after reading this guide, you were able to generate ideas that would work for your own content to attract more links.