Do you want to boost your keyword rankings? Are you wondering which backlink strategies will offer the biggest return?
In this article, you'll discover 8 easy strategies you can follow on how to build backlinks in 2023 while also improving your content's authority and rankings.
Before we get to that, though, let me tell you a little backstory. It will help you understand why certain link building strategies still work, while others have completely lost their effect. From there, we will dive into where to source new backlink opportunities.


A Backstory on Backlinks
Clients often shared their concerns about how to find backlink opportunities and get those backlinks, or inbound links, to their sites.
One client in particular had read various authoritative blog posts about link building that left them unable to tell exactly where to look for new links and how to build them.
This, however, comes as no surprise. In a quick Google search of my own, I saw that a lot of the advice online revolved around relentlessly scouting the web to find new backlink opportunities. All while most of the information is actually hiding in your existing website data.
Note: If you are just getting started with backlink building and optimization like the client above, start with our primer on backlinks, What are Backlinks and How Do They Work?


Link Building Today
Contrary to many comments you may have found online, link building isn't dead. What's more, links continue to remain one of the strongest ranking signals.
As a matter of fact, with all other factors — content and technical SEO — being equal, a website with a stronger link profile will always rank higher.
But acquiring links has become extremely difficult, time consuming, and highly resource-intensive. Acquiring quality backlinks is not an easy task when you have to approach someone out of the blue and persuade them to link to your site.
Luckily, there are ways to overcome this challenge.
First, many great backlink strategies revolve around your existing link profile. Needless to say, reaching out to someone who is already linking to you is much easier than researching a new partner sites to get the link from.
Other strategies you'll find in this post require more effort and resources, sadly. Yet they can still generate wonderful backlinks to drive up your rankings.
So, without any further ado, here are the best backlink strategies to help you rank higher.


8 Backlinks Strategies to Boost Rankings in 2023
A quick note before we begin: I've organized these backlink strategies into two groups. The first three strategies below will help you find new links in your existing link profile. Strategies four to eight allow you to expand your link profile with new mentions and backlinks. I've included links to each strategy's section below for easy navigation.
| | |
| --- | --- |
| Find New Links in Your Existing Link Profile | Expand Your Link Profile With New Mentions & Backlinks |
| | |
Recommended Reading: Link Profile Analysis: How to Maintain a Clean Backlink Profile


#1. Change NoFollow Links Into DoFollow Links
A natural link building profile should have mixture of DoFollow and NoFollow links. Your aim here should be to increase the amount of DoFollow links to 70% to 75% and take the NoFollow link ratio below 25%.
As per the new Google guidelines, this is going to be challenging as many websites prefer to offer nofollow links. But it's always worth asking websites with high domain authority to change nofollow links to your site to dofollow.
View your existing links by the target pages that have nofollow links. Here's the quick report in seoClarity's Backlinks report:

#2. Add an Alt Attribute to Image Links
A link from image is fine, but an image without an alt text tag is not help for Googlebot. Search engines and other robots cannot interpret images without the alt text, but images can still play a crucial part in how people interpret a particular web page. Alt tags solve for this by providing text which search engines read to understand their value.
These are easy to find using the filters in the Backlinks report:

#3. Monitor for Lost Links
There's a good chance that current sites have that did link to your site, brand or company, but for whatever reason, they dropped the link. This could be a conscious change or possibly the site dropped that page. Prioritize the lost links from highly authoritative sites and reach out to them and reclaim those links. It might negatively impact your site.
It's also important actively monitor the anchor text and to make sure there wasn't a change from a current dofollow link to a nofollow link.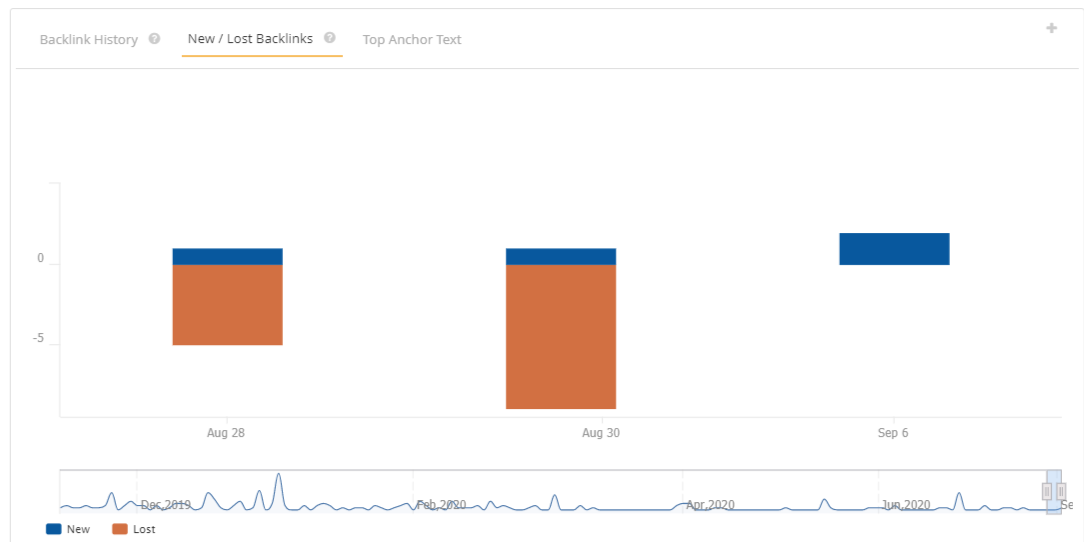 Recommended Reading: How to Run a Backlink Analysis of Your & Your Competitors' Link Profiles


#4. Reclaim Unlinked Brand Mentions
One of the things any enterprise brand is rarely short of is press coverage. Either their products, recent developments, or news get referenced online often. However, not all of those references would include link back to the company's site.
Reclaiming those unlinked brand mentions is the basis for this strategy.
Using your brand monitoring tool of choice, review brand mentions to identify the ones missing a link.
From them on, the process revolves around conducting outreach to those publications, asking to update the page with relevant link so that their readers could learn more about the company.
TIP: This strategy works equally well on name mentions. Instead of brand mentions, however, look for online mentions of key people from the company, and identify pages that miss a backlink.
#5. Publish Linkable Assets
Anyone actively building links will agree that it's much simpler to earn a link than to build it.
But how do you earn links to your content? You design it to be linkable.
Linkable assets are pages that offer information other people will find worthy of referencing in their content. The most common examples include:
Proprietary research other content creators could cite in their work, or
Collections of stats, like this page from Hubspot that collected more than 8,500 backlinks to date.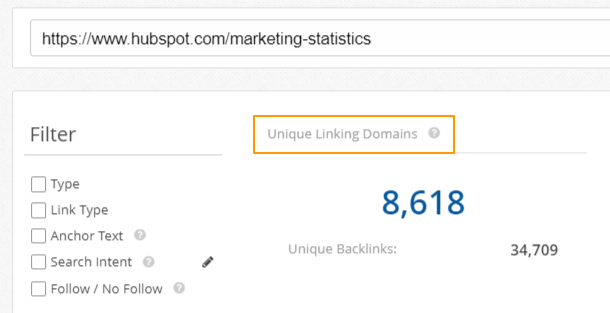 #6. Build Free Tools
A free tool can generate buzz about the company, and help it acquire organic, white-hat links in the process too.
Sumo's Kickass Headline Generator earned the company links from 202 unique domains last year alone.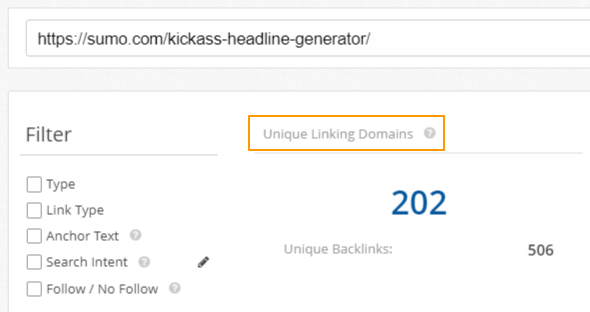 For it to bear fruit, this backlink strategy requires additional PR push to spread the word on the free tool. You must ensure that people who could link to it will know the tool even exists, after all.
This can be done in many ways — through personal outreach to bloggers, submitting the tool to ProductHunt, mentioning it online on Quora and various online forums, and more.
Speaking of free tools, seoClarity recently introduced our latest free tool, Schema Builder, a Chrome plugin that allows users to add structured data easily, without the need for a web developer.
Its point-and-click functionality generates perfect schema markup for any webpage in mere minutes. We dare you to try it and join our community of users who are loving this free solution to solving their schema challenges.
#7. Guest Blogging on Top Sites
SEOs have different opinions on guest blogging, and rightly so.
Post on low-quality sites that exist purely to generate low-quality content, and the backlink strategy can be easily seen as spam.
However, demonstrating your expertise on authority sites in the industry is a great way to keep the brand fresh in the customers' minds, and generate backlinks to various content pieces.
The downside to this strategy is that it requires a lot of effort to deliver results. You have to identify potential guest posting opportunities, reach out to those sites and pitch your ideas to the editor or blogger in charge, create the content, and manage the process until publication.
The process may involve multiple steps, but it can work to earn your site competitive backlinks from reputable blog and editorial sites.
Then, consider performing email outreach to influencers in your industry — they may just link to it or share it on their channels. Alternatively, you can follow the broken link building method, which involves finding broken links on websites (websites that you'd like to have link to your site), reaching out to the editor to let them know about the broken link, and offering your content as a resource to link to instead.


#8. Product Reviews
This strategy is ideal if you want to build links to product or other money pages. These assets aren't very link-worthy, typically, with not many publications wanting to include such references in their content.
The situation is different with product reviews, however. In such instance, reviewers will almost always link to a reviewed product, to allow their audience learn more about it, and purchase it, if they wish to do so.
I admit that this might be a bit more costly strategy, requiring to send free samples of the product to selected bloggers or publications.
However, if you struggle to build links to money pages, then, acquiring product reviews offer the biggest opportunity to overcome this.


Closing Thoughts
It's only natural to launch any link building strategy by looking for new backlink opportunities outside of your site. However, internal data about existing links as well as site's performance helps to gain focus and clarity to identify the best potential links to create.
The best opportunity for sites is to evaluate existing data first for insights before scouting the web for new linking partners. Having this as part of your SEO strategy is instrumental in driving continued success and boosting authority signals.