Google has long-prioritized the search experience.
Every year it has released several algorithm updates to tackle spam and poor-quality results like Panda and Penguin.
Nearly two years ago, the search engine rolled out the Mobile-First update, giving brands years to improve their mobile experiences.
Then nearly a year ago, they turned toward page speed and rolled out the Page Experience update.
Even a recent Core Algorithm Update focused on unique content that is authoritative.
But now with the Helpful Content Update, Google is enforcing the need for unique, quality content with greater specificity.
We're hearing from many SEOs who are worried about how this update applies to their site.
Here's our take:
90% of enterprise websites shouldn't be worried.



5 Reasons You Shouldn't (or Should) Worry
Google has provided the basics of what this update is about, but SEOs may still wonder what all that means.
Here are 5 key takeaways from what Google said, and reasons why you shouldn't (or should) worry.
#1. Auto-Generated Content
The challenge of scaling content generation has existed long before new technologies like OpenAi's GPT-3 (content created from an AI to mirror human-created copy) burst on the scene a couple of years ago with the promise to make it faster and more cost efficient.
Many SEO teams and SEO tools flocked to leverage it as a way to build content at scale.
Before it came along, enterprise sites sometimes relied on "templated" copy for generating seemingly unique content for thousands of product or location pages, and many still rely on that approach.
Google specifically calls out these approaches:
Are you using extensive automation to produce content on many topics?"
At seoClarity, we spent years experimenting with such approaches and technologies, and reached a simple conclusion: the content written and the experience provided just aren't good enough for enterprise sites and their customers.
Recommended Reading: Should I Use AI-Driven Content Tools After the Helpful Content Update?
Plus, auto-generated content lacks overall brand voice.
If you're writing content that is unique and not just regurgitated or templated, you have nothing to worry about.


#2. Authoritative Content
I wrote this article Stop the Content Chaos a couple of years ago urging brands to stick to their expertise and do it well. This is what your customer desires after all.
It helps achieve exactly what Google is looking for:
"Does your content clearly demonstrate first-hand expertise and a depth of knowledge (for example, expertise that comes from having actually used a product or service, or visiting a place)?"
and...
"After reading your content, will someone leave feeling they've learned enough about a topic to help achieve their goal?"
We built Content Fusion, our content analysis and optimization technology, to assist writers to produce the highest quality, most authoritative content in the least amount of time. Content Fusion doesn't replace your expert authors; it helps them make their content even better.
Most enterprises agree that aligning with the end user experience is their objective for marketing objectives. If you are aligned to this goal and not adding to the content chaos, you should have nothing to worry about as a result.


#3. Optimize for Stickiness
If content is useful, authoritative, and meets the searcher's goals, it should also be sticky, meaning that your visitors should be spending some time consuming the content.
It's easy to detect content that is not. Metrics like time spent on page, bounce rate, and pages visited per session demonstrate that your users find the content to be valuable.
Google points to it in their statement:
Does your content leave readers feeling like they need to search again to get better information from other sources?"
Google's objective is to eliminate click-bait content that doesn't satisfy the intent of the query.
This kind of content is far more common on publishing sites whose only goal is to attract impressions for ad revenue than on e-commerce, travel, tech, or other sites.
Take the example of search results around the release of season 2 of "The Bear," a popular TV Show on FX.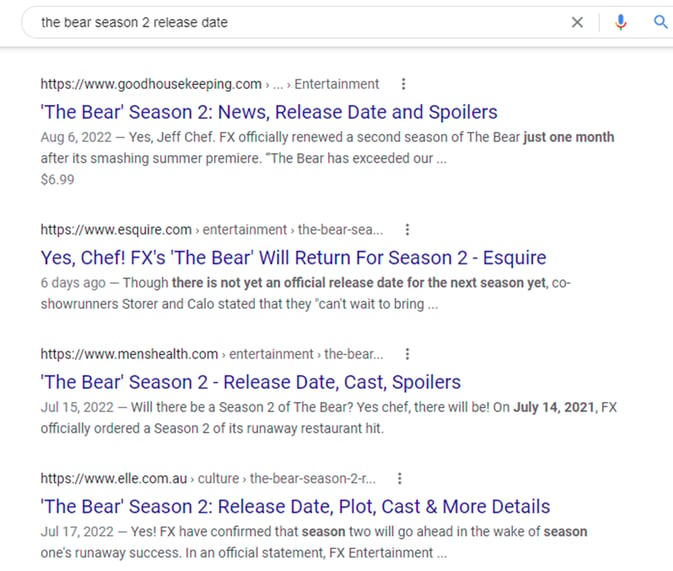 No release date has actually been announced, but that hasn't stopped dozens of sites from writing content with titles like "When will The Bear season two happen?" all in the hopes of getting a click.
To be fair, there's a lot of super obvious useless junk on the web, it might not all be affected by the initial launch, but it's a liability regardless. (There's certainly a gray area too though.)

— 🥔 johnmu (personal) updated for 2022 🥔 (@JohnMu) August 21, 2022

We intend to monitor the ranking shifts across millions of keywords we track daily to see which sites are impacted once the algorithm rolls out.


#4. Topical Relevance
Google has specifically called out two things in their overview of this update:
Does your site have a primary purpose or focus?"
and …
Did you decide to enter some niche topic area without any real expertise, but instead mainly because you thought you'd get search traffic?"
In our opinion, this is not Google trying to warn businesses not to expand their site taxonomy to include a new line of products or services – but it falls into a gray area of what is and is not within the topic relevance of a site.
Take the example of USNews.com building entire micro-sites around the topics of Cars, Health, Travel, Money, Coupons, etc.
It is debatable whether this was simply to capture search traffic or if it aligns with their primary purpose or focus.
You decide what you write, and whether it's low effort or not. Go and make truely awesome things that bring value to the web. That said, it you're giving financial & medical advice on a beauty blog, I suspect users are - probably rightly - going to find that a bit sus.

— 🥔 johnmu (personal) updated for 2022 🥔 (@JohnMu) August 20, 2022

We see issues like this when content marketing teams try to expand and go higher up in the buyer's journey. They get so far out of the topic they lose sight of how their content applies to the things users come to their site for.


#5. Search Experience Optimization
If you've followed our SEO philosophy, you know the best way to go about SEO is by thinking of it as search experience optimization. A long-term, pragmatic approach that centers around the experience of your intended audience is the best way to win at organic search.
It drives everything we do, from our products to our support, training, and services.
Mature enterprise sites find SXO aligns with their overall marketing strategy, and provides far more value than using SEO as a tactical channel for simply grabbing as much traffic as possible.


Actions to take now
Even if content is just one part of your site, address it now, because Google has said this update will affect your entire site's ability to rank if you have less-than-helpful content.
But if you think you may have low-value content, don't just go deleting content willy-nilly. Lyndon NA has a great thread on Twitter that explains some of the pitfalls of that approach.
Instead, do a content audit, dig into high-trafficked pages with a high bounce rate and low engagement (i.e. time on page, site duration). This is a great place to start.
Don't do anything drastic if generally your strategy has been directed to your target audience and helping them with quality content written for humans.
One of the best things you can do right now is monitor your data and measure the impact.
seoClarity's daily and ad hoc ranking capabilities and our cutting edge integration with Search Console and your site analytics can provide a 360-degree picture.

What is the Helpful Content Update?
If you'd like to know more about the Helpful Content Update, here are the details.
The Helpful Content Update is a site-wide Google update that promotes user-first content as opposed to search-engine first content. It aims to have unoriginal, low-quality, and less relevant content rank poorly in search.
Think of sites that aggregate content, write about topics outside their expertise, or promise in the page title to have certain information but actually don't.
Currently, the update will only impact English searches globally with plans to spread the update to more languages in the future.
Many other people have written about the Helpful Content Update. If you need to catch-up on the announcement, these articles from Search Engine Land and GSQi are the best recommendations and summarize Google's announcement.
Here's another resource from Google that we like: What creators should know about Google's Helpful Content update.


Conclusion
If you've been creating content that is on-topic, provides value to your target audience and their specific needs, you're going to come out ahead.
And, if you've prioritized the overall user experience instead of trying to chase the algorithm, you shouldn't need to worry about the Helpful Content Update.