"Search is still our biggest moonshot, but that moon keeps on moving."
That's how Prabhakar Raghavan, Senior Vice President at Google, introduced Google's live-streamed introduction to its then-latest AI-driven initiatives (held 8 February 2023 on YouTube).
All of us in SEO know one of the things we both love and hate most about our field is how search engines are constantly evolving. It's what keeps it interesting and makes it maddening at the same time!
But only rarely do we see changes as dramatic as those announced in February by both Google and Bing regarding their planned increased use of AI in search and search-related products.
This post will focus on the implications of these groundbreaking developments for SEO (feel free to skip down), but first, I'll provide a brief overview of the announcements.
For our latest on AI in Search, check our our recent post: AI and the Future of SEO: An seoClarity POV


Bing Brings ChatGPT to Search
At a live event on 7 February 2023, Microsoft revealed how they would integrate the ChatGPT technology they've heavily invested in with their Bing search product. They also noted that a version would be incorporated into their Edge browser.
The AI chat kicks in when a user enters a more complex query that is not easily answered by a single search result. Examples given included, "planning a detailed trip itinerary" or "researching what TV to buy."
When the Bing algorithm decides a query qualifies, the user is taken into a live, interactive chat experience. Bing then provides a written answer that draws from multiple sources on the web. The effect is as if a human assistant researched the topic in search and wrote you a summary of what it found.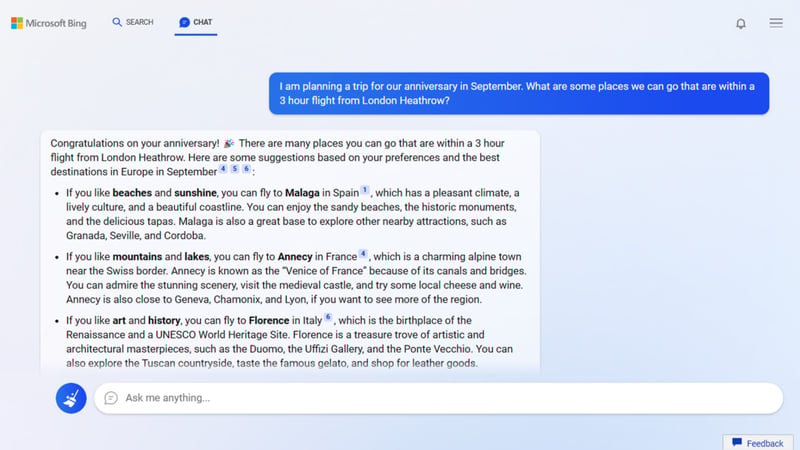 The resulting text contains superscript numbers that, when hovered over, show a website source that the user can click through to.
The experience is interactive as well. You can ask follow-up questions or provide clarifying feedback and Bing will answer in context to your previous query.
The chatbot answer experience also appears in Microsoft's Edge browser when the query justifies it or the user requests it. In the latter case, the user can click a chat button and ask it to do something, like summarizing the first page results or even summarizing lengthy text on a page being viewed.
You can also switch back and forth between chat-based and traditional results using tabs: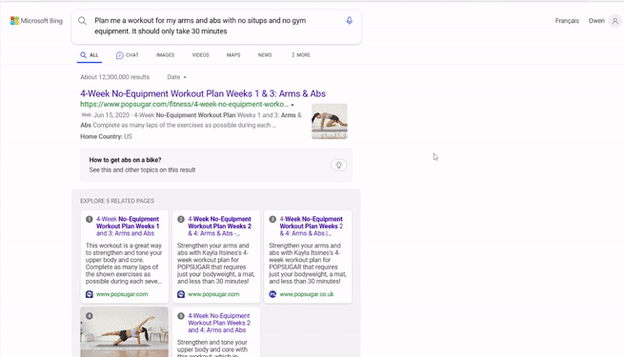 As of May 4, 2023, the new Bing is available to anyone who signs into Bing with their Microsoft account.
Google Announces Bard and More
In a blog post on 6 February 2023 and a live-streamed event from Paris on 8 February 2023, Google announced a number of new (or recently introduced) implementations of advanced AI in search and search-related products.
Alphabet and Google CEO Sundar Pichai's post focused on Bard, Google's new interactive chatbot. It appeared to work much like ChatGPT, except it draws information from the real-time web and so promises to be more factually accurate and up-to-date.
As of May 10, 2023, the waitlist to use Bard has been removed and it is now accessible to the public in over 230 countries and territories.
Alarming to some SEOs was the fact that, in the examples that had been shared at the time, Bard did not appear to provide any links or references to the web sources it may have been drawing from. However, some had reported seeing a link in some examples designated "Check it," which may reveal sources.
In response to the concern, Google Search Liaison Danny Sullivan tweeted:

Since then, Google has followed through on this intention by releasing an update on May 15 that improved upon Bard's ability to identify its sources by adding genuine citations in its responses.
According to the Bard FAQ page:
If Bard does directly quote at length from a webpage, it cites that page. For answers with image thumbnails, Bard enables users to easily see and click to navigate directly to a source for each image. Sometimes the same content may be found on multiple webpages and Bard attempts to point to a popular source.
AI Chat in Google Search
Bard has also been incorporated into Google Search. Here's a screenshot provided by Google of what that looks like: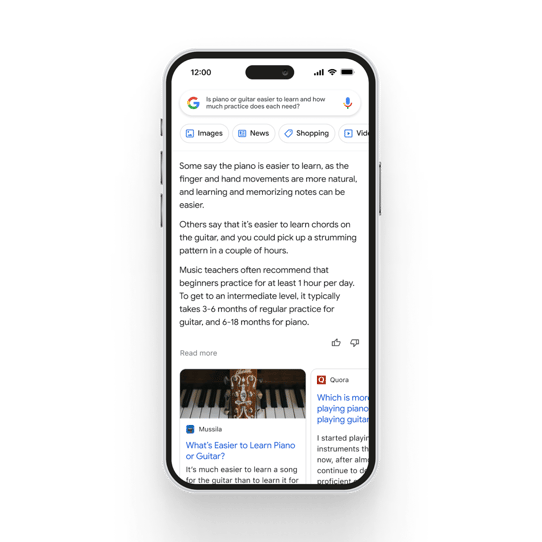 According to Google, the triggering of the new chat experience in search was based on the concept of NORA (No One Right Answer). That is, it is likely employed when the query is complex enough that any one source may not adequately deal with it.
Other AI implementations by Google
At the live event two days after the announcement, Google recapped or introduced a slate of new AI-driven features in several of its search-related products. These included:
Multi-search for Google Lens, allowing more interactive and contextual searches when interacting with images or the user's environment.
3D immersive views in Maps, allowing a user to fly above a locale, dive down into it and wander the streets, and even have a look inside businesses they encounter.
Augmented reality views of the user's surroundings labeling points of possible interest in view. The user can even specify something like "coffee" and the view will point out only coffee shops in view.
Eco-friendly routing in Maps, showing the most fuel-efficient route, along with indicating the optimum charging stations for electric vehicles based on the user's own model.
More enhanced virtual experiences of art from around the globe.
What Does AI Chat-Based Search Mean for SEO?
Is the existence of interactive chatbots in search the death of SEO? Not at all, but it inevitably means the way we do SEO and content will change.
For one thing, in both cases, Google and Bing, chat has been introduced very gradually and for a minority of specialized queries. There are at least two likely reasons for this:
Chat-generated answers are expensive, requiring a great deal of computing power.
Both companies are probably wary of turning too much over to chatbots too soon, given the bad PR over ChatGPTs propensity to make up facts and sources or mislead. They will want to give their chatbots a lot of time to be trained and refined.
A Lesson from Featured Snippets
The panic about these chat-based searches among some SEOs online reminds me of the early days of Google Featured Snippets. The moment many SEOs saw Google featuring one site's answer above all others, they declared SEO dead. Who would click through to sites anymore if Google has the answer right there?
While Featured Snippets and other instant answer features did heavily impact sites providing generic information (such as the time, or measurement conversions), after a while most sites discovered that Featured Snippets could drive a substantial amount of traffic.
Why? As it turns out, in many cases users don't think the answers provided in Featured Snippets are comprehensive enough. They still want to go to the site to learn more or get a more complete answer.
I suspect the same may be the case for many chat results, especially if the source sites are made readily available, as they appear to be in the Bing version.
I have to believe that Google will come in line with that as users will want to know where the information came from. Also, these engines could drive queries for more information to traditional SERPs, where they have revenue opportunities from the ads.
But Will AI Chat Results Drive Traffic to Our Sites?
Its been encouraging to see how quickly the two search engines had assured site owners that their chatbots would to link to their sites.
First, see the tweet from Google Search Liaison Danny Sullivan above.
From Bing's side, see what Micorosoft CEO Satya Nadella said in an interview:
"...at the end of the day, search is about fair use. Ultimately, we only get to use [all of this content] inside of a search engine if we're generating traffic for the people who create it. …So the core measure, even what SEO looks like, if anything, that'll be the thing in the next multiple years [that] we'll all learn. Perhaps there will be new incentives in SEO to even generate more authoritative content that then gets in."
What Will SEO Look Like Going Forward?
The most obvious impact of chat-based search results on SEO as we've known it is how they fly outside the concept of rankings. There are no ranked results in chat-based responses (other than maybe your position in a "learn more" carousel of sites included).
If it's shown that citations and page suggestions in chat results can drive traffic, then the battle becomes similar to how Featured Snippets changed things.
It won't be so much about ranking as it will be about having the best and most relevant content. The goal will be to be attractive enough to Google's and Bing's chatbots that your page will be included in sources or recommended resources.
Why? Because these AI products are using advanced natural language processing to understand content rather than traditional ranking signals.
So in the AI-driven future of search, the relevance, accuracy, and thoroughness of the content you have on a page may count way more than how many links point to it or other traditional signals.
Let's make no mistake though: traditional ranking will still matter for some time to come. So far, there is no indication that the intent of these chat integrations into search is to eliminate traditional search result pages. There are still plenty of instances, perhaps the vast majority, where traditional results make more sense and are more useful than chat answers.
How seoClarity Has Prepared for This (for Years)!
While we can't claim to have foreseen the exact implementations we're seeing now, as keen observers of search and especially as good listeners to our thousands of enterprise site clients, we could see years ago the general direction search was heading.
And we've been building for that eventuality for years now.
Here are just some ways seoClarity has been building for, as hockey great Wayne Gretsky put it, "not for where the puck is, but for where the puck is going."
Topical relevance over keywords: Our Topic Explorer is a repository of over 30+ billion topics and growing. It automatically recommends the best related topics for you to include in your site and content, using our proprietary AI-driven Intelligent Match that scores topics by audience overlap probabilities.
Intelligence-driven content creation: Content Fusion, our AI content writer, brings puts all of seoClarity's treasure trove of AI-driven insights at the fingertips of your content creators and optimizers. Remember, earning a spot in the citations and recommendations of chat-based results will be more about relevance and thoroughness than traditional ranking signals.
Visual ranking over mere position: seoClarity's Visibility Share is ranking metrics for the present and future of search. As the appearance of search results evolves, where you appear physically in those results is more important than a ranking number. Visibility Share is the first and best way available to rethink how visible you actually are to searchers.
At seoClarity we are more committed to client-driven innovation to solve real world problems of enterprise SEO than anyone else in the market. We put our money behind that. While others are spending on acquisition and sales campaigns, we committed to over $30 million dollars invested straight into useful innovation.
Are you ready for the new reality of search?
---
<<Editor's note: this piece was originally published in February 2023 and has since been updated.>>