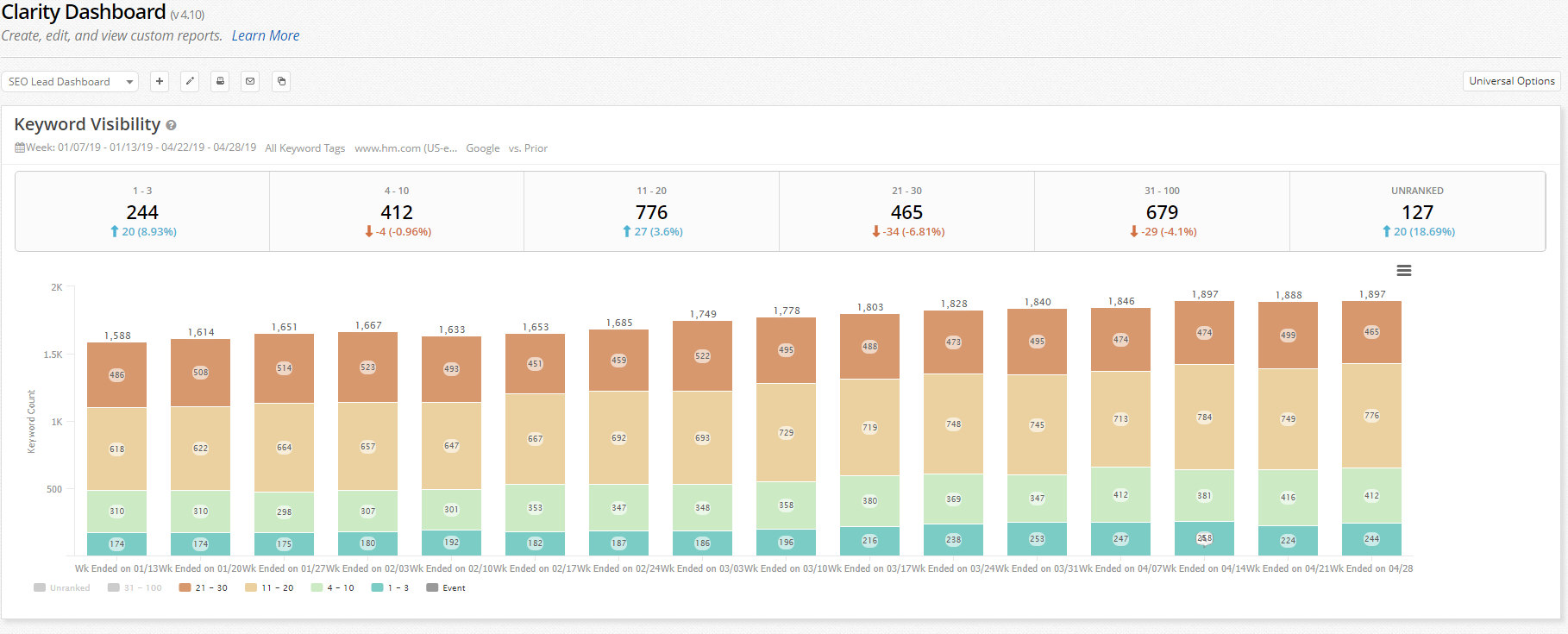 As the Senior Business Development Associate, I talk to potential clients every day about their SEO needs and challenges, and share with them how the seoClarity platform can help. I thought this post would be a good collective of pain points I hear about, and how an enterprise SEO platform can help to alleviate them.
CONSOLIDATED DATA IS KING!
Be it the consolidation of all of their point solutions, or the consolidation of data, clients around the globe, in varying industries, experience the same issues:
They have too many data outputs from too many tools, and

It takes too long to look at them all individually
With an SEO platform, they are able to consolidate ALL of the functionality from various SEO tools they are currently using as well as ALL of their corresponding data output. Why spend the majority of your time aggregating these data points individually when you can better use that time to develop and execute on a strategy?
MORE TRANSPARENT DECISION MAKING
Short and sweet: the people I speak to on a daily basis want to empower their organizations to be able to make the SEO decision making process transparent. With an SEO platform that provides easy-to-understand ROI calculations, this decision making process becomes more simple. Not only does the process become easier, but explaining to management why they are suggesting a specific strategy becomes as simple as showing them a projection of the impact of those actions.
SEO PLATFORMS HELP EDUCATE AND ALIGN ALL CHANNELS OF THE ORGANIZATION
The enterprise platform that most organizations need is one that provides the following capabilities:
Content ideas and tracking capabilities to their copywriters

Development roadmap suggestions based on effort and impact on their developers

A holistic view through dashboards and reporting to management
Instead of an organization having various digital marketing and web development functions which are siloed off from one another, with such a platform, an organization now has the ability to create an aligned, collaborative effort across multiple teams.
UNDERSTANDING PAIN POINTS, AND HOW TO ADDRESS THEM
The biggest question we receive from SEO's is, "All of this data is great, but how can I use it to prioritize issues and turn that into a strategy?"
The ideal platform can go above and beyond basic recommendations and provide actionable insights which give the digital marketing team a sense of direction. With this knowledge, in-house and agency teams can now develop a road map or strategy based on real data, rather than having to guess at the best approach.
A BUSINESS INTELLIGENCE TOOL!
My clients often times are looking for a way to scale their SEO operations. One way to do this is to implement an SEO platform that acts as a business intelligence tool. What is the impact of having a fully-functioning BI tool on the backend of an enterprise platform?
The answer is simply the power of knowing:
Where to start

How to execute

What the results are going to be
The impact to the bottom line of a winning enterprise SEO platform is time and resource savings. Now that these teams are able to regain all of the time previously spent compiling, analyzing, and building reports, and they can focus on the most important aspect of SEO, and digital marketing as a whole: strategic and efficient execution!
Share Your Pain Points!
These are some of the recurring problems and needs that people discuss during our daily conversations. I wanted to put these into a post so that as you begin your internal conversations about the utility found in implementing an SEO platform, or as you begin your actual technology evaluation, you have a few things to think about.
Does that mean this list is exhaustive and the "end-all, be-all"? NO! If you come up with other things that need to be assessed when considering an SEO platform, not addressed in this post, please comment below!
I hope this helps!