Last week seoClarity attended SMX Advanced, a conference targeted toward advanced search marketers. The wealth of great insights to review and new heights set-in to grow a brand's search visibility. Here are the most notable takeaways from the conference to me.
#1. The Mobile-First Index Won't Come Until 2018
The mobile-first index has been on everyone's minds for quite some time. We've covered it on this blog a couple of times already too (If you missed those posts, you can find them here, here, and here.) And we know that the actual switch to mobile-first index will be a big deal given the amount of resources Google seems to be giving to it.
As it turns out, we still have some waiting ahead of us to fully discover its impact.
As Gary Illyes announced during the SMX:
"Google is "probably many quarters away" from launching its mobile-first index."
Plus, as Illyes confirmed, the search engine doesn't have a definite timeline for the mobile-first index roll-out.
As he stated (as reported by Search Engine Land):
"We have some ideas for when this will launch, but it's probably many quarters away. Our engineers' timeline was initially end of 2017. Right now, we think more 2018."
So, we have a good bit of waiting (and speculations) ahead of us on that matter.
#2. Updates to the Algorithm Will Happen More Often
...And we, SEOs most likely won't know about most of them.
(Just like we originally didn't heard much about the Fred update from Google either.)
And as Gary Illyes said during his keynote discussion, there will be more of those updates happening. In fact, to quote the transcript from SEL:
"I can confirm that we had at least two updates today to our core algorithm. I can confirm that we'll have two updates tomorrow to the core algorithm. The day after we will have at least two updates."
Gary also mentioned that Google doesn't really want to reveal what they're tweaking in the algorithm. And unless the update brings some major change, we most likely won't know about it.
#3. No Featured Snippets Data in Google Search Console
Featured snippets are another popular topic in SEO discussions today. Most specifically, access to analytics data about feature snippets performance as a filter in Google Search Console Search Analytics. But as we've learned from SMX, as of now, Google isn't planning to bring the snippet's data to Search Console.
(Interesting, though, is that according to Illyes, Google does have a solution to display this GSC. They're just not interested in implementing it at the moment, possibly for "political" reasons according to SEL).
seoClarity already captures this data in Rank Clarity tool. We also capture Answer Box and star rating results to measure the effectiveness of the technical and content optimization efforts. And will continuing to work with clients to pair this data against analytics and other KPIs. Say you ranked #5 for a term, but the Featured Snippet stood out so much, it was clicked on at the rate the #2 position would expect. A jump to a 9.2% CTR vs 4.8% on mobile according to our study. For an important enough term, getting these snippets displaying for a brand could mean thousands if not millions of dollars in benefit.
#4. New Page Speed Algorithm for Mobile
Information we got from Google regarding page speed as a ranking factor in the mobile-first index is complicated.
First, the search engine admitted that it won't be a factor. Then, released a statement that it will… And now, as Gary Illyes confirmed, Google is reworking the algorithm to measure mobile page speed. And it's clearly a move to optimize and prepare for the mobile-first index in 2018. Better be safe, and make the site as fast as possible.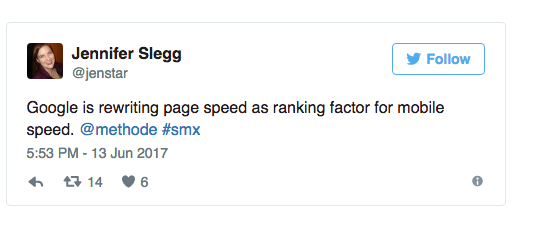 #5. Google Isn't Counting Links Built Through Paid Guest Posting
We all know that buying links is a big no-no. However, that statement typically relates to targeting websites that blatantly sell link space.
But what about paid guest posting placements?
Many sites offer the opportunity to publish a quality article with a link and/or attribution to the writer. And as it turns out, Google isn't counting paid links from websites that sell guest blog post opportunities.
As Gary Illyes explained, the search engine had two options to tackle this problem:
Penalize everyone who buys guest post placements, or
Ignore them.
And they decided to choose the latter.
#6. The Best Local Ranking Signal is the User's Journey
This insight came from a fantastic Q&A session with Dana DiTomaso, Greg Gifford, Cindy Krum, and David Mihm.
And it makes so much sense. Because, as David Mihm pointed out, it's not only proximity that boosts your rankings. It's the actual local user's journey, which in this case looks more or less like this:
User searches for a service,
Clicks on your site,
Finds the directions to your premises,
And leaves an online review.
All these factors, according to the panelist, affect the local rank today.
#7. Featured Snippets Need to Be Actively Managed
Eric Enge was said to re-iterate in his talk, and detailed on his company's blog, that Featured Snippets easily come and go and the brands that perform the best are the ones that can bring out great information for three sources:
Customer Service
Product Marketing
Sales
That makes a lot of sense I think. Google would want to see reviews or other relevant detail from users from these sources to their searches.
#8. Voice Search
Without a doubt, voice search has grown to become one of the key areas in SEO.
(And we've already talked a lot about different strategies organizations could use to prepare themselves for winning the voice search battle.)
But this shift toward searching by voice comes as no surprise. Virtual assistants, such as Google Assistant are becoming more and more powerful at fulfilling our needs for information. And it's as no surprise that a lot of discussion during SMX revolved around the voice search, particularly around a shift in our search behavior.
For example, here are some of the stats quoted during SMX:
Currently, there are 6 million Amazon Echo devices sold worldwide.
This leads to billions of voice searches performed at home by those users.
1 in 5 searches today come from voice.
No surprise, as Purna Virji pointed out - as voice assistant get better, users will have longer conversations with them.

As a result, we need to rethink our content topics and strategies to be optimized for voice. And this means, better structure, using schema to denote important elements. And most importantly, provide insightful answers to voice queries. And ideally in the voice of Morgan Freeman, which you can get on the Facebook Jarvis currently.
And that's it...
Although, it's far from everything that we found. The above points seem to be the biggest themes from SMX Advanced every SEO should be aware of. After all, they will shape the future of online visibility.